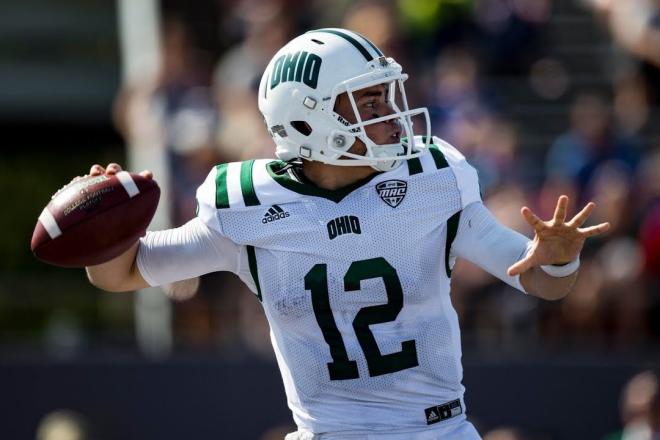 R.C. Fischer
Total Football Advisor
01 January 2020
2020 NFL Draft Scouting Report: QB Nathan Rourke, Ohio
*Our QB grades can and will change as more information comes in from Pro Day workouts, leaked Wonderlic test results, etc. We will update ratings as new info becomes available.
I was looking through our early computer scouting model grades, looking for a QB I'd never heard of who stood out with some interesting attributes/production who might be interesting to do some initial study on…and I ran across some guy from Ohio University who was a three-year starter, won all three of his bowl games, was a two-year captain, and threw for 60 TDs/20 INTs with 48 rushing TDs in 38 career games. I was like…OK, I'll bite. I need to look at this guy ASAP. So, here we are…
I'm also kinda extra-looking out for 'Lamar Jackson' type prospects…the formerly overlooked/underrated, the guys who might not be Tom Brady but who can run the ball like a weapon and might be plausible enough as passers to make some hay in the NFL.  On paper, Rourke seemed to show some of those attributes.
I did the background check, and all looked well…no injuries, off field issues. Seemed like a bright kid. A two-time captain and a winner every season for a solid mid-major program. Nice start.
But…then I turned on the tape and saw what the computer models saw overall – a really neat college quarterback who will most likely not make it in the NFL. The total profile is just not there.
Rourke was a great runner in college from the QB spot, but he's smaller in frame and just mid-major fast, not NFL-fast. He's a good enough mid-major passer but not enough arm to hang in the NFL nor enough speed/elusiveness to run effectively in the pros. There are way better runner-passer prospects in 2020, as well as in the last two drafts, that teams could try to develop versus going with under-sized, under-armed, not-that-fast Nathan Rourke.
In fact, I don't think we'll see Rourke even go to an NFL training camp. He's originally from Canada, a top high school prospect there who made his way to USA JUCO and then to Ohio U. for a really nice college career. I think Rourke is going to be good/really good in the CFL and he's insane if he doesn't go directly there when drafted by a league (the CFL) that will desire him.
I will say this – Rourke, for his size, is one of the toughest running QBs you even encounter. That guy doesn't look like it at a glance, but he will not go down easily. His tape was filled with him breaking tackles, escaping sack grasps…he was a mid-major Houdini. I just don't think the skillset or size plays well with the NFL. I wish him well in the CFL.  
Nathan Rourke, Through the Lens of Our QB Scouting Algorithm:
In 2017, his first season as a starter at the D1 level, Rourke rushed for 21 TDs…#1 in the MAC and #3 in the nation. 
#2, #1, #1 in passing yards per attempt in the MAC in his three seasons as starter.
A career 58.8% Comp. Pct. with two of three seasons under 60%. 
Total TDs, he was #1 in the MAC every season he played…sitting 3rd all-time in total TDs in the MAC (since 1962). 
In his career, he faced upper division opponents Purdue (2017), Virginia (2018), Cincinnati (2018), and Pitt (2019). He went 0-4 with 4 TDs/1 INT passing, and one rushing TD. 
Nine 100+ yard rushing games in his career. 
Pro Day Measurable estimates…
6'0"+/205 with 9" hands
4.65 40-time with 7.05 three-cone. 
The Historical QB Prospects to Whom Nathan Rourke Most Compares Within Our System:
Trace McSorley was a pretty tough runner of the ball in his own right – teams were interested in moving him to safety, he was that tough (and was a stud defensive player in high school). But McSorley wanted to be a QB in the NFL…and he can run the ball well in the pros, but he's just not a great passer, he has bad vision of the defenses, etc., in my opinion. But because he's a tough runner, he buys himself some more time as a passer. He's plausible but probably not a legit starter or star…not a fast-enough weapon as a runner. 
Rourke has all those same issues but is a little better runner and little smarter passer, though not as strong an arm to show off to scouts.
| | | | | | | | | | | | |
| --- | --- | --- | --- | --- | --- | --- | --- | --- | --- | --- | --- |
| QB-Grade | LJax Rating | Last | First | Yr | College | H | W | Adj Comp Pct | Adj Yds per Comp | Adj Pass per TD | Adj Pass Per INT |
| 5.182 | 6.21 | Rourke | Nathan | 2020 | Ohio U. | 72.0 | 205 | 54.3% | 12.8 | 20.9 | 44.2 |
| 5.983 | 6.08 | McSorley | Trace | 2019 | Penn State | 74.2 | 209 | 60.4% | 12.0 | 14.0 | 44.2 |
| 4.943 | | Price | Keith | 2014 | Washington | 72.8 | 216 | 59.6% | 13.3 | 13.8 | 49.2 |
| 6.381 | 5.78 | Franklin | James | 2014 | Missouri | 72.4 | 196 | 60.9% | 11.7 | 20.1 | 45.1 |
| 5.144 | | Williams | Marquise | 2016 | UNC | 74.4 | 201 | 50.2% | 16.7 | 15.0 | 42.2 |
| 5.962 | | Hills | Perry | 2017 | Maryland | 73.7 | 218 | 56.2% | 14.5 | 13.9 | 40.7 |
| 0.433 | | Bennett | Bryan | 2015 | SE Louisiana | 74.2 | 210 | 54.9% | 13.0 | 22.1 | 65.1 |
*'LJax rating' – new for 2020, as we re-do our grading systems to better identify/reward the spread offense QB prospects…looking for the runner-passer talents.
**"Adj" = A view of adjusted college output in our system…adjusted for strength of opponent.
***A score of 8.5+ is where we see a stronger correlation of QBs going on to become NFL good-to-great. A scouting score of 9.5+ is rarefied air—higher potential for becoming great-to-elite. 
QBs scoring 6.0–8.0 are finding more success in the new passing era of the NFL (2014–on). Depending upon the system and surrounding weapons, a 6.0–8.0 rated QB can do fine in today's NFL—with the right circumstances…but they are not 'the next Tom Brady' guys, just NFL-useful guys. 
2020 NFL Draft Outlook:
Trace McSorley was drafted late 2019 draft, but I don't think Rourke will see the same in 2020. McSorley got a Senior Bowl and Combine invite, Rourke is getting no major invite…and that likely dooms him. Plus, I'm sure football front offices see the natural connection to the CFL. Rourke will go undrafted, and I don't think he'll even try the NFL route.
NFL Outlook:   
There won't be an NFL outlook, I'm almost positive he's got a smoother path straight to the CFL. If he tries for the NFL this year, he'll be a pre-Sept. 1st cut and then he'll run to the CFL.