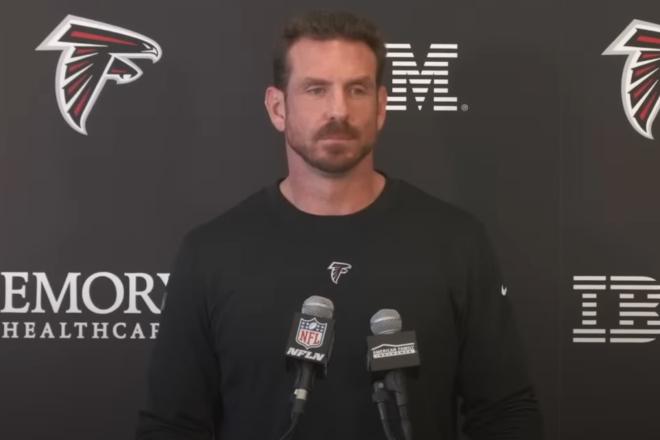 R.C. Fischer
Total Football Advisor
15 May 2023
There are no real, obvious 'shut down' defenses in the NFL in 2023 (nor was there in 2022 season)…you know what I mean by 'shutdown defense' -- those defenses that would just squash any opponent, no matter how good their offense/QB. There used to be that one (at least) defense/DST everyone acknowledged as amazing/clearly the best before the season even started…but that doesn't exist anymore.
Sure, there are better defenses than others in the NFL -- but no obvious top dogs AND with the NFL so loaded in QB/offensive talent in the modern era, you can hardly find a top defense with a schedule layout that would allow it to be a wrecking ball defense for FF. But that's not going to stop us from going through the schedules and defenses to see if there are any viable defenses that got an good/great EARLY schedule.
Why the emphasis on 'EARLY'? Because the way I believe DSTs should be played in this current FF era is -- find a decent one that has a great schedule the first few weeks of the season…and that will by some time to try and find some shutdown DST emerging or some schedule alignment emerging, as QBs and OLs get hurt and change the whole board…or, worst case, we just keep streaming options as these injuries hit and change the board on the fly/week-to-week.
You want fast start DSTs to get you off the best start possible in FF…and the best way to a fast DST start is by finding the DST with great Week's 1-2-3 matchups/opponents right off the bat. So, let's go try and find the DSTs with the most advantageous schedule starts…
First, in this exercise, we must begin by identifying the offenses/teams we want to target with our DSTs, thus the biggest scoring upsides -- looking to face offenses led by weaker QBs, rookie QBs (early on in their rookie season) and if any help from a bad O-Lines/offensive coordinators (and shying away from top O-Lines). For high DST scoring we want turnover opportunities primarily, so shaky QBs (picks and low scoring games) and bad O-Lines (fumbles/strip sacks) are what we want…but targeting the weakest QBs specifically is the most important trait we're looking for.
So, who are the offenses to target early on in the 2023 season with the schedule finally having been announced?
Going through all teams in alphabetical order…
Arizona -- definitely makes the list. Kyler will either not start the season or will be just coming back from his ACL surgery from last year. Either scenario gets this awful team on the list. Especially good if Kyler is out.
Atlanta -- Did not make my initial list at first, but I'm going to consider them 'in'…after more thought. ATL was a top 10 offense with Marcus Mariota last year but fell dramatically when Desmond Ridder took over later in the season. I'm not confident in Ridder yet BUT there's an item I overlooked -- ATL will push Bijan Robinson as a god, and he is not, so there's another advantage.
Carolina -- We definitely want to attack Bryce Young…AND the bad O-Line AND the terrible offensive coaching staff (and head coach).
Chicago -- Did NOT make the list. Fields started scoring a ton when he learned to run. Later in the season, Chicago faded off in scoring later in the season with Fields out hurt and the Fields returning too quickly and running less effectively down the stretch. Healthy Fields = we'll stay away for now.
Dallas -- Dak Prescott was dying at the end of the season, but I can't believe he's really shot for good…so, we'll keep off the list.
Denver -- Did NOT make the list. Sean Payton now in as head coach…let's avoid until we see how they look under new management.
Green Bay -- Does make the list with the transition to Jordan Love.
Houston/Indianapolis -- Do we put the two rookie QBs on the list, or will they hit the ground running? This is an early season start/look for things…so, let's DO put them on the list. It should take a few weeks for rookies thrown into the fire to get their feet underneath them.
Las Vegas -- NOT on the list. It's close, but I respect Jimmy G. enough to rather face a rookie early than Jimmy G. with Davante and Jacobs. If things change with Davante, we can reassess.
L.A. Rams -- This offense was terrible under Matt Stafford in 2022…and just as bad when he left. Stafford might have been too hurt last year, but I think it was a 1-2 punch of a bad O-Line and no run game…plus Stafford may be fading off. I think Stafford may be on the verge of Matt Ryan'ing (skills eroding/gets too scared in the pocket now), so I'll put LAR on the list because they didn't get any better this offseason. It's a rebuilding year.
New England -- I wavered back and forth on this, but I'll keep them OUT for respect for Belichick and they have a decent O-Line and weapons, and a new O-C. But it's very close…
New Orleans -- I'd like to put them on, but their O-Line is very nice…and Derek Carr has been hard to sack anyway/over the years because of his quick release/scared nature, so they are NOT on the list.
NY Giants -- Considered them, but they're bringing back a lot of continuity and 3x the WR counts. They have a good+ O-Line. Let's keep them off the list for now. Daniel Jones can be turnover prone, so they are on the bubble for sure.
Pittsburgh -- Year two for Kenny Pickett should be better, and they have a good WR group and an improving O-Line. NOT on the list.
Tampa Bay -- I have hope for Baker Mayfield here. Good weapons for him too. O-Line is shaky. I'm going to keep off the list for now, fearing a Baker revival.
Tennessee -- I had them off the list at first, but I'm going to put them ON…the last one to sneak over the fence. Ryan Tannehill was not good last year. The O-Line has been corrupted. Tennessee scored 20+ points in a game in just five of Tanny's 12 starts (and barely over 20 at that). And it's possible Will Levis is in quickly…and then we get to try and take advantage of a rookie.
Washington -- Sam Howell takes over with Eric Bieniemy as O-C. Umm, yes please.
So, the offenses we're targeting off the jump are:
ARI
ATL
CAR
GB
HOU
IND
LAR
TEN
WSH
The best ones to target of this group: ARI-CAR-GB-LAR-WSH
Now, let's go see what DSTs have an early schedule with the most of these 9 targeted opportunities/offenses…
Let's begin by seeing if there are any DSTs facing teams from the target group in both Weeks 1 and 2, to start the 2023 season: And we have two…ATL and NO.
Because the NFC South has two teams on the targeted offense list (ATL + CAR), and was very close to having all four teams in the division on the list, so their defenses, in general, have an advantage in 2023. The problem is -- the four defenses (and overall teams) in this division aren't that great. The Saints defense isn't horrible. And Tampa Bay's isn't bad either. The Falcons did a great job rebuilding their defense this offseason, but they're a mystery because there are so many personnel changes and we don't know how they'll mesh in short order with a new D-C…but I have hope. No NFC South defense/DST is an obvious high-end/elite unit, on paper.
NO-DST has TEN-CAR Weeks 1-2…that's not bad.
ATL-DST has CAR-GB…and that's almost as good as it gets, but again this Falcons DST is a real wild card/gamble. However, if 'schedule is everything' on DSTs -- then ATL has the best two week start in FF 2023.
 – Now, let's see what happens looking at Weeks 1-3…
Only one team shows up with three of these targeted offenses right off the bat: The Saints DST…with TEN-CAR-GB. A great schedule start, and that could hurt my 'under' win total bets with the Saints 'under' (9.5 wins) – that this Saints team might get out of the gates (2-1) and gain some momentum. Aside from that, DST-wise…they have the best schedule start.
Teams with two of the targeted offenses the first three weeks: SEA, ATL, BAL, JAX
 – Now, let's see what happens looking at Weeks 1-4…
No teams 4-for-4. So, a three count is the best tally…which included the aforementioned Saints and only one other DST = JAX.
The JAX-DST is on here by having IND and HOU scheduled Weeks 1 and 3 (with KC wedged in Week 2), and these two matchups are early-season rookie QB bait…but also really talented rookie QBs that may be a mistake to target early. I could see it going either way.
 – Let's take this out to Weeks 1-5…
No DST makes it to four out of 5. Just a bunch with three now: CIN, IND, ATL, NO, DET, JAX
The trend/the opportunity for any DST with a miracle/great schedule is fading.
 – Expanding out to Weeks 1-6…
Looking out 6 weeks into the season, we're back to ATL, NO, and JAX.
Jacksonville has all of their three divisional opponents on the target list (IND-HOU-TEN), so the Jags have opportunity early -- but it's the shakiest three offenses on the nine target list.
 – Taking it to Weeks 1-7…
No defense makes it to 'five' targeted opponents in the first 7 weeks. Four targeted opponents here is still the best, and it's the same teams from last look that have this benefit: ATL, NO, and JAX.
 – Taking it to our final stop, Weeks 1-8…
ATL and NO make it to five opponents to face of the targeted list in the first 8 weeks.
BAL-DST joins JAX-DST having four targeted offenses to face these first 8 weeks.
That's half the season, so we'll cut it off there. So much will change the deeper we get into the season due to injuries, etc., changing the board.
The running theme, the DSTs showing up the most in this exercise for best DST 2023 early schedule has been NO-DST and ATL-DST. The Saints feel like a legit, solid defense WITH a really nice schedule start. They have no BYE in the first 8 weeks either. And the other three games NOT making the list (in the first 8 weeks) shows two of them are teams that were considered for the targeted list: TB-NE.
The Saints are scheduled to face the following QBs for the first half of the 2023 season (in order): Tannehill, Bryce, Love, Baker, Mac J., Stroud, Trevor, ARich. No super-scary QBs/offenses to face…no Mahomes, Burrow, Hurts, etc.
The Falcons defense is that wild card unit…one with a nice starting schedule. However, they're three non-targeted list offenses to face are DET-JAX-TB…a slightly tougher off-list group to face than New Orleans' three non-targeted.
In the end, I have to say, the best starting schedule for any DST in 2023 has to be the New Orleans Saints. I'm not the only analyst noticing this, so it's not some unique/radical find. Pushing ATL is radical…but many 'smarts' will be on the Saints. The Saints are currently #12-13 in DST ADP, but will likely be around #7-10 by the time people really dial in.
I don't love the Saints defensive unit/team, but I don't hate it either. Really good corners. Decent linebackers. Decent-ish D-Line. Dennis Allen is an OK defensive coach, but he lost talented assistant Ryan Nielsen to the Falcons to be their D-C/Asst HC…so Allen might get exposed in 2023. It's something to consider/worry about.
The Saints schedule for their DST is really good/favorable almost all season…only Week 10 vs. Kirk Cousins and Week 13 vs. Detroit/Goff (and a Week 11 BYE) are the worst spots on the schedule IF Stroud (Wk6)/ARich (Wk8) don't breakout quickly.  
--------------------------------
I looked to see who the best pairing with the Saints might be, and there is one that really stands out: FFM sleeper DST fave Seattle.
A look at the NO/SEA pairing:
Week 1: Saints v. TEN or Seattle v. LAR
Week 2: Saints at CAR (not SEA at DET)
Week 3: Seattle v. CAR or Saints at GB
Week 4: Saints v. TB or Seattle at NYG
Week 5: Saints at NE (SEA bye)
Week 6: Saints at HOU (not SEA at CIN)
Week 7: Seattle v. ARI (not NO v. JAX)
Week 8: Saints at IND or Seattle at CLE
Week 9: Saints v. CHI or Seattle at BAL
Week 10: Seattle v. WSH (not NO at MIN)
Week 11: Seattle at LAR (not NO on bye)
Week 12: Saints at ATL (not SEA v. SF)
Week 13: Seattle at DAL or Saints v. DET -- not optimal either way
Week 14: Saints v. CAR (not SEA at SF)
Week 15: Saints v. NYG (not SEA v. PHI)
Week 16: Saints at LAR or Seattle at TEN
Week 17: Saints at TB or Seattle v. PIT
Week 18: Seattle at ARI or Saints v. ATL
With these two DSTs, you can work a schedule with no KC, CIN, BUF, PHI…but can maneuver into three CAR and LAR matchups and two possible shots at ATL, ARI, NYG, TB, TEN.
The Saints-DST isn't bad. The Seattle-DST is really improving. Both teams have a favorable home field to work in to throw off opponents with crowd noise…if these teams are any good, which Seattle should be at a minimum here.