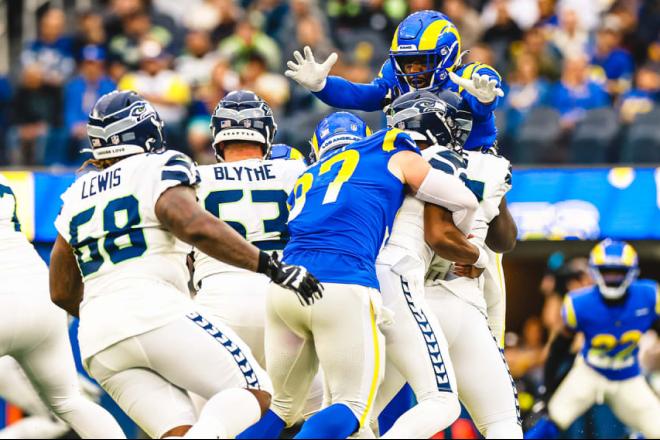 R.C. Fischer
Total Football Advisor
06 December 2022
2022 Week 13: Seahawks 27, Rams 23 (Dynasty/Fantasy Analysis Game Report)
I spent the lead-up week trashing the Rams to anyone who would ask -- and then they go out and play better than Seattle, look the best they have all season, and should've won this game.
Let that opening salvo breathe for a moment, because lots of ramifications to that for FF, and for handicappers.
The Week 13 L.A. Rams featured a nifty offense with some new/clever offensive and play design -- a lot of clever John Wofford designed rollouts in all directions to keep him from the pass rush (because of their corrupt O-Line). They also had several slick run plays to their WRs -- both Tutu Atwell and Brandon Powell ran the ball 4 times each, 8 carries for 68 yards combined from WRs…more than any single RB on the team. But they also threw a young defensive front line (minus Aaron Donald) at Seattle that really impressed me.
The Rams took the initial lead (7-0) and then the game went back and forth, with the Rams scoring with 2:23 left to take a shocking 23-20 lead. They just needed to hold off Seattle's last chance drive, but they couldn't…Seattle helped by a low-probability throw/catch or two on the final drive, and they had probably 4-5 'how did they complete that?' throws/catches in this game…desperation/under pressure throws by Geno Smith, but most of them landed, enough of them landed for Seattle to keep drives going and keep up and then win at the end.
Seattle wins to go to (7-5), staying a game behind San Francisco in the NFC West…with their second 49ers game looming in Week 15. Facing Carolina in a trap game before that/Week 14. A very tough schedule to finish will likely cause Seattle to fall out of the NFC West divisional title and wind up with 9-10 wins and probably slip in as a wild card. Their win over NYG earlier this season may be the edge they need to be a wild card.
The Rams played an inspired, spunky game but lost their sixth in-a-row to fall to (3-9). I wouldn't be shocked if they surprised/beat Las Vegas this week on TNF. Regardless, this season is lost, and they'll likely win up at 4-5 wins tops. Losing out is also possible. 
*Note any fractional numbers in parentheses (4/2) or (2/3), etc., are a 'split' stat on our definition of a 'quality start' (or not) marker on a player -- using 14 PPR points in a game for RB-WR-TE and 21 for a QB…point levels that are good/productive/well above average starts for a Fantasy week. Trying to identify trends, consistency (or not) in players we might not normally realize.
A (3/2), for example, means: 3 times the player hit at/above the mark, and 2 times they did not.
Fantasy Player Notes…
 -- The big FF news from this game…the Seattle backfield injuries.
Kenneth Walker (3-36-0, 0-0-0/1) left the game early with an ankle injury…status unknown early in the week, but it doesn't look good for him for Week 14.
DeeJay Dallas (10-37-0, 0-0-0/1) would be the natural fill-in to take over for Walker, but he also got hurt in this game and is unsure for Week 14. He tried to play through a high ankle sprain and is probably going to be out for Week 14.
Travis Homer is their 3rd-down back, kinda…lightly used…but he missed this game completely with an injury going in.
So, #4 RB Tony Jones (7-14-0, 2-18-0/6) got extended work…and he looked terrible but might deserve a 'pass' on his weak game play because during his activity he had a defender have his hands reach through his helmet and knocked a contact out…and he couldn't find it, so he had to take the other one out to play…and played kinda blind (in his words).
Jones might have to be 'the guy' this week vs. Carolina. That's not good for Seattle…and only marginally interesting for FF…but it's something during this heavy bye week. Jones is a very average, generic RB…a lesser DeeJay Dallas. Seattle may pick up a wild card off the streets or off another team's practice squad this week and they be pushed into immediate work. They do have Godwin Igwebuike and Darwin Thompson on their own practice squad, but if the outlook on Walker is bad news…like multiple games or worse…they may make a move on a veteran RB to get ready for Week 15 v. SF.
Just for spit ballin', if I were their GM and it looked like Walker-Dallas would be out -- I'd consider grabbing Duke Johnson off the Bills practice squad right now. They could also consider Melvin Gordon off of the KC p-squad. Or they could hurry up and sign Jordan Howard.
Of course, if I were the GM -- my first move would be to snatch David Johnson off the Saints p-squad.
There are options out there that would further suppress Tony Jones for the week, for FF hopes. The fact they didn't sign anyone from another team on Monday means they're either hoping for good injury news overnight into Tuesday, or they're ready to let Igwebuike elevate up and work Week 14 with Jones.
 -- The Rams suddenly don't have RB issues… Cam Akers (17-60-2, 1-0-0/1) is now all fixed! I tease, because I don't like him, but he does look a LOT better now than he did early season when it looked like he might get cut. He's still not great…just better…and working behind a bad O-Line. His two TDs were lucky that the players that got them down near the goal line didn't get the score before the Akers run ins.
Still, Akers is now an RB2/3 option as the main RB for the new-look Rams.
Kyren Williams (3-9-0, 0-0-0/1) was not much of a factor, as the clock is about to strike midnight on his FF-hype. Two WRs had more carries in the game than #2 RB Williams. Kyren is the Akers handcuff…for whatever that is worth.
 -- Speaking of those Rams WRs who ran the ball more than media star RB Kyren Williams…
Brandon Powell (3-45-0, 4-39-0/4) was the most electric of the two…I mean, like 'get excited' type of work/play. He was the fastest player on the field, and he has been working well in limited touches for weeks but here they really pushed him some and he responded -- he's their best offensive player by far, right now. I don't think this is going away, but this is exactly the type of thing NFL teams see work and then go away from the next week/s.
…but Week 14 is the Rams hosting a game on TNF, so I think they'll be as clever with their play designs as they were in this game and Powell will get 6-10 total touches in an effort to try and win the game on Amazon TV.
Powell really got some good/nicely designed runs and simple tunnel screens, and he just took off. He looks fantastic. He might be something for Week 14. Also, note…some of Powell's runs were him lined up at tailback. They are really trying to get him the ball.
Checkout his work from Week 13 here: https://youtu.be/WXWWByfVaCM
The other WR to also get 4 carries was the speedy Tutu Atwell (4-23-0, 2-48-0/5). Atwell looked near as good as Powell, but in a different way…in a pull away speed kinda way, not weaving in and out of traffic daringly/like an RB. Atwell has great long speed…he just needs to get up to speed to reach it. He had a TD catch in this game off a using-his-speed-to-get-open maneuver for a 25+ yard TD catch, but he was a step out of bounds on the easy/open grab.
It would not shock me at all if Atwell had a 50+ yard TD on TNF Week 14…via run or air.
The combination of Atwell and Powell had Seattle on their heels/helpless to stop them on many of their touches. The two combined for 155 of the Rams 319 yards of offense. The only problem was the coaches not calling more touches for them. They could've bubble screened and jet-sweep'd Seattle right out of the building.
I think both these guys can go for 10+ PPR points Week 14, with upside…and the mainstream will not have them ranked anywhere near the top 40-50 WRs for the week.
 -- And also note…the Rams have designed their offense to be a controlled, safe, smart short game offense…so Brandon Powell really works in that theme for John Wofford (14-26 for 178 yards, 0 TD/2 INTs), who played a very Taylor Heinicke type of safe but gritty game here. Had two TD passes taken away from him…Brandon Powell took a bubble screen a half-yard shy of the goal line then the TD pass to Atwell that Tutu went out of bounds on (but shoulda got his feet down/in, but it was like he wasn't paying attention).
Wofford is a good enough game manager and they've designed an offense where he rarely gets exposed/hit and shouldn't throw picks on his safe passes. His two picks here were a Rams WR catch and the defender ripped the ball away as they fell to the ground and on the final desperation pass of the game.
 -- Geno Smith (28-39 for 367 yards, 3 TDs/1 INT) had to put up an MVP type performance in this game because the Rams new look defense hit him 8 times (but it was more like 10+ times to me) and got 4.0 sacks on him.
Smith was under duress and flicked some passes to receivers that were money throws or the WRs bailed him out with highlight reel catches.
Geno MVP Smith has at least 2 TD passes in six straight games and in 10 of his 12 games this season. Geno is 4th in the league in TD passes behind Mahomes-Allen-Burrow.
Geno is #9 in FF PPG among all QBs this season and is a (6/6) for quality starts. He should be an MVP candidate for sure. And with no RBs possible this week, he may have a HUGE game Week 14 with a ton of pass attempts out of necessity.
 -- Noah Fant (4-42-1/5) looks like a star…and does every time I watch him. He should be much further along in his NFL and FF career but has been stuck in offenses not pushing the TE…Seattle doesn't need to with the WRs and TE rotation they have.
Fant has been FF-trending up the last 4 games: 3.7 rec. (4.5 targets), 51.5 yards, 0.25 TDs per game. He's a (2/10) this season, but a (2/2) his last 4 games.
 -- DST notes…
Seattle-DST had this great matchup but didn't really cash in as well as expected, but did OK with two picks and four sacks. Outplayed by the Rams/McVay's play designs with this fresh group. Seattle-DST is still a strong option Week 14 hosting Carolina, then probably done with SF-KC the following two weeks.
The Rams-DST was impressive. Geno had to work for this game. This DST might be a sleeper on TNF vs. Las Vegas, if LV takes them lightly.
One of the reasons I was impressed with the Rams D was their frontline was shockingly pretty good this game…without Aaron Donald. One player/IDP particularly stood out…
Rams 3rd-year DE/DT Michael Hoecht (3 tackles, 2.0 sacks, 1 TFL, 3 QB hits) was the revelation of the week/of the past month on the IDP front. He was dominant in this game. His first NFL start. He looks like the next Maxx Crosby (do I have your attention now!).
A 2nd-team All-Ivy League player (Defensive Tackle) in 2019 with all of 4 sacks on the season (leading the Brown University team). He came into the NFL during the COVID offseason, so no official Pro Day. He did a videotaped Pro Day and ran an (unofficial) 4.65 40-time with a 7.05 three-cone, which is quite amazing for a 6'4"/290 guy…even good if you bump the numbers worse to allow for homemade Pro Day reporting. He went undrafted. Tried out with LAR, cut preseason 2020, but put on the practice squad and has been with the team in development ever since.
Hoecht has played a shocking (to me) 84% of the snaps the last two Rams games, he's getting good work,  and has averaged 4.5 tackles, 1.0 sacks per game with a forced fumble in this game as well.
Get on the Hoecht bandwagon I've now built, you ultra deep/big league IDP players. I got another gem for you ahead of the crowd. He'll be on the next stash update as well.
Snap Counts of Interest:
46 = Akers
18 = Kyren W
64 = Van Jefferson
62 = Skowronek
30 = Tutu
26 = Br Powell
10 = Austin Trammell
45 = Fant
35 = Dissly
24 = Parkinson
32 = DeeJay
23 = Tony Jones
14 = Walker