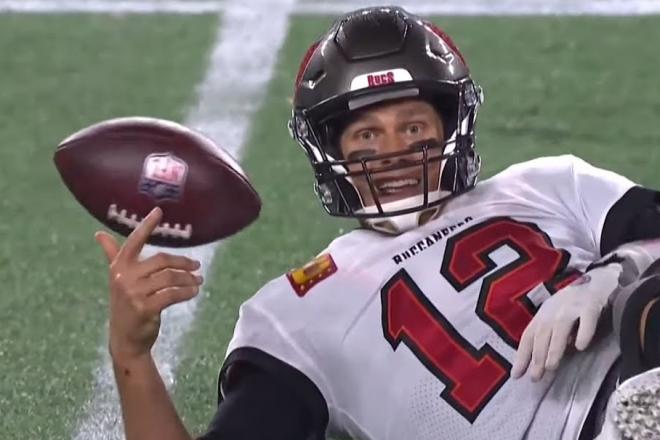 R.C. Fischer
Total Football Advisor
24 October 2022
2022 Fantasy/Dynasty Monday Executive Summary: Week 7
Week 7…not bad, not great…approx. 60% win rate around the FFM globe. Opportunity for a few more wins if the Pats-DST plays well and if David Montgomery doesn't have a big game against a few FFMers.
No real pattern to Week 7 aside from no (bye week) Josh Allen or Jalen Hurts in a week creates a lot of weird starting QBs for the week…and it took away your high functioning DSTs. Some maneuvered into great alternatives for the week…some of the alternatives flopped. Some of us won games against teams who luckily didn't have Allen or Hurts to use against us. The FF results across the land in a week without the two best offenses in football playing was quite strange/random.
The best I can say about this week is -- statistically speaking, most of your teams survived this week based on our tracking. We pulled enough of the right maneuvers, or your opponent went with a BYE week play that blew up in their face. It's the part of the season we are in -- winning ugly…which is actually 'winning pretty' because depth and clever sit/starts and weekly moves are starting to push teams to wins/higher up the standings/back into the playoff picture…and that's winning based on our smarts, not luck.
The average FFM team, in all formats is current tracking to be (4-3) after this week with (5-2) and (3-4) the next most likely record…like a standard distribution bell curve we fan out from (4-3) to (5-2 or 3-4) and then some (6-1 or 2-5) next most likely. There are a few undefeated remaining…most all in Dynasty. We don't show an (0-7) in our tracking, but there are a few hard luck (1-6) teams.
All I can say is -- this is the most bizarre season of football I've ever seen (we'll probably say that every year from here on to the millennium)…the most injuries to non-RBs, especially on the O-Line, I've seen. Seattle is in 1st-place. The Giants are the 2nd best record in football. Carolina is a game out of 1st-place…behind the 1st-place (tie) Falcons. Tampa Bay, Green Bay and San Francisco have losing records. Matt Ryan was just benched midseason, and Cooper Rush is undefeated in four starts.
All the chaos means -- it's hard to predict outcomes from one week to the next, but we can make more 'right' choices than 'wrong' over time and we can get to the FF playoffs…and then it's survival of the fittest from there. In 2022, current (3-4) teams and most (2-5) teams are in decent shape all things considered and for the crazy things/twist and turns to come. If you're 2 games or fewer out of the playoffs, you're very much in this playoff race no matter the strange things that pushed you to a losing record right now.
You might look at your roster and hate your team, which most people do every week…especially after a loss or two in-a-row, but you're just one week's worth of injuries and fortuitous waiver claims away from turning everything around on your roster. Keep playing the game…we're in the game-playing stretch during the bye weeks. Timely waivers, slick trade/s, daring sit/starts…lucky sit-starts -- you're not just sitting back watching this slide off a cliff, you're still PLAYING the game. Opportunities abound every week. Heartache is around every corner. You feel the emotions because all week you're playing the game every day and then watching the games play out. Keep playing the game this week. What else is there to do?
Teams that are currently underneath, 1-2-3 games out of the playoffs -- keep playing the game. A win this week could change everything with 6+ weeks of games to go.
But my intro message is equally to the current record-positive teams…the in-the-playoffs teams, the leading the division teams. Injuries are coming to get you too. Twists and turns are coming to wreck your good things going…you gotta think like that…you gotta keep playing the game and improving your team and bolstering your roster.
Half a season to go. Ever-changing situations to try and interpret. More poker hands to be dealt in this tournament -- keep playing the game.
We gotta keep throwing darts every day…every week…enough of them will land 'right' over time. We gotta just keep throwing because we're the best dart throwers in all of Fantasy Football: (language alert): https://youtu.be/3S16b-x5mRA
You're one roster tweak, one move, one win away from things turning up this week or distancing yourself further from the pack. Go get that move, get that win this week and then see where you're at this time next week.
--------------------------
Couple news items for this week…
1) For those who subscribed to the Dynasty Stash as part of your FFM package…the Dynasty Stash reports are set to debut Monday night or Tuesday morning/midday…probably Tuesday midday as I had a minor bout with my gallstone over the weekend that cost me some time.
We'll begin with the top 50-100 offense and top 50 IDP…and we'll build the list from there to the top 100+ offense and top 75-100 IDP. Commentary on players will add-to weekly. The Stash lists will re-rank values and re-publish weekly every Tuesday (after all games played for the week) for the rest of the regular season.  
2) Barring divine intervention, which I am still holding out hope for, I am set for gallbladder removal surgery this Friday. I plan to have all the Week 7 game reports done that I can before Friday. Ross is helping me out this week as always…a big thank you to him for using his valuable time to help out in this time of need.
So, any posts Friday-Saturday…we'll see. They may be random depending upon how I feel. I'm not sure I'll be able to update the projections Friday night normal 7-8pmET time…it might be later Friday…it might be Saturday sometime. Not sure how bad this is gonna be for recovery…but it's a 1–3-day recovery window.
I plan to do the Week 8 Sunday Video Q&A show as normal, but I could be hopped up on pain meds…so you may not want to ask my advice on sit-starts, but we'll see. Maybe it will be my best sit-start advice ever…maybe heavily medicated R.C. is the best FF analyst in the world. We'll find out this weekend, I'm afraid!
Appreciate any and all prayers for a miracle healing ahead…or just a smooth situation Friday into a quick, smooth recovery over the weekend!
*Note any fractional numbers in parentheses (4/2) or (2/3), etc., are a 'quality start' or not marker on a player using 14 PPR points in a game for RB-WR-TE and 21 for a QB…point levels that are good/productive/well above average starts for a Fantasy week. Trying to identify trends, consistency (or not) in players we might not normally realize.
A (3/2), for example, means: 3 times the player hit at/above the mark, and 2 times they did not.
--THREE THINGS--
ATL-CIN
 -- The Falcons lost ace shutdown CB A.J. Terrell early, stripping their secondary even more than it had been…and Joe Burrow (34-42 for 481 yards, 3 TDs/0 INT, 3-20-1) is the best pocket QB in the NFL…these two things together led to an explosive Burrow and friend's output. This isn't going to fall off because Burrow is as good as it gets.
For Fantasy at QB, my overview: You got Josh Allen #1, the gold standard. Jalen Hurts the 4pts per pass TD ace. And Joe Burrow becoming the next best 6pts per pass TD QB…ahead of Mahomes. No insult to Pat…it's just Burrow is better and has been for two years now…and now has way better WR weapons too.
 -- Marcus Mariota (8-13 for 124 yards, 1 TD/0 INT, 6-31-0) trailed early and often, and the Falcons still stuck with the run…and thus MM completed all of 8 passes in this game.
Arthur Smith is guilty of manslaughter of Kyle Pitts's (3-9-0/5) and Drake London's (1-9-0/1) careers. I bet, at season's end, Pitts demands a trade.
 -- Tyler Allgeier (16-50-1) took a step forward in this non-CPatt backfield…pushing away from Caleb Huntley (6-22-0). Several problems with getting too excited about that, or his TD in this game…
1) Patterson should be back in Week 9 for the juicy matchup with LAC.
2) The Falcons never throw to their RBs, so Allgeier or Patterson aren't getting 1-2-3 more PPR points via the air in games, if any…it's strictly dull running.
But, because this offense is ALL run game…Allgeier will see decent touches even when CPatt is back, you'd think.
DET-DAL
 -- Everybody was, or in-game got hurt for Detroit going into/in this game, so it's wrong to draw any conclusions on this offense…especially against Dallas's defense taking on this mess.
 -- Michael Gallup (0-0-0/2) may have totally died off here. I have to rewatch and see if it was Jeff Okudah (15 tackles, 1 PD) or just Gallup isn't a real, desired part of the passing game. He hasn't been productive at all since his return.
 -- Dalton Schultz (5-49-0/5) was limping around the field with his PCL sprain, but he gutted it out and got decent targets in this game. He's back in the week-to-week discussion with Dak back…but Schultz is definitely not close to 100% and probably won't be for weeks.
IND-TEN
*After I wrote the draft of this report…news hit mid-Monday that Matt Ryan has been benched for Sam Ehlinger. I'll address Ehlinger deeper on the IND-TEN game report, but I'll touch on him a bit here…and how things change with him. Ehlinger notes in italicized beneath the original notes here…
Short version: Ehlinger isn't bad…a smart QB with good mobility, surprising mobility -- but I'm surprised he's getting this push into the spotlight right now. I don't think he's going to burst onto the scene and be a star, but he's got some upside…he's a crafty, mobile QB.
CFM subscribers…Ehlinger's 2021 scouting report is on CFM. I'll try to post it for all this week to see what we thought a year ago.
 -- Matt Ryan is in love with Parris Campbell (10-70-1/12) now…back-to-back quality games for Parris with 8.5 rec. (11.5 targets), 63.5 yards, and 1.0 TDs per game the past two weeks after being a ghost the first 5 games of the season. It's an easy throw for Jumpy Ice…that's Matt Ryan's new moniker, per me. Ryan is so scared in the pocket that he's discovered a way to take an easy way out with a ton of short passes to Campbell. It may hang in there for a bit…Jumpy isn't going to get less jumpy as we go.
*Well, Jumpy's career is likely over now…unless Washington is going to make him their heir apparent to Wentz in 2023. More likely Ryan will be cut or traded to SF to be a backup to Garoppolo for the 2022 stretch run…just a guess.
Parris Campbell's recent trends don't mean jack squat now. We have no idea who Ehlinger is going to favor but Ehlinger is a very savvy short-medium thrower…weak deep ball guy…so Campbell could work, and Alec Pierce is possibly in trouble in the short term than he was with Jumpy.
 -- I was projecting Dontrell Hilliard (1-4-0, 0-0-0/2) would see some targets and be a possible useful PPR option for the desperate…he was not. Tennessee got up early and Tannehill got banged up…so, they just ran it every play they could. Very little passing volume or output.
 -- No push for Jelani Woods (1-4-0/2)…the mismatch weapon, giant target option got all of two of Ryan's 44 targets here. There is no push…just random events when Jumpy Ice sees Jelani on a random red zone throw per game.
*Ehlinger is no fool…there's a little more hope for Jelani -- but, in reality, the Jelani issue is more Frank Reich's issue…so, there's renewed hope…that will probably be dashed after Week 8's 1-5-0/1 stat line for Jelani.
GB-WSH
 -- Allen Lazard (6-55-0/7) was on his way to another quality start, but he hurt his shoulder and missed the last 2-3 all-passing/hurry up drives where he would've really racked some nice numbers on top of the solid game he was having. He may miss a game…just speculation.
 -- With Washington winning this game (now two in-a-row), the Antonio Gibson (10-59-0, 3-18-1/4) trade watch goes dim. They will not move Gibson until they're sure they are out of the playoff race…and that's a few more weeks away now.
 -- Romeo Doubs (0-0-0/4), the media anointed Packers #1 WR…still proclaimed by them to be so this week on pregame shows…I think might have lost his #1 WR (by the media) title, finally. In reality, he may be closer to getting benched than being FF-relevant in the weeks to come.
TB-CAR
 -- This game started with a wide-open bomb TD right into Mike Evans's (9-96-0/15) hands and he bobbled/dropped it…and that kinda set the tone for the rest of the day as TB never scored a TD the whole game, in a shocker. Something is broken with the Bucs' offense…and it's mostly an O-Line issue crushing the run game and hurrying Brady/making him feel uncomfortable. Tom Brady (32-49 for 290 yards, 0 TD/0 INT) looks fine otherwise…no signs of fading away that I can see -- just a very dysfunctional offense.
 -- I didn't think the Carolina RB duo would amount to much for FF…but little did I know that Christian McCaffrey was the problem all along!!! D'Onta Foreman (15-118-0, 2-27-0/2) has been overlooked all season (and for years), but finally got his shot and he took advantage. The guy is just a good NFL power RB.
I really didn't expect Chuba Hubbard (9-63-1, 2-10-0/3) to put up numbers either, but he did well here too. Of the two RBs for FF, gimme Foreman…and that's who I grabbed all yesterday where I needed to. Looks like it's something workable for now.
 -- P.J. Walker (16-22 for 177 yards, 2 TDs/0 INT) has now started 4 times in the NFL, he's (3-1) and in the three wins the Panthers have outscored opponents 75-13. Bad Carolina teams have done that to opponents with PJW.
Next week…the Falcons? Could the Panthers pull into first place next week with the 'winner', P.J. Walker?
NYG-JAX
 -- Daniel Jones (19-30 for 202 yards, 1 TD/0 INT, 11-107-1) isn't great, but he can be FF-useful when inspired, like he is now that NYG is winning, because he'll run the ball more freely. He's averaging 49.0 rush yards per game and has 3 rushing TDs this season.
 -- Trevor Lawrence (22-43 for 310 yards, 0 TD/0 INT) was his normal safe self…and had another game with no TD passes -- 1 TD pass total in his last 3 games but has rushed for 3 TDs (all QB sneaks).
 -- Wan'Dale Robinson (6-50-0/8) took another step forward to be NYG's #1 WR…whatever that is worth. He can be a #1 here because he's an easy throw (screens, etc.) for Dan Dimes. That's worth something, especially in PPR.
CLE-BAL
 -- Well, the winner of the Ravens backfield sweepstakes Week 7…Gus Edwards (16-66-2, 0-0-0/1). Off IR and right into starting. Kenyan Drake (11-5-0, 0-0-0/1) was the hoped Week 7 winner, but he died and went back to RB purgatory.
Edwards is the lead until JKD returns. Justice Hill (5-26-0) will probably move back to the #2 RB role next week or the week after.
 -- Last week, the Ravens O-C claimed he made a special note after the game ended…a note to get Devin Duvernay (2-42-0/3) the ball more. Three targets. Two catches. Great not…great follow through.
 -- David Njoku (7-71-0/7) left the game in the 2nd-half…an ankle injury. He was ruled out for the game quickly. Prelim reports are a sprain of an unknown severity, but the worst fears seem to be subsided. He could miss a week or 2-5. Njoku is becoming the best non-Kelce/Andrews Fantasy TE out there.
Harrison Bryant (2-15-0/2) could FF-matter in his absence.
NYJ-DEN
 -- As of this writing, it looks like an ACL injury for Breece Hall (4-72-1)…probable season-ender. He was really doing well…and then the injury gods took him away. Any RB is at risk of this sudden injury syndrome…2-3-4 RBs each week are falling to sprains, concussions, ACLs, etc.
Michael Carter (13-29-0, 2-45-0/2) goes back to being the starter. Ty Johnson (1-3-0, 1-6-0/1) will have a minor role with Carter. If you see the Jets sign Zonovan Knight to the main roster, fully…not just a weekly elevation -- that's a deep sleeper name to watch.
 -- Brett Rypien (24-46 for 225 yards, 0 TD/1 INT) wasn't horrible in his 2022 debut. He's still a QB to target with your DST because of the surrounding mess. Jacksonville draws Denver Week 8…and Jacksonville has looked really bad on defense lately…so, I'm not sure if it's gonna be worth it.
 -- Zach Wilson (16-26 for 121 yards, 0 TD/0 INT, 4-24-0) is living with the angels…he is (4-0) upon return from injury and has all of 1 passing TD total in those 4 starts. I think Joe Flacco is going to get re-installed as the starter soon, real soon…as soon as the losses start happening, people will start to realize how nothing Wilson has been.
HOU-LV
 -- Great opportunity for the Texans WRs vs. Las Vegas without their top CB, and Davis Mills (28-41 for 302 yards, 2 TDs/1 INT) throwing for 300+ yards…but Brandin Cooks (4-46-0/5) and Nico Collins (3-33-0/3) didn't take advantage. You really can't FF-trust Cooks or Collins because this offense is so weak every week…and the 300+ yards passing here was a lot of dump pass garbage and late game prevent throwing…and not much of it to either of them.
 -- No Darren Waller elevates the Mack Hollins (2-44-1/3) TD watch…and he got one, but not much of anything else. Waller could be out for another week or two, which also breathes a little life into Foster Moreau (3-28-0/5) as the #1 TE here with Waller out.
 -- Josh Jacobs (20-143-3, 3-12-0/4) is KILLING IT in Fantasy the past 3 weeks. If you own JJ, or even if you don't -- Zamir White (1-2-0) as the handcuff would have some pretty good value behind him with the way RBs are going down, no?
SEA-LAC
 -- The Chargers are back to being an opposing RB boost…their run defense is so awful. BYE Week 8 and then ATL Week 9, which is when Cordarrelle might be back…the Falcons may run the ball every single play they have Week 9.
 -- Justin Herbert (33-51 for 293 yards, 2 TDs/1 INT, 3-22-0) is struggling to put up his big-time FF numbers from 2021. He's getting more passes batted down than I've ever seen before…a sign of the issue with his O-Line. He's not had a fully healthy Keenan Allen all season. He's dealt with the rib issue (seems to be over now).
All you can hope for is that Keenan is at full strength coming out of their Week 8 bye…and that the O-Line can heal up a bit. This is the worst Herbert has statistically performed in his entire NFL career…and I don't think the issue is with him. He's the single most talented/gifted QB in the NFL…all you can do, if you have him, is hope he kicks in ahead. He's worth hoping and waiting on…but you might not get an answer to your prayers this year with this team/coaching staff circling the drain…but there is hope because Herbert usually overcomes most all obstacles.
Herbert's turn or not turn ahead will likely lose or get you back into your playoff hunt. Where else can you turn? Herbert is an elite player underperforming his usual…but he's still an elite player to have hope in ahead. He's a 'buy low' candidate. He may not turn…the LAC situation may be too far gone. But it might be so bad he has to throw 50+ times a game and that's FF-good.
Another example of how important you FF QB is…the thing everyone wants to 'wait 'til later' on in redrafts. Never again.
 -- D.K. Metcalf (1-12-0/2) was carted off with a knee injury. The prelim report is more on the positive side of things. He didn't tear his ACL. He might be out a couple weeks with the injury.
There is no logical Seattle replacement for a D.K. Metcalf. Marquise Goodwin (4-67-2/5) was the one who stepped up in his absence...he's a wily veteran and had a good run the rest of this game. I'm not sure he's going to light it up in DKM's absence, but it seems like he's the replacement of sorts.
KC-SF
 -- Isiah Pacheco (8-43-0) did get the start, but he also was in a rotation with not enough work to really be FF-fruitful. When I saw him on the kick return defense team opening drive…I knew the Chiefs weren't that serious about Pacheco yet. Someday…not yet. When CEH is gone, then it will get more serious. Right now, it's semi-serious.
 -- Christian McCaffrey (8-38-0, 2-24-0/2) didn't get as much run as I thought he might this game…then they pulled him later when it was out of hand, I believe. Better days ahead. Jeff Wilson (7-54-0, 0-0-0/1) will be the handcuff for a few more weeks and then Elijah Mitchell will return to be the co-back with CMC as the lead.
When you see Jordan Mason and/or Tevin Coleman get cut (with the hopes to put on the practice squad) then you'll know Mitchell is ready for action or close.
 -- I thought Brandon Aiyuk (7-82-0/11) would be the eventual 'loser' in the CMC add…that he'd be behind CMC-Deebo-Kittle for not the highest volume targeting -- but Aiyuk has 11 targets in each of his last two games and 7.5 rec. with 82.5 yards per game.
But I think part/a lot of this is SF has been down a lot of points in games the last two weeks, and that is very rare for SF, and they've been throwing heavy in a deficit comeback attempt. When SF goes back to its run game and close games/leads, the volume will dry up some for Aiyuk and Kittle, most likely.
PIT-MIA
 -- Pat Freiermuth (8-75-0/9) back from his concussion…and good work/numbers with Pickett, like their Week 4 debut working together against the Jets. Freiermuth taketh away from Chase Claypool (5-41-0/8).
 -- George Pickens (6-61-1/6) is Pickett's favorite target, and he taketh away from Diontae Johnson (5-42-0/10). Diontae is rapidly becoming the 4th best/most desired target on this team. And I still think if the Steelers trade a WR at the trade deadline…it will be Diontae. DJ had 10 targets but he's not what Pickett looks to on purpose…more he's an option when they're down in a hurry up.
 -- I've been having a feeling on Raheem Mostert (16-79-0, 4-30-1/5) for weeks…and didn't he look good Sunday night? Like a real RB1? Tua back. Ace LT Terron Armstead back. Key OL Robert Jackson back soon. It's all good for Mostert. And he had shots at a 2nd TD in this game on the ground and air, but couldn't cash it in. I like this Miami team…this Miami offense…and Mostert within it.
BUF bye: Two things to look out for after this bye week…
1) Will they start to get James Cook and Khalil Shakir more work to get them ready for the playoff run…at the expense of Isaiah McKenzie and a little (not a lot) of Devin Singletary?
2) If Tre'Davious White returns the next week or two…it could be the most dominant defense we've all seen in years.
LAR bye: Some people are FF-sitting on/chasing Van Jefferson for his eventual return to action after the bye. I'm not sure why. There's no room for targets for him, especially if Allen Robinson can't even get decent looks…and Van Jefferson really isn't a very good WR anyway.
MIN bye: A move you can make on Monday if you have the maneuverability to do so…
You know Irv Smith faces the Cardinals TE defense Week 8, right? He'll be a top 10 projection for us for Week 8…possibly top 5-7.
PHI bye: For those who have the Eagles-DST, I know you kept them through the bye…or we're not friends anymore. The most difficult matchup this DST has for the ROS is Week 16 at Dallas, and that's not that scary…for this defense.
  ===== FIVE PLAYERS =====
*** FIVE WAIVER PLAYERS TO TRUST***
*Looking at players owned less than 50% on average in leagues across the whole FF-landscape. Your league, obviously, may be different/deeper.
**Adding a school grade to show my interest level (A-F)…and I don't mean that a D-F grade is 'bad'/just showing how pressing/important to me, your situation may differ due to injury, etc..
***IF FAAB% mentioned at any time below is based on a 16–20-man roster league. And it's hard to predict the right bid % because every league, situation, and lineup needs are so different. So, doing the best I can to 'project' (i.e. 'guess') what they will be based on early chatter.
*Again, note…not a grade on talent…just how important/urgent/great the waiver move is in context.
**Not as fruitful a waiver week this week. Tread lightly with low expectations…opportunity may knock later in the week for whatever bizarre things pop up.
1) Gus Edwards, BAL (Grade: A/B)
The #1 RB for the Ravens is probably not available in your league, but he was showing less than 50% owned nationally on all formats…so, he's on the list. He's an 'A' if you're RB desperate…and who isn't? He's a 'B' in PPR with low/no targets his way and the worry that Justice Hill and possibly Kenyan Drake siphon off some touches.
Remember, JKD came back from his ACL with a splash and then has gone back down and now out. Edwards hit with a bang here, but will he be dragged/warn down in a few weeks…when JKD is supposed to return and create a 50-50 split between them?
2) RB D'Onta Foreman, CAR (Grade: C)
The guy is just a good RB talent…and he overcame this bad Carolina O-Line to rush for 118 yards in his Week 7 opportunity. I know you remember how we rode him to titles last year, when we were weeks ahead of the mainstream on this (when THEY all went Adrian Peterson). He's back as the best RB for Carolina. Most people will kill for Gus Edwards and turn their nose up at Foreman. Why?
3) WR Parris Campbell, IND (Grade: C) *Now, grade 'incomplete' with Ehlinger starting. Enter at your own risk.
Original Comments: I didn't believe the Week 6 results but a fluke. But now I have to take it seriously with the Week 7 follow up. After five junk games to start the season, two high quality games in-a-row, a (2/5) season to far. This is working nice right now, but I fear it could switch off any second.
4) TE Hunter Henry, NE (Grade: C)
After a bad matchup (on paper) with CHI Week 7, Henry is about to embark on a great schedule run of all the awful TE defenses in the league most of the next 8 weeks. I'd rather run with Henry than the Knox, Tonyan, Hurst, etc., crowd ahead.
The last two weeks: 4.0 rec. (6.0 targets), 57.5 yards, 0.50 TDs per game and 97.5% of the snaps played.
The risk is that the uprising of the last two weeks was with Bailey Zappe…but Henry was really good with Mac last year -- 9 TDs with Mac in 2021. I think there's some possible useful TE gold with Henry with that fantastic schedule ahead.
Would be available for pickup ahead of MNF if you have the roster maneuverability at all.
5) RB Chuba Hubbard, CAR (Grade: C/C-)
Like D'Onta, Hubbard had a shocking no-CMC debut…not as good as Foreman, but it was something. Chuba started…but I bet he doesn't start Week 8 after Foreman showed him up in Week 7. Still, it's something for the RB desperate. I'm not a fan…but it is something.
6) WR Wan'Dale Robinson, NYG (Grade: C-)
Tripled his snaps from last week and doubled his catches and targets. The WR to own for PPR from NYG.
7) RB Kyren Williams, LAR (Grade: C-/D+)
Most RB crazed leagues, Kyren was already claimed because people are insane over RBs. But in leagues where not every half-baked RB can be rostered, you might consider grabbing Kyren (as we suggested last week too) to sit on and let the media puff up his value and then sell this before people see he sucks and is not going to be the Rams Messiah RB. It's already started…and the drumbeats will get louder this week. This is the media's boy -- there's power in that. This is a pickup and flip this week before the Rams trade for their real RB answer.
8) WR Mecole Hardman, KC (Grade: D+)
Mecole is like Parris…the flash for a moment, then disappears…so, I don't want to believe it can hold up. However, people have wanted to love Mecole…so, every time he has a blip the people swoon. You can possibly use during a bye week need, I guess…or use it as a trade chip if you don't believe. 4 TDs in his last two games, 3 TDs in Week 7…(1/6) for the season. Personally, I'm not a believer…rushing TD jet sweeps are random with Mecole, not consistent. But people love Mecole, so he'll have some trade value this week potentially.
9) QB Daniel Jones, NYG (Grade D)
Hey, you need an emergency QB that is working decent for FF? Dimes just posted a 28+ point effort Week 7, in a favorable matchup. He's running more because he has reason to -- they're winning and need other offense besides Saquon. SEA-HOU-DET next 3 weeks. Jones is a (2/5) this season to date.
-----------------------------------------------
***FIVE WAIVER PLAYERS TO DISTRUST***
1) WR Rashid Shaheed, NO
Fresh name. long TD two weeks in-a-row but just one touch each game…and when/if Thomas-Landry get back, he's likely to disappear.
2) WR Isaiah McKenzie, BUF
Off a bye, was put on waivers by many and is a name we've been interested in early on and in good matchups -- but I see the way they're using him, and I'm no longer interested. He's a flex flier play at best, but I think they are gonna keep him at 50% of the snaps while trying to move Shakir and/or Crowder into his role to share/rotate.
3) WR Tre'Quan Smith, NO
Another Saints WR who will fall off when Thomas and/or Landry return. He's a flex flier with them out, but likely to the bench or minor rotated in-and-out when either one or both return.
------------------------------
***FIVE BUY LOW PLAYERS***
*NOT 'Buy at any price'…it's Buy LOW. Try to find a deal. If none to be had, walk away. It's also NOT…go immediately ask the owner 'What do you want for ____', don't telegraph your desires.*
1) TE Taysom Hill, NO
Two 'meh' FF efforts in a row…and then on TNF he didn't play much the 2nd-half, so everyone is writing him off. A Taysom grab, via simple trade (and he'll be near-cut level cheap) or pick up off waivers if someone drops him this week, makes sense for two situations…
1) As your 2nd TE who can start, flex, or might become a Saints QB and be a viable QB1 for you later in the season. Just a good utility, upside 'thing' to possess.
2) If you're fading fast from the playoffs and you need to start taking huge swings at pitches now -- Taysom can be the kind of radical scoring TE that could blow up in a week (like he did Week 5) and win you a week out of nowhere.  
2) WR Amari Cooper, CLE
Nobody cares about the Browns much, especially the pass game…so their players can sail a little under the radar. Cooper just missed a TD Week 7, which would've given him 5 TDs in his last 6 games as he pushes as a WR1…but is seen as a WR2-like thing. Cooper is a (4/3) but had his TD stood from Week 7, he'd be a (5/2) which is high end among FF WRs. He's a slick WR1 hope you can possibly get as a WR2 valuation trade.
3) RB Alvin Kamara, NO
If the current owner is mad AK for not scoring TDs and also fears a looming suspension, maybe you gamble and sneak in to buy low on AK from them and hope he doesn't get suspended…and you buy a PPR RB1 for an RB2 price. AK has three quality starts in a row, a (3/2) on the season.
4) QB Tom Brady, TB
If your season is going down in flames and your current QB situation is a wreck, trying to buy low on Brady hoping for his miracle turnaround is a bet to go all-in or death ahead. Brady looks fine but his receivers are letting him down. I think Brady could go on a tear ahead…because they have no run game, and their defense is falling apart.
5) QB Tua Tagovailoa, MIA
Returned to action Week 7, looked good but didn't light up the FF scoring…but he was close to a much bigger game. I think Tua has a ton of upside ahead in that offense -- if you have Tyreek, having Tua as a 2nd or 1st QB to stack with him as needed is a smart thing. Tua hasn't had a real hot FF game all year besides Week 2 in the 4th-quarter vs. BAL, but he's been oh-so-close or conked in the head otherwise. I think Tua could be a screaming value for those in QB despair or wanting to bolster the QB group for the stretch run.
Tua is a QB2 valuation…a going to get cut in some leagues this week type of valuation.
6) WR Curtis Samuel, WSH
Because he's not a fresh-faced magical unicorn rookie, his WR2-3 outputs of late are seen as punishable/cancelable. He's a great WR value in PPR to add to your roster/WR rotation for pennies on the dollar. 8 targets and 5 carries in Week 7…the touches are what you want, but he hasn't had a TD to go-with since Week 1. He's a (2/5) with five straight no quality starts but most of the misses were close to Q-starts, but the current owner only knows the recent 'meh'. He can be a throw-in type player from other teams in deals.
-------------------------
***FIVE SELL HIGH PLAYERS***
*NOT 'Sell at any price'…it's sell HIGH/sell good. Try to find someone in love with your player or seen as a neat value thrown into a multiplayer deal. If no one respects the player/buys right…then walk away.*
 1) WR D.J. Moore, CAR
DJM got you a TD and a nice tally in a shock win against TB…perfect time to sell it hot as you can.
2) RB Chuba Hubbard, CAR
If you grabbed Sunday or you end up getting him this week…I'd flip that Week 7 performance, if I could…into something I liked better.
3) WR Jerry Jeudy, DEN
Nice FF tally Week 7. Trade rumors swirling. Great time to dump this overrated piece of garbage WR. I don't know that FFMer actually owns him, but if you do…now is the time.
4) TE Kyle Pitts, ATL
This isn't getting any better. You might be stuck this week waiting for another week where he has a TD to pump up his value -- but this Falcons offense is the most pass-negative I've seen in a long time. We all need to run away from it.
The Falcons are doing well, so Art Smith isn't going anywhere…and as long as he is there, Pitts and London are dead.
People still love the name, so they are willing to buy semi-low but more than you'd think on him.
------------------------------
***FIVE DEEP SLEEPER WAIVER PICKUPS***
*Total flier/lowly owned or not-owned players
1) RB Rachaad White, TB
If Fournette goes down, White is an instant RB1..and with the way that lead RBs are going down….
2) RB Jaylen Warren, PIT
A Najee injury away from being an RB1.5-2.0.
3) RB Zamir White, LV
What happens if FF's #1 RB, Josh Jacobs, goes down? It's Zamir's game to lose.
4) RB DeeJay Dallas, SEA
If Kenneth Walker goes down, Dallas takes over.
5) TE Irv Smith, MIN
Good for this one week (Week 8) vs. ARI.
6) RB Boston Scott, PHI
A Miles Sanders injury away from launching to RB1.5…but Kenneth Gainwell puts some pressure on here
7) RB Isaiah Spiller, LAC
If Ekeler goes down, they will probably push Spiller over Michel…for the future.
8) WR Josh Palmer, LAC
If Mike Williams is going to miss weeks, then Palmer might get a new lease on life…temporarily.
9) WR Jameson Williams, DET
Projected to debut on Thanksgiving Day? Will be the Lions #1 in short order.
10) WR Skyy Moore, KC
Took a huge step back with another muffed punt return…his muffed punts are setting him back weeks/months a la Kyle Philips.
11) QB Malik Willis, TEN
Week 7 was a reminder -- if Tannehill goes down, Willis will be the new Michael Vick for FF. Tanny got dinged up this past week but taped it up and went back out after one Willis snap.
12) RB Zonovan Knight, NYJ
If you see him get moved up to the main roster, pay some attention.
13) QB Sam Ehlinger, IND
He could be a sneaky FF start ahead because he's a decent QB…but he is a very craft, willing runner. He might throw for 200 yards and a TD, but also run for 50+ yards and be a plausible start/possible TD run in a game. But maybe he's got more time booked in the NFL and is going to bring his college playmaking/stat-making self to the FF party?
---------------------------------
 -- FIVE…IT'S OK TO QUIT THEM PLAYERS (for REDRAFT) --
1) RB Mike Boone, DEN
I don't want anything to do with this offense to begin with, but any hope of Mike Boone impressing and getting more work…not happening. And he got hurt Week 7 and will miss time ahead…he's done.
2) Chargers-DST
A few people held for the schedule ahead and hope for an upcoming turn with so much talent here, but the Chargers are wrecked, and their defense is dying…now missing Joey Bosa and J.C. Jackson. The Chargers are quitting on their sad coach and his awful staff. Like I've been saying for a few weeks…LAC is secretly one of the worst 10 teams in the league, and their injuries Week 7 might push them to bottom 7-8 now.
3) RB Jordan Mason, SF
Any hope of this story turning on a Jeff Wilson injury…this week's CMC trade killed all that. 
4) WR Devin Duvernay, BAL
This was the week his O-C was gonna get him more involved, but he was as involved as he has been the past three years…'not very'.
5) WR Chase Claypool, PIT
He's terrific…so good. If you wanna hold longer if you think he'll be traded, OK…I guess. But for normal WR3/flex usage…he's the odd man out for Kenny Pickett and has been so since Pickett took over. I hate for him to be on this list, but…
--------------------------------
***STREAMING DSTs OFF WAIVERS(?) OPTIONS***--
1) Chiefs-DST
One of my favorite overlooked/sleeper defenses right now. They've been weak for FF, so far, due in part to a tough schedule. The schedule is about ease up for a defense that has young talent all over that's starting to gel.
BYE this week. One to consider at some point grabbing for their FF playoff schedule.
Week 8 = bye
Week 9 = TEN
Week 10 = JAX
Week 11 = LAC
Week 12 = at LAR
Week 13 = at CIN
*********
Week 14 = at DEN
Week 15 = at HOU
Week 16 = SEA
Week 17 = DEN
*********
2) Steelers-DST
You don't want for Week 8 at PHI…then a Week 9 bye, but after that, they could get T.J. Watt and the rest of their secondary back for the 2nd-half of the season and have a favorable matchup with the Saints Week 10 (IF everyone is back).
Week 12 at Indy can work…and maybe Week 13 at ATL too.
This is a sleeper DST to keep on your radar if/when Watt returns.
3) Colts-DST
It's definitely not great, but it's something for the desperate…Colts facing Washington Week 8. The Colts defense hasn't been horrible and there's a chance they get one of both of Shaq Leonard and Kwity Paye back too.
4) Bengals-DST
A decent defense…used to be a good defense but they lost Logan Wilson for a few weeks, so they're just 'decent' right now -- but, on here because the schedule isn't bad up to Week 11-12.
Week 8 = at CLE
Week 9 = CAR
Week 10 = bye
Week 11 = at PIT
Week 12 = at TEN
5) Cardinals-DST
Gave up 30+ points to the Saints last week, playing soft zones trying to salt away a lead. Prior to that they were holding opponents under 20 points in a game for weeks. This defense shows some promise, but also some gaffes. They're just a watch list DST or emergency use DST in a decent matchup.
Week 8 = at MIN
Week 9 = SEA
Week 10 = LAR
Week 11 = SF in Mexico
Week 12 = at LAC
Week 13 = bye
Week 14 = NE
Week 15 = at DEN
Week 16 = TB
Week 17 = at ATL
---------------------------------
 -- Sleeper/lesser-name IDPs whose box scores or live watch caught my attention --
1) SAF Jaylinn Hawkins, ATL
11 tackles in a game in two of his last 3 games with 2 PDs and an INT in that span. 8.7 total tackles per game the past three weeks.
2) SAF Jayron Kearse, DAL
Kearse was terrific last season, a minor revelation for Dallas/IDP. He was hurt early on in the season but he's back and has averaged 6.0 tackles per game since getting back to the action (4 games this season).
3) SAF Geno Stone, BAL
8 tackles this week, had 6 tackles the prior week. He's emerging with more playing time. He's a solid enough talent.
4) CB Fabian Moreau, NYG
The NYG D-C is fawning praise all over Moreau and he's responded with 8.5 total tackles and 0.5 PDs per game the last two games. Started the last three games for NYG.
5) LB Akeem Davis-Gaither, CIN
Stepping up/starting with Logan Wilson out -- 9 tackles, 7 solo this week. He could be useful as long as Logan Wilson is out (for 2-4 more weeks).
6) DE Sam Williams, DAL
Got his first two sacks this week…one of the most talented pass rushers from the 2022 NFL Draft class. 4 QB hits in his last 4 games, playing 25-35% of the snaps on defense. If he starts playing more…
7) DT Zach Carter, CIN
The rookie got some more playing time with DJ Reader down and answered with 5 tackles this week. He's an intriguing prospect that's a half DT/DE kinda DT. Four straight starts for Cincy…72% snaps Week 7.
-------------------------------
OUTTRO:
Well, if your season is fading away and you're desperate to turn things around…there's one last place you could turn…the place where Tom Brady goes to for help, we all suspect -- but I wouldn't recommend it. Jason Sudeikis to the rescue with an outlet to make a deal with if you are really desperate for a Week 8 win: https://youtu.be/DnIfCkB5fj4