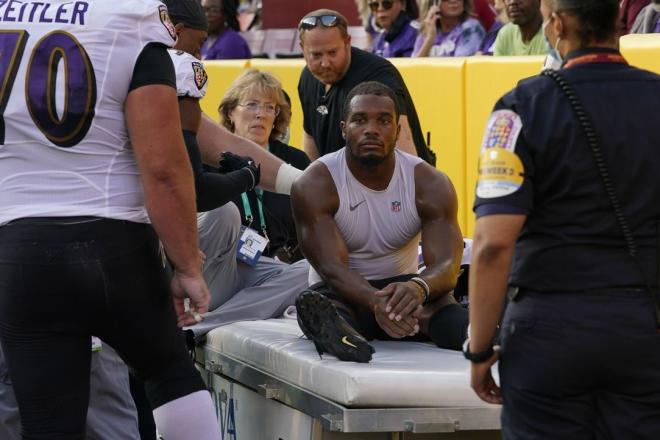 R.C. Fischer
Total Football Advisor
21 October 2022
Ravens Backfield Without J.K. Dobbins
You worry about your RBs, and then every Friday/weekend we get at least one changing situation out of the semi-blue.
This week: J.K. Dobbins' knee tweak turns into knee surgery out 4-6+ weeks. What's the fallout?
Yes, Kenyan Drake had a 100+ yard game last week. Anytime any RB has a 100+ yard rushing game, people faint like they're in the presence of The Beatles in the 1960s. Just a couple weeks ago, Drake was purposefully inactive so Dobbins could split/work with Justice Hill.
Hill then got hurt and had to miss the last two weeks. Drake got active. Dobbins was the lead with Drake in minor relief Week 5…then Dobbins hurt Week 6, Drake goes in and has a big game.
Justice Hill is back, and he's going to matter in this equation. That 100+ yard game for Drake last week is as good as leftovers put into Tupperware and put into your fridge. It's getting less memorable and appealing for Baltimore everyday that goes by.
This is set up to be a Drake-Hill hot hand split…until Gus Edwards is ready, which may be Week 7 some or Week 8, then it's an Edwards-Drake-Hill hot hand split that Justice Hill could be the best of the trio…or Edwards…sometimes Drake.
If you have Drake for Week 7 you have hope for touches…but you might also with Hill. That's assuming Edwards is inactive this week. If Edwards is active, he'll probably see just a few touches and Drake-Hill otherwise.
Who will win this long-term? Unknown…even to Baltimore. The winner is the one who stays healthy, probably. The winner could be different every week. 
‍