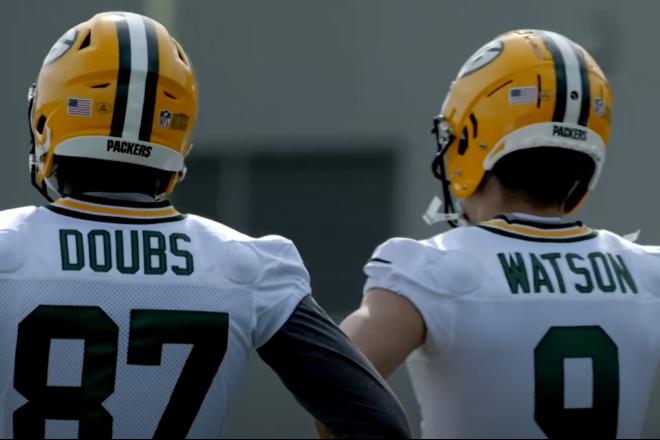 R.C. Fischer
Total Football Advisor
01 August 2022
 ‍
2022 Dynasty/Fantasy Camp Notes (8/01/22)…*Subscriber Extra
A daily collection of notes and commentary from training camps -- wanting to discuss the big news or give some tidbits you might not see anywhere else…
*SUBSCRIBERS = This is a special extended edition of a similar, basic report we put out for public consumption. When you see the 'Subscriber Notes' notation in each section…that's the extended part the public won't have access to. 
1) The Green Bay Packers WR market update…
Romeo Doubs has become the delight of the week from Green Bay training camp -- the mild buzz from people noticing how good he is, and Aaron Rodgers among others speaking of it…and a general Packers fan desperation for any good WR news/hope.
Before everyone crowns Doubs as the next big thing, keep in mind what happens far too often in training camps with 'technically sound' young WRs -- do you remember KeeSean Johnson for the Arizona Cardinals a few years ago?
Johnson was a day three draft pick (#174) that lit up training camp -- making plays with reliable hands and smart route running. KeeSean raced ahead of fellow rookies Andy Isabella (pick #62) and Hakeem Butler (pick #103)…all the way to him starting Week 1 and seeing 10 targets in his NFL debut game.
That Week 1 game was his career peak and he fell down and out of favor from there -- technically sound, great hands WR who had a hard time getting open in the real-deal games of the regular season.
Preseason 7-on-7 can create a lot of false stars of the moment, and Doubs could be one of them. However, the more I scout on Doubs, the more interested I am that he might be a legit NFL starter with technical gifting upside.
How much upside and how Christian Watson and Allen Lazard news fits into all this -- will be added on the subscriber notes version of this same piece.
*SUBSCRIBER NOTES:
--I think Doubs has some mild Davante Adams look to him, which is weird and encouraging…and possibly misleading -- too easy/simple comparing a young WR to a long-time prior or retired WR from the same team but Doubs is good at his craft, and we don't know his measurables (fully) to compare to Adams because Doubs didn't participate in any pre-Draft timing, etc., due to a knee issue.
I want to see more of Doubs against real-time NFL starters, and not just blowing up on a play or two in non-contact passing game work with funny helmet protectors on working with Jordan Love.
Christian Watson missing time with injury also gives Doubs some opportunity to standout, but when Watson returns to practice…all the Doubs love may shift away.
--Allen Lazard is fully coming out of the closet as the Packers #1 WR…and his ADP is going to keep rising and will again this week…because Aaron Rodgers is no longer hinting at it, he's just coming out and calling Lazard the #1 WR and the Davante replacement…as we projected all along, but now it's here. The days of super-cheap Lazard are really over (via trade or redraft pick).
Lazard was a mainstream WR4-5 to begin the calendar year who started getting a little heat a month ago into a WR3-4ish deep sleeper, but now he's about to become a back-end WR2 (#24-30) ADP redraft WR…as fans come to grip with the fact, he's the top WR for Rodgers -- the mainstream probably won't take him to top 20 among WRs or to WR1 levels, because stuff like this isn't supposed to happen. UDFA guys aren't supposed to be top guys. So, the pricing won't get ultra-hot, but the days of cheap/throwaway deal acquisitions on Lazard are over. Most of you already cashed in on this, so congrats -- I think between DKM and Deebo getting their deals and Julio signing with TB…we 'win' here on Lazard.
2) The Las Vegas Raiders backfield…
The more I hear and see things about this situation, the more the whole 'McDaniels is gonna run an RBBC a la New England' theory is becoming a reality.
Josh Jacobs as the lead runner but Kenyan Drake as a James White a-like and then Zamir White as the wild card that McDaniels could easily fall in love with to split touches with Jacobs.
You know how most of us have a 'you can't trust a Belichick backfield' for figuring out touches game-to-game, etc., for our Fantasy mindset/planning? Should we all just assume the same with McDaniels for Las Vegas?
Speaking of the New England backfield, a quick extra note on that in the subscriber version of this report.
*SUBSCRIBER NOTES:
Yes, it seems to be true…Rhamondre Stevenson is getting a push as the lead back over Damien Harris in training camp so far. Not that Harris is going away, but that Harris can't be assumed to be the FF leader from this stable. It makes Stevenson, today, a hotter commodity because of the cheap ADP…but when everyone knows this/believes it more in a week or so -- by mid-August Stevenson will have surpassed Harris in ADP…and possibly go from underpriced to overpriced.
Where are Pierre Strong or Kevin Harris at in all this? Strong is getting some grooming to be a James White, but he may not really matter (on purpose) until 2023. I have heard little on Kevin Harris.
3) Los Angeles Chargers new ILB?
Drue Tranquill and ____ will start at ILB this season, on a developing, beautiful LAC defense.
Kenneth Murray is out still recovering from offseason minor surgery…and he didn't play well as it was last year, at ILB. Might have been the injury hampering him.
I thought LAC might sign Denver free agent Alexander Johnson by now if they wanted off of counting on Murray. But they have not.
Who is working at ILB…and has a chance to win the job right now? Kyle Van Noy. The former quality OLB/DE for New England in recent years (with a one-stop at Miami)…has been moved to ILB. That's an interesting IDP development.
I can't wait to see how he looks at this new position (for him) in the preseason -- if it's nice, then this LAC defense has no holes…and the Kenneth Murray flame starts to flicker out. But he could be just a placeholder for Murray…which is great news for Murray that the team is still high on him.
4) Note #4 will be on the subscriber notes version of this piece.
The bonus note is about an emerging slot WR…who keeps on…'emerging' in camp. AND is an incredible value in Dynasty/Fantasy right now, for a just short period remaining before everyone gives in and admits it's real, like we've been saying since Jan-Feb-Mar.
*SUBSCRIBER NOTES:
Isaiah McKenzie has all but sewn up the starting slot job for Buffalo…and that is a very good thing for FF purposes. The starting slot with an elite passer, and McKenzie has been nothing but a weapon/producer when given the chance to shine.
The mainstream keeps pining for/assuming Jamison Crowder, but I've been telling anyone who will listen -- it's McKenzie time. They signed McKenzie to a nice deal…better than Crowder's, and McKenzie has been there for a few years and is a team leader.
McKenzie has been one of the best values in Fantasy all year, but those days are ending…as he goes from WR5-6-7 to WR3-4 in value probably by mid-August.
I think McKenzie has a WR3-4 floor with a WR2-3 upside, maybe a pure WR2 upside because he has been such a productive weapon when given the chance.
‍