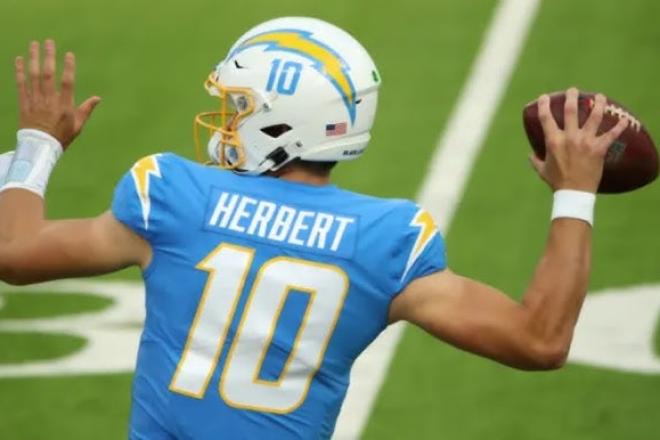 R.C. Fischer
Total Football Advisor
24 February 2021
‍
2020 FFM/NFL Rookie of the Year
‍
All this week we are going through the major NFL awards division by division, naming a divisional winner…then debating the divisional winners by conference until we get to the final two candidates and declare our 2020 winner from there.
2/2 = Defensive Player of the Year
2/3 = Coach of the Year
2/4 = Rookie of the Year
2/5 = MVP/Offensive Player of the Year
AFC EAST
BUF: PK Tyler Bass
MIA: OG Robert Hunt
NE: DB Kyle Dugger
NYJ: OT Mekhi Becton
Kyle Dugger had moments, but he didn't start playing until later in the season and wasn't a full year impact.
Tyler Bass had a nice season, but he probably didn't do much more than Stephen Hauschka might have.
Robert Hunt played well in the 2nd-half, a key blocker that helped the likes of weaker RB's Myles Gaskin and Salvon Ahmed run well – so that's a strong plus for him.
However, everyone in the league was talking about Mekhi Becton…and the Jets tried to run every play behind him, that's saying something.
WINNER = OT Mekhi Becton, NY Jets
AFC NORTH
PIT: WR Chase Claypool
BAL: RB J.K. Dobbins
CLE: OT Jedrick Wills
CIN: WR Joe Burrow, CIN
Jedrick Wills started all 16 games on a top NFL offensive line…that's worth of consideration.
J.K. Dobbins closed the year nicely, but he was not a key/main factor or 'wow' performer you can see as an obvious ROY candidate.
Chase Claypool was on his way to an amazing rookie season, but then was inexplicably 'benched' for fear of 'hitting a rookie wall' and he lost all of his momentum in the season. One of the most befuddling things I've seen in my time analyzing the NFL.
Joe Burrow only played 10 games, but it was pretty clear he was as advertised – a future star. The Bengals were becoming a tough out on the back of Burrow. With any supporting cast (defense, O-Line, coaching) this team could've been a playoff contender because of Burrow.
Wills and Dobbins were good. Claypool and Burrow showed signs of 'great'.
WINNER = QB Joe Burrow, Cincinnati
AFC SOUTH
TEN: CB Kristian Fulton
IND: RB Jonathan Taylor
HOU: DE Jonathan Greenard
JAX: CB C.J. Henderson
Someone had to be named for Houston, and Greenard played the most among their rookie class…so, he's here but no threat to win it.
Kristian Fulton was forced into the starting lineup and wasn't too horrible, but not worthy of a ROY title.
C.J. Henderson might have/probably would have won the award for this division had he stayed healthy, but he went on I.R. and missed the 2nd-half of the season. He was a shutdown corner immediately…that's a big deal now and for the future.
Jonathan Taylor carried his team to the playoffs down the stretch with a heavy workload, so he is the obvious winner here.
WINNER = Jonathan Taylor, Indianapolis
AFC WEST
KC: CB L'Jarius Sneed
LV: CB Damon Arnette
LAC: QB Justin Herbert
DEN: OC Lloyd Cushenberry
L'Jarius Sneed was a starter right out of the gates, got hurt and missed 8 weeks after a Week 3 injury and came back and was an impact player – a rookie CB starting right away, making an impact right away…impressive, key. More key than CEH.
Damon Arnette had some moments that caught my attention, but he also got beat a lot and missed 7 games with injury. He can't be a serious candidate here.
Cushenberry went right into instant starter and anchored one of the best O-Lines in the NFL in 2020. In other divisions he might be the obvious representative, but not this one. Because…
Justin Herbert had the greatest rookie QB season of all-time. How can you top that? It's a race for the runner's up to Herbert in the end basically, no?
WINNER = Justin Herbert, LA Chargers
NFC EAST
WSH: SAF Kameron Curl
NYG: OT Andrew Thomas
DAL: WR CeeDee Lamb
PHI: QB Jalen Hurts
In an era where WRs come into the league and just destroy it right away, when they are great WRs, CeeDee Lamb just had a quietly solid season…no better, no more impactful than WRs taken much later in the draft. Lamb was nowhere near 'as advertised' by the mainstream.
Jalen Hurts had an instant impact, but after winning his debut game he lost the next three starts. Not enough time/play for Hurts to win this award.
Andrew Thomas played all 16 games and was very solid as a rookie, but when Kameron Curl got into the starting lineup this Washington defense, their secondary really started locking down. Washington went (5-3) when Curl began his starting run Week 9 on. Curl picked off a pass in three of their last 4 games.
Chase Young had a solid season but wasn't as dominating as was made out to be. Young is the better player, but I think Curl had the better season and impact in a time of need in the 2nd-half of the season.
WINNER = Kameron Curl, Washington
NFC NORTH
GB: LB Krys Barnes
CHI: WR Darnell Mooney
MIN: WR Justin Jefferson
DET: RB D'Andre Swift
Swift had a solid rookie season, but he started slow, then missed some games, and had up-and-down results. However, he did become the starter by year's end and best offensive threat…so, that's something.
Krys Barnes was a starter/rotational player from Week 1 at middle linebacker…pretty shocking for a UDFA player. Barnes was up among the league leaders in tackles per snap played. An overall solid season for sure.
Darnell Mooney is really an amazing story…a 5th-round pick who ended up better than most of the 1st-round pick WRs. Still, he didn't have a huge season…so I could not push him over Justin Jefferson.
Of course, it has to be Justin Jefferson…a record setting rookie season. Struggled for 2-3 weeks and then exploded. I thought he was good, but not that good. An amazing rookie season on a team not known for its aerial assault. Huge impact as a rookie…he's the obvious winner here.
WINNER = Justin Jefferson, Minnesota
NFC SOUTH
NO: OG Cesar Ruiz
TB: OT Tristan Wirfs
CAR: DB Jeremy Chinn
ATL: CB A.J. Terrell
A.J. Terrell got whooped as a rookie, but that shows how bad the Falcons draft was – he's their best rookie of 2020, and was starting in most of the Falcons games this season. I almost chose their rookie punter but he was last in the league in yards per punt.
Cesar Ruiz played well and started most all the Saints' games…but he wasn't as good as Tristan WIrfs on the O-Line.
Jeremy Chinn deserves strong consideration for the award, but Wirfs was arguably the best O-Lineman of 2020 season – good-to-great grades, started/played most every game, and was part of the crew keeping Brady safe enough this season.
WINNER = OT Tristan Wirfs, Tampa Bay
NFC WEST
SEA: LB Jordyn Brooks
LAR: RB Cam Akers
ARI: LB Isaiah Simmons
SF: WR Brandon Aiyuk
The weakest candidate here was the highest drafted – Isaiah Simmons. He was pulled from playing early on because he was screwing up so much. He started making some plays midseason but also many out-of-position mistakes. Looking back, the Cardinals had a horrific draft in 2020 – not taking Tristan Wirfs or Mekhi Becton will haunt this franchise for a decade.
Jordyn Brooks came on as the season unfolded, a nice 2nd-half of 2020 season. But not impactful enough to win an award.
Both Cam Akers and Brandon Aiyuk were thrust into main roles down the stretch and produced nicely. Aiyuk was pushed when Deebo and Kittle were gone…so, not as purposeful as Akers being the coach's choice/pet play. Akers became the man for the Rams, so even if I don't think it was the right move…he gets the lean for best 2020 rookie of the division.
WINNER = RB Cam Akers, L.A. Rams
=====================================
CONFERENCE FINALS…
AFC FINALS:
OT Mekhi Becton, NY Jets
QB Joe Burrow, Cincinnati
RB Jonathan Taylor, Indianapolis
QB Justin Herbert, LA Chargers
Jonathan Taylor is the weakest hand of the final four…he didn't start rolling until later in the season, but it was good when he finally took over. Nice season but RB is a low impact position overall.
Joe Burrow was fantastic, a franchise changer, but got taken from us with the ACL and missed half a season. He was as advertised but no way to push him over Justin Herbert.
Mekhi Becton was terrific…dominant. A potential ROY winner in many other seasons, but what Justin Herbert did is so out of this world at the most important NFL position…you have to give it to Herbert.
WINNER = QB Justin Herbert, L.A. Chargers
NFC FINALS:
SAF Kameron Curl, Washington
WR Justin Jefferson, Minnesota
OT Tristan Wirfs, Tampa Bay
RB Cam Akers, L.A. Rams
Cam Akers is arguably the weakest option of this final four. A couple good games late, mostly on high volume shoved at him. He was solid but not an award winner.
Kameron Curl was really nice the 2nd-half of the season and he helped settle down a problem at safety and Washington's defense really got consistent right about the time Curl settled in (and Curl had nice numbers for a rookie as well). Great job but not as impactful as Wirfs or Jefferson.
Do you take the record setting WR or the player you would draft/pick/take if you were given the option today (the elite OL)? As impressive as Jefferson was, I should give the award to Wirfs – a great rookie season at a much more key position. However, Justin Jefferson setting records is hard to overlook as an individual achievement, resume statement. I'll go with JJ by a hair.
WINNER = WR Justin Jefferson, Minnesota
======================================
THE FINALS:
QB Justin Herbert, L.A. Chargers
vs.
WR Justin Jefferson, Minnesota
Two record setters at their position for a rookie. However, this is an easy call – the QB position is 20x the importance of the WR position. Jefferson's record will probably get eclipsed 2-3 times the next five years. It may be awhile before someone takes down Herbert's record.
Justin Herbert not only was the best rookie performer of the 2020 season…it may have been, arguably, the greatest rookie season by any NFL player…ever. At least in our lifetimes/current era. And to think…Anthony Lynn was going to start Tyrod Taylor no matter what. That's NFL head coaching for you – elite things are in plain view and NFL head coaches and scouts can't see it.
The 2020 Season FFM NFL Rookie of the Year is = QB Justin Herbert, L.A. Chargers