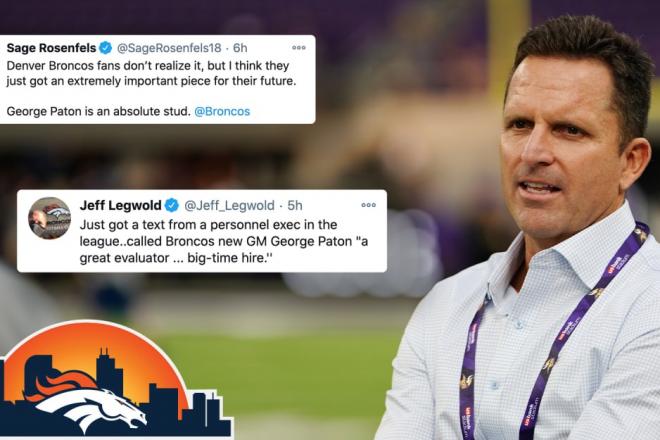 R.C. Fischer
FFM
05 June 2022
2022 Offseason Assessment Tournament: FINALS (DEN v. MIN)
Same intro everyday: Our annual series taking a look at each NFL team's offseason (free agency, draft, trades) moves and assessing their impact for the upcoming season – simply speaking, 'did all of the offseason moves, en masse, project to make the team better or worse for just the upcoming campaign (not worried about the long-term effect)'?
We'll list the key adds and losses for each team competing and then comment on them and anoint a winner that will move on to the next round, until we get down to the final two (the 'Super Bowl') and we name a winner for the top offseason (to date). Our way to review and judge what each of these teams have done halfway through the offseason.
Finals:
DENVER BRONCOS
Key Adds:
QB Russell Wilson (trade), EDGE Randy Gregory (FA), DT D.J. Jones (FA), CB K'Waun Williams (FA),
LB Nik Bonitto (pick #64), TE Greg Dulcich (#80), CB Damarri Mathis (pick #115), DT Eyioma Uwazurike (pick #116), CB Bryce Callahan (FA)
Key Losses:
QB Drew Lock (trade), TE Noah Fant (trade), DT Shelby Harris (trade), QB Teddy Bridgewater (FA)
vs.
MINNESOTA VIKINGS
Key Adds:
LB Za'Darius Smith (FA), DT Harrison Phillips (FA), LB Jordan Hicks (FA), SAF Lewis Cine (pick #32), CB Andrew Booth (pick #42), OL Ed Ingram (pick #59), LB Brian Asamoah (pick #66), CB Akayleb Evans (pick #118), RB Ty Chandler (pick #169), CB Chandon Sullivan (FA)
Key Losses:
TE Tyler Conklin (FA), OC Mason Cole (FA), SAF Xavier Woods (FA)
OK, down to the last two…who had the better offseason set of moves?
Denver rode the Russell Wilson trade/move to the finals…in a league where QB is everything, did the Broncos not make the ULTIMATE offseason move a team could make?
However, Minnesota got here for something I've really never seen before – a team with a lot of defensive personnel issues actually went out in the offseason and used free agency and the draft to acquire 5-6-7 instant starters on the defensive side of the ball…good defenders, some possible great defenders.
Judging by what was most impactful for 2022 (not long term) is what we're doing here, and if given the choice between a beefed-up defense and an elite QB…a jump from Lock/Bridgewater/Siemian/Paxton Lynch to Russell Wilson – you have to go with the QB upgrade, no? QB is everything…see how Matt Stafford flourished once away from the Detroit Lions, and it was next season/right away.
Plus, Denver did add a nice slot corner in K'Waun Williams and if Randy Gregory and/or D.J. Jones comes through, then this is going to be an explosive, radical offseason.
No offense to the Vikings, which is an offseason where I literally marvel at what they've done…I mean, any idiot could trade a bunch of picks and stuff and get Russell (and takes a bigger idiot to accept the deal to send away Russ). But what Minny did was so savvy, so meticulous…I'm wildly impressed. BUT…the QB is everything in the NFL. If Minnesota lost Kirk Cousins and had to go with Kellen Mond…season over, the defensive quality wouldn't save them.
WINNER = The grand champion for 2022 offseason for the biggest impact for the upcoming season…the Denver Broncos.