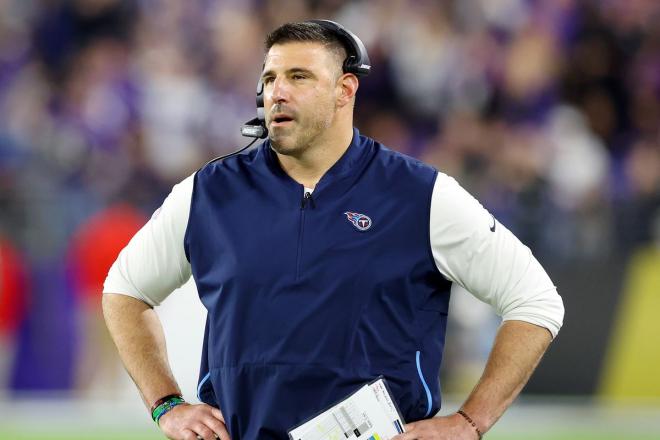 R.C. Fischer
FFM
24 May 2022
2022 Offseason Assessment Tournament: 1st-Round (TEN v. JAX)
Same intro everyday: Our annual series taking a look at each NFL team's offseason (free agency, draft, trades) moves and assessing their impact for the upcoming season – simply speaking, 'did all of the offseason moves, en masse, project to make the team better or worse for just the upcoming campaign (not worried about the long-term effect)'?
We'll list the key adds and losses for each team competing and then comment on them and anoint a winner that will move on to the next round, until we get down to the final two (the 'Super Bowl') and we name a winner for the top offseason (to date). Our way to review and judge what each of these teams have done halfway through the offseason.
1st-Round Matchup…
TENNESSEE TITANS
Key Adds:
WR Robert Woods (trade), TE Austin Hooper (FA), OT Jamarco Jones (FA)
WR Treylon Burks (pick #18), CB Roger McCreary (pick #35), OL Nick Petit-Frere (pick #69), QB Malik Willis (pick #86), RB Haasan Haskins (pick #131), WR Kyle Philips (pick #163)
Key Losses:
WR A.J. Brown (trade), OG Rodger Saffold (FA), LB Jayron Brown (FA), WR Julio Jones (FA)
vs.
JACKSONVILLE JAGUARS
Key Adds:
WR Christian Kirk (FA), OG Brandon Scherff (FA), Foye Oluokun (FA), Darious Williams (FA), DT Foley Fatukasi (FA), WR Zay Jones (FA), LB Damien Wilson (FA), DE Arden Key (FA)
LB Travon Walker pick #1), LB Devin Lloyd (pick #27), OL Luke Fortner (pick #65), LB Chad Muma (pick #70), CB Gregory Junior (pick #197)
Key Losses:
LB Myles Jack (FA), OG Andrew Norvell (FA), OL A.J. Cann (FA), WR D.J. Chark (FA)
I think the Titans might have screwed themselves thinking Treylon Burks is just like A.J. Brown…they may live to regret that trade, and it's definitely a step back for 2022. You'd think they'd have a 1-2 year window with Henry-Tannehill that they wouldn't want to overhaul the roster with a total youth movement – so what do they do? Ditch their best WR and draft a rookie QB to piss off the current QB. It may be logical for the future, but they had a 'future is now' potential window and it's now slipping away.
Robert Woods is a nice 'add' but he is coming off an ACL…so it may not be as good as they think for 2022. In the draft. Losing Rodger Saffold hurts a bunch. And Jayron Brown served them well, now he's gone. McCreary is a useful hand, not anything special. I love Kyle Philips, but he probably gets buried here for 2022…as will Willis. I don't see where Tennessee took a step forward this offseason.
I'm predisposed to hating anything the Jaguars do…because they seem to have the opposite of the Midas touch. Everything they do, everything they touch turns to crap. So, I had kinda dismissed their team and offseason, in general, but now looking at it laid out here – they have really added a lot of good or useful bodies to the roster this offseason.
They lost a couple OK O-Linemen but added a big-time free agent get in Brandon Scherff. They need to dump Myles Jack, and they did…and added a whole new linebacking group…a very good one – Oluokun, Lloyd, and Muma...plus edge rusher Travon Walker, if he comes into his own then this offseason is incredible. They also added several capable contributors at CB, a nice run-stopping DT. It feels like a good first step for a Jacksonville turnaround (except Trevor Lawrence might be their biggest problem…).
I don't believe Tennessee got better for 2022 with their offseason moves this year-to-date, but Jacksonville has added several key/impactful pieces (and they could only go up anyway). Easy choice here…
WINNER = Jacksonville, moving on to the AFC South finals.
1ST-ROUND RESULTS:
NYG defeats DAL
PHI defeats WSH
LAR defeats SEA
SF defeats ARI
DET defeats GB
MIN defeats CHI
ATL defeats NO
TB defeats CAR
-----------------
NYJ defeats BUF
MIA defeats NE
DEN defeats KC
LAC defeats LV
CIN defeats BAL
CLE defeats PIT
JAX defeats TEN