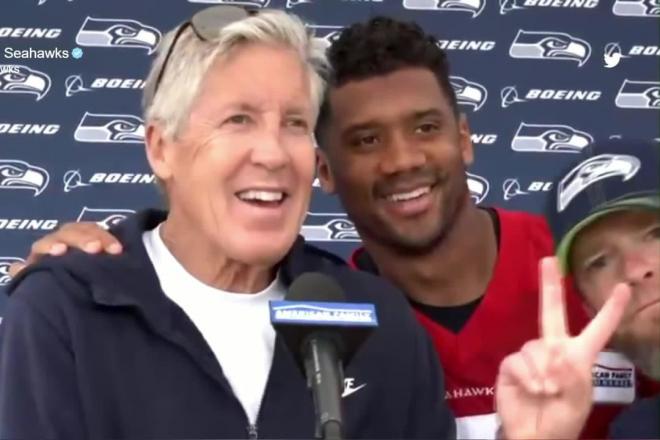 R.C. Fischer
FFM
11 May 2022
2022 Offseason Assessment Tournament: 1st-Round (LAR v. SEA)
Same intro everyday: Our annual series taking a look at each NFL team's offseason (free agency, draft, trades) moves and assessing their impact for the upcoming season – simply speaking, 'did all of the offseason moves, en masse, project to make the team better or worse for just the upcoming campaign (not worried about the long-term effect)'?
We'll list the key adds and losses for each team competing and then comment on them and anoint a winner that will move on to the next round, until we get down to the final two (the 'Super Bowl') and we name a winner for the top offseason (to date). Our way to review and judge what each of these teams have done halfway through the offseason.
1st-Round Matchup…
LA RAMS
Key Adds: OL Logan Bruss (pick #104), LB Bobby Wagner (FA), WR Allen Robinson (FA), CB Troy Hill (trade)
Key Losses: Von Miller (FA), CB Darious Williams (FA), OG Austin Corbett (FA), DT Sebastian Joseph (FA), PT Johnny Hekker (FA), WR Robert Woods (trade), OT Andrew Whitworth (retired)
vs.
SEATTLE SEAHAWKS
Key Adds: LB Uchenna Nwosu (FA), DT Quinton Jefferson (FA), SAF Joey Blount (UDFA), OT Charles Cross (pick #9), DE Boye Mafe (pick #40), RB Kenneth Walker (pick #41), OL Abe Lucas (pick #72), CB Coby Bryant (pick #109), CB Tariq Woolen (pick #153), DT Shelby Harris (trade), QB Drew Lock (trade), TE Noah Fant (trade)
Key Losses: QB Russell Wilson (trade), LB Bobby Wagner (FA), TE Gerald Everett (FA), CB D.J. Reed (FA), DT Kerry Hyder (cut)
The Rams losing Andrew Whitworth was the most devastating thing that happened to them this offseason. Hard to make up for that. Adding Allen Robinson was terrific, and Bobby Wagner may be a better name than reality right now…but it has some hope, veteran leadership. The Rams had a few nice adds but the loss of Whitworth and Corbett on the O-Line stings, as does losing their long-time punter and up-and-coming DT Sebastian Day. Overall, the Rams took a step back with all their moves.
But Seattle may not advance ahead of the Rams in this little exercise because moving Russell Wilson is devastating for 2022. Wilson gone. Long time leader Bobby Wagner gone. D.J. Reed and Kerry Hyder are good players who bolted. When I look at the adds, it's nowhere near making up for what they lost. How could it be losing Russ? They get a promising young TE (Fant) but no top QB to throw to him Charles Cross and Abe Luas are promising OLs and Boye Mafe is a nice pass rusher. Seattle got several decent bodies in the draft but nothing really groundbreaking.
In the end, to judge their offseason, if I were the Seattle GM and I was offered every player listed in the 'Key Adds' section for Seattle (all 12 of them) in exchange for trading away Russell Wilson …I would have declined the offer (because I could find plenty of similar players in free agency or the draft, etc. – quantity does not equal quality here). Me declining that fake deal -- that tells you how bad this Seattle offseason is.
WINNER = by default, the L.A. Rams.
1ST-ROUND RESULTS:
NYG defeats DAL
PHI defeats WSH
LAR defeats SEA