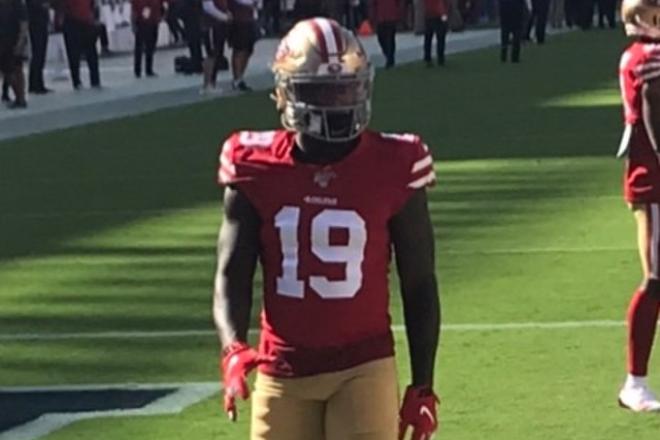 R.C. Fischer
FFM
25 March 2022
2022 Finding 'The Next Deebo' (Minnesota vs. Chicago) -- March Madness Tourney
Same Intro each day: We all know what the phrase 'next Deebo' means – a player who works at one position primarily but takes on a second position (in-game) beyond just a random 1-2-3 carries or targets…that they become a real dual-threat option for their team, and thus a great producer for Fantasy Football.
Before there was 'Deebo' (midway through the 2021 season), there was 'Cordarrelle' as the breakout WR who started also taking a good workload at RB…so much so he became the team's lead RB, but then got all but dropped on his WR aspect.
Before 'Cordarrelle' there was Curtis Samuel trying to breakthrough as a 'nails' WR in 2020, but also a guy taking 3-5 carries a game in CMC's absence and looking like he might make the turn – but then he went to Washington in free agency, got hurt, and barely played/impacted in 2021.  
Before Samuel there was everyone looking for the 'next Tyreek'. We might forget that Tyreek started out as a low target WR taking 1-2 carries a game, and then taking every carry for a 50+ yard TD…then he was converted over from random WR/RB to main WR, and they stopped pushing him in the running game the past two years (definitely don't get that guy the ball more, whatever you do).
We've had some promising guys try to breakdown this 'Deebo' wall, but Cordarrelle really was the one who kicked in that door to start 2021 season (then ATL went away from it)…after the door was kicked in, then Deebo ran right through it 2nd-half of 2021 and became the ultimate/best dual threat of our lifetimes – so much so every analyst is running around saying certain players 'can be their Deebo', and you're going to get sick of hearing about it they say it so much now. But credit to Deebo (really, credit to Kyle Shanahan) the 'Deebo' role is a thing now…I think some teams are going to copy because of its success, as they should…as they should've created it years ago. It's the evolution of the game – players/weapons who you don't know where they're gonna lineup or what they're going to do, and they'll draw plenty of mismatches to expose.
With that in mind, we're going to have a 'next Deebo' tournament/FFM daily series for the next few weeks during March Madness time.
I am going to nominate one player from each NFL team to be the possible 'next Deebo'…the 'their Deebo' hopeful. I'll explain why I choose that player, and why not others if there was a close option – and then like March Madness, we'll pit two of them against each other/state the case and I'll choose a winner…the one most likely to be used as 'the next Deebo' for the 2022 season.
We'll go by division, matchups by 2021 record (so #1 v. #4, #2 v. #3 in the division), one matchup/winner declared each day into April until we have one AFC rep and one NFC rep and then we'll declare a final 'Super Bowl of Deebo' winner.
Now, San Francisco has their own Deebo already…so he is not in this tournament. For the SF slot, there will be a play-in game between two current draft prospect options. Unsigned free agents will be an option for the team they were last on in 2021, so like a heavy Final Four favorite, but current free agent (as of this writing), Cordarrelle Patterson, will be an option for Atlanta. Got it? Good. Let's go…
Today's Matchup = NFC North: MIN vs. CHI
RB Tarik Cohen, CHI
Vs.
WR Ihmir Smith-Marsette, MIN
Remember when Tarik Cohen used to be in the NFL? It was like two seasons ago…got hurt in Week 3 in 2020 and hasn't really been seen since.
Back in 2017, his rookie season, Cohen was not 'the next Deebo'…he was my 'next Tyreek Hill' – a RB/WR force with blazing, breakaway speed testified by his/their return game prowess on top of everything else.
In 2017, Cohen debuted with back-to-back 8 catch games…no kidding…8 catches on 12 targets (along with 5 carries) in his Week 1 debut and then 8 catches on 9 targets (along with 7 carries) the next week. It was a sight to behold. It was special. Cohen had legit RB abilities but also a sneaky great set of hands in the passing game – he could have been a Julian Edelman-like WR and a legit RB at the same time. A 'next Deebo' in a smaller, but stout package.
Of course, he was so successful, so game-changing right away…that the Bears instantly started to throttle back on his targets…then his carries…because David Montgomery needed to get tackled behind the line of scrimmage more…and Cohen's rookie season ended with a bit of a fizzle. His 2018 saw him spike back up…71 catches, 8 total TDs…a Pro Bowl.
He had a solid 2019 season, but less TDs, less efficiency, less emphasis, less snaps. In 2020, he was way down in utilization for 3 games…then got hurt (ACL) and hasn't had a touch since. He's a free agent now in 2022…looking for a new home.
Ihmir Smith-Marsette (ISM, so I don't have to type that anymore) is a 5th-round 2021 draft pick by Minnesota. A crafty WR who didn't test great at his Pro Day but was a kinda playmaker at Iowa…a top kick returner (2 return TDs in 53 career returns at Iowa) and was a jack-of-all-trades WR…110 career catches, 14 TDs in 43 career games with 34 rushing attempts, 274 yards, and 4 rushing TDs.
ISM played sparingly in 2021…saw a few targets, returned a couple of kicks. He's on the bubble for me – he may be college good and NFL insignificant. This will be a big turning point summer 2022 – new coaching staff, more offensive minded, etc. ISM might have a chance at some more radical things if he can impress the new staff.
Judging between the two for this contest is tough. I don't really believe in ISM, at this moment. I'll keep the door open on it but I'm betting against it. I love Tarik Cohen, but he failed a physical in March 2022…so Chicago is letting him go. We're going on two years and his knee/body is not right?
I'll go with Cohen…because if he gets cleared/back in shape, he's a weapon…or used to be. I just don't believe in ISM enough yet to push him forward. Not happy with either of these choices.
WINNER = Tarik Cohen, who goes on to the Sweet 16 to face Amon-Ra St. Brown for the NFC North crown.