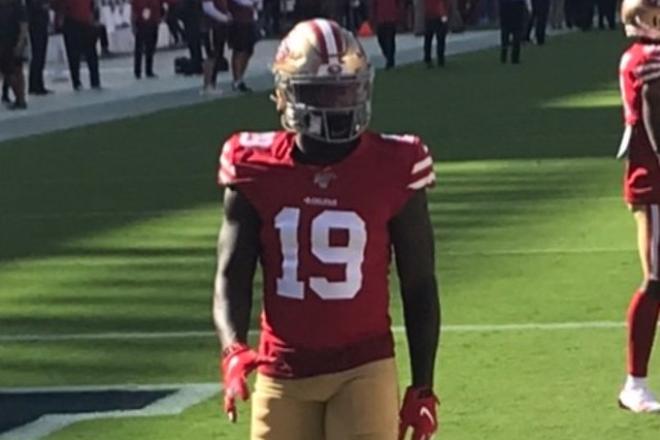 R.C. Fischer
FFM
20 March 2022
2022 Finding 'The Next Deebo' (Dallas vs. NY Giants) -- March Madness Tourney
Same Intro each day: We all know what the phrase 'next Deebo' means – a player who works at one position primarily but takes on a second position (in-game) beyond just a random 1-2-3 carries or targets…that they become a real dual-threat option for their team, and thus a great producer for Fantasy Football.
Before there was 'Deebo' (midway through the 2021 season), there was 'Cordarrelle' as the breakout WR who started also taking a good workload at RB…so much so he became the team's lead RB, but then got all but dropped on his WR aspect.
Before 'Cordarrelle' there was Curtis Samuel trying to breakthrough as a 'nails' WR in 2020, but also a guy taking 3-5 carries a game in CMC's absence and looking like he might make the turn – but then he went to Washington in free agency, got hurt, and barely played/impacted in 2021.  
Before Samuel there was everyone looking for the 'next Tyreek'. We might forget that Tyreek started out as a low target WR taking 1-2 carries a game, and then taking every carry for a 50+ yard TD…then he was converted over from random WR/RB to main WR, and they stopped pushing him in the running game the past two years (definitely don't get that guy the ball more, whatever you do).
We've had some promising guys try to breakdown this 'Deebo' wall, but Cordarrelle really was the one who kicked in that door to start 2021 season (then ATL went away from it)…after the door was kicked in, then Deebo ran right through it 2nd-half of 2021 and became the ultimate/best dual threat of our lifetimes – so much so every analyst is running around saying certain players 'can be their Deebo', and you're going to get sick of hearing about it they say it so much now. But credit to Deebo (really, credit to Kyle Shanahan) the 'Deebo' role is a thing now…I think some teams are going to copy because of its success, as they should…as they should've created it years ago. It's the evolution of the game – players/weapons who you don't know where they're gonna lineup or what they're going to do, and they'll draw plenty of mismatches to expose.
With that in mind, we're going to have a 'next Deebo' tournament/FFM daily series for the next few weeks during March Madness time.
I am going to nominate one player from each NFL team to be the possible 'next Deebo'…the 'their Deebo' hopeful. I'll explain why I choose that player, and why not others if there was a close option – and then like March Madness, we'll pit two of them against each other/state the case and I'll choose a winner…the one most likely to be used as 'the next Deebo' for the 2022 season.
We'll go by division, matchups by 2021 record (so #1 v. #4, #2 v. #3 in the division), one matchup/winner declared each day into April until we have one AFC rep and one NFC rep and then we'll declare a final 'Super Bowl of Deebo' winner.
Now, San Francisco has their own Deebo already…so he is not in this tournament. For the SF slot, there will be a play-in game between two current draft prospect options. Unsigned free agents will be an option for the team they were last on in 2021, so like a heavy Final Four favorite, but current free agent (as of this writing), Cordarrelle Patterson, will be an option for Atlanta. Got it? Good. Let's go…
Today's Matchup = NFC EAST: Dallas vs. NY Giants
RB Tony Pollard, DAL
Vs.
WR Kadarius Toney, NYG
This is a 'clash of the titans' matchup right here…two guys who could be easy dual purpose (RB/WR, WR/RB) stars if their teams/coaches had any vision at all.
Lesser criticism to the Giants…they had a blip effort with Toney as a multi-purpose threat in 2021 once he got playing, but then Toney got hurt on-and-off and the Giants ran through two O-C's…and now he's got a new head coach in 2022, and his third O-C of his young career.
Toney adds an extra element, a third element, to his 'next Deebo' resume – a former star high school QB with a big arm, so he can throw passes as well. In 10 games played in 2021, Toney threw 3 passes (completed one for 19 yards) and ran the ball three times…doing so lined up as a tailback on occasion along with jet sweep takes and fakes…but just three carries for just 6 yards for Toney in 2021. However, in college, Toney ran the ball 66 times for 580 yards (8.8 ypc) and 2 TDs…along with catching 120 passes in his career and returning a punt for a score…and throwing 6 passes, completing 3 of them for 82 yards and a TD.
Toney was a WR-RB-QB early on for Florida, and a nice return man on occasion. Toney got pushed the ball right away with the Giants as a rookie, despite missing most of training camp…a pretty good sign the Giants knew what they had here…to let him get away with things most rookies wouldn't be allowed to but still give him a good push when he was healthy.
Tony Pollard was equally impressive in college, in multi-purpose play = 104 catches in three seasons at Memphis, 139 rushing attempts (6.8 ypc), and 7 kick return TDs…including 4 return TDs in 2017 season alone, on just 22 returns. He's #1 in the history of the NCAA in kick return TDs with 7.
Since going to the pros, Pollard has fought his way from 'utility' player or return man to a…'is he better for Dallas than Zeke?' (backup) RB.
The problem with going Pollard in this battle here is that Mike McCarthy and Kellen Moore have had Pollard for two seasons and have only made him a basic RB…no real WR work. Pollard is closer to being the lead back for Dallas than 'the next Deebo'. Whereas Toney has a new coaching staff, and a new hope he'll be used as a 'next Deebo'…he has the right size, athleticism, background for it – it's only if the coaching staff does anything with it AND if Toney can keep his head on straight…two BIG ifs.
Both are great, untapped talents…but I think Toney has a better shot at 'Deebo' usage in 2022.
WINNER = Kadarius Toney, NYG, who advances on to the Sweet 16 to face the winner of the PHI v. WSH matchup tomorrow. 
Photo credit: PeakDill