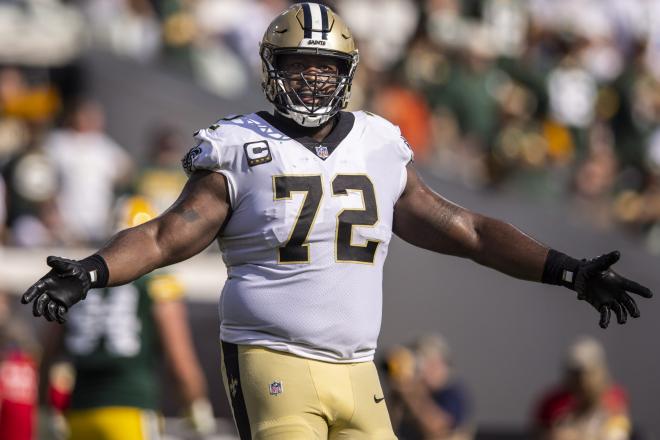 R.C. Fischer
FFM
06 March 2022
2022 Free Agent Positional Preview: Offensive Line
I researched the available free agent lists in late-Feb./early March in order to get a feel for the marketplace and identify key players likely on the move; players that could shift a team's fortunes under-the-radar if a team landed/grabbed a bunch of them. We have the obvious names, the under-the-radar names, and the trap door names to consider/discuss.
Here's my take on 2022 NFL free agency…the players I'm really watching for fantasy, handicapping, etc., on where they might land.
The Top 3 Available According To NFL Analysts:
1) OT Terron Armstead, NO – The best OL free agent by far, and it's not even close. If the Saints let him walk, I'd be shocked…however, the Saints are the worst against the CAP as of this writing, so…
2) OC Ryan Jensen, TB – A good center, but ranked highly for playing on a higher-visibility team.  
3) OG Brandon Schreff, WSH – One of the best guards in the game.  
The Top 3 Talents Available/To Target If I Were an NFL GM:
1) OT Terron Armstead, NO – You could change your O-Line in an instant landing this talent.  
2) OG James Daniels, CHI – Schreff might be better, but will be more costly and has more injury history and is older than 24+ year old Daniels. I've been a Daniels fan since scouting him out of Iowa…and he could be a center if needed.
3) OC Ryan Jensen, TB – If you want/need an experienced, talented starting center…Jensen is the obvious choice.
The Top 3 Values/Sleepers According to FFM:
1) OG Will Hernandez, NYG – When I saw him at his Senior Bowl, and then scouted his tape…I thought he was one of the best Guard prospects I'd ever seen. He was a #34 pick by NYG, and I thought it was a steal. He's since become a joke to football people and NYG fans.
I'm not sure Hernandez is a joke, and there may be a great/inexpensive sleeper prospect here to coach up and turnaround. If not, if something is wrong here…it won't cost much to find out. If the Patriots nab him, then something is possible here.
2) OT Laken Tomlinson, SF – For as solid an OL as he has been, he's down lower in some free agent ratings…if he's a bargain, I'd be happy to have him at a discount. If the top guys get re-signed by their original teams, then there could be a Tomlinson feeding frenzy that would make him nothing like a sleeper.
3) OL Cornelius Lucas, WAS – Is a top swing OL, a guy who can play every position as needed. There's value in that…a lot of value.  
The Top 3 Problems According to FFM:
1) OG Connor Williams, DAL – Ross Jacobs hates Connor Williams. So, I asked him to comment on this…
He's fine with help or against lesser talented DTs but if a guy is above average strong or fast, they can give him problems. He struggles with inside stunts and bull rushes. It's not like he can't play at all but he was definitely the weak link of the Dallas line and he's probably going to command too much money from being a 2nd round pick and on the "vaunted" Dallas line.
2) OT Cam Robinson, JAX – Cam has had like one good season in the past 3-4 years. He has more name appeal than reality. He's not bad…he's just going to be priced above his reality.
3) OT Bobbie Massey, DEN – If you would like to get your QB killed, add Massie…who always seems to find work, then has everyone complaining about him all season. Ask a real/hard core Denver fan…
Massie will have a good series or two, then make a mistake to give pass rushers a free, unabated shot at the QB…he does it too many times to be safe for the QB.
Predictions and Random Notes:
 -- I can't believe the Saints will let Armstead go, but they have such a cash crunch…if Armstead hits the market, then there will be a feeding frenzy likely coming down to Miami vs. Jacksonville…high bidders 'wins'. But if contenders with money usually get the top OLs, then watch for Cincy to make the big offer to protect Burrow.
 -- If Miami missed on Armstead, then Laken Tomlinson to Miami would be a near-lock…with the former SF coach now heading things in Miami.
 -- James Daniels may want to stay in Chicago, but the bidding may get so hot that he is willing to move elsewhere. He's a 49ers or Dolphin or Jets option…watch the Jets trying to go crazy here if they can't get to Brandon Schreff.
 -- There is so much quality and depth of college OL prospects coming in that I wonder if the market will cool on the top names – or if they'll all go back to their familiar places where the intact coaching staffs want the 'devil they know'.
New hire coaches have the luxury of looking to the draft because they have time (so they think).
Coaches on a hot seat will want to buy an OL group NOW if they can. Last year three mega deals went to the top OLs in free agency…their teams they signed with: SF, KC, LAC. The contenders with money are usually willing and able to spend on the NOW.