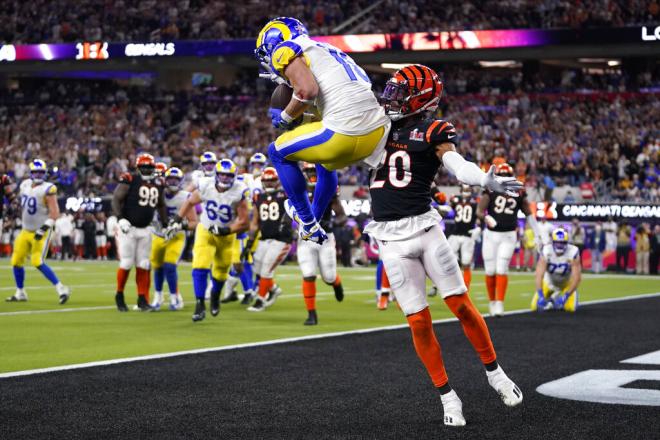 R.C. Fischer
FFM
15 February 2022
Per usual, this will be a 5,000+ word season-ending extravaganza report/analysis of the Super Bowl game and all the pomp and circumstance (ads and halftime show), so buckle up!
Five things right off the bat, as I write the intro part of this piece fresh off of watching the game live…
1) Thank God… It's over.
The Super Bowl is my least favorite real game of the season. The finality of it all…no more football games for a while now. So much over-analysis of the game/matchup…and I get tired of hearing every D-list personality and local weatherman 'prediction' on the game. So many email and text ads to my phone reminding me about 'the big game' and that pizza or whatever is a good way to enhance the experience. But finally, no more of that. It's over. Put the season in the books. Now we can really start to focus on the 2022 Fantasy season – we got the Combine, Free Agency, and the Draft all coming at us hot and heavy the next few weeks/months.  
2) Were these the best two teams in the NFL?
…as Ross Jacobs asked me during the 4th-quarter (of the back & forth sack-fest)?
No, it wasn't.
If we played these playoffs out a million times, Green Bay would've won more titles than any of them…with Tennessee likely representing the AFC the most times. However, the beauty of the NFL overall…and with their offseason tournament…is anyone can get hot and win any one game, and in the playoff tourney any top 4-8 team could get hot and chop their way through.
I don't feel like we're crowning the best team in the league here with this game outcome.
3) In the end, I don't care who won or how they got there…I took the Bengals +4.5 and I won, so I'm happy…and that's all that matters.
(8-5) on all picks ATS in the playoffs.
(3-1) on best bets for the given playoff weeks.
I ain't complaining.
4) You have to feel good for, or at least give respect to, the Rams…
Sean McVay is proving – he is that good of a coach. McVay was one of the coaches we discussed to possibly be the one to challenge Bill Belichick top dog status back a few years ago when he hit the scene. I pulled back on my love after watching his last two seasons – but I shouldn't have, I guess. Two Super Bowl appearances in the past four seasons…one win. A loss here would've probably put him into a mental institution, but he escapes with a trophy and sanity in check.
You wish your favorite team had a plan like the Rams. Say what you want about McVay's treatment of Jared Goff last offseason during the Stafford trade. Say what you want about the surfer dude GM Les Snead – they went and got Jalen Ramsey…Matthew Stafford…OBJ…Von Miller…Sony Michel. Most NFL teams/GMs are piss-their-pants afraid to make a trade, especially for real players (not picks)…but not the Rams. It paid off this season, so you have to applaud them.
And, sure, you can go back over the game (and overall playoffs) and find things to complain about why the Rams were lucky…yada-yada. Nobody is going to care in a few weeks…months…years. The fact that the Rams could comeback from a deficit with Odell Beckham out in-game and the team unable to run the ball plus their starting TE being inactive – kudos to the Rams players and coaches for holding it together and sneaking past the Bengals.
Congrats to Matthew Stafford…stuck in Detroit football purgatory, and changes to a new team and instantly integrates and wins a title in his first year. If the Lions didn't look stupid before…now it's even worse. It wasn't a Stafford issue all along – it was 100% the multiple awful GMs, coaches, and ultimately the terrible owner's fault. They had Stafford for 12 years and never could sustain any momentum. They never won a division or a playoff game with Stafford. McVay walks in and goes right to the Super Bowl with him.
…but I'm sure Detroit has 'the right guy' in Dan Campbell.
The Lions last won the NFC North in 1993. That's not all Matt Stafford's fault.
Stafford from Detroit. Ramsey from Jacksonville. Miller from Denver. OBJ from NYG/Cleveland. All the teams I just mentioned are undergoing or just underwent a coaching change AGAIN in the past 0-2 seasons, and all of the teams/organizations missed the playoffs AGAIN.
The Rams show (like the Patriots have for years), once again, that you don't win through the draft anymore…you never did. You get lucky in the draft on occasion but mostly you let the idiotic, poorly run teams draft players highly and then you swoop in and grab them at a discount (or fair market price) once you see how they fare in the league for real…taking them from poorly coached teams, poorly managed front offices that piss-off star players as there here-today-gone-tomorrow head coaches come in and make mass changes and try 'building a culture' by showing how tough they are and how unnecessary star players are, so they dump anyone giving the new regime any lip – governments and football head coaches are authoritarians at heart, and bad on execution but big on talking about their 'culture' of winning they are building (when they are not). Happy, content, respected star players...that's what you want. Just ask Green Bay.
5) The Bengals should be the Super Bowl favorites next season, this very day!
…but they won't be.
They are already listed 7th/8th best odds to win it (+$1900). Tied with the Ravens…seriously?!?
I wanna say the Bengals will be back in and win many Super Bowls ahead, but this is the Cincinnati Bengals…a typically, poorly run franchise. They better win one with Burrow fast, before Burrow wants out, inevitably.
As far as the game itself…I mean, entertaining enough of a game. Down to the wire. Back-and-forth. It wasn't bad…either team coulda/shoulda won. We'll get into some of the game and player details in the next section, where I'm going to go quarter-by-quarter sharing my notes as I took them and have thought about them since the game ended. Also, every note or two, I'll drop in some commercial observations/critiques and comment on the halftime show as well.
Here we go…
--1ST-QUARTER--
 -- The very first in-game note I wrote was pertaining to Cam Akers (13-21-0, 3-14-0/4)…and it was along the lines of 'Is he sick with COVID? and 'Did he lose 10-15 pounds this week?' He looked tiny…and as he got halted on his first carries, I started thinking back to the note I shared on him in my last Rams' game recap (vs. SF) discussing how his yards per carry have been a disaster since his return (2.8 ypc prior to this game, in the playoffs).
Something doesn't look right.
…and it didn't here.
More on this in the 2nd-quarter notes.
 -- When I spoke about this game on Bet The Close podcast, I thought if Cincinnati acted like the underdog early that it would be a sign Cincy was going to lose…more specifically, if the first 4th & 1 type of 'go-for-it' decision they came across, if Taylor 'went for it' early, it would be a 'tell' of desperation…of a mindset of an underdog.
So, the very first Cincy series, 4th & 1 from midfield, they go for it…and don't convert, and then the Rams went right down the field for the TD and 7-0 lead. I thought Taylor should have punted on that early situation to send a message to the Rams that they weren't afraid of them…a rare time you don't 'go for it' to be aggressive, you play a mind game early and let your own nerves settle and rely on your very good defense.
They didn't.
I thought it telegraphed Zac Taylor's mindset, and that it would forecast the eventual outcome…and it did.
========================
COMMERCIAL NOTE:
Is it that my ears are to blame, as to why I could not understand a word Dolly Parton was saying in those dumb T-Mobile commercials? Or is it one (dozen) too many plastic surgeries and now her cheeks and lips and mouth cannot operate functionally for human speech any longer? https://youtu.be/Xy1SrxZ07Ak
Regardless, 'Here You Come Again' is a very underrated song. https://youtu.be/x87Zx3XAIsI
=========================
 -- In the key spots (like the 4th & 1) in this game, and all playoffs…and all this great Cincy run the past 7-8 games…Joe Burrow (22-33 for 263 yards, 1 TD/0 INT) has looked to Ja'Marr Chase (5-89-0/8) as his first/most desired look.
Whatever you think of Chase…whether as 'the greatest' or 'overrated' or 'lucky to be with Burrow' – all our emotions or logic on the situation do not matter. Burrow and Chase are a BFF connection, and the BFF connections (with great QBs) are the most coveted thing (for a WR) in Fantasy Football.
I've gone from 'Chase is lucky' to 'I missed it'. I never thought Burrow would push a rookie over and past Tee Higgins and Tyler Boyd like this, thinking they would all split into each other -- but the NFL world is changing. Rookie WRs are walking in and dominating, but it's not always the obvious ones….
Chase was the top guy for everyone (but me) in 2021…and he ended up just that.
But in 2020, with everyone chasing Lamb-Ruggs-Jeudy, Justin Jefferson was that guy.
In 2019, Marquise Brown was the mainstream main hope…and Deebo and Diontae and McLaurin and A.J. Brown and D.K. Metcalf were not the top WRs for the NFL nor most Dynasty rankers – but they are now.
Rare, very rare is it that the mainstream top rated rookie pick WR actually the best WR for the NFL or Fantasy within the first 1-3 years. Looks like it's true in 2021.
Chase got with Burrow. Waddle got with Tua. Relationship with the QB is the trump card in debates about talent or analytics or measurables, etc., between WRs.
========================
COMMERCIAL NOTE:
The Cheetos/snacks commercial with the different animals eating human snacks and then breaking into song – who is this appealing to? Who is buying more snacks because of this? I know they think football fans are idiots, in general…but this commercial is beyond the pale. https://youtu.be/g6qrzNs5PWg
========================
 -- Watching the Tee Higgins (4-110-2/7) red zone slant to the end zone, and Burrow planting a throw right on the money, and Tee having his hands on it…but then Jalen Ramsey (4 tackles, 1 PD) knocking it away…later shown to be Ramsey grabbing Higgins's jersey to disrupt things/helping keep Ramsey with him – it made me note something…
When they showed the obvious grab of Higgins by Ramsey, Cris Collinsworth (who is beyond insufferable to listen to call a game) burst out in his trademarked laugh/Madden chortle of pure delight/knowing to express how he (Ramsey) got away with one, and how the refs are 'letting them play'!
Does anyone else find this odd?
In a game on the world's greatest stage, biggest stage, with many casual fans or not-fans watching…you just laugh with glee how (translation of Collinsworth's snickering) 'cheating is OK, because this is the Super Bowl' (but later it wouldn't be, and it cost Cincy the game).
Like if you were watching football for the first time, trying to get into it/understand it…you'd wonder why the teams even bother because penalties are called and not called with no rhyme or reason. You'd think this was a useless, stupid game of random rule enforcement. While the game's TV analyst's busts out laughing about it. Interdimensional aliens watching this would be baffled as to why 100+ millions people stopped what they were doing to observe this referee-centric event on a given Sunday.
========================
COMMERCIAL NOTE:
We got to see the trailer for the new Jordan Peele movie called 'NOPE'.
My desire to see it = 'YEP'. I'm in.
I like Jordan Peele's concepts. At least he's trying to be interesting.
Get Out = It was good, watchable…a B-/C+ for me.
Us = I thought it was really twisted and good and made me want to watch it again…an A-/B+ flick for me.
========================
--2ND-QUARTER--
 -- The main thing running through my mind from the 1st-Q into 2nd-Q of this game… Man, Cam Akers is absolutely killing the Rams. He looks terrible. He is running passive. The Bengals run defense was getting all the credit, and they deserved some for sure, but this was as much a Cam Akers issue as anything…and I was shocked and told people if they don't stop giving Akers the ball, they're gonna lose.
Akers was so bad that I thought he would be the game MVP…the player who most helped Cincy win the game, with the Rams wasting touch after touch on him, going nowhere. Fortunately, for the Rams, Darrell Henderson (4-7-0, 3-43-0/8) was back and provided some spark in the passing game.
Akers looked so bad these entire playoffs…it begs the question: Was he rushed back too soon…or is this a problem from his injury that is going to hamper/hinder him for next season? I think we have to consider the worst-case scenario going into 2022 season – Achilles injuries are no joke. It used to be a near/virtual career death sentence, but with our modern medical procedures and rehab it's not as easy to think/assume 'doom' for their future outlook.
 -- I got an ESPN scoring alert from this game, on my phone. Thanks…but who isn't watching the Super Bowl?
I'm guessing people with the ESPN app…with the notifications enabled for the NFL…they're probably watching the game. I don't think they needed a reminder…"Oh, was the Super Bowl today? I had no idea. Let me see what channel it is on…is it Lifetime Network? Where does one find this game…is it available in my local area?'
If there is a sports organization more discombobulated, more poorly run than ESPN…I don't know what it is. Those new Project Veritas videos shed more light on the behind-the-scenes. But they got a bottomless pit of Disney money to spend to try and con everyone otherwise, so they'll win in the long run because they are a big, overlord corporation – and you will submit to your overlords.
 -- OBJ went down clutching his knee, ACL likely…done…and obviously it impacted the Rams offense/the game. It made me think: if OBJ can integrate so nicely with the Rams, don't we then have to equivocate that Kevin Stefanski is not a great head coach or offensive mind? Much less starting to question Baker Mayfield's role in all this. It can't all be OBJ's motivations…can it? Just a thought…
 -- As the Rams held the lead at this stage, I heard mention of the upcoming draft. If the Rams win this (and they did), then shouldn't the NFL Draft be deemed useless or broken…or counterproductive to what it is supposed to be?
The Rams just won a Super Bowl with an organizational plan dumping 1st-round picks/draft picks in exchange for real players for years. They're like never in the draft (early), seriously…and yet they are the kings of the NFL right now.
The other team that doesn't care for high draft picks – the New England Patriots of the past several years.
Why do the good-great-elite teams think 1st-round draft picks are not great assets? But the fans and media LOVE draft picks!!! It should be a lesson for all NFL teams…it should be a lesson for all Dynasty Rookie Draft owners (to consider trading away your draft picks for real players)…but it won't be. The allure of drafting, virginally owning the next Ja'Marr Chase is too captivating.
========================
COMMERCIAL NOTE:
The single worst commercial of 2022, and possibly in the history of Super Bowl commercials was that Uber Eats commercial. People say Trevor Noah is funny…I don't see it, never have…and his appearance in this commercial didn't help change my opinion. Who authorized this commercial? If the Uber Eats CEO…then I don't trust Uber Eats the company on anything else operational, which I already didn't because everywhere I go, they suck compared to DoorDash and GrubHub.
Now, if Uber Eats paid me sweet Erin Andrews money…I'd shill for them too. But I don't have the comedic chops or acting skills of Erin Andrews. Foiled again…
========================
 -- How many times do I have to watch Jalen Ramsey getting burned by receivers this playoff before we tone down that he's the best cornerback in the game? Actually, how many times does he have to line up not-at-corner this season to get people to stop saying he's a shutdown corner?
Ramsey is good…really good…but he's slipping. Ja'Marr Chase was getting open on him often, and Tee Higgins was working him too. I still respect Ramsey, but I don't think he's the best cover guy in the game anymore.
Who is? Good question. As an aside…I thought Chidobe Awuzie was a better lockdown corner than Ramsey was this year…for one name to mention, since he was in this game.
 -- The Joe Mixon (15-72-0, 5-1-0/6) trick play TD pass…another sign of Zac Taylor acting too cute, acting like they're the underdog and they have to break-out all the stops to try and hang with the elite Rams. I think it was the wrong way to play/think about this game.
 -- The Matt Stafford long bomb that was picked in the end zone…it was a smart decision. 3rd & very long from midfield, so take a shot that's like a punt…but you might land a score or a P.I.
=========================
HALFTIME SHOW:
I typically hate the Super Bowl halftime shows. I tried to think of any Super Bowl halftime show I enjoyed at all, and the only thing I ever really enjoyed was a surprise appearance by Missy Elliott in 2015, because I like her one song that she did on the halftime.
I just went back and looked at all the live performers the past 20 years or so, since they started making it a big deal – and the headline groups over the years, I have not owned any 8-tracks, cassettes, CDs, or downloads of their music for most all of them except P.Diddy-Kid Rock back in the year 2004 (they were not the headliners, per se)…that halftime show was also known as the Justin Timberlake-Janet Jackson thing (which I have zero musical anything from either of them).
I'm not into pop music. I don't pine for acts from the past still kicking (Bruce Springsteen or the Rolling Stones, etc.). I haven't a clue on any new release popular songs in the past ten years, really. I'm stuck in the 90s and 00s and enjoy more grunge, alternative, and 70s and 80s and beyond punk rock. And then way off the norm and board, I love alt-covers of songs from the past decades…so, let me know when Puddles Pity Party or Me First and the Gimme Gimmes are doing the big show.
Really, the Super Bowl halftime show is not designed for me…and I've accepted that.
However, I did fancy rap music back in my youth. I was more Run-DMC, Beastie Boys, Public Enemy…but I owned some Dr. Dre (NWA), and Snoop Dogg, and Eminem material from back in the day and still have random stuff from them on my Spotify. So, when they were the musical acts announced for this year's show – I was interested in the halftime for the first time in a while. I mean, I haven't listened to their stuff in a while and don't know what they've been up to, musically, the past decade or so, but they are nostalgia for me…so, I actually stopped taking notes and just sat at attention to watch the halftime show.
Umm…
Yeah…
Maybe I'm just too old now, but I was like…'What are they singing, saying?' I don't recognize any of this. At least I recognized Eminem's 'Lose Yourself', but even that felt a bit flat. Too many set changes and performers walking around and too many dancers flopping around all over themselves. I wish the performers would have just got on a stage and did their thing, in one set place, with just musicians and not with 832 dancers in the background and paid-fake audience members rushing down around them, acting so uber-excited (per the director).
I mean…guys, just sing/rap/perform…you don't need all the other nonsense. Three, four of you are musical legends – you don't need all that periphery eye candy.
Very disappointed. I've lost my faith in any hopes for me for the halftime shows of the future.
==========================
--3RD-QUARTER--
 -- We come out of the half and Burrow hits Tee Higgins for that bomb TD. Again, a blatant penalty not called…this time favoring the Bengals. Higgins pulls Ramsey's face mask, turns his head around, then sends him to the ground and then catches the bomb and walks in for the score.
No call.
Collinsworth thinks it's a big chuckle.
Why aren't the paid observers reflecting what we're all thinking – what kind of game is this where it's nonstop uncalled penalties? In-season, every other play is a penalty…suddenly, in the Super Bowl, it's Mad Max Beyond Thunderdome rules. While the highly compensated to shut up and not make the league look bad/not to critique anything 'analyst'…a guy who has a stats company wedged in to the TV coverage and advertised for free every week…and a guy who got his son a job on this TV show nearly straight out of college – that guy can only just laugh and go 'you know…' or 'I guess they didn't see it from that angle' (with 27 referees and 411 cameras trained on everything).
So, another key play here where cheating is again legal…and laughed about – until it wouldn't be tolerated late in the game, which then ultimately decided the entire game. More on that when we get there.
 -- As the Bengals took the momentum and as their defense rose, I started to wonder aloud…this is where Burrow becomes Brady, where he becomes a living legend…he's going to take down the Rams despite a bad O-Line, despite all the star power names, despite it all…just because 'QB is everything'.
…and then the rest/bulk of the 3rd-quarter was the two teams sacking each other to halt series after series. Neither QB was immune. The offenses screeched to a halt.
The game started to wane under the constant sackage…and Cincy took a 20-16 lead into the 4th-quarter, where they would not score again…and ultimately lose the game.
========================
COMMERCIAL NOTE:
I went away on a two day 'getaway' weekend leading into this game – I just dropped out of life for a while with my wife in Charleston, SC. The first 36-hour period in like seven+ months where I did no football work…didn't even think about it. Refreshing.
But I didn't realize that while I was away, the entire United States switched over to electric cars. I must have been really out of it. I mean, it's the only explanation for why like 28 different car companies proudly announced their new electric cars. Ummm…there's been electric cars for a while now. You showing me your attempt at a funny commercial with someone plugging one in…I'm aware…I've heard of Tesla before…long ago, while you other car makers couldn't get anyone to buy your one crappy model…as Tesla has a waiting list. So, congrats…I guess…on finally catching up, sorta/maybe…to Tesla.
Why are car companies even advertising during the Super Bowl? I just went to help my son get a new car – they don't have any cars you want; they're all sold out and any ones available are +50% in financing/lease price in the past year anyway.
Just like with everything, they're going to force us into something (electric cars) via using COVID as some excuse to not make gas vehicles anymore. I'm all for it. We should've been driving electric cars across the country already. My question is – where have you non-Tesla manufacturers been the past decade? Why should we trust you now? Your (not) funny Super Bowl commercials aren't helping win me over that you've got things figured out finally.
========================
--4TH-QUARTER--
 -- Just watching how well the Bengals are playing on defense, I have to note that of all the good defensive performances by various Bengals defenders, there was one guy who was excellent here – middle linebacker Logan Wilson (9 tackles, 3 TFLs, 1 PD).
Wilson was so good against the run and covering the pass all game…he doesn't get enough credit as one of the better defenders/linebackers in the NFL. Analysts had more excitement for Rams rookie Ernest Jones (7 tackles, 1 sack, 2 TFLs, 3 QB hits), who had a solid game…but he's not the impact player Wilson is.
Had the Bengals won, I would have voted for Wilson as game MVP…and likely been alone in doing so. It was Wilson that was involved in the most critical, controversial play of the game…
 …and that play was the 3rd & goal from the 8-yard line pass over the middle to a completely covered Cooper Kupp with under 2-minutes remaining…where Wilson was great in coverage (a rarity on Kupp) and knocked the pass away…setting up 4th & goal from the 8-yard line, which would have been the ballgame moment. A tough conversion for the Rams to score.
Instead, a late-ish flag called for pass interference on Wilson…which was very suspect, but then considering the absolute nature of this entire game, with Cris Collinsworth laughing like a hyena about all the no calls in this game and 'letting them play because it's the Super Bowl' – the refs took the game away from the Bengals right here. The refs, in the end, who were by-and-large ghosts all game, non-factors…they decided to intervene and bail out the Rams, essentially handing them the win – a new set of downs from the 4-yard line to let the clock run more and giving the Rams and easier path to score the game winning TD.
The referees were there to ruin the game, as usual – in the game's biggest moments, the refs either 'missed' the call…or threw a flag on the most touchy play/penalty of the game. Collinsworth can laugh about it, but careers and payroll are made here (in any Super Bowl, for the winning side mostly) for players and coaches. Some Rams players and a coach are talking about retiring because they got this win – but if the refs hadn't intervened, those same player's and coach's title quest would be even more desperate ahead.
But we'll all forget about it in a few days. And I don't care in the end either, I got the +4.5 ATS win as a bettor -- but it is sad to see the course of history for individuals was changed/set by referee incompetence on the game's grandest showcase.
 -- Wilson's penalty, the terrible ref's call, was against Cooper Kupp…who so deserved (and got) his MVP. Not only did he draw the critical penalty…he later scored the game winning TD because of the extra downs allowed to the Rams via the penalty.
The TD catch will be memorable, the penalty on Kupp to set it up will be forgotten (by everyone but Cincy fans)…but I was thinking three things about Kupp after all the end of game clutch moments by him:
1) The play of the game was also involving Kupp.
It was the 4th & 1 play from their own side of the field, to start the game winning drive off. Sean McVay needed the best play he had, or the Rams were gonna lose on the turnover on downs – so he called for the most unstoppable play in the NFL, the play I would run 50+ times a game if I were an O-C = the WR in motion quick handoff jet sweep. It never fails to earn a yard or 5 or 10 or more.
Game on the line, Kupp got the ball on a running play…and converted a massive 1st-down.
2) Mid-2018, Kupp tore his ACL, had surgery, played all 16 games the next season and had his best season in 2019…until the 2021 season. How amazing is it that ACL's are now mostly meaningless 'year off' refresher events. They may be building the knee back better than it was prior the way guys are jumping right back in.
Remember Burrow's devastating ACL/MCL disaster mid-2020 season? He almost won a Super Bowl the next season.
3) We're all going to ooh-and-aah in a few weeks about the fastest, tallest, biggest vertical WR at the 2022 NFL Combine, but the best WR in the NFL (Kupp) is 6'2"/204, ran a slow 4.62 40-time at his Combine with a wimpy 31.'0" vertical.
The best WR in the NFL is a guy who couldn't get any real heat to play D1 football/was an FCS star.
…and none of any of these things would matter had he wound up on like the Jets or Jaguars or Browns for his career. The college scouting, NFL Combine analytics are just part of the picture trying to predict future performance.
 -- What if Ja'Marr Chase had wound up on the Texans? Would we really care about him all that much…for Fantasy, etc.? Great measurables + with a great QB = FF gold.
Remember when Chase was on his prospect deathbed dropping all those passes in the preseason? I thought it confirmed he wasn't ready to be a star down the road…much less right away as a rookie.
We're all looking for templates to predict future FF success…it's multiple ingredients to success in the pros for WRs.
What if the Rams didn't get Matt Stafford, and had another year of a very solid Jared Goff? Kupp would have been a very solid WR2 in 2021, maybe? Instead, he's arguably the top player in Fantasy now?
 -- The Bengals had a chance to score to tie/win, but their final drive ended on a sack/QB hit forcing a blind throw away incompletion…a fitting way for the game to end – the Bengals unable to protect Joe Burrow.
Should the Bengals have drafted Penei Sewell/Rashawn Slater over Ja'Marr Chase? It will be fun to argue the merits, strategy of team building in the Bengals case with that #5 pick in the 2021 NFL Draft. The answer to the question of Chase or an OL at #5 is…neither…or…both…
The real answer would be: if you're gonna draft the WR when your obvious biggest need is O-Line…to protect Burrow (who is all that matters) – then you draft a bunch of O-Line talent after you reach for a WR, and/or sign OLs in free agency prior.
After the Bengals drafted Chase, they drafted OG Jackson Carman…not a tackle to protect, a guard, and he started a few games for Cincy but was not an impact guy. Instead of taking more OL lottery tickets after Chase-Carman #1-2, the Bengals then drafted an OLB (Ossai) who got hurt and was gone all year…then a dud DE (Sample) then a no impact DT (Shelvin) before taking an OT at pick #139.
Draft Chase if you want, but then go after solving the biggest problem.
OR
Draft Sewell/Slater then draft/sign/trade for/find a weapon WR to aid the cause.  
I could argue it's not who they drafted #5…but all the other moves surrounding it that makes the Bengals look like they don't know what they're doing (protecting their best asset…Burrow). We typically judge ONE pick in a bubble…the issue is the teams so randomly draft and sign players that we focus on the ONE pick that mattered/might have mattered. We wouldn't have to if teams had any consistency in the NFL Draft…instead of their ENTIRE draft's (and free agency) being just random marbles thrown onto a hardwood floor year-after-year.
The Bengals had a sensational free agency 2021…which means the laws of averages/luck will regress them to a terrible/befuddling free agency in 2022. Look at how the Chiefs GOT the QB, and the early Super Bowl…and are slowly falling apart a piece at a time every offseason since with ridiculous/non-impact drafts and random free agency periods. The Chiefs won the Super Bowl in 2019…and in the two seasons since they are starting DeMarcus Robinson and Byron Pringle as 'weapons' for Mahomes to grow with aside Tyreek…as Mecole Hardman busts, and then Edwards-Helaire watches Jerick McKinnon be the go-to this playoff. Oh, don't forget the ace signing of Josh Gordon to really change things to help Mahomes.
It comes apart fast in the NFL…don't forget that, Paul Brown (owner/GM)…it comes apart fast. It seems like you have a great decade ahead with Burrow – but Aaron Rodgers and Drew Brees won early Super Bowls and then never again. Mahomes is suddenly on that path. Will Burrow be as well?
We'll be breaking down free agency and the draft all offseason on Fantasy Football Metrics and College Football Metrics. As for the 2021 season…that's A WRAP! We're onto Cincinnati, I mean we're onto 2022.
https://youtu.be/kjeh_PiqUU8 (consider this clip is from 2014…consider the questions the know-it-all media is asking).