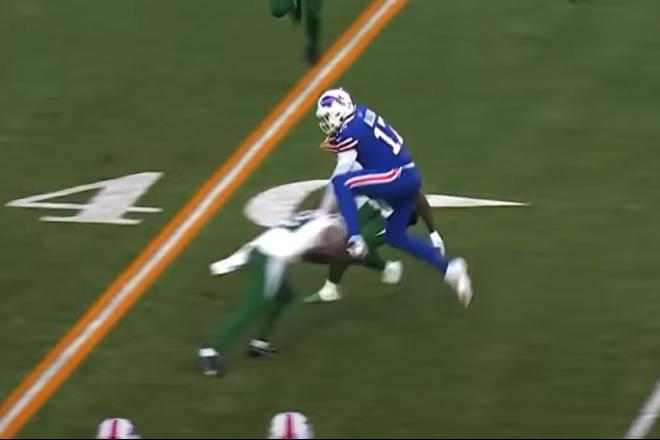 R.C. Fischer
FFM
10 February 2022
Every postseason we go through every team/division, head-to-head/tournament style, casting our vote for the team's and each division's Offensive Player of the Year, Rookie of the Year, Defensive Player of the Year, Coach of the Year…sending the divisional winners to a conference battle to get down to the final two (AFC and NFC) for the 'Super Bowl' of each award.
Our voting process and methodology and reasoning is usually quite different than the NFL's and typically at least half If not all) our winners are not the NFL's voted winners.
Come along for the division-by-division ride, and then to the conference finals, and then to the ultimate final to find out who our 2021 winners are…a new piece posted each day of early February, and the finals happen right before the NFL has their awards night – which is tonight, but FIRST is our award winners!!
OK, here we go…
--The Finals--
Offensive Player of the Year
QB Josh Allen, BUF
Vs.
QB Tom Brady, TB
Who would you rather have leading your offense, down four points, under two minutes left, starting at your own 20 yard line? In 2021…I think it's Josh Allen. I mean, you'll take either, but the way Allen has become an elite passer PLUS a dominant power runner, beating you anyway he can, anyway he has to – that's the guy you want, and he proved it multiple times this year (and last year).  
If it was an all-pass comeback, then maybe we could argue Brady over Allen…but as a pure offensive weapon, we saw time-and-time-again this season where Allen would hoist his team in his shoulders as a passer or runner and both as needed to win games, get crucial first downs, etc. Brady is great and worthy, but for the 2nd-year in a row…Josh Allen is our FFM OPOY!
Regular season + playoffs (19 games played each)…
Brady = 5,998 total yards, 48 total TDs and 16 turnovers
Allen = 5,941 total yards, 51 total TDs, and 18 turnovers
The numbers were similar, but Allen played several games in terrible weather. Brady did not.
2021 WINNER = QB Josh Allen, Buffalo
Rookie of the Year
WR Ja'Marr Chase, CIN
Vs.
LB Micah Parsons, DAL
Ja'Marr Chase had one of the best output seasons of any offensive player in history. However, Micah Parsons had one of the, if not THEE, best seasons a rookie defender has ever had.
How to decide who was 'better'? They were both terrific.
To break the stalemate, I'll use the answer to the question – if we were having the 2021 NFL Draft now, knowing what we know, who would I draft…Chase or Parsons?
2021 WINNER = LB Micah Parsons, Dallas
Defensive Player of the Year
LB T.J. Watt, PIT
Vs.
DT Aaron Donald, LAR
2021 stats…
48 solo tackles, 22.5 sacks, 21 TFLs, 39 QB hits, 5 forced fumbles, 7 PDs = Watt
38 solo tackles, 12.5 sacks, 19 TFLs, 25 QB hits, 4 forced fumbles, 4 PDs = Donald
I always want to give the 'lean' towards a defensive tackle over a linebacker, because production/impact as a DT is much-much harder to do. However, Watt had a crazy/amazing season…and played in 3 less games (essentially) due to Watt injuries in-season.
2021 WINNER = LB T.J. Watt, Pittsburgh
Coach of the Year
HC Mike Vrabel, TEN
Vs.
HC Sean McVay, LAR
The case for Mike Vrabel is: #1 seed in the AFC, despite losing Derrick Henry midseason and losing A.J. Brown for a stretch and no help from Julio Jones on top of various O-Line injuries and defensive back seven injuries.
The case for Sean McVay is: Bold move to go to Matt Stafford, and it paid off. They won the NFC West and Stafford had his best season since 2011.
I'm going to go with Vrabel for two reasons…
1) Some of the lineups he had to go with in-season and won with it! Dontrell Hilliard? D'Onta Foreman? Nick Westbrook-Ikhine? Amazing…and he has the worst QB of all the top teams in the league.
2) He beat KC and Buffalo and the Rams this season…by a combined score of 79-50. He beat Indy twice. He beat the 49ers.
The Titans, at full strength, were the best team in the NFL in 2021. The uncrowned champions of the NFL…but Joe Burrow hit his stride and took it all away. So, for that…I honor Vrabel, which I never would have thought I would back when he was hired.
2021 WINNER = HC Mike Vrabel, Tennessee