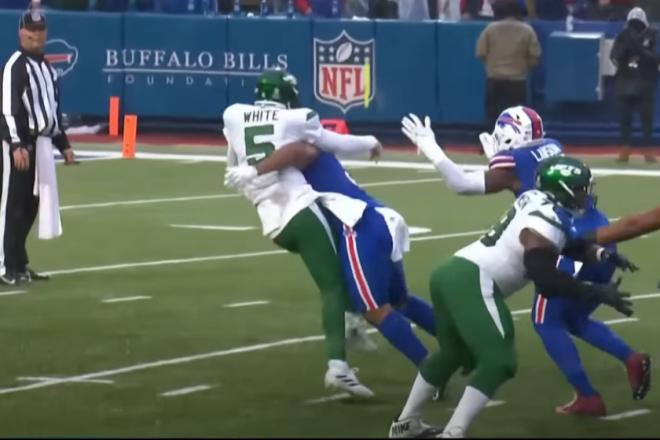 R.C. Fischer
FFM
08 February 2022
Every postseason we go through every team/division, head-to-head/tournament style, casting our vote for the team's and each division's Offensive Player of the Year, Rookie of the Year, Defensive Player of the Year, Coach of the Year…sending the divisional winners to a conference battle to get down to the final two (AFC and NFC) for the 'Super Bowl' of each award.
Our voting process and methodology and reasoning is usually quite different from the NFL's and typically at least half If not all) our winners are not the NFL's voted winners.
Come along for the division-by-division ride, and then to the conference finals, and then to the ultimate final to find out who our 2021 winners are…a new piece posted each day of early February, and the finals happen right before the NFL has their awards night.
OK, here we go…
**Ross Jacobs was on commentary for this division – it was a plan I (RC) had to do some back and forth on the awards but then the Senior Bowl and East-West Shrine scouting was underway, and we didn't have the time, so enjoy the 1 of 1 version of the awards with Ross J. chiming in…
--AFC EAST--
Offensive Player of the Year:
BUF = Josh Allen
NE = Damien Harris
MIA = Tua Tagovailoa
NYJ = Mike White
ROSS: Whoa! Spicy list. You actually went with Mike White over Elijah Moore and Tua over Waddle. Interesting choices.
RC: Let me explain my thinking on them...
RC: I chose Tua over Waddle because, to me, it's Tua that made Waddle...and the Miami hot streak midseason/late season was schedule + Tua starting to get his crap together. He had a nice run there for a few weeks. He still sucks, but he was the key piece that started working.
ROSS: I can get behind that. How do you explain taking White when he only played, what, two games?
RC: So, I'm looking at the Jets...and I'm like, "Who is there to actually choose?" Elijah had one TD and was good for a handful of games. Michael Carter didn't do anything more than Tevin Coleman or Ty Johnson were/could do. Zach Wilson was the MVP for the opponents.
RC: The one real 'wow' bright spot was Mike White forced to start Week 8 vs. a very good Cincy team/defense...and goes out throws for 405 freaking yards and 3 TDs and the double-digit dog win completing 82.2% of his passes.
RC: Then there is a QB controversy at that point.
RC: White starts the next week and was going good vs. the Colts, but then got hurt and lost all his momentum and starting role and they buried him.
RC: He might have been the key to a better finish had they let him play it out. He deserved more of a look. He ignited the offense more in his 1.2 starts then Wilson did.
RC: I'll ignore him hurt but playing/getting killed by Buffalo Week 10
RC: Then he's banished. What happened to – best man wins the job NFL mentality?
RC: But mostly I didn't like any of the other choices on NYJ...
ROSS: Everything you say is correct…and yet he still only played a couple games. It seems to me that offensive player of the year should have actually played a few more games. And Moore had 5 TDs in 11 games. That's pretty good considering the crap he was working with most of the year.
RC: Oops, I saw 'TDs' as 1 for EMo...but that was his rushing TDs.
ROSS: Does that mean you're changing your choice?
RC: No, because none of them are winning this divisional round anyway, so I want to honor Mike White getting screwed by the NFL for being good when he wasn't supposed to be and trying to ruin the Zach Wilson story, and we can't have any competition on that so White gets banished. I want to give him an award for that.
ROSS: That's fine by me. I think it's obvious who the winner of this one is anyways.
RC: The "He could have been valuable" award...
RC: (al)Most Valuable Player
RC: So, your vote is for Tua?
ROSS: How did you know?
RC: There is a case for it.
RC: Seriously
ROSS: Maybe if you twist things a little.
RC: He got Brian Flores fired...that's quite a valuable production event
ROSS: Ha! This is true.
RC: OK, Josh Allen moves onto the Final Eight...
RC: Just a side note...Pats (9-4) when Damien Harris took 9 or more carries in games. (1-3) otherwise.
ROSS: Ok Cris Collinsworth…
Rookie of the Year
BUF = Greg Rousseau
NE = Mac Jones
MIA = Jaylen Waddle
NYJ = Brandin Echols
ROSS: What do you have against Elijah Moore? Did he steal from you?
RC: He had like 3 good games...he was mostly 'guy on the field' getting targeting in the 2nd-half of hurry up offense pushes. He wasn't 'key'...but he was good/solid/productive (for FF)
RC: Echols started 14 games and had a nice run covering the big boys and had a QB rating of 79 against him
RC: Echols only allowed 1 TD all season, but had two picks, and was really good...especially for a mid-round pick rookie thrown to the wolves
ROSS: Echols did have a really impressive year. The Jets defense caught a lot of crap in the media but I noticed several times how sticky they were and a lot of that was Echols. He just has no name recognition for most people
RC: So, of the group...who is your ROY?
ROSS: I think it's between Waddle and Echols. I honestly want to say Echols but 100+ catches for a rookie is impressive no matter how you slice it.
RC: Whoa, you're just blowing past Mac?
ROSS: I mean he was fine. But what did he do to really stand out? Like we've talked about for weeks you could make a solid case that Davis Mills was better. So how good does that really make Mac?
RC: Since all the rookie QBs were garbage, statistically, except him...and helps his team get to the playoffs...at the league's most important position times 10...
RC: I will NOT consider Waddle catching 87 baby passes for his 100+ catches as ROY material.
ROSS: I guess. I just don't know how much he contributed to that. So you think it's Mac?
ROSS: If you're knocking Waddle for baby catches then shouldn't you knock Mac for all the baby throws?
RC: For managing an offense to the playoffs, and one that scored a lot of points this year...I lean Mac here.
ROSS: I can't argue it too hard since I don't feel a strong conviction either way. None of them really stand out.
Defensive Player of the Year
BUF = Tre'Davious White
NE = J.C. Jackson
MIA = Christian Wilkins
NYJ = Quincy Williams
ROSS: Totally agree with all of these. I'm thinking about my choice…you think I'm leaning Wilkins, but it probably won't be.
RC: Yes, I know you wanna make a pitch for Wilkins...but you'll likely not be able to cross the threshold with really picking him.
ROSS: It's got to be White. He was so good, and the defense got way worse when he got hurt.
ROSS: JC is close.
RC: Wilkins...not enough sacks, QB Hits, forced fumbles for me to go far debating him here
ROSS: Agree. He's good but mostly as a run stopper. Not enough impact.
RC: I go with J.C. Jackson for two reasons...
RC: (1) Both had fantastic coverage numbers but JCJ's a nudge better.
RC: (2) JCJ played all the games, as a tiebreaker-sh item
ROSS: That's fair since you can't say White was significantly better when healthy. But they are very close.
RC: Agreed. Both pretty even/great, but one had the luxury of playing the whole season.
Coach of the Year:
BUF = HC Sean McDermott
NE = HC Bill Belichick
MIA = HC Brian Flores
NYJ = D-C Geoff Ulbrich
ROSS: I'm not putting McDermott in and maybe that's unfair since he won the division, but this season feels like a disappointment, and I think that's squarely on him. Might make me look stupid if they tear through the playoffs.
RC: Who would you put into his spot, the O-C?
ROSS: No, I'm just saying I can't pick him over the other candidates. It's him from that team though.
RC: OK, fair enough
RC: I mean, how can it not be Belichick?
ROSS: I think it's Belichick by default. Ulbrich did a lot with a terrible situation but keeping the ship from sinking isn't the same as sailing around the world. Flores I'm not even talking about.
RC: Slow start for NE, but they grew and then had a stretch where they looked like one of the best teams in the league. Rookie QB. RBBC. O-Line injuries early on he had to push through. And they had a chance to win the division over Buffalo, which is shocking as we watch the BUF-NE playoff game as we're typing all this.
ROSS: It's easy to take him for granted but what he pulled off this year really is impressive.
ROSS: It just doesn't feel that way because of all their past success.
RC: You think about Belichick and Mac...they came within a game of an established Bills team with Josh Allen...just one game back for the division. It's a minor miracle.
ROSS: Some of that is on the Bills disappointing against a weak schedule but yes. All they can do is play the hand they are dealt, and they nearly pulled it off with a much worse team.