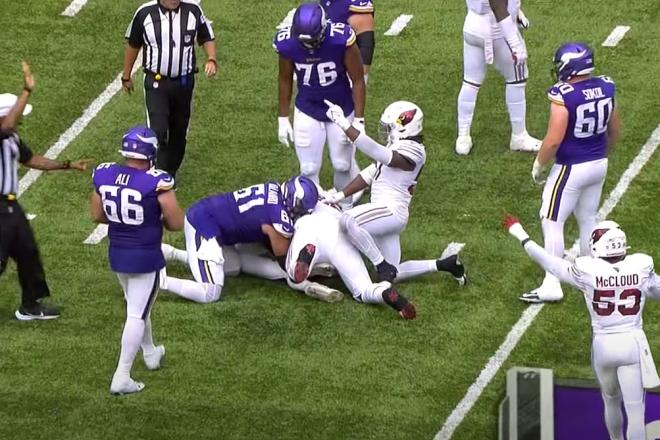 R.C. Fischer
FFM
31 August 2023
Game overview:
Battle of the backups and to-be-cut guys, but it was also rookie QBs starting against each other -- Clayton Tune vs. Jared Hall, and Jared Hall has been the bat signal to bet against the Vikings this preseason, which we did the first 2 games and won...but our Arizona -1.5 here got squeezed.
The Vikings took a 14-0 lead in the first 6 minutes, aided by an Arizona fumble setting up Minnesota in the red zone for a quick/easy score. Over the final 54 minutes, Arizona won 18-3...ultimately winning 18-17.
They keep saying Arizona is tanking, but from the looks of the preseason it seems like Minnesota is actually the one tanking. They can't be serious with their terrible offseason personnel moves and weak draft. They have not looked great this preseason.
Scouting Notes from the game:
 -- The rookie QB matchup/review...
Clayton Tune (9-12 for 85 yards, 0 TD/0 INT) is really playing solid, smart football...for a rookie. He looks more poised than I thought he would be this early in his NFL journey. He does have a shot at starting Week 1, but if they were planning (before this game) to dump Colt McCoy and going to start Tune...I'm not sure if they would have played Tune here. But maybe they wanted him to get a few more reps. Hard to say what Arizona is doing at QB -- but note that Tune is really coming along well.
Jaren Hall (16-27 for 178 yards, 1 TD/1 INT, 6-21-0) played the whole game for MIN here...and he looked better here than his prior two disasters, but it was still pretty bad. I cannot believe the Vikings kept Nick Mullens and Jaren Hall on purpose and just ignored Bailey Zappe out there on waivers...but maybe Kevin O'Connell didn't want to step on Belichick's toes -- or maybe the Vikings pattern of inexplicable 2023 personnel moves knows no bounds.
Hall is not going to make it in the NFL...my prediction now, which was my prediction back to watching him at the Senior Bowl/scouting pre-Draft.
 -- A surprise/not a surprise...MIN RB DeWayne McBride (8-37-1, 0-0-0/1) got released during the 53-man roster cuts. He's on the practice squad and could be elevated soon with Kene Nwangwu going on IR for the first 4 games of 2023.
Minnesota signed Myles Gaskin, as predicted on our Tuesday night video show...and Gaskin will move into a #2 role in support of Alexander Mattison...and Ty Chandler will be in the mix as well. Gaskin is tied to Brian Flores, so he could be fast tracked to playing time and he is a solid veteran hand.
McBride looked pretty decent here...better than preseason games 1 and 2. But McBride has a long way to go in development and has trouble with the playbook, blocking assignments, etc.
 -- Keontay Ingram (4-20-0, 1-3-0/1) is the backup to James Conner...it's obvious. All Arizona kept besides him is rookie UDFA Emari Demercado. Arizona has a terrible backfield situation overall.
Conner will lead with some Ingram rotation as their primary plan.
 -- Greg Dortch (2-29-0/3) playing in this game is not a good sign for his standing with the new regime.
Sites keep showing Zach Pascal starting in the trio set, but I think it will be rookie Michael Wilson with Brown-Moore.
 -- Arizona's Week 1 starting CB group is pretty bad...
Marco Wilson is their top guy...and that's wobbly. Antonio Hamilton is a holdover as a slot/nickel...and he's terrible.
6th-round rookie KeiTrel Clark was possibly starting, but when I saw Arizona smartly snagged Detroit preseason standout CB Starling Thomas...it may be Thomas starting right away at nickel and then Hamilton put on the outside, and that's not good for Arizona...but it is good for the opposing WRs working against them.