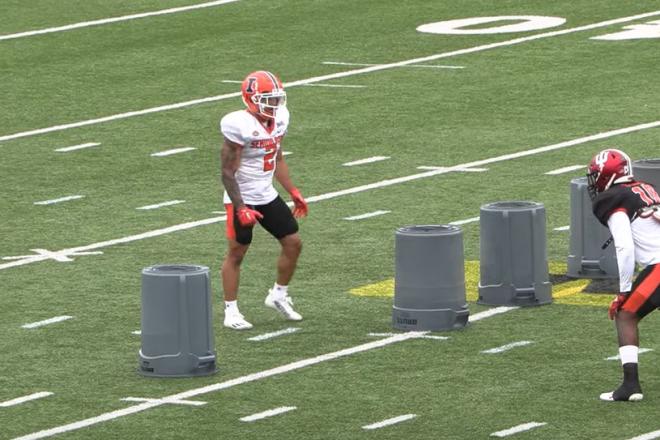 R.C. Fischer
FFM
23 May 2023
When I saw Chase Brown get drafted by the Bengals in the 5th-round of the 2023 NFL Draft, I thought…is this their Samaje Perine replacement? And by that I mean: Is this their 3rd-down RB, who played some relief snaps for Joe Mixon and who would be a blocker/protection for Joe Burrow? I assumed Brown was taken for that role -- he's compact, tough and ran the ball heavy at Illinois and worked the screen game. The image I had in my mind kinda fit.
At the same time that I'm watching to see what Cincy does to replace the very specific Samaje role…there has been weeks of talk/rumors that the Bengals looked to be cutting Joe Mixon -- an underperformer for two years now (fine, but not anything special)…and the Bengals could save $7M in salary cap by cutting Mixon this offseason. If Mixon gets cut…who would be taking over? The next person in line right now is Chase Brown.
But that didn't jive with what I had in my mind…Brown isn't a lead RB projection, is he? He's more a 3rd-down type 'change of pace' type RB, right? Looking at a lot of his 2022 season tape -- Brown is not just a '3rd-down back'…he's a worker. He was #2 in the NCAAs in carries (328) last season and 4th in rushing yards (1,643)…#1 in the NCAAs in plays from scrimmage (355). On the other hand, Brown was graded as one of the better pass blocking RBs in the 2023 draft class…and he's built to be a good blocker -- very muscular frame and athletic with a will to do the job. However, his blocking on tape looked a bit sloppy/lacking to me…but he's built to be good at it…there's hope.
Is Brown the Samaje replacement or the Mixon replacement?
To read the rest of this article go to Scouting Report: RB Chase Brown, Illinois