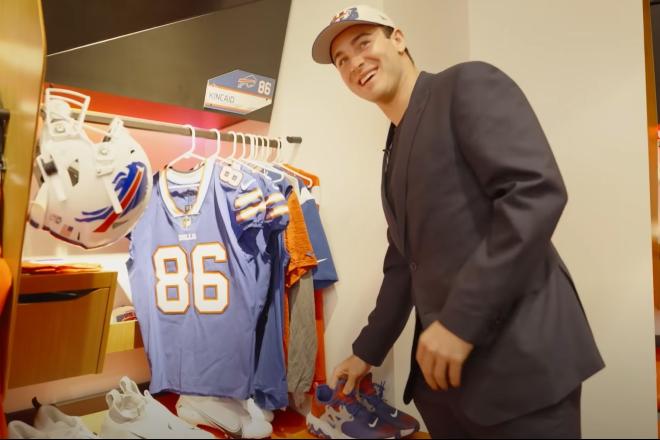 R.C. Fischer
FFM
04 May 2023
I'm going through all the NFL team's drafts one team at a time, while working on the draft's impact to the Dynasty Rookie Draft and Dynasty/Best Ball projections, etc. It will take me a few days to really focus on and deliberate how things went, in general, for each specific team…for all 32 teams.
This year, I'm going through division-by-division for an opening 'gut reaction' to things…and publishing them a division at a time. This is my 'first reaction' to each team's overall draft. I'm still going to circle back around and re-study and re-debate things all offseason, and scout more of these players deeper -- but this is my initial reaction.
*Our annual computer model grading of the NFL Draft will be out in 1-2 weeks when we have processed all the data and UDFAs, etc.
In order of best-to-worst grades, using my 'Gut' grading system for this first reaction…our computer model grading will be better/more detailed on comparing all the drafts.
BUFFALO BILLS (Gut Grade: A-)
Arguably, the best 2023 impact operational move of any team in the draft -- Buffalo trading up to take Dalton Kincaid. They get a freak TE to help immediately do battle with KC and Cincy…and kept Kincaid away from Cincy. A great pick on several fronts.
Then they get a 1st-round level prospect guard in O'Cyrus Torrence in the 2nd-round, and a 2nd-round legit linebacker Dorian Williams in the 3rd-round. This draft start could not have gone any better. Day three was mostly 'meh'…an interesting big WR to convert to TE in Justin Shorter is about all. Nothing special in the UDFA session.
I really liked this draft. This draft accomplished what KC and Cincy didn't -- getting markedly better through the draft in 2023. They played this draft for NOW…because the time is NOW for this team.
MIAMI DOLPHINS (Gut Grade: B-/C+)
The Dolphins only had four picks in this draft and coming off a good free agency period, a good draft could help them get closer into the AFC elite…and Miami had a pretty decent draft. They took four players with their 4 picks that could all help in 2023.
CB Cam Smith was a 1st-rounder for some…and they got him at #51.
Devon Achane is the perfect RB addition for the style of play Miami wants to go with…a go-go-go, 'speed kills' style. Achane is a weapon right away.
Then, Miami didn't pick again until the 6th and 7th-rounds and they got was Elijah Higgins…a WR-to-TE convert who could matter on 3rd-downs. And they snagged OT Ryan Hayes in the 7th, who we liked as a near top 100 overall option. They also snagged an interesting UDFA WR out of Cal Poly, Chris Coleman…who we have raised grades on since doing more work on him post-draft (will be reflected in the next position group prospect grades/ranks update).
Given the sparse picks they had, Miami did about as well as you could hope. Not WOW…but really solid, smart. They did what they had to do, for the most part…they did what the Jets failed to do -- pick up things they needed/could use NOW.
NEW ENGLAND PATRIOTS (Gut Grade: C-)
When Belichick started out with fading back and landing top 5-6-7 asset (to FFM) CB Christian Gonzalez, I was singing Bill's praises as a new draft genius!
…then there was the rest of this draft.
WOOF
I mean, there were some interesting picks but there were so many more instant impact or groundbreaking grabs to get every time NE picked, but Bill just missed them/didn't like them/went his own strange way.
I'm looking at the situation like -- Bill doesn't have too many years left as it is, and he's losing legacy every year further away from Tom Brady, and he currently has the 4th best team in a four-team division. The Pats need players for the right NOW…not small school developmental projects. This draft isn't closing the gap the Patriots have in this division NOW. I'm sure one or two of these flier picks will work out, but probably not for another year or so. Marpe Mapu might take to safety nicely. Ameer Speed has nice size at CB, a hopeful prospect for the future. Maybe Kayshon Boutte turns himself around. Is Bill trying to win NOW…or is he prepping to hand the team to his son to coach in a few years?
If you think Bill is a scouting genius, you need look no further than his awful UDFA session and signing Malik Cunningham on purpose.
After pick #1, I did not get this draft at all. The 'Genius' label will be removed…until this draft class proves me wrong. It's not that it's the worst draft class…it's just I expected so much more from Bill.
NEW YORK JETS (Gut Grade: D+)
A 'meh' draft. The Jets drafted a few interesting players, but they don't have time to draft interesting players for the future -- they needed things to happen NOW. They are behind the Bills and Dolphins NOW. The coaching staff is going to get fired if they don't win NOW.
With NOW in mind, what did they do? Go reach for a pass rusher (the NFL's fatal flaw), eschewing the O-Line to protect the asset they just sold their soul for. Then they get a #4 RB (Abanikanda) and a #3-4 TE (Kuntz) for 2023? I like both those guys, but they were not priorities for this 'all in' season. The NFL never ceases to amaze me in not having any business sense or dealing in reality…they're always daydreaming of things. Well, Robert Saleh and the GM will have plenty of time to dream when they get fired for finishing 3rd or 4th in the AFC East this season, and then Rodgers just walks…and the Jets have no 1st-round pick for 2024 to lure a new HC and GM in with.
I like WR Jason Brownlee a lot as a UDFA…but they just signed Randall Cobb (because of course they did…he's Rodgers' Gronk). If a roster spot comes down to it, who do you think they keep -- Brownlee or Cobb? I also LOVE Trey Dean as a gamble SAF UDFA…a gamble that my eyes say his Combine 40-time wasn't reality…that he might be the best run stopping safety in this draft…and maybe a linebacker convert Again, he'll probably go to the practice squad in favor of veteran players for this 'all in' season…it doesn't help NOW!
I don't know what the Jets were thinking. They went three-quarters of the way…instead of ALL the way in this all-in season effort.