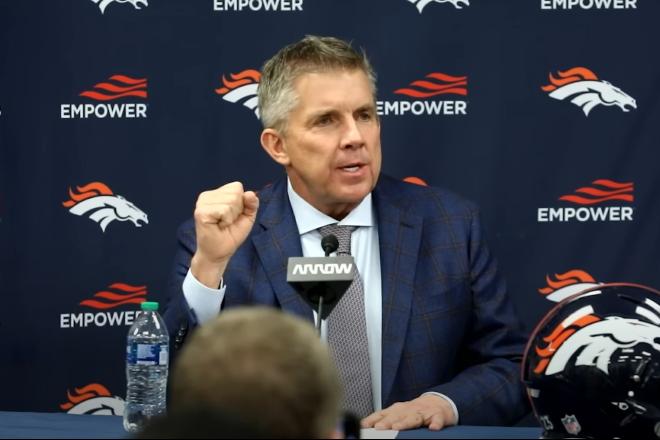 R.C. Fischer
FFM
03 May 2023
I'm going through all the NFL team's drafts one team at a time, while working on the draft's impact to the Dynasty Rookie Draft and Dynasty/Best Ball projections, etc. It will take me a few days to really focus on and deliberate how things went, in general, for each specific team…for all 32 teams.
This year, I'm going through division-by-division for an opening 'gut reaction' to things…and publishing them a division at a time. This is my 'first reaction' to each team's overall draft. I'm still going to circle back around and re-study and re-debate things all offseason, and scout more of these players deeper -- but this is my initial reaction.
*Our annual computer model grading of the NFL Draft will be out in 1-2 weeks when we have processed all the data and UDFAs, etc.
In order of best-to-worst grades, using my 'Gut' grading system for this first reaction…our computer model grading will be better/more detailed on comparing all the drafts.
DENVER BRONCOS (Gut Grade: B+)
Solid draft in and of itself. Several useful pieces…higher ranked at their position group pieces. Maybe not any Pro Bowl/elite pulls, but several good/useful pulls -- Marvin Mims, Drew Sanders, Riley Moss and J.L Skinner (their first 4 picks) could all be starting for Denver in 2023, if not by Week 1.
Then Denver did a great job in the UDFA session. They pulled OL Demontrey Jacobs and RB Emanuel Wilson late in the process, and they are two of our top, tippy top, deep sleeper prospects from this draft. CB Art Green has some hopes too among the UDFA group.
Really solid job by Denver.
Might this team get back on track in 2023? LV and LAC are helping with that with their 2023 drafts…
KANSAS CITY CHIEFS (Gut Grade: C-)
KC took a shot on some interesting prospects in this draft, but just 'mildly' interesting (for the most part). Felix Anudike-Uzomah is solid but not a game changer or fills a deep need/void. Rashee Rice was a wasted pick in the 2nd-round. OL Wayna Morris is hopeful. Chamarri Conner is a solid SAF prospect. I love the B.J. Thompson reach…one of our top deep sleeper guys from this class, taken much earlier than anyone expected. They also got another intriguing deep sleeper in DE Truman Jones from Harvard.
It was a solid/OK draft with some upside, but for a team trying to stay at the top and press on further away from the pack -- I don't think it did that. This draft just gave some depth and some developmental guys…and you'd think KC should shy away from that and 'live for the now' more than get cute with all the deep sleeper guys that other teams will poach off their practice squad. For KC to pass on Daniel Scott at SAF to take Chamarri Conner is silly. Rashee Rice in the 2nd-round doesn't make them better now (or later).
It wasn't a bad draft, but it doesn't seem like it fits what was CTQ at this moment.
LAS VEGAS RAIDERS (Gut Grade: D)
Tyree Wilson is an OK enough prospect, but I would NEVER take him #7/top 10/1st-round. Then LV trading up for Michael Mayer lets you know LV is being run by a bad GM, a sucker who follows the crowd. The next 7 picks after made little sense, excited me none. It's possible this draft is going to be a real low-impact event…with 1-2-3 contributors and maybe someone becomes a solid starter. Looking at the overview of all the players taken…the risk is towards the 'disappointing' side of things.
In addition to a weak draft, they did nothing interesting among the UDFA signees. This is looking more and more like another Belichick bomb -- where his highly coveted lackeys get propped up (with LV it's the HC and GM as ex-Pats) and go out to destroy an opposition franchise. *See Josh McDaniels in Denver.
L.A. CHARGERS (Gut Grade: D-)
This was a critical draft for the Chargers…on the bubble between making a push towards the Chiefs and becoming an elite AFC contender…or staying stuck as a fringe wild card team that is no threat to KC.
Well, the R.C. verdict is in…and LAC is still not a threat to the AFC top contenders. They better hope Tuli Tuipulotu is as good as his college output -- because that's about all they got for players who can impact RIGHT NOW.
All LAC's picks are weak/midland players at their position. Quentin Johnston will not make a difference this year…and passing up on Zay Flowers (instant impact potential) to take Johnston will haunt them now and later. Daiyan Henley is not an impact starter in 2023. Max Duggan is a great pick, but he's not helping them become an elite team now…he's just smart business for emergencies. LAC didn't do all that great in the UDFA period, but DT Jerrod Clark has some hope.
At a critical moment, the Chargers choked again. Good news is this draft might finally clinch that it's Brandon Staley's last year as HC -- a golden opportunity gone to waste under his watch.