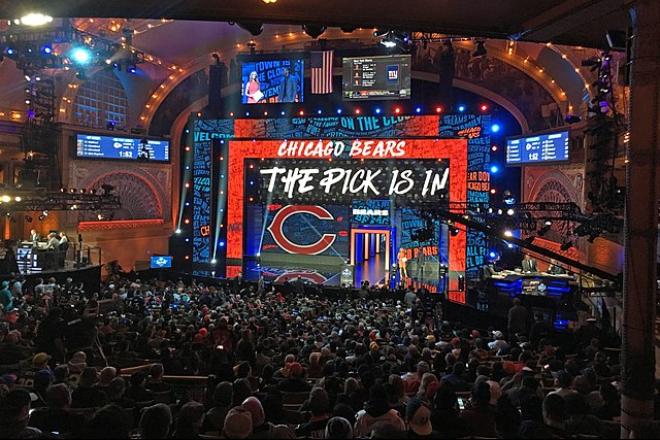 Ross Jacobs
FFM
09 March 2023
#1 Chicago Bears: EDGE Will Anderson, Alabama
I'm backing off the theory of someone trading for this pick. I'll discuss that more in detail in another article but suffice it to say I think GM Ryan Poles is coming on far too strongly and is overestimating the market and going to drive teams away with his high asking price. I believe multiple teams that the media thinks are "QB desperate" do not in fact view themselves this way.
The two teams that must draft a QB are Indy and Carolina. Everyone else has options and since there are four guys that all grade out similarly, there's no need for anyone to pay a ridiculous price to jump up and get their favorite. Nobody is "falling in love" with one guy. That's simply not how this process works. Immediate gut answer...how many times has the #1 pick been traded in the last 20 years? 4 times? 3? 2? Nope. Just once for Goff. The 2nd and 3rd picks get moved fairly often, but not the #1 overall.
If Chicago is forced to sit tight at 1 and pick, who do they take between Anderson and Tyree Wilson? I could honestly see it going either way. It's probably a much closer decision than many fans think. But in the end Anderson will likely be seen as the safer pick and rightly so. I was a little concerned about his weight and ability to hold up in run defense in Eberflus's 4-3 scheme but he showed up to the combine at a nice 253 pounds. That's still on the small side but probably enough to get by.
#2 Houston Texans: QB Bryce Young, Alabama
I'm leaving Bryce here for now, but this pick is much shakier than many people imagine. There are very real concerns about Bryce's weight among NFL teams. Don't listen to media members that tell you his stature doesn't matter. It most certainly does. Houston could very well grade any of the other QBs higher (Stroud is the most likely), but at this point we simply don't have enough information to determine who Houston's preference might be. I do think they are one of just two teams that won't be overly scared of Young's size (Vegas, the other Belichick-tree team).
In addition, there is still the very real possibility that Houston could bypass QB for another year and continue to build up their roster. They aren't anywhere close to competing even with a good QB, so why waste years of his rookie deal on a bad team? Vegas and Atlanta are candidates to follow this same plan. Call me crazy all you want but this happens far more often than you realize. Just for one example look at the 2017 49ers. They passed on Trubisky, Mahomes, and Watson to take Solomon Thomas. Don't tell me something similar can't happen here.
#3 Carolina Panthers (via Ari): QB CJ Stroud, Ohio St
This is the spot that looks most likely for a trade in my opinion, whether on the night of the draft or long before. Think of the 2018 draft. Four highly rated QBs (Mayfield, Darnold, Allen, and Rosen). There was very little consensus on who was the best and because of that the Jets traded up three spots with the Colts just a week after the Combine. They knew that in the worst-case scenario they would still get to pick from at least two of those guys. I think there's a very high chance something similar happens here, particularly with the Panthers. They have swung and missed on multiple free agents, so their only choice left is to draft someone. They know the Colts are taking one and there's a very high chance the Texans and Seahawks are as well. They are the one team that cannot afford to miss out, but they don't want to mortgage their future to move up with the Bears. The solution is to trade for the 3rd pick and I think that could happen as early as this week.
If they indeed move up, I suspect their primary target will be Stroud. He's the safest, most pro-ready of the bunch (they don't want someone they'll have to sit for a year) and new QB coach Josh McCown was gushing about him on a podcast a month or so back. Stroud is a perfect fit for Reich and the Panthers.
#4 Indianapolis Colts: QB Anthony Richardson
As discussed before, I don't believe there's any need for the Colts to aggressively move up for a QB if they are comfortable with 3 or 4 of these guys. They can just sit tight and take whichever one gets to them. If they are all graded closely then that is preferable to giving up a mass of future picks to go and get one particular guy. I think their first choice will be Stroud but there's a good chance he's gone by their selection. I'm not sure who would be the next choice, but I suspect their last choice would be Bryce due to his size. Chris Ballard has repeatedly (and loudly) harped on the need for "high end traits" in the draft, particularly physical traits. That points to one of the big QBs but which one?
At first, I was thinking they might prefer to go with Levis because I think he's more ready to play right now than Richardson and that Ballard might be on the hot seat with another poor season, but thinking about it more I think Ballard is safe. GMs don't tend to get fired as easily as coaches do. They tend to get a lot more leeway to build the team even through down periods and Ballard has had a lot of very successful hits in the draft over the years. I don't think he's going anywhere soon so he can afford to shoot for the absolute moon here. Richardson has a massive ceiling and new head coach Shane Steichen fielded a heck of an offense with a very similar skill set of Jalen Hurts. Just imagine a read option play where Richardson is either handing off to Jonathan Taylor or keeping it...that is nightmare fuel for a defense.
#5 Seattle Seahawks: QB Will Levis, Kentucky
Many in the mainstream media are finally waking up to the reality of Seattle possibly drafting a QB at #5 after the extension with Geno Smith this week. It happened exactly as I predicted since January, Geno gets a nice solid contract if he continues to play well, and the team gets the flexibility to move off the contract after one year if they want. It was obvious all along they would operate this way. It simply doesn't make sense to throw the bank at Geno for one decent year of production. Yes, it was a pretty good year, but he's 33 years old and we have no idea if he'll be able to replicate his play moving forward. Even if he does, does anyone really think this team is going to a Superbowl on the back of Geno Smith?
This is a rare opportunity for the Seahawks to grab a potentially elite QB on a rookie contract (THE key to many successful recent Super Bowl runs). John Schneider has shown multiple times through the years that he covets high end physical traits in QBs. He traded for Charlie Whitehurst and his huge arm. He attempted to trade prime Russell Wilson for high draft picks and the chance to get both Mahomes and Josh Allen. Even Wilson himself has a big arm despite his size.
Levis has all the physical traits Schneider could ever want and he's incredibly intelligent and a fantastic leader. Oh, and his best season in college came in 2021 when his offensive coordinator was Liam Coen, a former McVay acolyte that runs the exact same offense that Seattle runs now. This is a match made in heaven for the Seahawks. Not every team will love Levis, but I guarantee the Seahawks will.
#6 Detroit Lions: RB Bijan Robinson, Texas
It's going to take something massive to make me change this pick. All the beat writers for teams in the 20s dreaming of drafting Bijan are fooling themselves. There is absolutely no chance that he's getting out of the top 10, not with the Lions, Falcons, and Panthers all itching to take him. Robinson is one of the most coveted RB prospects in years, on par with Peterson, Barkley, and Faulk in many evaluators' minds. Everyone wants to jam a cornerback here and, while I understand why, I very much disagree with that logic.
The class of corners is deep so the Lions can easily get a strong starter with their second 1st round pick or even a later selection, and there's not really one at #6 that suits them temperamentally in my opinion. The only real choice is Gonzalez but he's reportedly rather quiet and passive. That won't jibe well with the energetic Dan Campbell. No, this team thinks they are on the verge of taking over the NFC North (and they might be right). They will jump at the chance to turbocharge their offense with Robinson.
#7 Las Vegas Raiders: EDGE Tyree Wilson, Texas Tech
If the board falls this way for the Raiders they are going to run to the podium to turn in the card with Wilson's name on it. Many people in the league feel that he is a top 3-5 player. Some think he's better than Will Anderson due to his size, length, and power. What I like most about him, and Raiders DC Patrick Graham will agree, is his scheme versatility. Wilson can play edge in either a 4-3 or in a 2-point stance out of a 3-4 and he can also slide inside as a 3-4 end to eat up double teams controlling the run. Vegas has been looking for a threat opposite Maxx Crosby and they get their dream choice here.
#8 Atlanta Falcons: CB Christian Gonzalez, Oregon
I've been slotting edge rushers here to the Falcons (as have most people) but I'm moving away from that in light of new information. It seems that the Falcons are somewhat happy with the additions they made to that position last year and are instead highly focused on adding talent to their secondary with the 8th pick. That makes Gonzalez the easy choice here as he's by far the best corner in a very strong corner class. He fits every criterion that they look for and even mentioned that his toughest matchup in college was against Drake London. You can bet Atlanta has poured over that game tape since last year and knows exactly what they are getting out of the uber athletic Gonzalez.
#9 Arizona Cardinals (via CAR): CB Joey Porter, Penn St
Arizona would be happy to sit at 3 and choose between Anderson or Wilson, but if they trade down as I'm projecting here, they'll be in a fantastic position to grab one of the top cornerbacks, a position that has troubled them for years. Steve Keim routinely ignored the issue, preferring instead to draft linebackers over and over, and the team's pass defense progressively got worse and worse. They will try to re-sign their best corner Byron Murphy, but even if they can't they still need help. If Murphy walks, then it becomes a dire need.
Many analysts have Devon Witherspoon somewhere in this range, and while I absolutely love him myself, I have heard that many teams have him graded closer to the middle of the draft due to his size. Teams are almost always going to go with the more prototypical sized prospects when grades are relatively even. Porter is perfectly proportioned, highly polished, and fits wonderfully in new head coach Jonathan Gannon's zone-heavy scheme.
#10 Philadelphia Eagles: OT/OG Peter Skoronski, Northwestern
This pick feels a little strange to me at first, but I decided I liked it a little better than putting Paris Johnson here. I think Philly's first choice would be one of the two big corners that went right before their choice (something that has happened to them multiple times throughout the years) and thus they'll have to pivot in this scenario. An edge rusher makes a lot of sense, but why reach for one over the more highly thought of offensive linemen? We know Howie loves his big boys up front, and while the Philly line has been dominant for years, it's definitely time to start looking for some new blood. Lane Johnson is getting older. Jordan Mailata has some injury issues. And right guard Isaac Seumalo is hitting free agency and might not be re-signed due to limited funds. Skoronski is very highly thought of among teams and could instantly slide into the starting right guard spot with a chance to move out to tackle once Johnson or Mailata move on.
#11 Tennessee Titans: OT Paris Johnson, Ohio St
The Titans have a number of holes to fix, but one area stands out starkly against all the rest...the offensive line, the core of what they want to do on offense, is in shambles. Over the last few years, they have let guys walk for various reasons and also missed on many of their offensive line draft picks (cough Isaiah Wilson cough) have busted. They absolutely have to contribute loads of resources to fixing the issue this year and I see no way they can do that solely through free agency. You never want to feel like you have to take one certain position early in the draft, but the Titans almost have to take a lineman here. Luckily they get a very good one that falls right into their laps here.
I wasn't a big fan of Paris early on, but I've grown to like him more over the past weeks. He's perfectly proportioned, very polished, and moves around smoothly for a big guy. If he can get stronger, he's got the potential to anchor their line for 10+ years. Paris played on the same line as current Titan RT Nicholas Petit-Frere so you know this staff is intimately familiar with him.
#12 Houston Texans: TE Michael Mayer, Notre Dame
I know a lot of analysts have Mayer falling into the 20s, often to the Bengals, but I don't see how that's going to happen. He's the kind of boring, safe, old-school TE that lots of these ancient coaches and executives love. He's going much higher than most people think and to me the Texans at 12 just screams out for him. We all know Houston needs to add receivers, but who says it has to be a wide receiver? Mayer isn't going to bust, but he's also very generic in my opinion. He'll get hyped up as the next Gronk for a bit, but everyone will forget about him after a year or two.
#13 Green Bay Packers (via NYJ): DT Jalen Carter, Georgia
Ok, I know this is a little presumptuous, but it's my mock so deal with it…
There's been a lot of noise over the past day that Aaron Rodgers is talking to the Jets, and I now believe that deal is going to get done (a legendary Packers QB getting traded to the Jets after keeping a first round rookie on the bench for 3 years...where have I seen this before?). If Rodgers is traded to New York, then the Packers will almost certainly get the Jets first-round pick this year as part of the package.
So...what do the Packers do with their newly acquired pick? Well last year they drafted two big, fast, athletic defenders from the national champion Georgia team...so I'm giving them another one. There's no telling what could happen to Carter's stock right now with his ongoing legal issues, but for fun, and as a gamble, I'm going to guess he drops out of the top 10 but still gets drafted. That seems to be the typical pattern in these kinds of cases over the years. The Packers love athletic defensive linemen and Carter can slide in along with his former teammates who hopefully can keep him in line.
#14 New England Patriots: S/CB Brian Branch, Alabama
Much like the Mayer to Houston pick, this pick just feels so natural, it's almost too easy. Belichick loves all things Alabama and is looking for a new free safety anyways. Branch is smart, versatile (he played a lot of nickel in college), and just an overall solid player. I personally don't think he's athletic enough to be a superstar but I'm not making the pick.
Branch apparently has borderline top 10 grades by many evaluators based on his tape, but safeties have been devalued by much of the league. Throw in his mediocre testing at the combine and there aren't many teams that will be willing to draft him regardless of his grade. Belichick is one of the few that won't care about those things. It's rare to have much confidence in a pick this late in the round, but I have supreme confidence that the Patriots make this pick.
#15 Green Bay Packers: EDGE Lukas Van Ness, Iowa
The Packers picked up a big, athletic defensive lineman with their first pick, so what do they do with their second? Why, another big, athletic defensive lineman of course! A quick perusal through Packers' draft history will show their fondness for jumbo pass rushers like Van Ness.
But why Van Ness over the more common Myles Murphy? I know RC is a big fan, but from what I've seen he plays kind of soft and isn't nearly as dominant as he's made out to be. Some people are knocking Van Ness for never starting a game at Iowa, but he was behind two senior veterans. Seniority is apparently very big at Iowa so his snaps were lower than they might otherwise have been. On tape Van Ness shows tremendous power and ability to bulldoze tackles out of the way, but he does this with surprising speed for such a big man. The Packers are definitely looking for more pass rush help and Van Ness exactly fits their type.
#16 Washington Commanders: OT Darnell Wright, Tennessee
Washington commonly gets mocked a cornerback here, and that seems reasonable -- but I think offensive line is a bigger priority at the moment and they can still grab a very good corner in the 2nd round. They have been interviewing every lineman they can find at the combine and could reasonably replace 3 or 4 of their starters from 2022. I've seen a lot of Broderick Jones in this area of the draft, and he was in the mix on my previous mock, but I've since heard from a good source that he's more of a borderline 1st-2nd round pick than an early first, for the moment anyways. There's always the chance that could change over the coming months. In his place I'm going with one of the most underrated prospects in the media at the moment and one of my personal favorites, in Darnell Wright. He's big, athletic, very intelligent and well-polished. What's not to like? The best way I can describe him is a little bit lesser Tristan Wirfs. That's well worth the 16th pick in the draft!
#17 Pittsburgh Steelers: CB Devon Witherspoon, Illinois
This is a popular spot for offensive tackles for a good reason, but the Steelers haven't taken a tackle in the first round since 1996. Now they have taken guards and centers, so I don't think it's necessarily a position thing, but the value just never seems to line up for them. Here they just miss out on Wright so I'm going with another obvious need and a player that many people have graded much higher, the ultra competitive Witherspoon.
This will be widely perceived as the Steelers catching yet another "falling" prospect when the reality is that he's usually graded around this area and not as a top 10 pick. Regardless, it fills a big need and Witherspoon's personality, and toughness will fit Tomlin and the Steelers like a glove.
#18 Detroit Lions: DT Calijah Kancey, Pitt
Detroit fans are going to be pissed off if I'm right and the team doesn't take a corner with either of their first round picks, but it's a very real possibility. They can find a good starter in the 2nd round. There's no need to force the pick. Kancey is supposedly a borderline 1st-2nd round grade for many teams because of his size, but I don't think the Lions will care. He's athletic, tough, and has a non-stop motor...oh yeah and GM Brad Holmes was the director of college scouting when the Rams took Aaron Donald well ahead of projections in the 2014 draft. You think an athletic, undersized DT from Pitt might remind him of someone? Besides, their corners won't have to hold up in coverage for very long if Kancey and Hutchinson are rushing the passer side by side.
#19 Tampa Bay Buccaneers: EDGE Myles Murphy, Clemson
The Bucs have a lot of issues facing them. They have a lot of bad money contracts they'll have to dump or restructure...it looks like a mess. They could legitimately go basically any direction with this pick, and it would make sense, but I'm going to follow Jason Licht's trends and give them a big player "falling" down the board. Think of when they picked up OJ Howard when everyone thought he was going top 10. Licht obviously has a preference for jumbo athletes as evidenced by many of his 1st round selections (Evans, Vea, Tryon, White, even Jameis) are all big for their positions. Murphy is a large, athletic defensive end and happens to fill a position where Tampa is looking for help.
#20 Seattle Seahawks: LB Drew Sanders, Arkansas
Seattle got their future QB at #5 so now they can focus on fixing the defense. That can start by picking up the best linebacker in the class in Drew Sanders, a guy that is big, young, athletic and still coming into his own in the middle. He's already very good and has room to get much, much better after being used in multiple positions in high school and college. He even gives them some much needed pass rushing juice on top of patrolling the middle of the field.
#21 Los Angeles Chargers: WR Zay Flowers, Boston College
I suspect this pick might be traded but I'm not going to try to predict that here. The Chargers don't have any one position that screams out for an obvious pick here. They could take a receiver, tight end, corner, or pass rusher and I wouldn't be surprised. But since not a single receiver has come off the board, they have first choice and I'm giving them a Tyler Lockett clone in Zay Flowers. He's just the kind of deep speed option they need to help send Herbert and this offense to the next level.
#22 Baltimore Ravens: CB Emmanuel Forbes, Mississippi State
This area of the draft starts a run where every single team for the next 4-5-6 picks is looking for either a corner or receiver. I wouldn't be surprised if Baltimore even went off the rails for a lineman on either side of the ball, but they direly need a #2 corner and Forbes fits many of the things they usually look for. He's fast, very productive, and highly competitive despite his thin frame. He won't be everyone's cup of tea, but I think the Ravens will be happy to bring him in as their new Marcus Peters.
#23 Minnesota Vikings: WR Jordan Addison, USC
Yes, the Vikings probably need more corners. Unfortunately, there's already four of them off the board in this scenario so I'm going with another sneaky need that's flying under the radar...receiver. They are about to lock up Jefferson, but Thielen is a likely cap casualty and will need to be replaced. I've heard talk that Addison could go much closer to the top 10 but I simply can't find a spot I love him in right now. He will fit in nicely as a complement to Jefferson in Minnesota.
#24 Jacksonville Jaguars: DT Bryan Bresee, Clemson
Just like the Mayer and Branch picks, I can't get my head to any other options here. Bresee has Trent Baalke written all over him. Big-bodied, athletic defensive lineman with a long history of injuries...that's prototypical Baalke! If he thinks he's getting value from a top 10 player that's falling due to injuries he's going to take them every time. I could also see Addison being the pick if he makes it this far (unlikely) or a corner (but so many are already gone). I don't think Baalke will be able to pass up the temptation of Bresee.
#25 New York Giants: CB Clark Phillips, Utah
This will be seen as a bit of a reach by many and I get that argument since Phillips is on the small side and not a great athlete, but he has been doubted since high school despite producing at a high level every step of the way. I've learned to stop fighting guys like this. He may not ever be a Jalen Ramsey or Jaire Alexander, but he's going to be a very solid #2 corner at the very least. Phillips reminds me a lot of Tre'Davious White, another undersized scrappy corner drafted by the Bills who just happen to be GM Joe Schoen's previous employer.
#26 Dallas Cowboys: CB Cam Smith, South Carolina
Dallas could go a lot of different directions here. WR makes a lot of sense and Quentin Johnston is still on the board, but I don't think he fits their style and it seems apparent that Mike McCarthy already drove off Kellen Moore because he wants to run the ball more. That doesn't scream 1st round receiver to me. Instead, we're going with yet another corner in the feisty Cam Smith. He's not the most athletic guy ever but will fight and scrap with the best. I could also see Dallas going for Darnell Washington to be their new "Y" tight end and using him as a big blocker in-line.
#27 Buffalo Bills: TE Darnell Washington, Georgia
Speaking of Washington, I'm giving him to the Bills just one pick before the Bengals (who are going to be soooooo mad). And Bills fans will be none too happy at first with Quentin Johnston still on the board (they would love an athletic outside receiver for Allen), but they'll get over that quickly when they see what Washington can do on a football field. He'll give Allen a massive redzone target and can provide a little extra juice in the run game which will make Sean McDermott happy.
#28 Cincinnati Bengals: TE Dalton Kincaid, Utah
Bengals fans are going to be livid if they miss out on Washington by one pick. I've seen this exact thing happen years ago when they were poised to take Frank Ragnow and the Lions poached them one pick away. The Bengals seemingly didn't have a backup plan and panic-picked Billy Price at the same position. That's what I see happening here although Kincaid is actually a decent player so it shouldn't be too bad. Many analysts have him graded as the top overall TE (I disagree) and he's not much of a blocker, but he'll provide a nice outlet option for Burrow.
Speaking of, the Cincy front office knows they have a massive Superbowl window open with Burrow still on a rookie deal and they are going to throw everything they have at trying to make that happen. What was once a stodgy, old-fashioned organization is likely going to operate much differently with this opportunity in front of them.
#29 New Orleans Saints: WR Quentin Johnston, TCU
Finally, Johnston comes off the board after a rather long fall and the Saints are happy to pick up another hyper athletic player. They have Olave as their top option from last year and Rashid Shaheed was a nice surprise, but there's not much else on the roster besides those two. Landry is almost certainly gone, and Michael Thomas will only be back on a restructured deal, but he's also 30 years old and hasn't played much football in years due to chronic injuries. The Saints definitely need more firepower for Derek Carr, especially if Kamara is going to be suspended for a while (more and more likely by the day). Johnston's speed and big body will be a nice complement to Olave and Shaheed. Good luck trying to chase those three and Juwan Johnson all over the field.
#30 Philadelphia Eagles: EDGE Nolan Smith, Georgia
I'm not a big Nolan Smith fan because I just do not see a dominant pass rusher on tape and that is backed up by his middling production, but he is a ridiculous athlete, and we know Howie loves his pure athletes. They'll hope to mold him into a productive pass rusher behind Haason Reddick (who is a popular comp for Smith but far more productive in college) for a year or two before unleashing him. Smith will rejoin his old college teammates Jordan Davis and Nakobe Dean which will make for the second group of three former Georgia defenders on one team that I've assembled in this draft.
#31 Kansas City Chiefs: OT Dawand Jones, Ohio St
Kansas City chose not to tag Orlando Brown this week (not surprising considering he's just an above average tackle and not elite) and RT Andrew Wylie is also a free agent. They'll have to address tackle at some point so why not grab the best right tackle (and I believe he can play left as well) in the draft in the Orlando Brown clone, Dawand Jones?
Actually, Jones is clearly better than Brown in every way and even though he's a 2nd round projection for many, that's still much higher than where most thought Brown would be in his own draft (he was a 3rd round pick by the Ravens but most thought he'd drop farther). Yes, Jones has some athletic limitations like Brown but he's overall a much better athlete and much more smooth in his drops. He won't fit with a lot of teams because they want to run wide zone, but he's a perfect match for Reid and the Chiefs. Good luck getting to Mahomes around this behemoth.
Visit FFM: FFM options