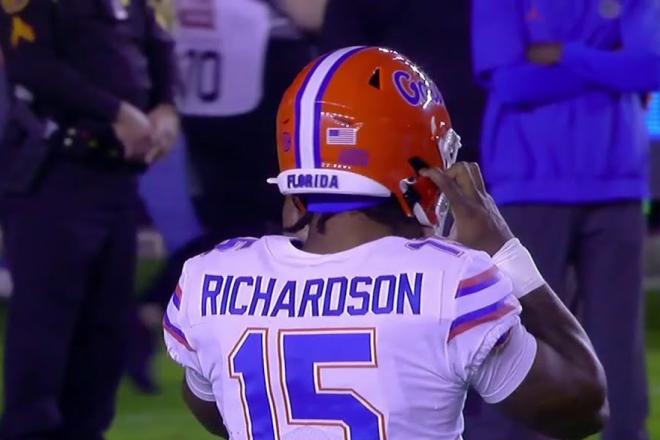 R.C. Fischer
FFM
09 March 2023
*Our QB grades can and will change as more information comes in from Pro Day workouts, leaked Wonderlic test results, etc. We will update ratings as new info becomes available.
Let's begin our consideration of Anthony Richardson for the 2023 NFL Draft with two of the most bizarre and contradictory stat/output trends I've rarely if ever seen before.
1) His completion percentage in each of his final five college games (2022): 48.6%, 60.7%, 47.8%, 59.5%. 33.3% (49.7% combined).
Richardson's completion percentage was totally dreadful in his lone season as the starter - for the entire 2022 season it was an abysmal (53.8%), and for his career (54.7%), and as seen above, it just kept getting worse as it went.
2) However, his TD passes/interception tally in those final five games: 11 TDs/2 INTs.
How can such a highly inaccurate quarterback be so effective on the other hand? That is the scouting question we have to solve…that the NFL has to solve. Is Richardson a ready-made bust…or a ready-made star?
After watching several of Richardson's game tapes, I can make this statement: I could take any of his game tapes and cut them up in such a way that you would swear he's the most gifted QB in this draft. I could also cut up that exact same game tape in such a way to make you swear he's the most inaccurate QB you've ever seen.
It's a unique situation, because I cannot do the same (selective tape editing) for C.J. Stroud or Will Levis -- and for that reason, you cannot put Richardson in the elevated class as Stroud or Levis, hard as you might want to try.
And YOU WILL want to try…if you only see Richardson's 'good' tape. ESPN and NFL Network will run the 'good' clips on a loop…they have 2-3-4 clips, half of them showing his running ability as well, that they will play in the background when Richardson is mentioned/discussed -- and it will subtly con/sway many draft followers and draft fans into thinking Richardson is an elite talent. It's a tried-and-true football media trick. You likely haven't watched/studied Richardson tape for hours/days, and compared to the same level of viewing for the other QBs in this draft…nor the viewing/studying of the past 10+ drafts. You're busy, and you are tuning into some draft talk from our football overlords to start getting up to speed on the big names, and you'll be shown the 2-3-4 'cool' looking Richardson plays over-and-over and you will fall in love -- and Richardson has traits/moments which demand that you fall in love. If you are ever shown an errant pass/play of Richardson's in an analysis segment -- the analysts will simply say, "He just needs to clean that up, and he'll be great." Easier said than done. Many a high pick bust QB's tombstone is etched with that statement.
To read the rest of this section go to Weekly Report - Free!
Anthony Richardson, Through the Lens of Our QB Scouting Algorithm:
 -- A career completion percentage of 53.8% is horrible. He's tracking in our system as one of the most inaccurate D1 QBs we've ever evaluated.
But on the other hand…
 -- 24 career TD passes/15 INTs is nothing to write home about for a top prospect hope either…but a 17 TD/9 INT split in 2022, his real only year as a starter, is a 1.9 TD:INT ratio. QB Will Levis threw for 19 TDs/10 INTs in 2022, a 1.9 ratio as well…and we make excuses for Levis (O-Line, played hurt, coach/offensive plan)…but we see Richardson as a big risk as a passer.
To read the rest of this section go to Weekly Report - Free!
2023 NFL Combine projected measurables…
6'4"/232
10.4" hands, 33" arms (from prior unofficial measurements)
A 4.5+ 40-time, possible he clocks in the 4.4s (if he ever runs officially anywhere this draft season)
The Historical QB Prospects to Whom Anthony Richardson Most Compares Within Our System:
I don't love any one particular of our system comps. Lamar was a more electric runner coming out of Louisville, not a power runner -- but he fits a pattern of low Comp. Pct. but good TD efficiency.
Malik Willis was a much more consistent passer in college…but Willis also had a penchant for 'wow' throws just like Richardson. Richardson much taller/bigger than Willis.
Richardson reminds me the most of: Justin Fields/2022 as a runner and (a better) Trey Lance as a developmental, erratic wow/yuck passer every other throw.  
| | | | | | | | | | | | |
| --- | --- | --- | --- | --- | --- | --- | --- | --- | --- | --- | --- |
| QB-Grade | LJax Rating | Last | First | Yr | College | H | W | Adj Comp Pct | Adj Yds per Comp | Adj Pass per TD | Adj Pass Per INT |
| 7.544 | 8.31 | Richardson | Anthony | 2023 | Florida | 76.0 | 232 | 51.5% | 14.7 | 22.6 | 61.0 |
| 6.224 | 10.50 | Jackson | Lamar | 2018 | Louisville | 74.2 | 216 | 55.5% | 13.8 | 20.4 | 38.8 |
To see all of the comp table go to Weekly Report - Free!
*'LJax rating' – new for 2023, as we re-do our grading systems to better identify/reward the spread offense QB prospects…looking for the runner-passer talents.
**"Adj" = A view of adjusted college output in our system…adjusted for strength of opponent.
***A score of 8.5+ is where we see a stronger correlation of QBs going on to become NFL good-to-great. A scouting score of 9.5+ is rarefied air—higher potential for becoming great-to-elite.
QBs scoring 6.0–8.0 are finding more success in the new passing era of the NFL (2014–on). Depending upon the system and surrounding weapons, a 6.0–8.0 rated QB can do fine in today's NFL—with the right circumstances…but they are not 'the next Tom Brady' guys, just NFL-useful guys.
2023 NFL Draft Outlook & NFL Outlook:
I see Richardson always projected in the 1st-round, usually in the top 10-20 mock drafted…as high as #3 overall, behind the current universally accepted Young-Stroud 1-2 at the top. In the end, I could see him going top 5…as high as #3, a la Trey Lance.
To read the rest of this section go to Weekly Report - Free!
See what R.C. thought of Richardson Jul'22: 2022 Devy Preview Scouting Series (for 2023+): QB Anthony Richardson, Florida