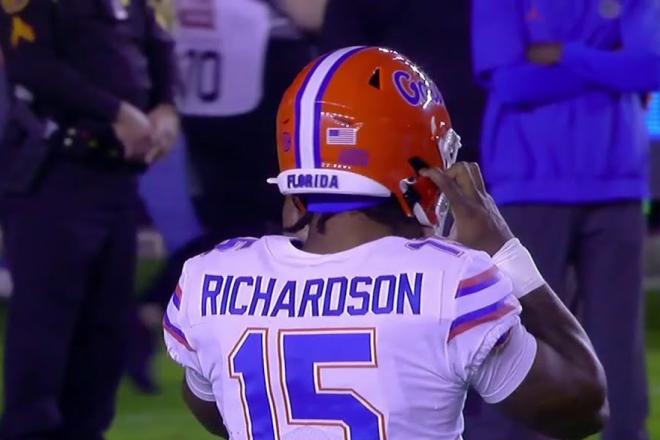 R.C. Fischer
Weekly Report
09 March 2023
*Our QB grades can and will change as more information comes in from Pro Day workouts, leaked Wonderlic test results, etc. We will update ratings as new info becomes available.
Let's begin our consideration of Anthony Richardson for the 2023 NFL Draft with two of the most bizarre and contradictory stat/output trends I've rarely if ever seen before.
1) His completion percentage in each of his final five college games (2022): 48.6%, 60.7%, 47.8%, 59.5%. 33.3% (49.7% combined).
Richardson's completion percentage was totally dreadful in his lone season as the starter - for the entire 2022 season it was an abysmal (53.8%), and for his career (54.7%), and as seen above, it just kept getting worse as it went.
2) However, his TD passes/interception tally in those final five games: 11 TDs/2 INTs.
How can such a highly inaccurate quarterback be so effective on the other hand? That is the scouting question we have to solve…that the NFL has to solve. Is Richardson a ready-made bust…or a ready-made star?
After watching several of Richardson's game tapes, I can make this statement: I could take any of his game tapes and cut them up in such a way that you would swear he's the most gifted QB in this draft. I could also cut up that exact same game tape in such a way to make you swear he's the most inaccurate QB you've ever seen.
It's a unique situation, because I cannot do the same (selective tape editing) for C.J. Stroud or Will Levis -- and for that reason, you cannot put Richardson in the elevated class as Stroud or Levis, hard as you might want to try.
And YOU WILL want to try…if you only see Richardson's 'good' tape. ESPN and NFL Network will run the 'good' clips on a loop…they have 2-3-4 clips, half of them showing his running ability as well, that they will play in the background when Richardson is mentioned/discussed -- and it will subtly con/sway many draft followers and draft fans into thinking Richardson is an elite talent. It's a tried-and-true football media trick. You likely haven't watched/studied Richardson tape for hours/days, and compared to the same level of viewing for the other QBs in this draft…nor the viewing/studying of the past 10+ drafts. You're busy, and you are tuning into some draft talk from our football overlords to start getting up to speed on the big names, and you'll be shown the 2-3-4 'cool' looking Richardson plays over-and-over and you will fall in love -- and Richardson has traits/moments which demand that you fall in love. If you are ever shown an errant pass/play of Richardson's in an analysis segment -- the analysts will simply say, "He just needs to clean that up, and he'll be great." Easier said than done. Many a high pick bust QB's tombstone is etched with that statement.
I watched all the tape on Richardson, and I can definitively answer the question about his future NFL prospects -- I don't know.
I don't know how good he can or will be. Every other play of his is either genius or madness, truly. If this were 2010-2015 (or prior), I'd tell you he's going to be a bust, all the NFL pundits would concur, and the NFL coaches would try to make him a WR or RB. But, in 2023, where it's never been easier to play QB in the NFL…I can't bet against Richardson eventually breaking out in the NFL. The problem with either betting on or betting against him, is that he may be the most gifted natural/physical tools QB in the 2023 NFL Draft. If you can harness his gifts…develop him into a real QB -- you got a real weapon QB on your hands.
Richardson is totally perplexing to me as a scout. Maybe the most perplexing QB scouting case that I've ever encountered. Literally, you can watch Richardson at work against a great opponent or a terrible one and on one play he'll throw a simple out route to the sidelines to a wide-open receiver and the ball will be thrown a yard or three over the receiver's head. And then on the next play, Richardson will flick a pass off his back foot downfield 50+ yards absolutely on the money to a covered receiver in stride. The play after, he'll throw a simple screen pass at an open RB's feet and follow that up by throwing a laser beam on the money over the middle on a tight window slant. I've never really seen anything like it…the range of outcomes play-to-play.
In his final game of his college career, the annual Florida State battle game, at one point Richardson had 10 straight incompletions in the game (after he had thrown for three TDs in the span of about 15 minutes of game play). Have you ever seen/heard such a thing…from a guy some say is the #1 overall prospect in the draft? But in that same game, where he completed 9-of-27 passes, I'm not kidding/that's not a typo, he also threw for 3 TDs in those 9 completions…TDs of 52-12-43 yards…all happening in a 15-minute span in the 1st-half…then no more TD passes the rest of the game).
People who are for him are embracing the 'good' Richardson tape. -- they will also invoke the 'Josh Allen improvement' story as further reasoning to draft a wild stallion QB and let Brian Daboll 'break him in', shape him into the next Josh Allen. That thought process is not illogical…it's what got Trey Lance drafted #3 in 2021.
Other analysts will see the shockingly low completion percentage game after game, and their analytics scouting style will hate Richardson's NFL prospects…they'll watch a game or two of tape and see all the misfires he has per game, and that will support their disgust at his low completion percentage, and thus 'bust' labels/talk will abound.
Richardson is set to be the most polarizing QB prospect in the 2023 NFL Draft, because he is the most 'bipolar' (in play) QB that the scouting world has ever seen. Scouts will literally see what they want to see. Fans will see what the analysts want you to believe…what they believe, seeing what they want to see in Richardson.
All that being said, what do I think about Richardson as an NFL prospect?
Richardson has electric tools -- a cannon arm, a great build, and a weapon as a runner. I also see where Richardson can just 'flick it' downfield (or anywhere) and be perfectly on the money. But I also see all the throwing miscues. When I see QBs with the ability to throw downfield so accurately, off script, or scrambling, or in a muddy pocket -- I have to assume they possess superior natural gifts as a thrower, and conclude that at a certain point you have to take a chance on them to see if you can correct the problem throws, or limit them, and gain all the other upside -- the dazzling downfield throws and high-end mobility/runner skills.
And it's not like Richardson is constantly throwing into traffic as if he doesn't see the defense…he's not that kind of inaccurate. He often sees/finds the open receiver and makes the right throw…he just doesn't deliver the throw as well as most all QBs can.
As with Josh Allen, a prospect like Richardson is what the draft is about -- taking a chance at greatness, knowing you may strike out…also known as 'the Trey Lance story'. How do you value such an asset? Like an emerging Tech stock -- you pay a higher multiple hoping for the huge upside…meaning, draft-wise, you draft Richardson highly.
We also have to recognize that NFL coaches and GMs are highly risk-averse, by and large. They will all be interested in this Cam Newton/Lamar Jackson type thing, but they will fear the inaccuracy and turnover risk…and only certain teams can afford the time to develop a QB. Look at the 49ers…two years wasted, so far, on Trey Lance…and it's still unknown whether he's 'got it' or not. Richardson will very likely be drafted to a team with a secure head coach and/or GM, ones who have the opportunity to 'wait'.
I'm not going to go over detailed specifics from my scouting studies watching Richardson against Georgia, Florida State, LSU, etc., because it's a waste of time here. Any scouting report by anyone writing about or showing you clips of his work to try and support their case (good or bad) is wasting your time, to a degree…it's literally amazing throws and runs followed by shockingly inaccurate gaffes.
People can, and will, debate Richardson's upside and downside…or claim the problem was that the new Florida coach (in 2022) stinks…or his O-Line wasn't great…or dreaming of the possibilities of that big body running the ball at QB in the pros a la Justin Fields. Anthony Richardson scouting will be a new religion. You will believe what you want to believe on Richardson, and a case exists to support either positive or negative beliefs. He's the next Josh Allen…or Cam Newton…or Justin Fields…or Jalen Hurts…or Trey Lance…or Jamie Newman…or a mobile Tavarius Jackson or a bigger Malik Willis. All of those are possibilities.
Whatever you believe…whatever I believe…whatever THEY believe -- no one really, truly knows which side is going to be 'right'. We don't know what coach/staff he'll wind up with. We don't know if he'll be pushed into action too quickly…or allowed to slow cook with a redshirt year of learning. We don't know if the offense will be built for him, or if they'll want him to conform to a bad-fit offense like a Nathaniel Hackett or Steve Wilks would. My Richardson outlook for his NFL future changes radically depending upon whether he lands with a Mike Tomlin (bad) or with a Brian Daboll (good).
Anthony Richardson scouting is a religious experience. Choose to believe…or not.
Gun to my head, I say he's worth the gamble, in general -- after C.J Stroud and Will Levis, you have to consider taking a shot on Richardson, knowing it may blow up in your face. He shows too many 'special' traits and special tape moments to wave it all off because the completion percentages look so horrific. And remember Lamar Jackson has consistently been in the 60%+ Comp. Pct. range the past few years…though he never hit above 60% in college in any of his three seasons. It's never been easier to succeed at QB in the NFL than it is right now…and that helps the Richardson hope. It's easy to say he should be the #3-4-5 overall draft pick gambling on his upside, but it's a tough call for coaches/GMs who want to stay employed and can't afford a bust QB on their resume.
All this passer talk undersells one of Richardson's key features -- what he brings to the table as a runner. He's a weapons-grade runner, a bigger-framed power runner like Fields-Hurts. Are you willing to allow Richardson more grace as a passer at the next level because he makes plays with his feet, which can freeze defenses to make throwing on them easier? You should consider that upside, because it's real. He's a big boy at 235 pounds running downfield.
Richardson's off-the-field background check and his in-person interviews probably won't do him any favors in this process either…to make teams wanna take a big gamble on him. He doesn't have any obvious red flags from the past, but he's not really an electric personality, not a ready-made leader of the locker room. Nice kid it seems, but not magnetic enough to suck you into his 'religion' as easily. Coaches interviewing him probably won't be 'blown away' at their first meeting with him.
Richardson has also only started 14 games, really been a true starter for just one season…and he's been a little banged up off-and-on in his brief career. Is he the next big, mobile QB whose running style will constantly get his shoulder messed up taking and delivering hits? Is that a red flag item for drafting him as well?
If you can accept all that risk…Richardson should be a top 3-5 prospect overall…OR if that risk outweighs all the good stuff, you just write him off your board. There's no halfway point. He's not a vanilla QB prospect to consider…he's the great bipolar prospect debate of 2023.
Anthony Richardson, Through the Lens of Our QB Scouting Algorithm:
 -- A career completion percentage of 53.8% is horrible. He's tracking in our system as one of the most inaccurate D1 QBs we've ever evaluated.
But on the other hand…
 -- 24 career TD passes/15 INTs is nothing to write home about for a top prospect hope either…but a 17 TD/9 INT split in 2022, his real only year as a starter, is a 1.9 TD:INT ratio. QB Will Levis threw for 19 TDs/10 INTs in 2022, a 1.9 ratio as well…and we make excuses for Levis (O-Line, played hurt, coach/offensive plan)…but we see Richardson as a big risk as a passer. He throws for TDs at a nice/solid rate…and he's not a turnover machine…he's just a wild thrower to the right read/right receiver too often.
What if, as an NFL head coach, you just live with high incompletion rates to get to the amazing TDs/scoring? Do you want to score points…or win time of possession? Don't answer that…I know, NFL coaches would rather have time of possession/ball control (although they'd say 'points' out loud).
 -- 654 yards rushing with 9 rushing TDs in 12 games in 2022. Two 100+ yard rushing games. Four 75+ yard rushing games…and he was banged up some on-and-off in 2022.
2023 NFL Combine projected measurables…
6'4"/232
10.4" hands, 33" arms (from prior unofficial measurements)
A 4.5+ 40-time, possible he clocks in the 4.4s (if he ever runs officially anywhere this draft season)
The Historical QB Prospects to Whom Anthony Richardson Most Compares Within Our System:
I don't love any one particular of our system comps. Lamar was a more electric runner coming out of Louisville, not a power runner -- but he fits a pattern of low Comp. Pct. but good TD efficiency.
Malik Willis was a much more consistent passer in college…but Willis also had a penchant for 'wow' throws just like Richardson. Richardson much taller/bigger than Willis.
Richardson reminds me the most of: Justin Fields/2022 as a runner and (a better) Trey Lance as a developmental, erratic wow/yuck passer every other throw.  
| | | | | | | | | | | | |
| --- | --- | --- | --- | --- | --- | --- | --- | --- | --- | --- | --- |
| QB-Grade | LJax Rating | Last | First | Yr | College | H | W | Adj Comp Pct | Adj Yds per Comp | Adj Pass per TD | Adj Pass Per INT |
| 7.544 | 8.31 | Richardson | Anthony | 2023 | Florida | 76.0 | 232 | 51.5% | 14.7 | 22.6 | 61.0 |
| 6.224 | 10.50 | Jackson | Lamar | 2018 | Louisville | 74.2 | 216 | 55.5% | 13.8 | 20.4 | 38.8 |
| 8.103 | 9.12 | Willis | Malik | 2022 | Liberty | 72.4 | 219 | 57.7% | 13.5 | 15.5 | 35.5 |
| 7.512 | 7.85 | Jones | Cardale | 2016 | Ohio State | 76.5 | 240 | 57.1% | 15.6 | 17.6 | 34.9 |
| 5.912 | 6.26 | Johnson | Jerrod | 2011 | Texas A&M | 77.1 | 251 | 57.5% | 12.3 | 16.9 | 39.4 |
| 7.852 | 7.72 | Jackson | Tyree | 2019 | Buffalo | 79.0 | 249 | 57.6% | 13.2 | 17.5 | 37.7 |
  *'LJax rating' – new for 2023, as we re-do our grading systems to better identify/reward the spread offense QB prospects…looking for the runner-passer talents.
**"Adj" = A view of adjusted college output in our system…adjusted for strength of opponent.
***A score of 8.5+ is where we see a stronger correlation of QBs going on to become NFL good-to-great. A scouting score of 9.5+ is rarefied air—higher potential for becoming great-to-elite.
QBs scoring 6.0–8.0 are finding more success in the new passing era of the NFL (2014–on). Depending upon the system and surrounding weapons, a 6.0–8.0 rated QB can do fine in today's NFL—with the right circumstances…but they are not 'the next Tom Brady' guys, just NFL-useful guys.
2023 NFL Draft Outlook:
I see Richardson always projected in the 1st-round, usually in the top 10-20 mock drafted…as high as #3 overall, behind the current universally accepted Young-Stroud 1-2 at the top. In the end, I could see him going top 5…as high as #3, a la Trey Lance.
If I were an NFL GM, I'm very interested in Richardson…as a project to take on and try and wind up with some kind of Josh Allen in a few years. If Richardson's deep background check was fine, and if I needed/wanted a QB, I would go Stroud then Levis…then I'm looking at Richardson as Plan C, right now. It's a good year for interesting QB prospects at the top.
NFL Outlook:  
No clue.
Josh Allen upside.
Justin Fields midline.
Trey Lance/Malik Willis early flopping around causing concern 'floor'…maybe never really 'getting it' in the NFL.
See what R.C. thought of Richardson Jul'22: 2022 Devy Preview Scouting Series (for 2023+): QB Anthony Richardson, Florida