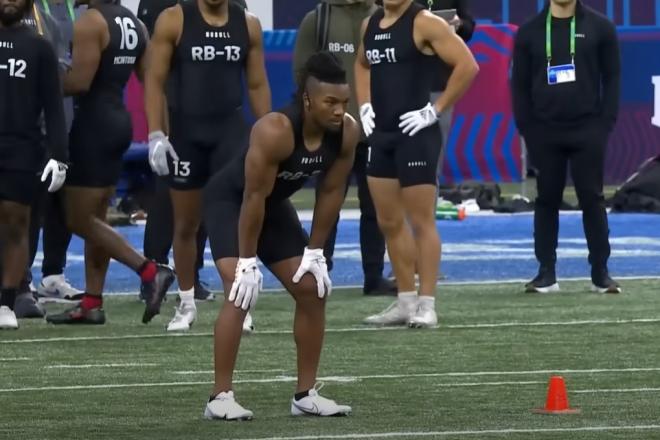 R.C. Fischer
FFM
06 March 2023
My instant/initial reaction from my first watch through day four/the final day of the Combine times/drills…
RUNNING BACK NOTES…
 -- RB Combine class comparison (2022 v. 2023)
*Note…there were 9 more RB invitees to the 2022 Combine compared to this year's Combine. Like 25% less RBs there in 2023 by comparison.
Sub-4.5 40-times, at any size among the RBs…
14 = RBs hit that mark in the 2022 RB class
7 = RBs hit that mark in the 2023 RB class
Sub-4.4 40-times, at any size among the RBs…
7 = RBs hit that mark in the 2022 RB class
3 = RBs hit that mark in the 2023 RB class
37" or greater vertical jumps, at any size among the RBs…
2 = RBs hit that mark in the 2022 RB class
7 = RBs hit that mark in the 2023 RB class
215 pounds or bigger RBs among the group…
10 = RBs hit that mark in the 2022 RB class
10 = RBs hit that mark in the 2023 RB class
We could walk away from the YOY comparison thinking that the 2022 RB Combine class was a smaller, faster group and the 2023 group is not as fast but on the whole bigger with more leg power?
 -- I've spent most of the pre-Draft season questioning Bijan Robinson's status as the clear #1 RB talent/prospect in this draft. Not that he isn't worthy of an NFL career, but that all the shrines being constructed to his ultra-eliteness are way off base, in my scouting.
However, Robinson ran a solid 4.46 40-time with a nice 1.52 10-yard time here and avoided any trouble/draft stock loss. He had a solid 37" vertical and 10'4" broad jump. All of these numbers are solid/good/very good…not elite…especially at 215 pounds.
I didn't think Bijan was slow, going into this, so his solid speed times are logical. I have some concerns about his agility and running style, but I haven't seen (as of this writing) any three-cone times for him. Most RBs are now skipping the agility times, so I wouldn't be surprised if he did as well…especially if it's a mild problem area.
Bijan didn't hurt his draft stock at all today, but he didn't do anything that makes me wanna change my grading on him too much.
  -- By comparison, a guy I thought had a chance to out-do Bijan at the Combine, his teammate Roschon Johnson did disappoint a little. I mean, not disappointing…per se -- I just had higher hopes. A 4.58 40-time is solid enough at 219 pounds (the 2nd biggest back here), and he matched Bijan in the 10-yd split (1.52)…so, that's good -- but I was hoping he could get in the 4.4s for speed…he didn't. His 3rd-lowest among the RBs vertical leap (31.5") wasn't exciting news either.
 -- Another RB prospect that I had graded higher than Bijan, going into the Combine, UCLA's Zach Charbonnet did fine but I was hoping he'd do a little better to maybe pick up some more draft heat. He didn't.
6'0"/214, 9.9" hands, 4.53 40-time, 1.54 split, 37" vertical, 10'2" broad = Charbonnet
5'11"/215, 9.8" hands, 4.46 40-time, 1.52 split, 37" vertical, 10'4" broad = Bijan
Similar, but slight Combine edge to Bijan so far.
 -- I love Tyjae Spears, but I hate that he skipped the timing drills. I wanted to see if he was the fastest RB here. I guess he isn't, or he would've run. He did the on-field drills, so it was 'choice' that he didn't run/get timed.
But what he did do – it went very well. He had the 2nd-highest vertical (39.5") and the 3rd-best broad jump (10'5"). He also came in at 201 pounds with the second biggest hands of the RB group (10"). So many good things, but I got 'nuthin' on 40-time and three-cone.
 -- Two RBs who definitely hurt their draft stock…
1) Tavion Thomas, Utah -- he was such a beast in 2021. Tailed off some in 2022. Came in at 237 pounds, which is expected…but I had hoped he'd run in the middle/lower 4.6s and get some draft attention. Instead, he ran the slowest 40-time of the group at 4.74. Unless he kills his three-cone at his Pro Day…he's potentially falling out of the draft.
2) Kenny McIntosh, Georgia -- an unimpressive Senior Bowl week and the 2nd-slowest among the RBs 4.62 40-time from a 204 pound pass game back -- there are too many other RBs in his weight range that are far superior athletes. McIntosh continues to fall.
 -- I've been down or 'meh' on Alabama RB Jahmyr Gibbs from my preview scouting. And then he goes out and rips off a 4.36 40-time…2nd fastest among all the RBs here. I'm set to do a deep dive study on him anyway, but I definitely am intrigued to take a deeper look after this performance.
The speed was attention-getting but the way he moved and muscular he was doing the on-field drills…it definitely caught my attention.     
 -- RBs of interest we'll just have to wait for their Pro Day data on, because they didn't get timed in anything…and it's sad because some of these names are top 3-5 in the RB class contenders…
Chris Rodriquez, Kentucky and his small 8 5/8ths hands did nothing here.
Sean Tucker, Syracuse also did nothing…but did clock in at 207 pounds, which is OK for him.
Deuce Vaughn, K-State was able to do backflips at the end of the day/drills but couldn't run the 40 or agility stuff. Not a good sign.
Hunter Luepke, North Dakota State didn't do anything, but was the largest back invited here at 230 pounds.