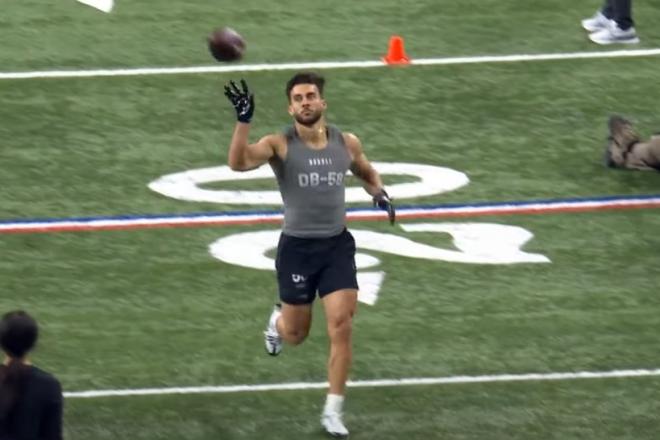 R.C. Fischer
FFM
04 March 2023
My instant/initial reaction from my first watch through day two of the Combine times/drills…
SAFETY NOTES…
 -- SAF Combine class comparison (2022 v. 2023)
Looking for 199+ pound safeties who ran a sub-4.50 40-time…
7 = SAF prospects hit those markers at the 2022 Combine.
3 = SAF prospects hit those markers at the 2023 Combine (Sydney Brown, Daniel Scott, Jordan Howden)
Looking for any sized safeties who ran a sub-4.40 40-time…
6 = SAF prospects hit that markers at the 2022 Combine.
ZERO = SAF prospects hit that markers at the 2023 Combine
Looking for any sized safeties who ran a 4.60+ (slower) 40-time…
ZERO = SAF prospects hit that markers at the 2022 Combine.
6 = SAF prospects hit that markers at the 2023 Combine
There's no great (NFL) money in being a safety, in general/by comparison to the other positions -- so we may be seeing that shift of athletes away from the bad (NFL) money spot…or 2023 is just a bad (overall) year for safety prospects.
 -- There was a clear 'winner' of the day from the SAF group…Cal's Daniel Scott, one of our top-rated safeties in this class prior to the event…clearly better than any of the Alabama guys getting nationally pushed.  
Scott was top tier in most measurements and times among the SAF group…
6'0.7"/208 (4th heaviest/thickest among the SAF group)
10" hands (3rd largest)
4.45 40-time (2nd fastest)
1.55 10-yd split (5th fastest)
39.5" vertical (5th best)
10'8" broad (3rd best)
4.17 shuttle (#1)
6.75 three-cone (#1)
Going into the Combine, I thought he was in the debate for the best SAF prospect in the 2023 draft class. But now it's likely he's going to be our official #1 rated overall post-Combine.
Scott was a national/consensus draft day three ranking, 5th+ round projection going into the Combine. But THEY won't fully get onboard with my Scott claims…they will stay tethered to their preconceived notions, as they do…so they'll only probably move him up to a top 100-125 (consensus).
Scott isn't just athletically gifted -- the tape (in my previews) showed me a high-end SAF with his work at Cal.
Scott is likely to wind up our top rated safety when we process all the data into our system, with his main competition being Boise State's 6'4"/209 safety J.L. Skinner…but we have to wait for Skinner's Pro Day to fully evaluate. But Scott and Skinner are different types of safeties on size/style of play, so they each may have a claim as the top safety prospect. Scott is locked in as a 'best in class' contender now…Skinner, we wait and see for his Pro Day.
 -- To show that I am 'human' in my scouting…that I can get it wrong from the previews, my very top SAF prospect going into the Combine, Florida's Trey Dean, broke my heart.
The worst 40-time in the SAF class…4.75.
The 2nd-worst 10-yd split…1.60.
This is so bad, so far from what I saw on tape…it's going to require a deep scouting investigation. Maybe a secret injury he tried to run through could be an excuse, but he ran two times on the '40'…so, not likely.
I should just deploy one of two TV analysts/scouts 'con games' to shuffle my potential Dean preview scouting error along…
1) I could just say -- he's quicker than fast, and hope no one questions the mistake…and sound all scout-y.
2) I could just do what the NFL Network TV guys do -- say that 40-times don't really matter, it's the tape that matters.
…and then 3-10 minutes later when some other prospect runs in the 4.2s or 4.3s, I'll lose my mind and spend the rest of the broadcast talking about the fast time, replaying it over and over, overlaying the run with former great's 40-time sprints, and I can have Stacey Dales painfully interview/fawn over them on the field for 3-30 minutes.
Scouting is a process…not a quick temperature check and then whatever temperature read you get from your 1x take, that's what you assume their temperature is for the rest of their existence.
 -- The SAF prospect who could be first off of the NFL Draft board, in reality, is Illinois' Sydney Brown. Old school NFL coaches/GMs are IN LOVE with Brown…because he's such an intense hard worker (him and his brother, an RB at the Combine as well).
I can't say I would bet against him being the top SAF from this class, in the end…in the NFL. He came in as the heaviest/thickest SAF at 211 pounds, but that's more amazing when you consider he's the shortest SAF here at 5'9.6". He's the proverbial bowling ball athlete.
He has solid, top 5 or so times among the SAF class in the 40 (4.47), 10-yd split (1.51), vertical (40.5"), and broad jump (10'10").
If you don't mind the height, he's arguably a top 1-2-3 SAF in this class…legit for the NFL. He won't disappoint.
 -- I'm surprised the Alabama guys (Battle and Hellams) even participated in the 40-yard, etc. They had the 'Alabama' hype going for them, especially Battle (the mainstream top SAF out of the gates) but by running and participating here, they got exposed as 'average' athletes (and their tape is average if anyone bothered to look, instead of cramming Battle to #1 because 'Alabama') but despite all that Battle is not likely to be bypassed by the likes of Daniel Scott or Sydney Brown in upcoming national mocks.
 -- Oklahoma State's Jason Taylor was a consensus top 200 overall, drafted later day three type safety going into the Combine, but he was my #5 rated SAF prospect, ahead of a lot of the big names in my preview of the group ahead of the Combine -- and I think I won this scouting contest as well. Taylor had a great day at the Combine…but it slid under the radar because he didn't have the pre-hype. He's going to be a steal on day three.
5'11"/204
4.50 40-time (5th fastest among all SAF prospects at the Combine)
1.52 10-yd/split (4th fastest)
43" vertical (2nd highest)
10'9" broad (2nd best)
 -- Illinois' Jartavis Martin made some  money this day, as well. A 44" vertical…best among the SAF…best among anyone so far. But also, a 4.46 40-time with a best in (SAF) class 1.47 10-yd split…and a best in class 11'1" broad. This…I did not see coming in my previews of him pre-Senior Bowl week. I then had him poorly graded (a 'D') post-Senior Bowl week (I barely remembered him being there).
But it's back to the drawing board on him -- he's a SAF/CB or cover DB. He may be the Brian Branch people are looking for.