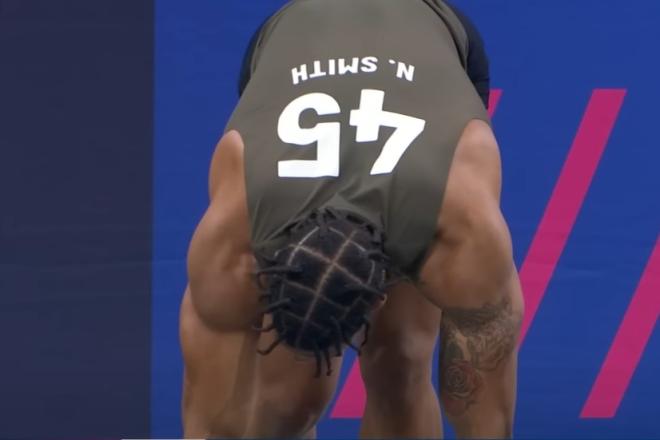 R.C. Fischer
FFM
03 March 2023
2023 NFL Combine Notes from 3/2 (EDGE Notes…)
My instant reaction from my first watch through day one of the Combine times/drills…
EDGE NOTES…
*Will Anderson worked with the LB group, so he'll be discussed in those notes.
 -- EDGE group comparisons…
Looking for the following profiles: 6'3"+/250+ and ran a sub 4.6 40-time…
5 EDGE prospects did so at the 2023 Combine
5 EDGE prospects did so at the 2022 Combine
 -- Winners of the EDGE group at the Combine?
Iowa's Lukas Van Ness running a 4.58 40-time and 7.02 three-cone at 272 pounds is a 'wow'…for his size. The tape backs up these numbers.
Louisville's YaYa Diaby ran a 4.51 40-time (#3 among EDGE), a 1.56 split (#2 among EDGE), and posted a 37" vertical (#3 among EDGE). He's another where I saw the movement skills on tape, and the Combine backs it up. All that at 263 pounds with long arms and huge hands.
One where I didn't catch the speed on preview scouting, and now I have to go back and re-look, is on Tennessee's Byron Young -- a 4.43 40-time (#2), a 1.62 split (#3), a 38" vertical (#2), and a solid enough 7.19 three-cone. He looked like a perfect body and movement sculpture.
When you consider overall size with the speed times, those are my three standouts.
 -- Whereas Georgia's Nolan Smith running a 4.39 40-time, with a 1.52 split, and posting a 41.5" vertical is great but he's also 238 pounds. The NFL Network went insane over Smith's times, etc., but Van Ness and Diaby and Young doing what they did with bigger bodies…they should've gotten the same/more love. BUT the NFL Network does it every year…they fawn over the 40-time and don't even care about the more important things like the three-cone, etc.
Smith is fast…but then you look and see his career high for sacks in a season is 4.5…in 12 games…on the Georgia defense. What did all that speed matter? Smith is now an interesting athlete to consider as a prospect/project, but he shouldn't get 1st-round movement -- but the next week of mocks will probably do so from the mainstream…taking their cue for the NFL Network's uber-enthusiasm.
I was chatting with FFM's Ross Jacobs about this and he said, "I got two words for them (about Nolan Smith)…Amare Barno." I chimed in, I've also got two words for them: Channing Tindall.
4.39 40-time, 1.52 split, 41.5" vertical, 6'2.2"/238 = Nolan Smith (2023 Combine)
4.47 40-time, 1.52 split, 42.0" vertical, 6'2.0"/228 = Tindall (2022 Combine)
4.36 40-time, 1.49 split, 37.0" vertical, 6'4.5"/247 = Barno (2022 Combine)
All great athletes who didn't get many sacks in college…for their elite athleticism profiles.
 -- EDGE comparison…
6'5"/272, 34.0" arms, 11.0" hands, 4.58 40-time, 1.64 split, 31.0" vert., 7.02 three-cone = Lukas Van Ness (2023)
6'5"/272, 35.5" arms, 10.8" hands, 4.51 40-time, 1.62 split, 35.5" vert., 6.89 three-cone = Travon Walker (2023)
-- EDGE Disappointments, no shows…
Tuli Tuipulotu came in NOT at 290 pounds…not at 280+…not at 270+, but a VERY disappointing 266 pounds. I was led to believe he was this whirlwind dynamo DL prospect that was 280-290 pounds and a possible Aaron Donald 3-4 DE/DT. Nope.
I'm removing Tuli from the DT list and putting over with the EDGE group…where he may be great but not as great a prospect if he were 280+ pounds and lightning quick and a possible DT. He skipped all the timed stuff.
Myles Murphy skipped the drills as well. If you're already a top prospect, you should NEVER participate in any of this Combine nonsense -- you can only get hurt (physically and draft stock wise) by participating. The 2nd-7th-round prospects who are good athletes NEED to do everything here.