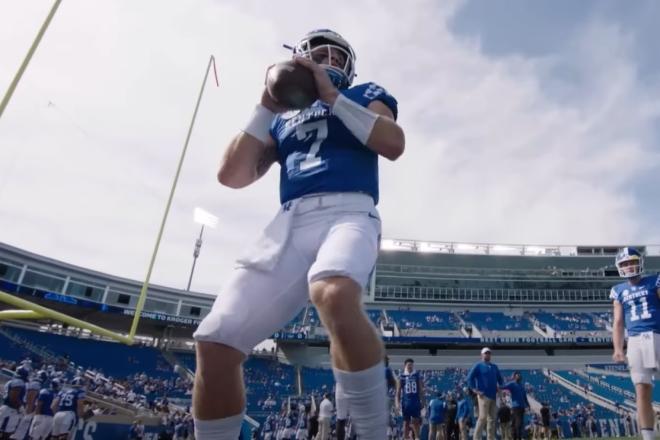 Ross Jacobs
FFM
01 March 2023
#1 Indianapolis Colts (via Chi): QB Will Levis, Kentucky
We all know this pick is getting traded to a team looking for a QB. The question is: who is most likely? I have always thought Indy makes the most sense for multiple reasons. They are higher up than every QB needy team than Houston and they have both the capital and desire to jump. I've seen Houston speculated but that doesn't seem like a Caserio-type move. The Panthers have the ammunition but are farther away. They make more sense for a move to #3. The Raiders seem like they are gearing up for a total rebuild and might not get a rookie this year. And the Falcons are most likely looking for a veteran.
It's been widely assumed that the Colts would come up for Bryce, especially after Jim Irsay literally said it, but I actually view Bryce as the least likely candidate for Indy specifically. Why? Because GM Chris Ballard is a huge proponent of traits. He likes size and athleticism. I could see any one of Stroud, Richardson, or Levis being the pick, but at this juncture I'm going with Levis. He's bigger and sturdier than Stroud, played in a pro-style offense, has a hose for an arm, is incredibly intelligent, and has every leadership quality you could want. 
#2 Houston Texans: QB Bryce Young, Alabama
I still think Caserio could decide to roll with a veteran like his old friend Jimmy G and look to build the roster up more, but it seems fairly likely right now that he'll simply take a QB and pray. The media and fans are all-in on Young because "Alabama" and he is realistically a very natural passer. His instincts and accuracy are top notch and the reason why I have the Texans taking him here. The Belichick tree is obsessed with these qualities for good reason. However, I don't think Bryce is a fit for every organization due to his size. Like it or not many teams are going to have concerns about his ability to stay healthy in the NFL. Tua and Kyler have both struggled with injuries throughout their careers and it's foolish in the extreme to simply ignore the issue. This selection will be immensely popular a couple of months from now, but I have my doubts that will be the case a few years down the road, and it has nothing to do with Young's talent. 
#3 Arizona Cardinals: EDGE Will Anderson, Alabama
Arizona will likely have their choice of the three top-tier defenders (per the media) or they can possibly trade down with another QB-hungry team (looking at you Carolina). For now, I'm just going to assume they sit tight and take a defender. By far the safest possible selection is Anderson. He has fantastic production, a non-stop motor, and squeaky-clean character and intangibles. He's a perfect fit for new GM Monti Ossenfort (a Belichick protégé and we know how much they love Alabama players).
Anderson's ceiling might be a tick lower than other highly drafted edge players recently (we'll see at the combine hopefully) and he is likely limited to OLB in a 3-4 scheme due to his size, but in a weaker overall class he's a safe bet to go in the top 3-4. 
#4 Chicago Bears (via Indy): DE Tyree Wilson, Texas Tech
Tyree Wilson over Jalen Carter?! Yes, let me explain. The NFL seems to be smitten with Wilson due to his prototypical size and length. Guys built like this don't come along often (and when they do they skyrocket up the board, often to #1 overall like Travon Walker did last year). I wasn't a big fan the first time I watched him but he's starting to grow on me. One issue you see on tape is Wilson was frequently lined up as a 3-4 DE inside of the tackle. That meant he was frequently facing double teams which he still beat on a regular basis. It's the same issue Travon Walker faced last year.
In the NFL Wilson is much more likely to be on the edge in a base 4-3 which means more 1-on-1 matchups with tackles. I am curious about his speed and explosion (and we'll have to wait for his pro day for numbers), but he plays like a smaller Deforest Buckner in a way. Matt Eberflus is a fan of length and explosive ability so I could see him being captivated by Wilson.
In addition, there are very real questions about Jalen Carter's work ethic and conditioning. When "character concerns" get brought up it's not an issue of him being a bad kid but more a concern about whether he's ready to practice like a pro. You can only coast on talent for so long. Admittedly he is a fantastic fit for the Eberflus defense as a penetrating 3 technique, but I also believe that is a position the Bears can and will address in free agency. Whether they bring someone in pre-draft or not will be a huge clue about their intentions. 
#5 Seattle Seahawks: QB Anthony Richardson, Florida
I know this is still a massively controversial pick, but I'm sticking with it for the moment, especially with Tyree Wilson off the board in this scenario. It's possible the team could go with Jalen Carter here as he would fill a huge need, but again there are concerns about his work ethic and Seattle made it a point of emphasis to go for high-character guys last year. I don't think they are going to abandon that stance after how successful their 2022 draft was.
That brings us to Richardson. I think Levis would be their first choice due to his aforementioned traits and the fact that he ran a very similar offense to Seattle's during the 2021 season. If he's gone though, Richardson makes a lot of sense as a developmental QB. Let's not forget that this time last year Seattle had no idea Geno Smith was going to be their starter, much less have a surprisingly good year. They were acting as if they were tanking in preparation to draft a rookie QB in 2023. Do we really believe they are suddenly going to scrap that plan to pay Geno freaking Smith $35-$40 million for one halfway decent season when he has shown no ability to do so before and is already in his mid-30's? Come on. I wouldn't be shocked if Geno walks for a better offer from the Jets or Bucs and then watch how fast people start mocking a QB to this spot.
Whether Geno re-signs or not is beside the point though. The reality is that John Schneider has been, and likely still is, looking for a future at QB and this is the perfect opportunity to do so in the top 5 with seemingly nobody talking about Seattle as a contender for QB. He was reportedly very interested in drafting both Patrick Mahomes and Josh Allen while Russell Wilson was still in his prime. Now he's got a Josh Allen-esque QB falling in his lap and he's going to pass on him for a defensive tackle? I don't think so. Seattle has never been one to make controversial moves. Don't be surprised when they shock the world with this pick... 
#6 Detroit Lions: RB Bijan Robinson, Texas
Detroit's frustrations with D'Andre Swift are well documented. He isn't going to preclude them from taking a swing on another RB. Robinson also will grade out as the top player on many teams' boards despite his position, and Detroit GM Brad Holmes seems like the kind of guy that will draft whatever player he deems the best regardless of position. They want to build their offense around the run game anyways so this seems like a perfect fit. If Robinson gets past Detroit, he won't make it past Atlanta. 
#7 Las Vegas Raiders: DT Jalen Carter, Georgia (*pre-the news of Carter's arrest warrant/issues breaking today)
Finally, Carter comes off the board after a mini slide. This will be hailed as a value selection by the media since they seem to think Carter is hands-down the best player in the draft. I agree that his best is better than arguably anyone else, but there are concerns about his makeup whether the media will acknowledge them or not. And for anyone claiming Carter is a can't-miss, generational defensive tackle and a much safer pick than a "raw" QB like Richardson...how many defensive tackles drafted highly end up as busts, and of the good ones, how many are dominating games? Quinnen Williams took a few years before he started living up to the hype and you still wouldn't take him over even a top 15-20 QB much less someone like Josh Allen. And they bust just as often as the QBs so how is it any less risky?
Regardless of all that, Carter still has loads of potential, and the Raiders will be happy to add him to a front four that has been desperately looking for a force in the middle to slow the run. McDaniels is very familiar with Kirby Smart and will likely think he can get the best version of Carter...maybe he can. 
#8 Atlanta Falcons: EDGE Will McDonald, Iowa St
Atlanta has a huge hole at pass rusher that they'll be looking to fill this off-season. They have been among the league leaders in fewest sacks and pressures for multiple seasons, but McDonald could help remedy that problem. Right now he's a fringe 1st-round prospect for many but I expect him to light up the combine this week with a 40-time in the 4.5s and a possible 42"+ vertical jump. Combine that with a strong performance at the Senior Bowl (an event the Falcons love to draft from) and I think we're going to see McDonald flying up draft boards this week and possibly leapfrog Myles Murphy. 
#9 Carolina Panthers: QB CJ Stroud, Ohio St
There's a very good chance Carolina will need to, or feel the need to, trade up for their choice of QBs, but in this scenario Stroud falls right into their laps. I know their new QB coach Josh McCown is a big fan of Stroud's from the videos he produced on the top QBs in his last gig online. Stroud is a fantastic prospect in my opinion, easily the safest overall option to at least develop into a fairly capable NFL starter...however...I think that same feeling of safety could contribute to him tumbling behind the other guys come draft day. Levis and Richardson in particular have greater physical upside and stronger arms which could entice teams to lean in their direction. By contrast Stroud often gets compared to Jared Goff (which shouldn't be damning but somehow is to most people). That along with a general mistrust of recent Ohio St QBs could leave Stroud on the board longer than we initially thought. 
#10 Philadelphia Eagles: OT Broderick Jones, Georgia
Coming off a Superbowl appearance, the Eagles have a top 10 pick. You have to hand it to Howie Roseman. He has maneuvered this team masterfully the past few years. Philly can do whatever they like with this pick, and a trade down is a distinct possibility. If they stay put they can go any number of directions, and so far I haven't seen anyone mention offensive tackle. Let's not forget that this team historically has loved drafting offensive linemen early and often. They often like stockpiling talent before it becomes a huge need.
Between injuries to Jordan Mailata and Lane Johnson potentially nearing the end of his career (plus Andre Dillard never developing much), they are almost certain to take a tackle very early in this draft. And since Howie loves drafting highly athletic linemen...why not give him arguably the most athletic lineman in the class? Jones is still a work in progress in regards to his technique, but he's also a silky-smooth mover and has room to add to his frame. He reminds me of a raw Tyron Smith in a way. I'm not sure he'll go quite this high, but he's a fit for Philly without a doubt.
#11 Tennessee Titans: CB Christian Gonzalez, Oregon
The Titans have a ton of holes to fill so it's anyone's guess which position they'll go for right now. In this scenario I'm giving them the top overall corner since it's a huge need. Gonzalez is a prospect almost without flaw. He's got the size, the speed, the coverage ability, and the intangibles. He's a similar caliber prospect to Marshon Lattimore and Patrick Surtain and should go in the top 12 picks or so. Expect a greater emphasis on athleticism in Tennessee with Ran Carthon running the show now. 
#12 Houston Texans: TE Michael Mayer, Notre Dame
I'm not convinced Mayer is the best TE in this class (or even 3rd best perhaps), but he seems like the kind of boring, safe, versatile pick that Caserio loves. Mayer doesn't seem to do any one thing well but he is a capable receiver and blocker. Houston hasn't had a big-name TE since Owen Daniels and this team desperately needs more receiving talent. I think Mayer fits this particular franchise's preferences more than any receiver available here. 
#13 New York Jets: WR Quentin Johnston, TCU
The Jets could go a number of different directions with this pick, but Johnston lines up with them in a number of different ways. GM Joe Douglas is a height-weight-speed guy so he's going to love Johnston's combination of athletic traits after he blows up the combine. And while many people will knock him for taking a WR in the first round two years in a row, the team could very well be moving on from Corey Davis and be looking for a big-bodied guy to replace him. WR is one of the most important positions in the modern NFL and you can never have too many of them, especially if they are on rookie contracts. 
#14 New England Patriots: S Brian Branch
If Branch is available at this juncture and the Patriots pass on him, I'll eat a shoe. Belichick loves Alabama players. He loves smart players. He loves versatile players. Branch checks every box for him and happens to fit a position of need. Bill will run to the podium to make this pick if he thinks he's getting Minkah Fitzpatrick 2.0. 
#15 Green Bay Packers: EDGE Myles Murphy, Clemson
The Packers prioritize certain positions in the 1st round and edge is high up their list. Murphy is expected to put up excellent numbers at the combine and should be high on the list of guys Green Bay is looking at. Yes, they still have two starting edge rushers under contract but that's never stopped them before. 
#16 Washington Commanders: OT/OG Peter Skoronski, Northwestern
Washington has a ton of holes to fill but reportedly are looking very hard at offensive linemen this off-season. Skoronski has been tabbed as a top 10 pick by many but I think a lot of teams won't be comfortable with him at tackle due to his size. He reminds me a bit of Jonah Williams, and this seems like a good range for him. He is a perfect fit for the Commanders who value athleticism and high character. 
#17 Pittsburgh Steelers: LB Drew Sanders, Arkansas
Sanders occasionally pops up in the 20s for some mock drafters, but the guys in the know already have him going higher...much higher. I wouldn't be shocked if he's ultimately a top 10 pick or very close to it. However, I also wouldn't be surprised if he lasted to the Steelers and they scooped up a great value player like they always do. Few teams still value linebackers as highly as the Steelers. Remember, they have spent first-round picks on Devin Bush and Ryan Shazier in recent years, both of them highly athletic inside backers. Sanders is a massive LB in the mold of Brian Urlacher. I don't see the Steelers passing that up. 
#18 Detroit Lions: CB Devon Witherspoon, Illinois
Many people want to jam a corner to the Lions at #6 because it's their top need at the moment (and that might happen), but it also makes sense to wait and grab one at 18 since the position is so deep. Here they still get a guy many are projecting could be a top 10 pick. Witherspoon doesn't have the size of some of the other top corners, but he makes up for that with instincts and toughness. I haven't seen a corner hit this hard in a long time. He's a perfect fit for Dan Campbell's mentality. 
#19 Tampa Bay Buccaneers: CB Joey Porter Jr, Penn St
The Bucs are in a bad spot with Brady retiring. They don't have a legitimate QB ready to take over. The cap situation is a mess. There are no drastic holes to fill but this roster is ready to fall apart. It was built to contend the last 2-3 years in Brady's twilight. The collapse is coming. Tampa could go with literally any position here, but I'm giving them Porter because two of their starting corners are entering free agency and they are going to struggle to re-sign anyone this year. Also, Jason Licht has typically favored big players in the first round and Porter has one of the longest wingspans I've ever seen on a corner. 
#20 Seattle Seahawks: DL Keion White, Georgia Tech
Most people are insisting the Seahawks have to draft a defender at 5, but one player isn't magically going to fix their defense. They've already thrown a ton of picks and money at the problem. That plan also assumes that journeyman Geno Smith is magically the answer to all their QB problems. He had an ok year, but tailed off hard towards the end and even then he was lucky he wasn't picked off more. The better strategy to me is to spend the fifth pick on a high upside QB and go defense with your second 1st rounder and a few of your mid-round picks. Keion White isn't my favorite player ever, but he's got all the classic traits Seattle loves on defense (length, explosiveness, intensity and versatility). They've shown they'll reach for "their" guys and this pick would be right in character. 
#21 Los Angeles Chargers: WR Zay Flowers, Boston College
The Chargers traditionally draft for need and boy do they need some speed at WR. It's obvious to everyone at this point so we can definitely expect them to go for a fast receiver with one of their first two picks. Here Flowers falls right into their laps, and they happily snap him up. Flowers has a little Brandin Cooks vibe to him and pairing him with Herbert could be a match made in heaven for fantasy and real life. 
#22 Baltimore Ravens: OT Dawand Jones, Ohio St
You would think this pick almost has to be a receiver, but the Ravens tend to zig when we think they will zag. They routinely stock up on talent with the perceived "best player available" even at positions that aren't a critical need. But with Ronnie Stanley struggling with injuries and Morgan Moses getting old fast, tackle could be a need sooner rather than later and you can bet the Ravens will have someone ready to go when that happens.
The media seems to love Dawand's teammate Paris Johnson more, but I don't think it's even a comparison. For me Jones is the best tackle in the class right now and it's not close. Who better to take the Orlando Brown clone than the team that originally drafted Brown? 
#23 Minnesota Vikings: CB Emmanuel Forbes, Mississippi St
Somehow the Vikings always need cornerbacks. Maybe this time they'll get it right with Forbes. He's got length, speed, and the best raw numbers of anyone in this class...he might be the best overall corner before it's all said and done. 
#24 Jacksonville Jaguars: DT Bryan Bresee, Clemson
I probably won't change this pick all spring and I'll be way ahead of the mainstream on it. Bresee has Jaguars written all over him. Both Pederson and Baalke love their big defensive linemen and Baalke in particular is a sucker for highly athletic players with an injury history because he thinks he's getting value. The people that think Bresee is going top 10 need a reality check. He's far too inconsistent and injured to justify that. 
#25 New York Giants: WR Jordan Addison, USC
This pick also feels like it has to be a WR, but a lot can change by draft day. They will almost certainly bring in someone during free agency, but I imagine it'll be a nice value veteran and not a superstar splash. Daboll wants to build this team right. Addison isn't super flashy but he's a workmanlike receiver that knows how to get open, a perfect fit for the Daboll offense. 
#26 Dallas Cowboys: CB Cam Smith, South Carolina
Dallas could go a lot of different directions here. WR makes a lot of sense but I'm going with a corner here. They struggled at the position after injuries took a toll on their starters. Smith will likely get lost among some of the most physically imposing CBs but the Cowboys don't care as much about raw athleticism as most teams and will value his toughness and consistency.
#27 Buffalo Bills: OG O'Cyrus Torrence, Florida
Yet again WR makes a ton of sense here. I think that's what the fans will want for sure. And maybe there's a good value here, but Buffalo also struggled to protect Josh Allen at times this past year. They are lucky to have one of the best 5 QBs in the league. They need to keep him safe and taking an offensive lineman would also help their terrible running game.
A lot of people seem to love Torrence and see him as the type guard in the class, but I'm not a fan at all so far. I don't like his technique, his body and apparent lack of athleticism, or his tendency to duck his head when he blocks. However, right now he's a staple at the bottom of the first round so I'll reluctantly slot him in with the team most likely to take a guard. 
#28 Cincinnati Bengals: OT Paris Johnson, Ohio St
The media loves Johnson and have him pegged as a top 20 selection, but I'm not seeing it. He's fine I guess, a decent mover and an ok blocker, but he doesn't scream "special" in my opinion. That's why I have him lasting until pick 28 where the Bengals are happy to grab him for the left side of their line which will allow Jonah Williams to move to RT or slide inside to guard where he's better suited. Protecting Burrow has to be their top priority at all times.
#29 New Orleans Saints: DT Calijah Kancey, Pitt
The Saints got this pick from the Broncos as compensation for Sean Payton. Who will they use it on? Could be anything really. They can go just about any direction. I wouldn't be shocked if this was Luke Musgrave for example. But they are likely losing a couple of defensive tackles in free agency, and I just cannot pass up giving them Kancey here. New Orleans loves high-end athletes and I expect Kancey to put up Aaron Donald-like numbers at the combine this week. He could go higher than this, but I think the league might be a little scared of his tweener size. We shall see.
#30 Philadelphia Eagles: EDGE BJ Ojulari, LSU
As with their first pick, the Eagles can do whatever they want here. Many people want to give them a corner or safety with these picks, but they usually save those positions for later rounds. Roseman loves beefing up both lines in the first round, so that's precisely what I'm giving them, one on offense and one on defense. Ojulari is the kind of athletic edge rusher that the Eagles hoard. He'll be a replacement for Brandon Graham in a year or two.
#31 Kansas City Chiefs: WR Jalin Hyatt, Tennessee
You know it's coming and all of us Toney-holders in dynasty are going to cry. Somehow the Chiefs are going to need more WR help this off-season even after all their experimental moves last year. I'm not a huge Hyatt fan yet (that could change), but it's hard to argue with his production and raw speed. If he's still on the board here I think Andy Reid is going to see his next DeSean Jackson and pounce.
FFM subscriber and FREE newsletter info: https://ffmetrics.com/2252-2023-ffm-subscription-options-the-first-offseason-subscriber-only-reports-are-posting-today