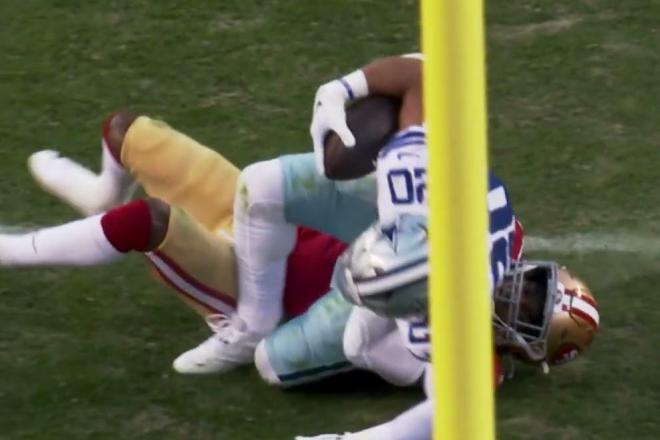 R.C. Fischer
FFM
24 January 2023
2022-23 Divisional: 49ers 19, Cowboys 12 (Dynasty/Fantasy Analysis Game Report)
This was my best bet of the week…best bet of the playoffs (to this point)…one of the best bets of the year as far as I was concerned -- the 49ers only laying 3.5. Why? You can go back and read, or you probably have read and/or heard my detailed reasoning why all week leading up to the game. I was on record HEAVY. So, you'd think I'd be happy about this game result, and I am monetarily and as an analyst/projectionist. And I am satisfied, but I'm also perplexed…vexed about the game.
I think Dallas was the worst team remaining in the playoffs, in large part due to the rapid decline of Dak Prescott, and I don't say that lightly (and we'll get into it more in a bit). The 49ers have been red hot going into this game. Dallas overblown/overhyped for beating the prior worst team in the playoffs, Tampa Bay…which helped keep Vegas' line half of what it should've been.
Dallas was a weaker playoff team…and the 49ers played right down to their level and almost lost a game they should've won by 2-3 scores. The 49ers, once again, sputtered in the 1st-half…and it was even worse here than the prior week with Seattle. You can say it was because of the Dallas defense, but I lay the blame at Kyle Shanahan's feet -- Seattle and Dallas are doing exactly what the Eagles are going to do this week, they are going to stack the run to target CMC because they fear him, and they think Brock Purdy is a joke -- when Brock Purdy is actually a savior.
If you want to see an example of how bad football scouting is…and how manipulated coaches (and fans) are by the media/analysts/intelligentsia drumbeat -- the case of Brock Purdy the last two months is a shining example. The guy has been great…not good, but great since his first snaps in relief Week 13. It's beyond obvious to anyone watching…except for it's not obvious for the analysts, coaches, and fans (following the media). Purdy has been low key spectacular, but all the football world thinks he's a joke because he didn't get a big draft push/he was the last pick in the draft (from the same people who keep missing it on him now), he doesn't look like Justin Herbert or Josh Allen, he went to Iowa State not Alabama -- so…no matter how well Purdy plays, no matter how much he is propping up the 49ers offense, everyone thinks he is the loser from the 7th-round of the draft…and THEY just know he's gonna fall from grace any game now…they've been saying it for seven games now, predicting his downfall.
…and wrong for seven straight weeks…but one of these weeks they will be right, and they'll celebrate it like they won the Super Bowl. Forgetting they've been wrong for 80-90%+ of his run.
You know how there's things in the news, on a political/policy/social issue front and you hear something so outlandish, so offensive to your sensibilities, so ridiculous that you cannot believe anyone on the planet believes such a thing -- but they do, and so do many others? You think -- how can they possibly be so dumb? But the truth is -- no matter how dumb it is, to you…THEY really do believe it…AND they think you're dumb for not believing it (whatever the 'it' is). And when you hear them espousing the dumb concept on talk shows, etc., you even more cannot believe how committed THEY are to the dumb thing. That's the NFL for me, the longer I'm in this. I cannot believe how stupid, how short-sighted, how lack of business-sensed the people paid highly in their field are about their own field…when it comes to football. Yet, we treat them like gods. The always-wrong Brock Purdy interpretation of what's been happening/what he's doing right before our own eyes is a shining example of the sheer sheep-like stupidity of the football machine.
Just when you think THEY can't be any stupider…in tomorrow's recap (CIN-BUF) we'll discuss, arguably, the most glaring example of the football machine's total idiocy.
I'm not saying this to get myself over…to make it seem like I know everything...like I'm at the end of the bar on my stool, beer in hand (but I don't drink, so…), ranting and raving about how things should be done. I got a decade+ studying this, 10,000+ hours clocked, plenty of time spent within THEIR midst/in their natural habitat. I see glaring mistakes all week, every week in NFL analysis/coaching/personnel. I'm not trying to beg anyone to listen to/worship my theories. All I'm doing...my mindset about football is: realizing 'it will never change', and I'm not interested in changing IT (football thinking)…and I'm not interested in going to work for them. I'm happy creating a cottage industry of identifying their blind spots and exposing them for my own football gain -- handicapping, prop betting, Fantasy, etc. And I put it out there for others to consider to hopefully make profits off it too -- we can all win here. But we have to first admit there's a problem -- THEY have a problem. And our problem is not realizing how bad their problems are. Step one: WAKE UP. That's why I hammer on their mistakes…we need to be looking for those bushel full of weekly mistakes to profit off it…and their mistakes and errors, and short-sightedness are all around you/me, once you wake up to it. I was under their (mind)control, happily following along like a fan/sheep, for many years before getting into the business -- I know the difference between being 'asleep'…and being 'awakened', in football analysis. I'm woke, so to speak...and it makes me so much better of a football bettor, as you can see from my 2022 and 2023 results. 
All that to say: With this big bet win…I thank the media and the fans for pushing Vegas to have a too low point spread to expose. Ten playoff games in this season, and I have an 8-2 record ATS handicapping all of them…following up my best season of handicapping of my career in the 2022 regular season.
So, it's with that I say: Please, everyone in the football industry…keep 'missing it' on so many things that it creates opportunity for us bettors week-after-week. Season-after-season. I don't want you to change. I don't want you to ever 'get it' -- or I'm losing opportunity.
THEY are missing it on Brock Purdy, and still are into this week. THEY also includes his own head coach. Why Kyle Shanahan insisted on running up the middle over and over in this game, going nowhere and thus put in 2nd-and-long and 3rd-and-long way too much, I have no idea…but it happened the same way against Seattle the week prior. Teams are playing defense against SF with a mindset of forcing Purdy to beat them because none of them believe either. The 49ers, in turn, go with a game plan that also doesn't believe -- they take the ball out of Purdy's hands and try to get the run game going to lead the way. Great thought...except it's not working in the playoffs.
That's what was so brilliant about Purdy this game, and the Seattle game prior -- the 49ers looked like crap on offense trying to run the ball unsuccessfully too often, they were keeping their opponents in the game in the 1st-half, and then Purdy had to be unleashed on the 2nd and 3rd-and-longs and he delivered a lot. The funny-last-name, Mr. Irrelevant won this game with his master passing in back-against-the-wall downs/situations…once again.
Two playoff games in, the 49ers have tried to hide Purdy as the defenses begged them to go strong with Purdy. If I know the NFL, that's what will happen next week too…and it's a shame that even his own genius coach 'doesn't see it' and acts afraid that Purdy really is 'due to collapse'. Brock Purdy is the best QB prospect from the 2022 NFL Draft…and the 2021 NFL Draft, but he's treated like a joke that's soon-to-fail.
This offseason, no matter what Purdy does…even a Super Bowl win/MVP…the fans, the media will think it was 'luck' and will want Tom Brady or Aaron Rodgers to come in and let 'Purdy learn from them'. It's sheer and utter lunacy. But at least the NFL is consistent.
Dallas had no business being one score down late in the game with chances to tie/win. The 49ers were superior in all phases, but the Niners went with a plan to protect Purdy, and they subsequently let Dallas hang around when they should've taken out Dallas by 2+ scores.
Dallas goes to the offseason like a five-year-old car that is nearing 100,000 miles. The car has been good to you. It was a great car brand new, but the new car smell started wearing off quickly and it was just a quality automobile that consistently got you where you wanted to go. You're used to its consistency, but it's starting to show signs of problems to come. Do you keep running the reliable car hoping it won't start having major issues, and the warranties are expiring….can you get another year out of it without trouble -- or is it time to preemptively bite the bullet and trade it in, pay the inflation-ravaged higher price for a new vehicle and start over again? NFL teams tend to drive the familiar car until the tires have blown and they're running on the rims as the engine blows up -- then they'll decide it's time to get a different car. Dallas needs to preemptively take this car (Dak and Zeke) and go trade it in while it's got value and seek a new, better ride.
They won't.
Jerry Jones is too much a 'fan', too friendly with the players, and is a terrible football GM. That's not just an opinion…go look at the numbers the last decade or two.
Dallas got lucky this playoff, and it's gonna head-fake them into running the aging car another year -- the Tampa Bay win was not impressive/a quality win (but they think it was awesome)…and staying close to SF was more about the 49ers than Dallas playing well. Dallas is good but their key talent is fading on offense -- it's time to 'sell high' and quick retool, but they won't.
*Note any fractional numbers in parentheses (4/2) or (2/3), etc., are a 'split' stat on our definition of a 'quality start' (or not) marker on a player -- using 14 PPR points in a game for RB-WR-TE and 21 for a QB…point levels that are good/productive/well above average starts for a Fantasy week. Trying to identify trends, consistency (or not) in players we might not normally realize.
A (3/2), for example, means: 3 times the player hit at/above the mark, and 2 times they did not.
Fantasy Player Notes…
 -- There are two paths to take, from here, that you have to choose to believe concerning Dak Prescott (23-37 for 206 yards, 1 TD/2 INT), but you have to take one of the options…
1) Dak is kinda shot. All the injuries are mounting up. The future is not bright or bleak, it is mild…so, now's the time to get a replacement plan ready for 2023 or 2024 -- but get that plan going now.
2) Dak is/was secretly hurt in 2022 season and playing through an issue and it's affecting his throws and/or Kellen Moore is not the 'boy wonder' people think, and/or Dak is uncomfortable in the offense. Option #2 would believe that he can be fixed, and he should be the QB going forward.
Something went wrong with Dak this year. I've never seen him throw the ball as poorly as I have as the 2022 season wore on into the playoffs. It was an additional reason I was highly confident in the SF -3.5 bet…that Dak was having issues and was likely to throw a pick or three…and he 'came through' for me with several head scratching throws here. This game…it wasn't just that his passes were wobbly/errant too often, but he was also panic-throwing right to defenders like he couldn't see them.
You probably have to lean on side #2 (above) but still should put the plan from path #1 (above) in action because it's prudent in this era…you can have two legit QBs on your roster in this era because there is so much QB talent out there flooding the NFL.
 -- Dak continues to be comfortable with just CeeDee Lamb (10-117-0/13) and that's killing it for FF and should continue into 2023. I was wrong preseason 2022. I thought no way Lamb is as strong a WR1 as his ADP pushed in August 2022, but he defeated me.
Michael Gallup (0-0-0/3) was a joke of a free agent extension/signing. No threat to take targets. And it may be Dak's throwing preference more than any Gallup health or ability issue.
Dalton Schultz (5-27-1/10)…we hit on the yardage UNDER prop vs. this vaunted SF TE defense…and thanks to that late game easy toss in hurry up mode where Schultz was ruled out of bounds/catch reversed on the field. Thank you, booth review when under two minutes!!
Lamb and Schultz should be Dak's friendly targets again in 2023.
 -- If Dallas wasn't overmatched already, going into this game…then losing Tony Pollard (6-22-0, 2-11-0/3) to a broken fibula in the 1st-half, their best offensive player, wasn't going to help. That's how poorly SF played…Dallas lost Pollard early and STILL hung in this game.
Dallas having to run behind Ezekiel Elliott (10-26-0, 2-7-0/4) is such a hamstring to the offense anymore, but Jerry doesn't see it -- so, they'll bring him back for one more year and then maybe 2024 they make a change. They could try and trade him, but no one wants him for his contract cost in 2023. He's dead money in the NFL.
--------------------------------------------------------------
FFM Subscription information: Subscription info
--------------------------------------------------------------
 -- Brock Purdy (19-27 for 214 yards, 0 TD/0 INT) had his first NFL start with zero (or without at least 2) TD passes, but he didn't play poorly at all. To me, the 49ers kept the all out of his hands until they got a bit desperate in the 2nd-half and he delivered. All 1st-half, and most of the game, he was in 2nd & long and 3rd & long…and he made some money plays just to keep drives going, so that they could run for no yards on 1st-down and do it all over again.
I don't think it was a brilliant Dallas defense…it was more of a scared Kyle Shanahan play calling for the 2nd playoff game in a row. I'm shocked by this. The person who shows the least faith in Purdy of all the media and analysts and opposing coaches and fans…is Kyle Shanahan, apparently. I get that you have a man crush on Christian McCaffrey, you're second son -- but Brock Purdy is going to make or break this run to the title, you gotta get him going early…not hiding him.
I think Purdy should be the franchise QB from here on in…it's obvious.
Also, obvious…the NFL not seeing things right in front of their face. So, welcome Tom Brady or Aaron Rodgers or Jimmy G. or Kirk Cousins to SF in the 2023 season, I can already sense it.
Trey Lance to Green Bay makes a lot of sense, in a trade this offseason, FYI.
 -- George Kittle (4-45-0/7) is Purdy's guy…you can see it most every week. Kittle is going to be a top 3 FF TE next season, if he stays healthy AND Purdy is at QB.
Deebo Samuel's (4-45-0/7) return has knocked Brandon Aiyuk (2-26-0/4) down a few pegs in targets and output. I think both could work for FF/numbers, but again…they are playing WAY too conservative with Purdy, in my estimation…when he's capable of so much more.
 -- The 49ers should've really stomped this Dallas offense, but they kept missing out on plays, picks, and stops. I don't give a ton of credit to the SF defense for this win and holding Dallas to 12 pts anymore than Dallas's defense deserved high praise for holding down Tom Brady/Tampa. The Bucs were a mismatch opportunity for the Dallas D that they should've squashed…and did.
I know the SF defense is good, but I don't see consistent greatness…while everyone crows about how great they are. They have moments, but they are vulnerable in the secondary…like Seattle and Las Vegas succeeded against them more recently, when you thought they might crush both.
I think this SF defense is in for a rude awakening IF they go to the Super Bowl and face Burrow or Mahomes.
Snap Counts of Interest:
44 = CMC
22 = Mitchell
55 = Lamb
49 = Gallup
27 = Hilton
18 = N Brown (a steal in free agency coming)