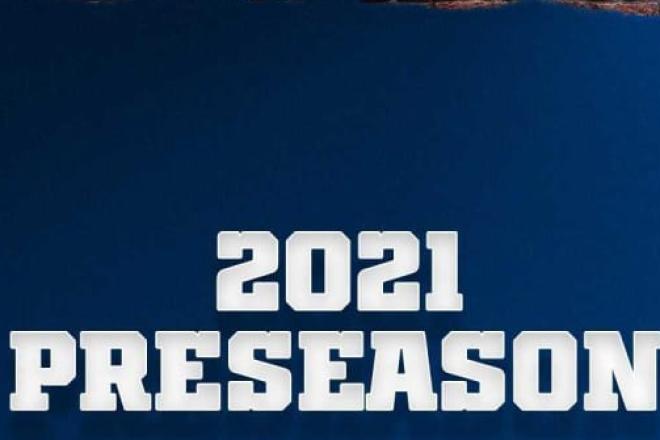 R.C. Fischer
FFM
02 September 2021
‍
2021 Dynasty/Fantasy Preseason Wk3 Game Analysis: Bears 27, Titans 24
Tennessee rolled out their mostly-to-be-cut guys on offense but showed more talented rookies/young players playing on defense. The Bears pretty much did the same as Tennessee (backup offense, some talent on defense) – but the Bears started Justin Fields and then had Nick Foles (Surprise! He led a comeback victory) appear in relief while the Titans countered with the dynamic duo of Matt Barkley and Logan Woodside.
Despite the lack of star power in this game, on offense, we did get to see more of Fields against a better defensive plan and we got a better look at a couple of rookie Titans defenders (Farley and Molden). Let's start with the Bears QBs.
Dynasty/Fantasy Player Notes…
 -- Justin Fields (7-10 for 543 yards, 2-13-0) started against a Titans defense that had some talent mixed with a real defensive plan…Tennessee's defense was aggressive for a preseason game. It was a good test for Fields…and he kinda failed. I saw the guy that I feared/thought I would in the NFL, back from my pre-Draft scouting.
When everything is pretty and safe and quick/timed, Fields is a pretty solid QB. I could say that about a lot of non-stars/backup QBs. But when the defense can mount pocket pressure and are swarming in coverage…Fields doesn't have a great '2nd gear'. In this game, Fields was mostly locking on to his first read and firing…not really reading the field at all. Now, to his credit, he doesn't throw into obvious danger (like Trey Lance). Fields takes a look at his primary receiver and lets it fly…or if it's not there he usually throws it away or slides away for more time and might take off running. You can do that with ease in college, against weaker opponents – but in the pros, everything is turned up to '11' and this was the first time (this preseason) that I saw Fields look rattled/indecisive/surprised by the speed of things around him.
Fields didn't crumble totally, but he was neutered…is the best way I can put it. Maybe he grows out of that, but I think it is his m.o. as a QB – when the pressure is hot, he isn't a great (but isn't horrible) QB. And this was an aggressive TEN defense, but he'll face 10x tougher soon.
There's not as much X-factor with Fields…where he 'makes plays' amidst the trouble. He usually runs from the first sign of trouble or throws quick passes to stay out of trouble. What we have not seen this preseason is – Fields making plays against an aggressive defense that make you go 'wow'. He typically looks cool and collected, and that's good…so he's not cratering, but that hides the fact that he's not making 'wow' NFL QB plays/throws. Trey Lance is struggling but has made some 'whoa' plays where I'm not sure I recall any from Fields this preseason. Zach Wilson makes it look so easy you can go 'whoa'. Fields looks calm and cool and good/OK at times, but I don't sense the 'wow' of a future star playmaker.
Fields's best attribute right now is – hey, he's better than Andy Dalton. That might be true in 2021, but maybe not Week 1 of 2021…and long-term, that isn't that exciting.
 -- As an example of what the current problem with Fields is… Nick Foles (10-12 for 142 yards, 2 TDs/0 INT) walked right into the game with the garbage guys and instantly looked like a legit NFL QB in command of things and making money throws. He was so much better than Fields it was scary…scary for all the 'start Fields now' people.
I'm biased, but I'd argue Foles is the best QB on the Bears roster…so, it makes sense Matt Nagy has him 3rd-string…and no team is willing to trade for him -- because the NFL prefers Dwayne Haskins and Matt Barkley fairytales/failures as backups. Guys who they thought would be good, and they haven't changed their opinion yet. I'm not saying Foles is great circa 2021…just better than Dalton-Fields today.
I expected Foles to sleepwalk through this torture/humiliation of playing with the garbage guys in the 2nd-half, but he's a gamer…and came in and took over and provided a spark. He's never not Nick Foles. And the NFL is never not having a blind eye towards his abilities/talents.
 -- I don't think he'll be listed this way on the depth chart, but I wouldn't be surprised if Mekhi Sargent (17-51-1, 1-6-0/1) isn't the true backup to Derrick Henry (DNP) in Mike Vrabel's heart. Sargent has been better this preseason than what Darrynton Evans (DNP) has shown in the NFL last year or in the preseason this year.
Sargent is running with a spark and a toughness that forced the 2021 UDFA onto the main roster already, but it might be deeper than that if Henry has to miss a week or two. If Henry did go down, the Titans would probably split touches (Evans and Sargent and maybe McNichols) if something happened, but Sargent is in the mix…and Evans is fading fast.
 -- The tale of two Titans defenders/my aggressive calls on them…
I'll push my scouting chips into the center of the table on the two main Titans rookie defenders, and go all in with bombastic statements:
1) Elijah Molden (4 tackles) is going to be the next Tyrann Mathieu…the better version. He's going to be an All-Pro by his 2nd year and might win the Defensive Rookie of the Year award. He's awesome. He's money. The easiest scouting of 2021 potentially.
2) Caleb Farley (3 tackles) is going to bust/never live up to his draft status. I could see the same problem in this game that I saw scouting him in college: He is very good north-and-south in coverage. He's very weak/sloppy going east-to-west…so when NFL WRs make their sharp cuts, Farley is too slow to shift/move his body with it. It's going to be lethal for his NFL career. He's not a shutdown corner, no way no how.
 -- Jesper Horsted (5-104-3/5) was the game MVP, if that stat line didn't say enough. He wasn't making 'wow' plays, but he just kept making plays. Actually, he did make one 'wow' play… https://youtu.be/ABzzzzOxpW4
I should say he wasn't moving around like a 'wow' shock sleeper future star TE…just a solid/capable one.
 -- Final note… Congrats to UDFA Bears LB Caleb Johnson (9 tackles), who made the main 53-man roster. One of my favorite UDFA guys I missed pre-Draft but eyes opened to in the preseason.