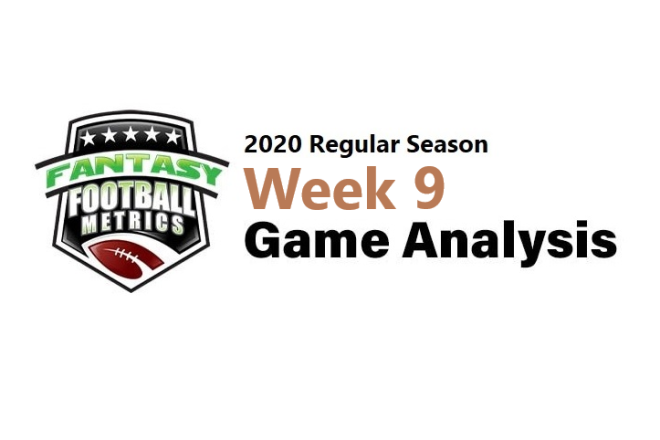 R.C. Fischer
FFM
12 November 2020
I take notes during the live watch. I re-watch the game on tape looking for hidden clues to report on. Here are my notes/takes on what I saw and how it related to FF 2020. I write anywhere from 1,000-3,000+ words on each game, and I must move fast to get to all of them through the week…so, please forgive any typos/grammar.
Most people probably ignored this game live on Sunday. I know I mostly did, watching 8 games at a time…this was like #9 on the things I was watching unfold between 1pm-4pmET. Texans fans have already given up on their team. Jaguars fans…are there any? Many Fantasy owners lost full interest in this game when David Johnson went out, or some Fantasy owners spent time just cursing the heavens for sitting D.J. Chark after he opened the game with a 73-yard TD catch. There were plenty of other options to pay attention Sunday than this Luton v. Watson battle.
It actually started out hot…and then fizzled. The Chark 73-yard TD, followed by a Brandin Cooks 57-yard catch and run score within the first 1:16 of the game…and it seemed like 80+ combined points and tons of FF-magic was on the way! Things started to slow down from there. 20-16 Houston at the half. Both teams playing erratically.
Houston pulled ahead 27-16 mid-3rd-quarter on a busted coverage/tackle and long TD for Will Fuller. It seemed over/right with the world…Houston defeating Jacksonville. However, because Houston is terrible, Jacksonville never said 'die' -- Jake Luton dragged them back into it with a TD run with 1:39 left…a two-point conversion away from tying it up. The 2-pointer failed, and the Texans limped away with a 2-point win.
To me, Jacksonville is all kinds of sloppy…but they were the better team here. Just note that…the team starting a 3rd-string, 6th-round pick rookie QB in his debut outplayed the Houston Texans – that's the state of the Texans.
Jacksonville is now losers of six-in-a-row, (1-6) on the season. They might have one more win on the board to come, but they are definitely in the tank for Trevor sweepstakes (and I'm sure Trevor is praying for it).
Houston could have lost here and been in the Trevor sweepstakes, which would have been interesting, but they won and climbed to (2-6). This Texans team is a total disaster. How far they've fallen. They'll probably win another game or two and get to (4-12).
The AFC South is a hot mess…
Fantasy Player Notes…
 -- The first, and most important, message from this game… Jake Luton (26-38 for 304 yards, 1 TD/1 INT) is a decent/solid quarterback and played really well for his debut here.
I am stunned.
I thought he was OK. Wasn't radically for or against him, but didn't see him as elite…and thus an OK QB was about to be thrust into this bad offense – so, how good could it be in his debut? Once again, NFL QBs walk straight from college play/success and the NFL doesn't phase them a bit. Luton showed almost no jitters or hesitation. He looked like he'd played in the NFL for years. He didn't look radically good…or embarrassingly bad. He just looked very solid, competent, and in control…borderline 'good', I'd say. Honestly, re-watching this performance…it was stunning, actually. You'd think he'd be erratic, over-his-head, etc., on a bad offense with no blocking -- he was not.
Luton was poised. He stood tall in the pocket at a legit 6'6". He showed good+ arm strength. He made all the throws. A couple of times he overthrew a receiver downfield or threw into some coverage, but not egregiously. He was very, very solid.
Here are some random thoughts/stream of consciousness notes on Luton's debut:
*Who does he remind me of? A cross between a tall Joe Burrow (calm down) and a tall Nick Mullens. He had the calm/presence of both of them, but I can't say he's fully Burrow great or fully Mullens low-talent but very capable/studied/backup-ish like. He's somewhere in-between. We need to see another card dealt to observe.
*With the way rookie QBs are playing better in the NFL than they did in college, we should not write off Luton yet as a debut fluke…but it could be.
*Start #1 for Luton…1,000x better than Tua's (or Tua's 2nd start)…or DiNucci's, or Gilbert's, and better than anything Mason Rudolph has ever done, or Daniel Jones or Sam Darnold. So, this is not to be taken lightly…but I'm not sure it's anything to run to either.
*The whole 'Minshew might get benched' words floated by the Jags a few weeks ago…it may be they were wanting to switch to Luton, because of Luton…not so much anything about Minshew.
*Minshew was awesome in his debut in 2019…better than Luton. So, hold your horses on Luton. We do have a QB battle brewing if Minshew can return in 2020. Doug Marrone will not be back next year, so who knows who it will be…Minshew, Luton…or Trevor Lawrence (the Jags are still in the hunt).
*D.J. Chark (7-146-1/12) is fine with Luton. No worries about Luton dragging him down.
I never thought Luton would see an NFL field, so I'm caught kinda playing catch-up here. I observed some of his work at Oregon State…it didn't move me to study him deeper, but I wasn't horrified either. Luton graded a 6.3 on a scale of 0-10 for us at CFM…so, our computer scouting models thought there was an NFL hopeful, but more of a backup kind of QB who would likely never get a chance and be held back/ignored if he got close or got an emergency start (like this). Guys like him don't get real shots at things, even if they succeed in a spot start…teams turn on them for better draft graded/draft status guys to get fans excited. We just saw Minshew Mania go to Minshew Mortuary in less than two months – Gardner was never supposed to be that good. It's easy to turn on him…while Daniel Jones and Sam Darnold will play/start for 4-5 years, go through 2-3 head coaches and 3-4 offensive coordinators trying to 'fix them' before everyone admits they were failures.
For his first shot/game, Luton did really well for a garbage team/franchise. Albeit…it was against Houston without Bradley Roby…that helps a lot too.
 -- D.J. Chark is fine with Luton, as previously stated. He'll be subject to who is covering him/strength of the opponent like always. The problem ahead is…
Week 10 = at GB, vs. Jaire Alexander…no good, but if Alexander is out (50/50 he is) then it's fine.
Week 11 = vs. PIT
Week 12 = vs. CLE/Denzel Ward
Week 13 = at MIN (GREAT)
Week 14 = vs. TEN (GREAT)
Week 15 = at BAL
Week 16 = CHI
Chark has two good matchups the next 7 weeks, maybe three if he gets the better of Ward…maybe four if Jaire is out. Weeks 15-16, Chark will get locked down…almost a guarantee. This week vs. Jaire is facing one of the best cover corners in the game, but he may get a reprieve again (like when Roby was benched for behavior here) if Alexander is not back from concussion protocol. Chark is talented and may make a big play regardless, but just note the upside is capped in these tougher matchups.
 -- Chris Conley (7-52-0/8) ended up having a solid FF game, but note it was Laviska Shenault leaving the game for good after a few snaps played with an injury.
 -- May be a fluke, but just noting…Tyler Eifert (4-48-0/5) got a season high 4 catches for a season high 48 yards working with Luton this game.
 -- Of course, David Johnson (2-16-0, 0-0-0/1) gets an awesome matchup and starts the game with a sweet 18-yard run…then a few plays later an actual purposeful pass…which hung him out to dry, and he took on a massive hit from Myles Jack that sent him packing for the game and probably for Week 10 as well. We could've had a 20+ point PPR game in the offing, but it's not a week of fantasy without one of our players getting hurt in the 1st-quarter.
Duke Johnson (10-50-1, 4-32-0/4) came in and did as well as he could. He's shifty, but overall slower than DJ and not as stout -- so Duke was solid-not-great in a great matchup. That stat line looks 'meh' but it was one of the best RB FF performances of the week in the Death to the RB life we're living in fantasy.
Everyone hates David Johnson now, but note…had David finished this game, and gotten the numbers Duke did – then after 9 weeks of fantasy, DJ would have been the #13 PPR PPG RB (5 or more games played).
A guy like DJ, today, is valuable…there's not many RBs left who get 80% of the work per game every week. Most RBs in the top 12 in PPG…they've missed 2-3-4 games this season. This is DJ's first real injury forcing him from the action. Main touch RBs are a dying breed…either by coach's plan to RBBC/hot hand (as they should) or always nicked up with sprains or concussions.
 -- All that discussion above makes James Robinson (25-99-1, 0-0-0/2) seem like junior Dalvin Cook right now. James Robinson is treated better by his coaching staff than about 25+ other RB situations in the league. Stunning that this guy was running 3rd-string all summer but Fournette got dumped, Armstead got COVID , and then Ozigbo got hurt…and the door went open to Robinson by it falling off its hinges.
Ride it as long as you can.
 -- Jordan Akins (2-19-0/4) returned from injury, and he looked solid/good. Had all his numbers in the first half and then barely played/saw a target in the 2nd-half.  
If you want to give up on the Akins dream, feel free. My desire on him is searching for some TE hope as a #2-3 TE on my bench hoping for an uptick. The only thing worse than every starting NFL RB for fantasy, spare 5-6 of them is every NFL TE not named Kelce or Waller.
At TE, there is Kelce and Waller…and then 20 different TE2s to look at and hope you find the one who scores a TD that week to be plausible.
There is no TE relief in sight. I'll keep trying to find it but stream/play matchups with good TEs and invest into more predictable situations like DST pairings and kickers with the best weather/offense to work with down the stretch. Everyone but two fantasy teams in your league is dying at TE, so do your best and make up ground by being smart at DST and kicker.
Snap Counts of Interest:
38 = Eifert
33 = O'Shaughnessy
26 = Ellefson
52 = Duke J
07 = DJ
33 = Fells
25 = Ph Brown
22 = Akins