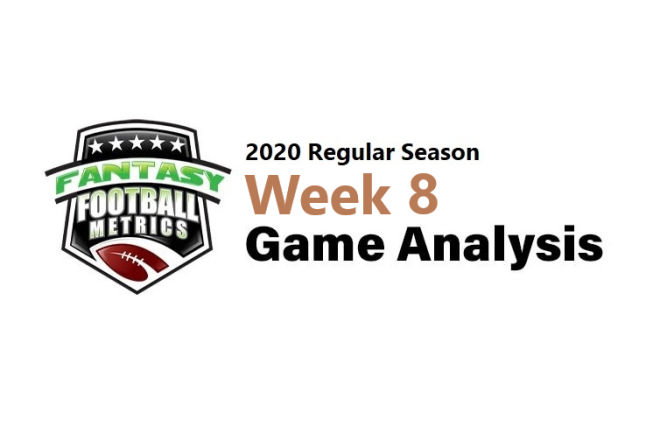 R.C. Fischer
FFM
04 November 2020
2020 Dynasty/Fantasy Week 8 Game Analysis: Eagles 23, Cowboys 9
I take notes during the live watch. I re-watch the game on tape looking for hidden clues to report on. Here are my notes/takes on what I saw and how it related to FF 2020. I write anywhere from 1,000-3,000+ words on each game, and I must move fast to get to all of them through the week…so, please forgive any typos/grammar.
Considering how poorly the Dallas Cowboys have been playing, and them needing to start Ben DiNucci this game as an emergency starter – you figured the Eagles should win this game, at home, on Sunday Night Football, resoundingly. They didn't.
Dallas led 9-7 at the half. It was a one score game (15-9 PHI) with 4 minutes left when a fumble occurred for Dallas, Philly landed on it, but while rolling around the ball was stripped from a Philly recoverer and then scooped and scored by another Philly defender. It seemed like it should have been a 'down by contact' play but it turned into a defensive score that gave the Eagles the two-score cushion they needed and DiNucci tried to catch up in the end but he failed.
The Eagles take a 'commanding' lead of the NFC East at (3-4-1) with Dallas falling to (2-6) and showing to be too injured and dysfunctional to be a threat.
Dallas might get to 3-4 wins in the end. Maybe five wins if Andy Dalton gets hot.
It's not all-clear for the Eagles yet. If they lose to NYG Week 10, they could be in a dogfight with the Giants and the Football Team, and even Dallas is still kinda alive, at that point. On top of the Week 10 Giants game, the schedule gets rugged Weeks 12-15. If Philly wins Week 10, they probably are a lock to finish as the NFC East champs with 6-7 wins.
Fantasy Player Notes…
 -- The Eagles got a bunch of players back Week 8, and it was the first time we got to see them working together.
Two situations to hit on with these returning players…
1) Dallas Goedert (1-15-0/1) returned after several weeks out, and with Zach Ertz on I.R./out, which was supposed to be all of our hopes and dreams with Goedert…and yet it resulted in one target in a game that he played 84% of the snaps in and ran a lot of routes against a team that struggles covering the TE. Not good. Not good at all. But it's one game. Let's see how this plays out.
The problem also is…BYE Week 9 and then Ertz is set to return Week 11 (maybe). You might get one more week of FF play with Goedert free of Ertz to see. For the rest of the season, after Week 10, you get Ertz-Goedert working with erratic Carson Wentz output – it's possible what you think you have with Goedert is potentially a mirage. If Ertz stays out longer, then a little more hope.
2) I thought Jalen Reagor (3-16-1/6) absolutely looked like Wentz's favorite throw in this game. He went to Reagor right off the bat. Wentz was going to Reagor with purpose. He all but ignored Goedert by comparison.
Travis Fulgham (6-78-1/7) was quiet until the middle of the game. It just looked to me like there was 'something' between Wentz-Reagor more than any of the other guys…but Fulgham still trusted too. The Wentz-Reagor connection has been showing signs since Weeks 1-2, then Reagor got hurt and missed several weeks. He jumped right back into it this game.
Additionally, I want to note that Reagor looked terrific on tape. Really confident, moving quickly…he just had that on-field 'look' of the #1 for this team. Maybe it was a one-off, but we'll see if he follows it up. I was very impressed with what I saw in this return game. We all see how fast rookie WRs are just blowing up right away in the league...Reagor is trying to get into that conversation. 
 -- Carson Wentz (15-27 for 123 yards, 2 TDs/2 INTs, 4-17-0) is playing some erratic football. He'd been hot of late, but this game was a step back. It seems like Wentz struggles when the game is a back-and-forth, but then he's great when he's way down and throwing against softer defenses late in deficits trying to scramble back into games. I can't figure him out. He's been a warrior at times considering all the O-Line injuries and WR/TE injuries…you have to give him a lot of credit, but when he has an expected upper hand (like this game)…and his weapons starting to come back here…facing a collapsing defense – Wentz looked as bad as ever.
For fantasy, for him and the WRs/TEs – you want him down by two scores quickly and then scrambling back all game. You don't want 'in the lead' Wentz for FF.
 -- You don't want Ben DiNucci at all for FF or the NFL…and neither does Dallas – DiNucci has already been benched for Week 9. Likely Garrett Gilbert will start for Dallas.
Gilbert has journeyman experience. He has a big arm. He's erratic at times, but he can get hot at times too. He's a wild card. You don't know what you're going to get, but it is better than DiNucci. Gilbert will FF-help, some, for Amari-Lamb-Gallup FF-hopes…more than DiNucci could, maybe on par with what you might expect from 2020 Andy Dalton. Which is to say, some solid moments but some of it a mess.
 -- We could debate for hours what is wrong with Ezekiel Elliott (19-63-0, 1-10-0/2). Is it the offensive line, or missing Dak, or the coaching staff, or is Zeke out of shape, or is Zeke mentally checked out? Whatever it is – this is not the 'Zeke' we're used to.
I kinda look at Zeke like David Johnson in midseason 2020…still NFL talented, but in a tough situation with their team and O-Line, but will get a good amount of touches and you just need for them to fall into the end zone to make it worthwhile for fantasy.
BUT, in the end, given the surrounding circumstances…you have to adjust your dials and call him a solid RB2, and not think of him as a stud starting RB1 right now.
 -- Eagles starting ILB Nate Gerry was out injured this game, so T.J. Edwards (13 tackles, 1.0 sacks, 1 FF) got the start and played a solid game. So solid that I wonder if Edwards might be in line to be a main starter and not rotational anymore.
Edwards would be a try-hard, fairly productive 'main' ILB if he becomes that.
 -- The Eagles-DST may get dropped on their BYE week…but note that they have at NYG, at CLE Weeks 10-11. Not bad. Then their usefulness is over because SEA, at GB, NO, at ARI Weeks 12-15.
Snap Counts of Interest:
59 = Ward
59 = Fulgham
46 = Reagor
41 = Scott
20 = Clement
02 = Huntley
53 = Goedert
16 = RRodgers
62 = Zeke
17 = Pollard