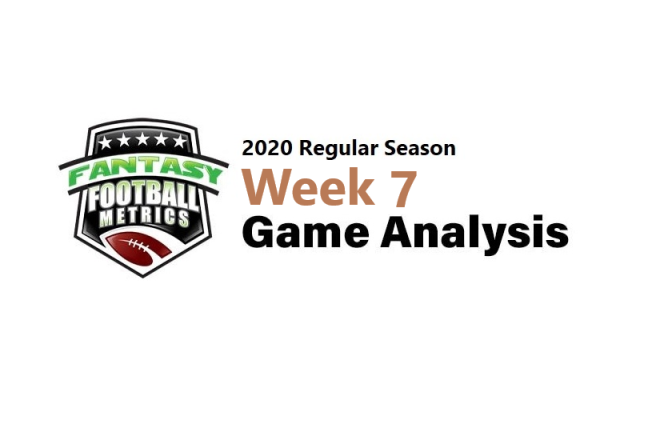 R.C. Fischer
FFM
18 November 2020
2020 Dynasty/Fantasy Week 7 Game Analysis: Dolphins 29, Chargers 21
I take notes during the live watch. I re-watch the game on tape looking for hidden clues to report on. Here are my notes/takes on what I saw and how it related to FF 2020. I write anywhere from 1,000-3,000+ words on each game, and I must move fast to get to all of them through the week…so, please forgive any typos/grammar.
This was just a simple game of the Chargers shooting themselves in the foot right off the bat, and the Miami defense just sat on the lead and walked away with the victory.
Miami halted LAC on the opening drive, then the LAC punt attempt was botched/blocked and set up Miami at the 1-yard line for their first offensive play. It was 7-0 Miami in a blink. Next series, Miami driving, settling for a short field goal after the Chargers defense held on 3rd & short…but on the easy FG chip shot, LAC lined up offsides. Back onto the field for the Miami offense, for another easy TD. It was 14-0 after the 1st-quarter and Miami had barely had to put up any offense to do it.
After the 14-0 start, the Chargers won the next three quarters 21-15…but it wasn't enough to win the game. Miami's defense was strong, and the Chargers invent new ways to lose every week. The Chargers have to finish (6-1) for me to lose my 7.5 win 'under' win total bet on them – Anthony Lynn's parting gift to me. I should've lost this bet big time, instead I'll cash in as Lynn cashes out.
The Chargers are (2-7), but they should be (7-2) given how well Justin Herbert has played. We project LAC (5-11) to the finish, but (7-9) is possible…but so is (4-12).
Miami is now (6-3) and making their case stronger and stronger for the playoffs and have pulled to within a game of first place. Three very winnable games ahead (DEN, NYJ, CIN) could get them to (9-3) and then a tough schedule end should throw them back to 9-10 wins in the end and a wild card, not an AFC East title…but it's now possible, in our projections, Miami could win the AFC East. If Miami loses one of their next 3 games, they won't win the AFC East for sure.
Fantasy Player Notes…
 -- In the battle of the rookie QBs, there was a clear winner…
For the mainstream, it's already over…the race has been called for Tua Tagovailoa (15-25 for 169 yards, 2 TDs/0 INT, 6-0-0). He's better than Justin Herbert (20-32 for 187 yards, 2 TDs/1 INT, 4-10-1).
Sure, they will tell you that Herbert is having a great year and is the likely Rookie of the Year, but that's just a speed bump on the way to talking about how great Tua has been already and will be to come. Why? He was THEIR guy before 2019, and they ain't changing now.
And just like with political news, the story is shaped through the '_____-colored glasses' of the particular media person reporting…in this case we have Tua-colored glasses across TV analyst-land. When Tua throws a basic pass for a completion, the analysts are near orgasmic…they've never seen anything like the 5-yard pass Tua throws off a rollout.
In this game, Tua had 2-3 picks that didn't happen (dropped, etc.). Sometimes it just works that way…and thus hides the problem and believe me there is a Tua problem happening – or just he is too overhyped. But on one particular near-pick, Tua threw into double coverage with a defender in front of his receiver breaking on the pass. The defender put his hands/arms out to get the pick, but the ball went right through his hands clean – a total whiff…and then the pass made it to the receiver who made the catch. I thought, what a stupid pass? The TV analyst belched, "What an amazing throw by Tua!!"
They see what they want to see.
I see a QB still with huge limitations to his play. All kinds of trouble in the pocket. Not enough arm when the pocket is slightly muddy. He's good rolling out and throwing on the run on short passes…and, to me, that is the telltale sign of a QB who is not ready for high level NFL play. You watch Herbert and Burrow put on masterclasses with pressure all around them in the pocket…and they zip the ball to receivers all over the field. Tua needs a diversion like a rollout or counter rollout to get him space/comfort to throw. Otherwise, he doesn't even look at anything besides quick throwing to the redetermined receiver whether they are covered or not.
If I had Tua, and I don't anywhere, I'd sell him fast…on this unwarranted hysteria.
If I had anything related to Tua, I'd sell it fast…
DeVante Parker (2-31-0/7) is averaging 3.0 rec. (5.3 targets) for 32.7 yards, and 0.33 TDs per game in Tua's three starts.
 -- I'd Include not trusting Salvon Ahmed (21-85-1) or just selling him off hot too.
Ahmed got a cheap TD off a blocked punt that started Miami's game at 1st & goal from the 1-yard line. Other than that, he ran for about 4.0 yards per carry and every time Tua gets near the red zone, a field goal is the likely outcome.
When Myles Gaskin returns…he'll be the starter and Ahmed will go bye-bye.
I'd much rather have Kalen Ballage (18-68-0, 5-34-0/6), the new workhorse starter for the Chargers in a much better, higher scoring offense ahead.
It's 2020…so debating Ahmed, Ballage, and Gaskin is a real thing. If you got Ballage ahead of his revival now, you may have settled your backfield issues and can go on to compete for a title. Ballage is an RB1 projection/hopeful rest of the season…as long as Austin Ekeler doesn't reappear.
DeAndre Washington barely played. No sign of life here, so far.
 -- Jordan Howard was released by Miami this week.
My guess is he will sign with a contender to try and win a Super Bowl. My guesses at his landing spot would be Buffalo, NY Giants, Pittsburgh…the Steelers would not surprise as me as shock landing spot, of which he'll just be a backup unless Conner goes down and out.
 -- Buy the LAC WRs on the dips…
This down week may have been a response/plan to work away from Miami's excellent pass defense, CB-duo.
Keenan Allen (3-39-1/7) is magic with Justin Herbert…a true WR1. If you get a deal on him take it.
Mike Williams (2-38-0/5) is their erratic #2 WR, but you want the #2 WR on high functioning pass games when you can get them cheap. Williams is a fringe WR3 for people…easy to get.
 -- In Tua's three starts, so far…
3.0 rec. (5.3 targets) for 32.7 yards, and 0.33 TDs per game = DeVante Parker
3.0 rec. (4.0 targets) for 31.0 yards, and 0.33 TDs per game = Jakeem Grant (+ a PR TD)
Jakeem Grant might be a better FF WR with Tua than Parker is…lesser covered, simple short throw (bubble screen, etc.).
 -- LAC SAF Nasir Adderley (8 tackles) is averaging 6.7 total tackles per game the past three games. He's been a LAC starter since Week 2 and been solid most weeks, but his tackle counts are slowly rising as the season wears on.
 -- In Week 4, Miami got back Byron Jones from injury and thus had their great CB-duo (Howard-Jones) in place and they started firing on all cylinders from there.
Since Week 4, Miami-DST is the #1 DST scorer PPG in fantasy…ahead of Pittsburgh and everyone else.
AND NOW the good games are coming…at DEN, at NYJ the next two weeks. You could run this DST the rest of the season except for Week 14 v. KC.
Snap Counts of Interest:
53 = Parker
44 = JK Grant
11 = Hollins
44 = Ahmed
23 = M Perry
10 = Laird
04 = DA Washington
39 = Smythe
28 = Gesicki
22 = Shaheen
46 = Ballage
17 = J Kelley