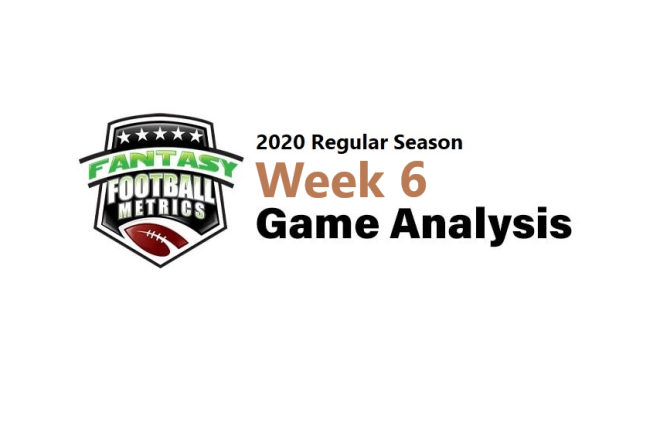 R.C. Fischer
FFM
22 October 2020
2020 Dynasty/Fantasy Week 6: Game Analysis: Titans 42, Texans 36
I take notes during the live watch. I re-watch the game on tape looking for hidden clues to report on. Here are my notes/takes on what I saw and how it related to FF 2020. I write anywhere from 1,000-3,000+ words on each game, and I have to move fast to get to all of them through the week…so, please forgive any typos/grammar.
I have no idea if the Titans are lucky or good, but they are (5-0) …and very lucky to not be (1-4). The collective record of their opponents so far…(9-20). They've beaten three (1-5) teams by 3, 1, and in OT.
How good are the Titans, really?
What to say about this game? It was a mess. Neither team could stop each other, and Tennessee the better team but they gave a couple turnovers to Houston to keep them propped up. Houston seemed to be on their way to a victory until Tennessee drove down and Ryan Tannehill hit a TD pass with 0:07 left to tie it. The Titans got the ball first in OT and just rammed right down Houston's throats and game over.
No one was a real 'winner' here except fantasy owners.
If Tennessee puts away the Steelers this week, then they should easily win the AFC South and probably win 10-12 games this year. If the Titans lose, especially if they get smashed…it means they've been propped up, somewhat by their schedule and a 9-10 win season is coming and a probable AFC South title.
This was Houston's last real stand. If they had won this game, they would've drawn to two wins behind Tennessee with 11 weeks left. Plenty of time, but they butchered it and effectively ended their season. Romeo Crennel is gonna be Romeo Crennel. Houston has a tougher schedule remaining and will likely finish with 4-5 wins. They should start selling everything off, but they won't because NFL teams rarely do anything that makes sense, nor engage in trades out of fear of it not being a good trade.
Fantasy Player Notes…
 -- I've spent the last 24-48 hours working with people on what to do with David Johnson (19-57-1, 1-12-0/1). DJ sent his owners over the edge last week when he was sniffing a 2-3-4 TD day but constantly got stuffed near the goal line and ended up with just one TD.
Mostly, the past 24 hours, I've been helping discuss his trade away off FF-teams down to their last breath in Dynasty. Trying to take trade value advantage of the TD he scored this game and try to get over on the teams on Week 7 RBs on a BYE  issues.
FF-teams on the edge of 'folding' on 2020, but trying to win this week to stay alive, but also looking at futuristic moves…we've been moving DJ this week for 'things' if the deal is right/nice.
Why?
DJ is an RB2, that's all. He's not getting any better because his O-Line is not going to allow it. The RBs working behind the worst O-Line ratings are all dying – Ezekiel Elliott, James Robinson, Le'Veon Bell (NYJ), Miles Sanders, and worst among them Devin Singletary…and including David Johnson. Offensive lines typically do not get magically better as the season wears on unless a stud OL or two is returning from an injury that held them out for weeks and hurt the O-Line for weeks but now is returning to shore things up. It is what it is with these RBs…painful to watch them try to find space to run.
You can only hope DJ falls into the end zone to pump his FF number, and he is getting good chances and will be an RB2 over time because of it…but he won't be a breakout performer ahead (unless traded before the deadline). The Houston O-Line is rotten, as is the coaching, and they aren't throwing him the ball (which is absolute insanity). He is what he has been the first 6 weeks…60-80 yards rushing, 1-2 catches, and pray for a 1-yard TD plunge (that has 75% odds of being stuffed).
The last three weeks in PPR…David Johnson scoring vs. J.D. McKissic:
Week 4 = 11.2 to 10.6 DJ
Week 5 = 12.3 to 10.1 DJ
Week 6 = 14.4 to 13.9 McKissic
If you've been sitting on McKissic in PPR…why not deal DJ and use McKissic if you can get a nice return for DJ? Next week, Week 8…DJ on a BYE…you're going to have to. Maybe McKissic can fall into the end zone this week?
David Johnson is not dead by any means. In fact, when he hits his Week 8 bye…some of you in a good place should look to buy him cheap. He's going to be stable/fine. He might be a back-end RB1 in total pts this year on volume and health/playing all the games.
The DJ of 2016…the old DJ that flashed for a moment Week 1 of 2020…he has nowhere to run and doesn't exist anymore. He's still good. Hopefully he gets on a run of TDs like I think he might. Maybe they wake up and start throwing to him. I have hopes…but I highly doubt their reality based on Weeks 1-6.
He's not a must-hold…or must-sell or must-anything. Just use as needed. Give up the fairy tale ending on him. Hope he goes off this week to sell hot. He's just a useful RB2 with TD upside week-to-week.
And Duke Johnson sucks out loud, so DJ will not be pressured out of a role – actually DJ is playing terrific NFL ball. Blocking his arse off and making yards out of nothing to keep drives alive. He's doing great at all stuff that does not matter for FF.
 -- Maybe Jeremy McNichols (5-51-0, 2-11-0/3) will be better than David Johnson ahead?
Everyone loves the 2nd back on a team who has a decent game and gets antennae raised. I know analytics people love McNichols…I used to too. If McNichols was shoved into a starting role, he'd do just fine. I'd chase him if he were starting…like a Mike Davis story. But note two things about this blip week…
1) The Texans gave up a bajillion yards rushing. McNichols saw a few touches and got his too. McNichols didn't 'emerge'. He was just on the field against a charity run defense.
2) When Darrynton Evans returns…he would likely be the #2 back over McNichols. Evans is on short term I.R. getting ready to return, or it might have been Evans drawing all this attention.
So, be careful thinking McNichols is the Henry cuff. He is until Evans returns.
 -- How about Anthony Firkser (8-113-1/9)…TE superstar!!?? Firkser had more catches, yards, and TDs then Evan Engram has tallied all season, I think.
Jonnu Smith got hurt and that helped push Firkser, but he was getting touches before Jonnu went down. Firkser has 2-4-0-3-8 for catches in games this season. He is not sitting around idle.
Firkser is a play IF Jonnu is out. Not a great/obvious one, but a play
I think Jonnu is going to play to throw cold water on this upstart hope for Week 7.
 -- Ryan Tannehill (30-41 for 364 yards, 4 TDs/1 INT) is arguably top 3 for the NFL league MVP right now. He's been a top 5 Fantasy QB over his last 16 games, as I've pointed out since Week 1. I can only hope you grabbed him as your QB2, if needed, and if Justin Herbert wasn't your QB2 grab (in redraft) weeks ago.
Tannehill keeps working over and over and over and yet he rarely starts in most 12-team leagues and rarely ranked in the top 12 QBs by analysts in a given week.
He's a top 10 QB play every week for the ROS…just no one can get used to it or give into it. Because of that, you can still trade for him reasonably.
 -- Deshaun Watson (28-37 for 335 yards, 4 TDs/0 INT) played his best game of 2020, which makes me fear the Titans defense going forward.
Without many choices out there at DST, in a year where people are hoarding them…the Titans are something on schedule ahead.
Week 8 = at CIN, bad O-Line, lots of sacks.
Week 9 = Foles/weak Bears offense
Week 10 = Rivers
Week 11 = Lamar (no good)
Week 12 = Rivers again
Week 13 = Baker
It's not nothing. But I don't know if the Titans have a good enough all-around defense to hold up/take advantage. Just facing all the NFC East offenses with your DSTs is better.
 -- Darren Fells (6-85-1/7) had a big day, as he's done twice with Jordan Akins out. I can only wonder how much of that was Akins' gold…stripped away by an injury/concussion.
If Akins isn't back this week, it's TE1 Fells time again.
 -- Brandin Cooks (9-68-1/9) was a nobody with Bill O'Brien, but since O'Brien got fired, in two games, Cooks is averaging 8.5 catches, 114.5 yards, and 1.0 TDs per game…the hottest WR in fantasy almost.
I didn't think it would hold up after Week 5, but it did. It might be a bit of a favorable schedule pushing it -- but note that Weeks 11-15 are unfavorable to the Houston WRs/QB, so if Cooks is just taking advantage of a moment…that moment will be over Week 11 or prior, potentially.
But I wouldn't bet against Cooks for Week 7…I wouldn't bet against until he shows you otherwise.
 -- Three IDPs to note here…
1) TEN DT Jeffrey Simmons (6 tackles,1 sack) has put up some pretty righteous numbers the past two games…
5.5 total tackles, 1.0 sacks, 1.0 TFLs, 2.5 QB hits per game.
2) HOU LB Tyrell Adams (8 tackles, 1 TFL, 2 PDs) is the new starter for gone-for-the-year Benardrick McKinney and he has averaged 10.0 total tackles, 1.0 TFLs, 1.0 PDs per game in his two games as a starter.
He looked OK…OK enough to get to the ball and hit people. Now, he was out of position a lot and the Titans exposed and spanked him/the Texans for a massive rushing game -- but that's good for his IDP. We want the LB on a team where everyone is running it down their throats.
3) HOU DT P.J. Hall (7 tackles, 1 QB hits) has had 7 total tackles in a game in two of his last 3 games…which is a lot for a DT. I don't see anything magical happening besides he's playing his heart out and good things are happening (and everyone wants to run all over Houston). So, maybe this pace keeps up/going?
Snap Counts of Interest:
45 = D Henry
29 = McNichols
49 = Swaim
41 = Firkser
29 = Jonnu
56 = David Johnson
19 = Duke Johnson