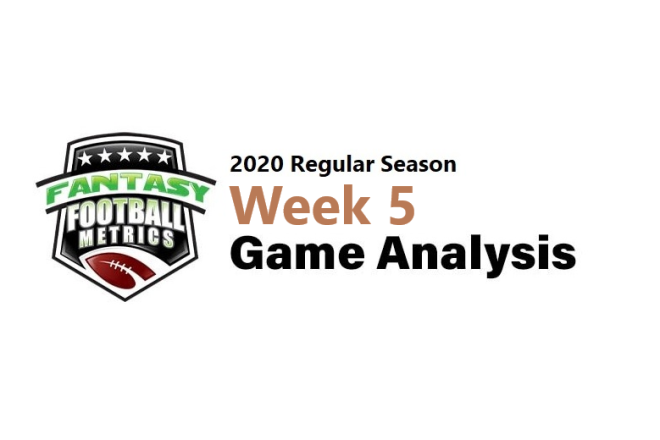 R.C. Fischer
FFM
15 October 2020
2020 Dynasty/Fantasy Week 5: Game Analysis: Cardinals 30, Jets 10
I take notes during the live watch. I re-watch the game on tape looking for hidden clues to report on. Here are my notes/takes on what I saw and how it related to FF 2020. I write anywhere from 1,000-3,000+ words on each game, and I have to move fast to get to all of them through the week…so, please forgive any typos/grammar.
I don't think anyone was shocked by this outcome…and my only comment is: It was worse than it looked. Of all the teams in the NFL, the Jets are the most likely to go winless this year. Their schedule ahead is brutal, and they are a horrifically bad team/franchise.
Arizona gets a win, but not a quality win. Not sure Arizona has a quality win this year looking back on things. If they lose to Dallas this week, the Cardinals could be in serious trouble of a collapse. The Cards are staring down 5-6 losses in-a-row starting Week 7. They desperately need to win this week to have any playoff hope ahead.
This game was so bad Le'Veon quit the team/got fired. Let's deal with him first.
Fantasy Player Notes…
 -- Where is Le'Veon Bell going? I'm not sure but I'm laughing at some of the proposed matchmaking going on. Fun to read.
What's Le'Veon's motivation right now? He just got paid a ton of money and he'll never see a big payday again unless he gets with a team where he can be used/be a starter or co-starter. A 'ring' is not a big deal because he has that already. This is probably about Le'Veon's ability to make money now and setting up more money next year.
He needs to go where he thinks he has the coach wrapped around his finger or goes to a high profile team and shows what he can do in a split role.  
So, where would that be?
#1a) Chicago Bears
The obvious choice for Bell, and for the team that's in total despair at RB…and has a chance to be a playoff team this year. They should be all-in and give Bell the job within 2-3 weeks. Nagy would be in awe of Bell…which is what Bell needs.
Matt Nagy is not that swift…or he wouldn't have cut Mike Davis last year and he still wouldn't be trying to force David Montgomery to work perpetually. I think acquiring Bell could Nagy the cover to sweep David Montgomery aside and try to juice the run game.
1b) Kansas City Chiefs
The Vegas odds leader.
Le'Veon followed Mahomes on Twitter Wednesday and Mahomes returned the favor. If KC can get him cheap, I think they'd look at it. I don't think CEH has them all warm and fuzzy feeling yet.
If Bell wants less money, more profile – he goes here.
I just think Bell goes where the most money/opportunity is…but he could take the better team to play for option.
#2) Washington FT
They can win the NFC East, and having a more experienced, legit RB could help. No current FT RB would be offended at taking a back seat to Bell. Ron Rivera can use him as an experiment and cut him if it doesn't work.
Just think of the Christian McCaffrey-style/based offense Le'Veon could step into here for FF.
#3) Miami Dolphins
Brian Flores is a loon with his RB choices, so not sure he'd even want Bell…but the Dolphins should be (3-3) after this week and have a real shot at the playoffs and they need a real running game. Bell would go to Miami in a heartbeat…he is often spotted there and may live there (among many homes).
Odds this week…
35% = Chicago
25% = Kansas City
10% = Washington
10% = Miami
20% = Wait for the next big RB injury to happen to have max. leverage.
I don't think it will be…
Baltimore – They don't need Le'Veon for their wars with Pittsburgh. It sounds cute but not a need.
Las Vegas – This regime has already been burned by ex-Steeler head cases.
L.A. Chargers – RB is not their issue…O-Line is. Not an Anthony Lynn kinda guy.
Buffalo – It's the O-Line not a lack of RBs. Ditto: Philly.
 -- Taking over for Bell will be Gore/Perine and neither are very good and work behind a terrible O-Line and awful QB, so they will do little/nothing for FF as 'starters'. Perine may catch 3-4-5 passes in games to be PPR useful Flex in deeper leagues.  
 -- Arizona has been floated as a possible landing spot…a former RB coach for the Steelers with Bell is in Arizona now. Arizona has bigger issues and still they believe in Kenyan Drake (18-60-1) for some reason.
Drake looks very sluggish and feels like he's about to lose his job. Bell could be a Kingsbury guy…Arizona would be my #4 most likely. Either Bell or Chase Edmonds (3-36-1, 5-56-0/7) is going to be pushing Drake in the next few weeks.
I thought we'd see more signs of the Drake toppling here, but Drake got 18 carries in this blowout…they're still 'believing'/trying to get him going.
 -- Christian Kirk (5-78-0/7) has a nice game but note that Kyler had all day to throw and that helped push numbers to all, and Kirk got a bump. I wanna say it's not a big deal but Arizona has Dallas-Seattle-Buffalo-Seattle over the next 6 weeks…four great output potential games that ALL can't go to D. Hopkins (or maybe they can, they seem to).
Kirk has legit upside hope the next few weeks…but he is a ghost too many times in this low yardage passing game.
 -- Jeff Smith (3-23-0/11) didn't have a big game after his splash debut Week 4…but note that he did have 11 targets, but also note most of what Joe Flacco throws is useless so don't be too impressed.
Also, note that the moment Breshad Perriman and/or Denzel Mims comes back…it's the end of the Jeff Smith fairy tale for a while/forever.
Perriman is a sleeper play hopeful, but the schedule ahead is brutal for a #1 WR…MIA-BUF-KC-NE-BYE-LAC-MIA…7 useless weeks ahead for Perriman…or Mims.
Mims might have a moment when both he and Perriman are on the field.
 -- Chandler Jones is done for the year, so who steps up for Arizona?
Kylie Fitts (3 tackles) is the natural pass rusher option and played the most snaps in relief (34).
However, you know who came in late as a OLB/DE and played just 10 snaps but rang up 2.0 sacks in that time…my former love child IDP prospect Dennis Gardeck (2 tackles, 2.0 sacks).
My head says Fitts gets the chance. But after re-watching this game, not only did Gardeck get to two sacks (one of his sheer will, the other QB flushed toward him) BUT Gardeck was literally steamrolling his blocker on every pass rush…just brute strength bullying the helpless Right Tackle into the backfield.
I think both will play, Gardeck more on passing downs…and you know I always thought Gardeck would be a monster if he ever got the chance. He may be about to…only as a pass rusher, I thought he'd be a terrific ILB. Hopefully, Gardeck can get a chance that he's been screwed out of for years in Arizona.
 -- John Franklin-Myers (4 tackles, 1 sack) is starting to make pass rushing waves with NYJ. He got his first sack of the year but note that he has 6 QB hits already this year in limited playing time. He's due for more sacks at the pace he's going.
Snap Counts of Interest:
34 = Fitts
29 = Chandler Jones
10 = Gardeck
50 = Drake
34 = Edmonds
68 = J Smith
52 = Crowder
24 = Berrios