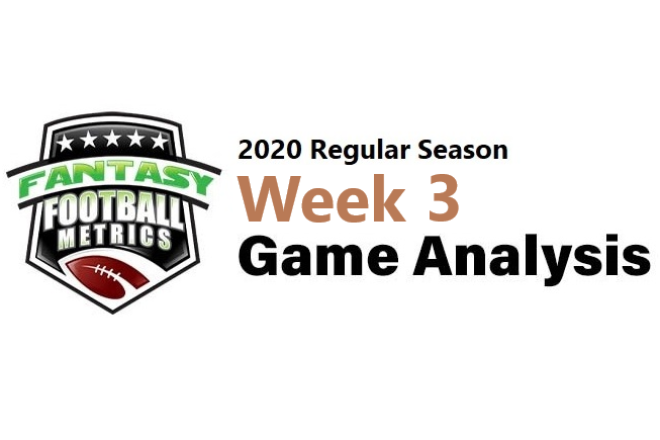 R.C. Fischer
FFM
29 September 2020
2020 Dynasty/Fantasy Week 3: Game Analysis: Bills 35, Rams 32
I take notes during the live watch. I re-watch the game on tape looking for hidden clues to report on. Here are my notes/takes on what I saw and how it related to FF 2020. I write anywhere from 1,000-3,000+ words on each game, and I have to move fast to get to all of them through the week…so, please forgive any typos/grammar.
*TUE 9/29 Video Q&A – Special Time: 7pmET-830pmET*
This game.
I have my notes set aside, ready to go. It's not a ton of players…it's the normal looking note sheet for me. Before the rewatch, I thought I'd talk about Darrell Henderson a lot and then try to figure out a quick way to tell you Josh Allen really isn't that good/he's an erratic QB, but he's playing well now…and 'I missed it' and hope we all remember the good things I've done on QB scouting and forget the Allen one (you know I'm not like that). I thought this was going to be a short and sweet report, but I feel a tsunami of divine revelations from God about this game that's going to take me all day to type. It should be a pretty entertaining read…and long.
Actually, I think one particular part is going to scare some of you to death.
That's a tease.
We'll get to that 'horror' in the player section…and I'm telling you, for some, the blood is going to drain out of your face when you read it as sure as I sit here. I don't want to deliver this particular message that I'm going to in the player section -- but I have to share the vision that hit me watching this game.
How teased are you now? Some of you might hate me soon.
Before all that, this game…
The Bills jumped out to a 28-3 lead in this game…with 23 minutes left, it was all but over. Stop and consider that for a moment. Two undefeated teams. Two (considered) pretty good teams (not an undefeated fluke like the Bears) played a game here. Two evenly matched teams. Two pretty good coaches. Both teams 'good with flaws'. Of course, it would be a close game!
It wasn't close. Not at all…not really.
The Buffalo Bills absolutely punched the Rams in the face. A few lucky/odd plays/calls by the refs happened to get the Rams rolling back into the game. The Rams roared all the way back to take the lead, and then gave it up on the Bills final, masterful drive for a game winning TD.
Facts to take away from this game…
We all love/respect Sean McVay as a head coach, but Sean McDermott is a better NFL head coach. Not even close and given this showdown -- McDermott 'won'. McDermott as coach and a master player personnel guy is almost unrivaled now in the NFL. He might be better than Belichick…and that's not a shot at Belichick.
When McDermott trades away/cuts players…it's almost NEVER a mistake. Those players go on to flop in their new places. When McDermott invests in a draft pick/trading for/signing as a free agent a player…everyone should reconsider what McDermott sees and is doing. McDermott has been a wheeler-dealer since he hit Buffalo and has methodically gotten rid of the bloated and the big college divas and built a team specifically for Buffalo, in his image.
The Buffalo Bills are becoming the Detroit Pistons Bad Boys of the 90s…minus the 'trying to purposefully hurt people' part.
The 'Bad Boy' Pistons did not have the 'names' or star power of the Lakers or Celtics back in the day, but they built a team of misfits and specialists into the deepest/best team in the NBA. The Lakers had Magic Johnson and friends. The Celtics had Larry Bird and his friends. The Bulls had emerging Michael Jordan – all 'faces' of the NBA on its most storied franchises. The backbone of the Pistons team was a kinda no-name off guard who was one of the only players who could slow down Michael Jordan with defensive prowess, and was a player who could've been a top scorer in the league except he let others do that while he did the dirty work…one of my favorite sports players of all-time, Joe Dumars out of tiny McNeese State. There will be no 30-for-30 ten-part series on ESPN on how vital, how good Dumars was in NBA history.
Detroit also drafted a 6'9" small college player out of Southeastern Oklahoma State who couldn't shoot, a kid who was recruited to play JUCO college basketball while he was essentially homeless as a teen/young adult…and was then punted from the school due to academic issues. He got one last chance at Southeastern Oklahoma State…and Dennis Rodman would go on to be the 6th Man of the Year and Defensive Player of the Year multiple times, a Hall of Famer, a world champion multiple times, and probably the greatest defensive player and rebounder in the history of the game.
The Pistons, by and large, were not a team of pedigree. They just outworked and out-toughed everyone and fit in odd pieces to make a wonderful unit for a couple of NBA titles. The Buffalo Bills are doing the same thing. Josh Allen/Wyoming. Devin Singletary/Florida Atlantic. John Brown/Pittsburg…State. Dawson Knox/Mississippi State.
This unit won 10 games a year ago and made the playoffs (and should've won their 1st-round game). Last year, when the Ravens started crushing everything in sight ion the 2nd-half of the season…it was the Bills that almost beat them…they had a chance on a final drive. This Bills team was supposed to be 'good' again this year but not great. They are now (3-0). 'Great' is getting into sight for this team/franchise…but not 'great' in the traditional sense. Not 'great' with names the media adores. The media is going to hate this team, and their hate will show when they pat them on the head and say how 'good'/decent a team they are.
The Bills are moving into position as the 3rd-best team in the NFL…KC…then BAL, then Buffalo.
They just outcoached and out played Sean McVay in this game. Last year, two weeks before Buffalo took the Ravens to the end, not backing down in the moment…two weeks prior the Rams were humiliated 45-6 by Baltimore, and that score was closer than the game really was. I think the Ravens played their 3rd-string starting the 2nd-half. The Ravens couldn't pull that stunt with the Bills two weeks later.
Then Buffalo Bills didn't just beat the Rams here – they put Sean McVay and the Rams organization underneath their heel as they climbed another rung of the ladder. The Rams should've lost this game by 30+ points. Then, the Rams should've won through a nice/fluky comeback. Buffalo is the better, tougher, smarter team.
I'm back to being a Buffalo Bills fan…I think that's where I left off last year anyway.
Buffalo has two tough road games ahead (at LV, at TEN) and then a Week 6 game on TNF with KC. We'll see how good they are the next few weeks. I suspect the Bills will be (5-2) getting ready to host New England Week 8, and then I bet Buffalo blows their doors off.
I'll explain more about 'what's making the Bills tick' in the player section.
And the Rams played in this game too…
The Rams are not physically tough enough to be NFL champs. They're just not. Buffalo beat S-A-W-F-T Dallas and Philly to start the year and then got popped here. Because the game ended up close…the Rams are not going to get enough hit in Week 4 in Vegas lines, and the Bills will not get the respect due because the score looked closer than it was.
I like the Giants +13.0 against the Rams this week.
I'll lay -3.0 to the Raiders for the Bills too, but Vegas has a watered-down version of what Buffalo is doing…so I'm not as over the moon here.
Fantasy Player Notes…
 -- The 'horror' item I mentioned, I'll save that to the end because it will need some time to ponder upon.
Who was not a 'horror' -- Darrell Henderson (20-114-1, 1-6-0/3) has stolen what was rightfully his to begin wit…he's the Rams new lead back, and an RB1 for your fantasy teams.
I know there's fear of Cam Akers or fear of Sean McVay messing this up…and I get that, I've said it and joked about it for weeks. But we're in a different geography on this now. Henderson having a good 2nd-half of a game vs. sad Philly Week 2 is one thing, but this game against Buffalo…it was Henderson's opportunity (with Akers out of McVay's reach) and DHendo delivered.
This wasn't just a 'good game' because he 'got touches'. This was a minor masterpiece by Henderson…tough running with high end burst the likes of which is rare among NFL RBs, rare for his size 210 +/- pounds. Henderson is just flat-out better than Cam Akers, and Malcolm Brown is not in the conversation either. It's now painfully obvious…and wouldn't have been if Akers hadn't gotten hurt Week 2. McVay still would have had his head buried in the sand with Akers if he could have. If Sean McDermott was coaching the Rams, he would have already noticed, and Henderson would've been starting 2019 (like he did with Singletary last year). McVay dragged his feet on Henderson all 2019…for what? For Todd Gurley. Don't tell me Sean McVay is better at coaching or personnel than Sean McDermott.
The Rams only chance to be tougher, to make the playoffs is being led by Darrell Henderson.
I don't know what kind of split it will be ahead…probably 70/30 because all backfields should be split for the sake of the RBs health/stamina but Henderson is getting the 70 and the other two will fight for the 30. McVay has no choice now. Henderson is a Sean McDermott style player, and Sean McVay can hope DH rubs off on his finesse group.
I would not fear Henderson fading or getting bypassed by Cam Akers. There's no way even Sean McVay could've watched the last two weeks and thought he'd be better off with Akers. Henderson is now a strong RB1-level fantasy asset.
 -- On the other side of the field, Devin Singletary (13-71-0, 4-50-0/5) had a good+ game here. He lost out on three TDs by inches. One TD was a great play by him, long play lunged to the end zone but just short and then stuffed the next carry to get it, then the TD went somewhere else on the next try. Later…a couple of times near the goal line, Josh Allen refused to pitch a clear/open Singletary the ball on an option play while Allen kept it and got rocked (I missed 12-18 points because of dumb luck at the goal line, and I blame Allen because someone needs to be blamed for my fantasy woes).  
McDermott is committed (smartly for the NFL, sad for FF) to a 60/40 Singletary-Moss split, but Moss may be out a few weeks and Singletary may just push on the gas past him to a nice 70/30 split when Moss returns.
Moss is not in Singletary's league, yet…if he ever will be.
Singletary is an RB1 threat without Moss around…but Josh Allen taking rushing TDs makes DS more an RB2.
Singletary is a talent, but he didn't look as good as Henderson…and Singletary looked really good.
 -- Another efficient day from Jared Goff (23-32 for 321 yards, 2 TDs/1 INT). he's really been solid/good+ since the last 5-6 games of 2019 into these first three games of 2020. Since the offense changed to use Tyler Higbee (2-40-0/2) more, Goff's numbers have jumped.
But now we have to worry a bit about Higbee…4-5-2 for targets in three games in 2020. That extreme output of late 2019 has not been seen in 2020. The three TDs were great Week 2, but it was still only 5 catches for 54 yards.
It appears Higbee is more #5-10 type of TE1 than a #1-3 TE1. Going to be solid/good, sometimes great but we haven't seen a continuation of the numbers/targets from 2019. Where Higbee might be a top 5 TE1 is if he goes more Mark Andrews – 3-4-5 catches, 30-40-50 yards in most games, but is getting 10+ TDs a season. Higbee might be headed there with the occasional 6+ catch, 70+ yard outburst…and thus can be a top 5 TE1.
Higbee is a plug and play more than a 'guess which weeks are REALLY good vs. OK/good'.
 -- What is a little amazing about this Bills win, this (3-0) start – it's not led by the defense. I thought the Bills would be a top NFL defensive unit again his year. So far, they're middle of the pack overall -- and bottom 12 in an area where they used to be #1-2-3 in the league – pass defense.
Jared Goff got back into this game comfortably…through the air, while DHendo gashed them on the ground. Yet, somehow the Bills are winning shootouts? That's not the Bills that I know.
I bet McDermott turns this defense around/fixes the leak, to some degree, he's as great a defensive mind as there is in the game. The schedule isn't great ahead, so I'm on the sidelines for using their DST until Week 7 at NYJ.
 -- Bills' rookie WR Gabriel Davis (4-81-0/4) stepped up nicely for an in-game injured John Brown. Davis is quietly becoming one of the better rookie WRs from this class. Not the electricity for FF or highlights, but just a sound worker. Davis is like Van Jefferson (0-0-0/1) of the Rams. Eventually, they might be 'the main target' for their QBs, but that's years from now and maybe never…perhaps always just 'reliable'/professional (i.e. WR3s in FF at best).
 -- Cole Beasley (6-100-0/7) is quietly having a good run again. I know…every time we try to get on this train for a week or two, he flops. When we don't have him, he does this type of game. John Brown being out helped…a lot.
If Brown is out this week…Beasley is a legit PPR play/option.
Beasley is averaging 5.0 rec., 76.0 yards, 0.00 TDs per game so far this season.
 -- Stefon Diggs (4-49-1/6) had a quiet game, but of course he did…he had Jalen Ramsey (1 tackle, 1 PD) chasing him. Still, Diggs had his moments. Ramsey is getting more on the overrated side now…still great when he wants, but he's part of the bloated 'star' class of the McVay/Rams, something Sean McDermott would not want/allow. But Tre'Davious White (1 tackle) might be getting infected by this as well (he got paid right before the season started)…the Bills pass D is a shell of itself in 2020.
I'm all-in on Stefon Diggs. Hated him before the season, but what I'm seeing…I love. If you can get him on a semi-down game Week 3, reasonably, I'd go for it. He's definitely not a 'sell high'.
 -- OK, are you ready for the 'Horror Show' (for some of you)?
I've been giving clues the last several notes/comments/bullet points.
Why have the Bills been winning despite the poor defensive numbers (for them)? It certainly hasn't been the running game, I own a lot of Devin Singletary, I watch his work like a hawk…it's not the running game totals, I can assure you. Endorsing Cole Beasley? Glowing about Stefon Diggs? Mentioning Gabriel Davis?
It's all because Josh Allen (24-33 for 311 yards, 4 TDs/1 INT) is becoming/has become one of the five best quarterbacks in the NFL.
He's also become one of the 2-3-5 best fantasy QBs in the game.
Now, you might think…"Sure, he's off to a great start, everyone knows this. What are you making such a big deal about?"
No…I mean Josh Allen has really become one of the best QBs in the NFL, and thus one of the best for FF. Like…he's not just legit/doing well – no, he's becoming 'high-end'. His numbers this year are fantastic…beyond 'lucky streak', and the four-minute, 4th-quarter comeback drive at the end of this game was Allen just being 'too good'.
Allen is becoming so good that the Bills are turning into a passing team…on purpose. McDermott is no fool. I'm down with Stefon Diggs now. I'll take note of Beasley (if Brown is out) this week. I'll be interested in John Brown. I'm raising up everything Bills passing game related another notch. A big notch.
Allen is beating teams with his arm and his legs, but did I mention his arm? The 55% Completion Percentage passer year's #1-2…is completing 71.1% of his passes so far in 2020. He beat a solid pass defense in the Rams this week, and an OK Miami one…and the Jets. I don't think it's a fluke on schedule ease.
So far this season for Allen: 10 TDs/1 INT, 2 rushing TDs, and all three games are 300+ yards.
Russell Wilson has 14 TDs/1 INT, 0 rushing TDs, and two of 3 games with 300+ yards.
Wilson and Allen are #1-2 in FF scoring per game (4pts per pass TD) so far.
I don't know if Josh Allen took a magic potion or sold his soul to the devil and is now great…and all his accuracy issues are all fixed. I don't know if it's coaching. I don't know if it's offseason training. I don't know if it's the addition of Stefon Diggs. Whatever it is…something has clicked with Josh Allen. He looks like the best QB in the NFL, to me, so far through three games…better than even Russell Wilson.
It's not necessarily a '2020 thing'…in Allen's last 16 regular season games, he's thrown for 27 TDs and just 4 INTs…plus, rushed for 8 TDs.
I never thought I'd live in a world where Josh Allen has 27 TDs/4 INTs in a 16-game stretch. This could be the most wrong I've ever been on a QB scouting the way it's going. I'll have an offseason to go through and see what was missed/how this happened, but it's nothing like I've ever seen – how can someone so inaccurate from college to his first two NFL seasons just become 'an assassin' in year three?
I'll go ahead and get out in front of 'changing' here. I made fun of all the knuckleheads on the NFL's Good Morning Football show who pushed Josh Allen as an MVP for 2020 in the preseason. What did they know? I'm a real scout…they're stupid. Well…I'm the stupid one and I owe them an apology: https://youtu.be/-vMH7FslCcU
The prevailing wisdom on this Allen run is – it's too good to be true…it's a blip…it's the schedule…he'll crash back to earth. The 'smart' football people who have railed against him for years, celebrating their 'rightness' on him being too inaccurate to be a good, much less great, NFL QB – they will not change their tune fast enough. The 'smart' people's upcoming move is to give it a pat on the head and go 'he's hot now, I didn't see it coming…but bet against it ahead/sell high'. They will pay a backhanded compliment, but they don't really believe it…I've done it plenty in my career in football scouting. Holding onto a bad hand for longer than I should not realizing something changed (or I was wrong).
Recent guys I've not been in love with but just got tired of seeing them do better than I expected, so I gave up…but now am not giving up my original feelings – Carson Wentz and Deshaun Watson. I never really thought they were as good as everyone thought but I had to relent because they were doing well year two of their careers…but are now crashing a bit. Could this 'crash' happen with Allen? With Wentz and Watson, they roared onto the scene and then tailed off. Allen stumbled onto the scene years one and part of two but he just keeps chopping wood/getting better.
Also, the way Allen has played the past three games…it's better than I've ever seen Wentz or Watson play. Week 1…I was like -- 'freaking lucky Allen' (because I never own him). Week 2…I was like -- OK, enough. I'll raise his projections to the moon to shut him up. Week 3…I was like, "Where have you been all my life…you beautiful creation of a QB!"
I'm fully on board with Josh Allen…I'm late, but I hope I'm ahead of a lot of people. Most people will have the same opinion of Allen this week as the old me (of 48+ hours ago)…"This too shall pass. He's just been lucky. Better sell him high/hot before he regresses to his mean."
Some random Samplings off the free interweb…
From Sporting News 'Sell High' list: Josh Allen (QB – BUF)
We've seen Allen's big performances before, but truth be told, he posted QB1-type numbers in just 43.8 percent of his games last year. He does present a solid floor each week due to his mobility, but someone is surely going to value his big Week 1 performance and be willing to overpay.
From FantasyPros last week: Stefon Diggs (WR – BUF)
You won't find a bigger fan of Diggs than me from a talent standpoint, but you're kidding yourself if you think his WR1 production continues. Josh Allen hadn't thrown for more than 266 yards prior to Week 1 of this year. He's now thrown for a league-leading 729 yards through two weeks? This is a situation just begging to even itself out. If you're able to get a top-15 wide receiver value for Diggs, you should take advantage of his hot start.
John Brown (WR – BUF)
Do you think the Bills are going to have two top-10 wide receivers at the end of the year? Yeah, neither do I. This is your opportunity to sell high on Brown, who has managed to rack up 10/152/2 over the first two weeks while Josh Allen leads the NFL in passing yards. Brown is going to pop off from time to time, but he's not going to be an every-week starter. If you're able to get top-30 value out of him in a trade, you should.
It's the general mood of the masses…Allen has been great for a few games, but don't expect it to last. It's all scheme not talent and no way Diggs and Brown can hold up. If I'm right (now)…that's all wrong, WAY wrong…and that presents and opportunity to still buy lower priced than they should be guys in Diggs or Brown…and even Allen.
So, was that 'The Horror Show'? You may be wondering…so you admitted you got Josh Allen wrong? So did a lot of people. No big deal…except you're supposed to know this stuff before everybody else.
Sorry, I'm about to start the Horror Show.
Ready?
Deep breath.
I'm not sure that Josh Allen isn't a better quarterback in general and for fantasy than Kyler Murray NOW or for the future. https://youtu.be/RP-hMSQEAE4
Let that marinate for a moment. And you know I'm not joking to bring up something like this. If you're a Kyler owner and have been enjoying his FF success and feeling good about things, I just semi-kicked you in the stomach. Kyler is still a good thing, but Josh Allen is the better all-around QB from what I see.
But, RC…come on, man! Out of nowhere you switch from hate/dismissing of Allen and now you're in love, and so much in love you're pushing him over your beloved Kyler? I mean…Rome wasn't built in a day. We're just digesting that you love Allen and that he has been really good, but now we're going this far already? I mean, buy me dinner first…
All valid points that I am definitely considering/debating with myself. However, did you see Kyler's game Week 3? The highly inaccurate Josh Allen has 3 interceptions in his last 15 games, including one playoff game. Kyler Murray has three interceptions in the last 48+ hours. Mostly horrible picks to a wobbly secondary with no real pass rush and 2nd-string CBs starting.
Kyler has 10 TDs/12 INTs in his last 8 NFL games. Josh Allen has 10 picks in his last season and three games + a playoff game (20 games).
Kyler's advanced metrics indicate a guy throwing short passes a bunch…and when he extends out to further downfield passes he's missing them or turning it over.
On 3rd and 4+ yards to go this season, known passing downs…
15 of 27 (55.6%), 172 yards, 1 TD/3 INTs, 9 first downs = Kyler
15 of 19 (79.0%), 181 yards, 3 TDs/0 INT, 12 first downs = Allen
On 10 or more yards to go on any down this season…
48 of 71 (67.6%), 549 yards, 2 TDs/5 INTs, 22 1st-downs, 5 sacks = Kyler
56 of 72 (77.8%), 823 yards, 2 TDs/0 INTs, 27 1st-downs, 5 sacks = Allen
Now, for FF…Kyler is rushing for better totals and more TDs, but he better keep that up because Allen is running pretty well (like usual) too and he's destroying things as a passer.
As a scout of things, I watch Kyler 2020 and I love that he's running more for FF. But watching him as a passer – same dull offense. Quick hitters to short receivers that if DeAndre Hopkins got hurt, I think Kyler would be screwed. Hopkins has been so great after the catch that it's helped prop up Kyler's mediocre passer totals. Kyler's air yards per pass are very low. He's dinking and dunking more than anyone cares to admit.
Allen is throwing all over…short, medium, deep with accuracy and in pressure situations and he's not turning the ball over. He also looks 10,000 times better to my eye than Kyler as a passer right now. And that's not a total slam on Kyler. I'm more marveling at how really good Allen has become.
In addition, I don't trust Kliff Kingsbury…at all. What I see in this 2020 offense is very similar to 2019 and is still very basic…and is DeAndre Hopkins based/centric. Is Kyler going to get better under Kingsbury? Are we at peak Kyler? You see how much Kyler throws into danger now…and how much he sulks on the sidelines? He, to me, is not a leader and is not getting better as a passer – he's just running more. He's a good passer. Very natural. But I don't see a 'next level' yet. I doubt Kingsbury ever pushes Kyler at all – the kid runs the parent in that relationship. The inmates run the asylum.
Not so with McDermott-Allen. McDermott is rapidly improving Allen, and Allen is a tough-minded, puts his body on the line type of leader. I don't think Allen is going to fall off or pout. McDermott wouldn't have it. Kingsbury would with Kyler.
Long term…what if Kingsbury gets fired? I think Kyler would have a meltdown and be a handful and not want to play in any different system. I could be wrong. Allen is being groomed into a system and is being let off the chain because he earned it.
Would you take Josh Allen in a trade for Kyler Murray, straight up, in FF today? You probably would not. Therein lies my point for you to consider…
I think most people see Kyler as an 'A' talent…a razzle-dazzle, MVP candidate, future star. I think most people see Josh Allen as 'lucky'…as a 'C-D' QB having a good moment, but is really a 'C-D' grade QB and he'll fall back there soon.
My question to myself is – If I could get Josh Allen + a great ___ for Kyler, in this time of the hype Kyler is getting…would I do it? Should I do it? It could be I get the equal/better QB in Allen AND a great player to go-with.
I don't want to panic you too much on Kyler. I suspect 50%+ of Dynasty people reading this own Kyler (and 0% own Allen…and that's going to change right now/this week). I am wrestling with the question of whether we are at peak Kyler and now is a great time to sell sky high, because he is starting to worry me a touch…his Week 3 game was not good. His latest trends are not great (as a passer). Could I sell Kyler + to get Mahomes in a deal (not after that MNF game I can't)?
Or…regardless of Kyler, should I be pushing for a deal for any type of slick deal on Josh Allen before everyone really figures it out…or will Allen revert? My scouting eye/gut says this Allen run is not luck/too good to be a blip.
At a minimum…I need to take Josh Allen way more seriously. Some of you do too and it's my fault you don't.
Snap Counts of Interest:
61 = Diggs
46 = G Davis
38 = Beasley
29 = Jo Brown
17 = McKenzie
67 = Woods
62 = Kupp
62 = Josh Reyn
08 = Van Jefferson
34 = M Brown
34 = D Henderson