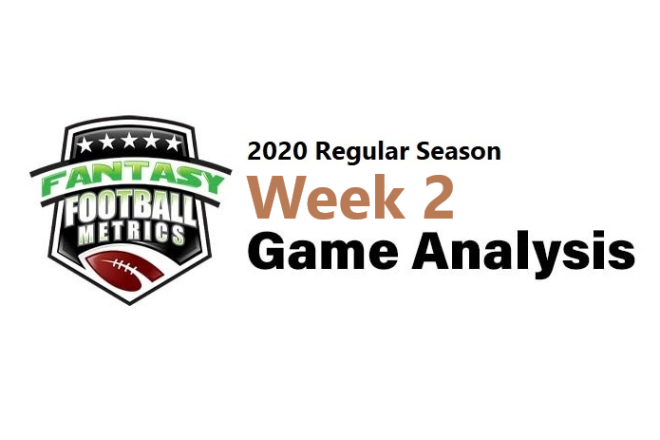 R.C. Fischer
FFM
21 September 2020
2020 Dynasty/Fantasy Week 2 Game Analysis: Bucs 31, Panthers 17
I take notes during the live watch. I re-watch the game on tape looking for hidden clues to report on. Here are my notes/takes on what I saw and how it related to FF 2020. I write anywhere from 1,000-3,000+ words on each game, and I have to move fast to get to all of them through the week…so, please forgive any typos/grammar.
This felt like a blowout watching the tape…it was 21-0 Bucs at the half. The Bucs seemed to do whatever they wanted, and the Panthers looked jumpy/skittish and on their way to certain defeat. Somehow, with 2:00 minutes left, the Panthers kicked a field goal to make it 24-17 Bucs, a one score game. The Bucs scored on the first play of that next drive and it was 'over'.
The Panthers have not looked great, but somehow -- they are in games with good teams to the end (took Las Vegas to the wire, and almost caught the Bucs here). They will be a tough out. Their defense is not ready to help them win games just yet. A little more seasoning may show them to be a better unit 2nd-half of the season.
I think the Panthers would really shine facing a defense with a low-pressure front/bad pass rush. Teddy needs time, but unfortunately they have nothing but aggressive defenses (now that ATL is a higher pressure front) until Week 10, and only Week 11 will they get a break (v. DET). Without CMC, it's even worse pressure coming. The Panthers are in for a rude awakening ahead via schedule, if I'm right…because defensive pressure is their kryptonite. If you can bet a win total 'under' for the ROS, it might be a winner.
The Bucs are the ultimate high-pressure front and forced Teddy Bridgewater into two picks and no TD passes. They also registered 5 sacks. The Bucs have an emerging, top NFL/FF defense. Their offense is pretty good too. This is a legit playoff team, except I'm not sure Tom Brady has enough juice left to go all the way…but he may just need more time to adjust to his surroundings.
Tampa will be in some 'slog' games at DEN, v. LAC, at CHI then next three weeks. We might see the power run game of Tampa emerge as the lead punch…not Brady flinging it all around.
Fantasy Player Notes…
 -- OK, Christian McCaffrey (18-59-2, 4-29-0/5) is projected to be out for 3-6 weeks. That's long enough that the replacement RB matters for a bit for FF but short enough time to deal with where Carolina is not going to do anything radical at RB, like go out and make a trade or sign the ghost of Devonta Freeman, etc.
Mike Davis (1-1-0, 8-74-0/8) played more in this game than any Carolina RB I think I've seen in 2-3 years…he was coming on some 3rd-downs early in the game. He was in the third play of the game – they trust Mike Davis. It's Davis that you want for this backfield for FF for the short term.
Trenton Cannon is listed 3rd-string, but he's more of a 3rd-down/2-minute drill screen pass option…not a real RB, per se.
The wild card is Reggie Bonnafon, who is on the practice squad. He was the guy backing up CMC in 2019, and he made some splash plays in the preseason and regular season the past two years. I was surprised the Panthers cut him and put him on the practice squad. He may not be the new regime's cup of tea…which is why I lean heavy Mike Davis coming up -- but note that the offense changes with Davis vs. McCaffrey. I doubt we see Davis getting a thousand targets a game…except he got 8 targets in this game working the late comeback efforts.
Link: https://youtu.be/rj96vXx3wxg
Davis has RB1 potential short-term, if given a chance…but always seems to get hurt whenever he does get that chance (thus, keep an eye on Bonnafon).
If the Panthers sign an RB, just a generic…it might be over for Bonnafon here.
I would suspect a highly paid CMC on a bad football team not contending…I would think he's not rushing back to action. I'd project him out longer rather than shorter.
 -- Just as interesting, maybe more…we look at the soap opera that is the Tampa Bay backfield.
Leonard Fournette (12-103-2, 4-13-0/5) possibly laid claim to getting into more of a starter's role here. We'll see. I want to show you what happened in this game for the rotation, and you can decide what you think…
Ronald Jones (7-23-1, 2-4-0/2) started, as he does, and looked fine…scored on a sweet 7-yard TD run. Everything was normal…Jones started.
Fournette was seen entering the game in the 2nd-quarter.
Jones went to take a tricky hand-off from Brady on a delayed draw, there was a bad fumble on the exchange, a turnover. Brady was seen yelling on the sidelines about it (in my estimation, it was 97% Brady's fault…but no one will ever say that to the prince of Tom-pa Bay).
If you didn't watch the game, or even if you did among several games at one time (like me)…it seemed like that fumble was the catalyst for the rise of Fournette. But watching the tape…it wasn't.
The very next series, after the RoJo (really Brady) fumble…Jones was in, and took the first play/carry. Everything was fine. In fact, Jones was out there first in most of the series after the fumble. No doghouse. No punishment.
Fournette kept working in and out and caught fire and they just literally 'ran with it'. Fournette was running like the beast he is – a hammer up the middle, and rewatching this he wasn't so bad on the outside. It's just he's so much more effective between the guards.
From the tape…it felt like RoJo was the guy…the purposed starter, but then I look and see Fournette played 26 snaps, RoJo 21 snaps, and McCoy 11.
Fournette looked much better this week than last…but Jones is not a chump in this equation. It's entirely possible Tampa is about to turn into a power run team…the best power tandem run team in the NFL…and both guys end up producing.
You want both to make sure you have 'the one'…it's too late to get Fournette now, but Jones is probably on sale. The way RBs are dying, you want tandems when they are this talented…for your protection.
Last week, I thought Ronald Jones was going to hold that job for several more weeks. Now, Fournette made a move and I get a vibe that Fournette is inevitable but it's always going to be a split role, a 1-2 punch unless one of them seriously messes up/gets hurt – and Jones is more likely to be the one set back in a few weeks. I don't think Brady would ever be screaming at the sidelines near Fournette or he might get punched in the face.
'Face' is a good term of where this backfield is going – I feel like Fournette is the 'face' of what the TB team wants to be, so eventually…Fournette will be the lead 'face'….a 60/40 lead. Until then, Fournette is just another talented guy getting 8-12 carries a game with 1-4 targets…which I just described several 'starting' NFL RB's touch counts. Fournette as a backup will get low-end starter-level touches.
 -- You want the TB RBs because this offense is going to be good. Why? Not because of Tom Brady (23-35 for 217 yards, 1 TD/1 INT), per se. Brady is now a very good game manager, but this power run game takes pressure off the passing game and the O-Line looks really good protecting Brady (Carolina had ZERO sacks and just ONE QB hit all game) and in run blocking.
Note for Brady: This was a no pressure defense on Brady, with a so-so/weaker secondary – and Brady threw for just 217 yards and 1 TD. The power run tandem might be the future of this offense, if Brady allows it…but then that opens up Brady too.
 -- It's turning into a Bruce Arians offense more than a Brady one…meaning the TEs are useless for fantasy. O.J. Howard (1-11-0/3) looks stiff and Gronk (1-11-0/3) looks shot. Cameron Brate may be their best TE…but it won't matter for FF.  
 -- You thought Brady was going to turn Scotty Miller (2-11-0/3) into Julian Edelman here, but you got burned. I bought it too. Note…Miller had a 21-yard TD pass go right through his hands or this would have been a touch different outcome.
 -- Teddy Bridgewater (33-43 for 367 yards, 0 TDs/2 INTs) looks very jumpy under any pressure. High pressure defenses are going to expose him from what I'm seeing. Teddy has very good passer instincts and good ball placement, when he's comfortable…but when he has any pressure he gets nervous and throws offline and into danger in 2020.
It's a weird scouting event to judge…he can look so solid one play and then terrible the next…missing wide-open throws or throwing passes behind receivers instead of in-front of them. Maybe, Teddy gets more comfortable as he goes…but I don't love what I see. He'll be good for garbage time when the pressure is less, and the defense is 'preventing'.
Teddy's on-target throw percentage (% of attempts deemed on-target) is 32.9% right now (through 2 games). It was 81.3% behind the great O-Line of the Saints in 2019. By comparison, Brady is at 76.5% in 2020, was 73.1% in 2019.
 -- OK, OK enough with the Curtis Samuel (2-13-0/2, 4-26-0) talk from me. It's likely never going to happen…he's never going to be used to seriously run the ball.
Sure, he got 4 carries here…but all jet sweeps/reverses. It's a good sign that he got four carries but I was hoping he'd line up in the backfield some and really be a unique wrinkle…he's not. Without CMC, we'll see if he moves into the backfield some…but I doubt it. And in an all-pass comeback effort late, where a lot of the junk stats for everyone for CAR came from, Samuel saw 2 targets all game. That's enough for me…no more hoping here.
 -- The Panthers signed Rasul Douglas (7 tackles) when the Eagles cut him before the season started, and now he's a starter. Douglas has knack for FF stats, so watch him for IDP.
 -- I'm seeing some signs of 'it' with the Bucs defense again this week. They were pitching a shutout for the first half, then kinda played soft and let Carolina mosey on back into the game.  
Still, the TB-DST held Carolina to 17 points…while getting 5 sacks and forcing 4 turnovers. This is going to be a very aggressive defense that might give up some points/yards but has a high probability for turnovers and D TDs.
Snap Counts of Interest:
54 = Watson
53 = Evans
42 = Miller
42 = Gronk
34 = Howard
04 = Brate
26 = Fournette
21 = Jones
11 = McCoy
65 = DJ Moore
54 = Robby A
51 = Samuel
47 = McCaffrey
24 = M Davis