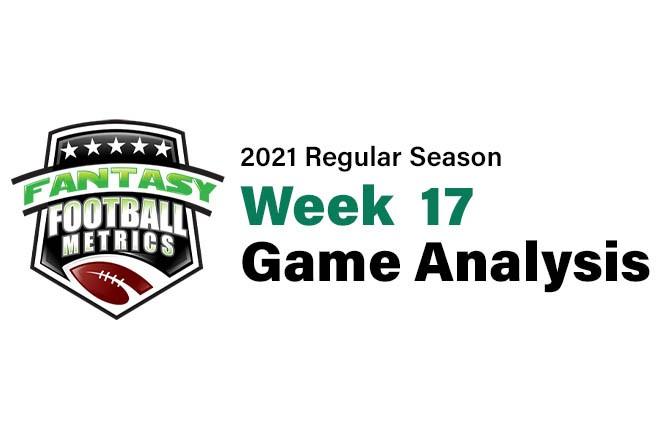 R.C. Fischer
FFM
08 January 2022
2021 Dynasty/Fantasy Game Analysis Week 17: Cardinals 25, Cowboys 22
This was a pretty high stakes game for a Week 17 affair…a lot on the line with two teams that at various points of the season were mentioned as Super Bowl sleepers and perhaps 'best teams in the league?' debates at one time.
Arizona came into this game reeling. The one-time (7-0) squad was (3-5) since their undefeated run ended on a miscommunication game-winning TD shot to A.J. Green, who turned the wrong way and cost the Cardinals a huge win over Green Bay…and they've been falling apart since.
Dallas came into the game winners of four in a row and already NFC East champs, now with a shot at a #1 seed.
This was going to be a statement game…a playoff-level affair, and the two teams didn't play all that particularly well, but Arizona showed a level of fight/desperation and beat Dallas off the jump, racing out to a 22-7 lead going into the 4th-quarter, with Dallas spinning their wheels. But then the Cowboys made a 4th-quarter surge and closed the game to just 3 points with 4:42 remaining…but they couldn't get another score to tie/win, and Arizona held on to win. It wasn't pretty but Arizona got a much-needed win.
What this game said to me: These are two 'pretender' teams for the NFL playoffs. Better than the average NFL team, capable of winning games against good teams in-season, but as we get closer to crunch time…they're both going to fail and are both threats to lose in the 1st-round of the playoffs, except they will probably be facing each other.
Neither of these teams are winning a title this season, and they should go into 2022 offseason with serious questions about their head coaches and the construct of their teams going forward, but they will likely just stand pat with this group and convince themselves (and the media will help them think it) that if they just didn't have those key injuries in-season they would've been a #1 seed and they're like one little thing away from being great.
The cold hard truth is…these teams are good but lacking. Their head coaches should be in serious question. Neither team is great or close to it. Dallas is closer to the great group than Arizona, but still 'short'.
Fantasy Player Notes…
 -- Kyler Murray (26-38 for 263 yards, 2 TDs/0 INT, 9-44-0) bounced back from his mini-slump to have a solid output game. You figured in a 'big game' against a hot Dallas D…it wasn't a good setup for Kyler to turn things around, but he posted a good game…because he's a really good QB.
But is he a great QB? I'm going to explore and debate that in the upcoming days/weeks on our Dynasty Offseason/Best Ball (DOBB) platform. Many FFMers own Kyler in Dynasty, and we need to explore – where do we go from here? Is it going to get any better?
Kyler has been a top 3 Fantasy QB (4pts pass TD) the past two seasons. He finished #4 in PPG among QBs this FF-season, a blink away from #2. He's been a good asset. Great ROI the past three years. Can we go higher? What does the future hold? We'll examine it all on DOBB this offseason.
 -- Kyler's two TD passes were to Antoine Wesley (4-30-2/5) in this game. Is Wesley breaking out? Does he have an FF future? Maybe. His uprising comes from DeAndre Hopkins going down and pushing Wesley to a starting role…and the big 6'4" target has been Kyler's bail out end zone look for the past several weeks – which is smart of Kyler to use the height advantage as needed. Outside of that, I don't see any future star activity – just no longer a nobody.  
In 2022, as it sits right now, I suspect the starting trio for Arizona will be: Hopkins-Wesley-Rondale…with Wesley in the A.J. Green/2021 role. Unless AJG is brought back (and he shouldn't be, unless as a crafty #4 WR…which he won't wanna be), Wesley is in line for a starting role in 2022…but if he is it will probably be for Allen Lazard/GB 2020-2021 like activity…the lesser targeted deep ball guy who gets TDs but on 2-6 targets a game, randomly…unpredictable WR3-4 work.
There's some FF-hope here with Wesley where there wasn't a few months ago, but I'm not sure the ceiling is all that high.
 -- There's an Ezekiel Elliott (9-16-0, 1-14-0/2) crisis happening in Dallas.
The cover up story on it, to not embarrass Jerry for this wasted money big contract, and to defend a media beloved player anyway, will be that Zeke's working with some secret injury. It's possible, I guess.
However, Zeke has been practicing in full for weeks/months during his statistical collapse since Week 6 – where he's been running well under 4.0 yards per carry, taking an ever-decreasing touch count (12.2 carries per game since Week 6), and starting to see decreased passing game targets. His snap counts have been about the same all year, but his performance is nose diving.
Dallas's coaches/offense are moving away from Zeke a little bit at a time…like a boiling the frog theory. So slowly it's not fully noticed. Whether it's because of a secret injury or secretly his career/skills are fading off…something is happening but we're such a Zeke-is-god centric FF culture, we don't wanna see it.
Really since Elliott's splash 2016, his numbers on a graph have been fading…showing him to be 'good-not-great', but we treat him like he is RB royalty. Dallas has a CAP issue with him, they have a media issue with him – he's too costly to cut and the media props him up in the fans' eyes. He's a head fake. He should not be a 1st-round redraft RB in 2022, when you look back over his career trends since his rookie season…but he probably will be.
If you cut the season off now, so that Zeke has played 16 games (what we're all used to for 'a season') – did you know he would now have his last two seasons under 1,000 yards rushing and barely above 4.0 yards per carry…with a good+ O-Line and QB most of that time, but missed them some of 2020 – but what good is he if he can't produce in troubled times OR the good times anymore? Elijah Mitchell is a better producer right off the bat, as a 6th-round rookie RB, than Elliott today. And that's just one example.
 -- The Arizona secondary is all banged up and has been getting smoked the past few weeks, but then facing the great Dak and his all-star WRs…CeeDee Lamb (3-51-0/4) is nothing (again), and Amari Cooper's (3-18-1/7) disappearing act continued.
Michael Gallup (3-36-1/4) was becoming this team's best WR…but then he tore his ACL and Cedrick Wilson (6-35-1/6) entered and was Dallas's best WR.
What is going on in Dallas?
Pollard is better than Elliott.
Gallup-Wilson-Brown are better than Amari and CeeDee.
I can't say that out loud because the Cult of CeeDee media and fans won't be having it.
 -- Chase Edmonds (18-53-0, 5-29-0/6) got an opportunity to start again with James Conner out, and he had another ho-hum performance. He's a much better RB as part of a duo, with Edmonds as the pass catcher. Edmonds has had several chances to seize this backfield and never capitalized on any of the chances.
A good+ pass catching back, a weapon in the passing game…not a lead back. Capable, in a pinch, but not going to lead a backfield for a season and take the punishment, stay healthy, and be a revelation.
Snap Counts of Interest:
45 = Zeke
19 = Pollard
62 = Edmonds
09 = Benjamin
08 = Jon Ward
**College Football Metrics 2022…new season early-signups start January 6th, 2022, NoonET**
The new season of CFM will be starting up in January, as always. A little different schedule this year as the NFL extended their season by a week and the Senior Bowl was bumped back a week as well. We should have a Senior Bowl, NFL Combine…it looks like it will be a normal scouting year!
The NFL Draft, Dynasty Rookie Draft, and regular season ahead rookie analysis all gets started through CFM in January with our usual season starter -- the past two years/2020-2021 Mock Rookie Draft re-do, along with in-depth Senior Bowl analysis, and full QB scouting reports and much more as we build towards the NFL Combine and all the other positional scouting reports. Football study never ends…
Thank you for your support of CFM for the past decade now…wow, time flies.