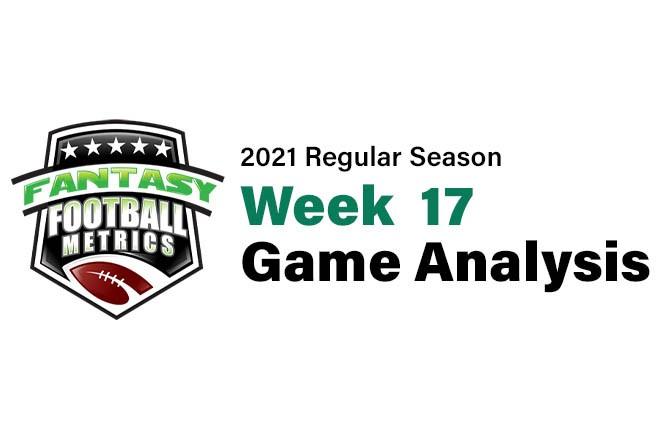 R.C. Fischer
FFM
05 January 2022
2021 Dynasty/Fantasy Game Analysis Week 17: 49ers 23, Texans 7
The Texans led this game 7-3 at the half. The Texans were only down 10-7 after three quarters. The simple truth is – the 49ers are really not that much better than the Texans-type teams. SF is an OK team that is capable of hanging with the big boys as much as they scuffle with bottom tier teams. They just aren't that good…they're not bad…they're just 'not good'…not a real title contender.
As the 49ers were scuffling with the Texans, suddenly the refs started helping out like they all had a bet on SF here. There was a sequence of penalties that I won't waste time going over in detail, but they totally changed a series/the game – and on replay it was ridiculously obvious that they were not penalties…leaving the game TV analysts speechless. Within all that there was a San Fran fumble that was reversed for 'runner progress stopped' that was ridiculous. On top of that, the Texans would get phantom defensive PIs called on them, and the next series the 49ers DBs would maul the Houston WRs…and 'no call'. It was maybe the worst officiated game I've seen this season…all against one team/for one team.
The 49ers then pulled away aided by their gifts, in the 4th-quarter, for a two score win. It should've been closer or a loss, actually.
The 49ers luckily move to (9-7) and are in a 'win and in' or 'lose and probably out' Week 18. They face the Rams, so it won't be easy. I, personally, hope they lose and miss out. The Saints deserve it more than SF, to me.
Houston loses their two-game win streak and falls to (4-12) and they play in a huge game of national interest vs. TEN Week 18. The Titans win and they are the #1 seed, so I bet Houston goes all out to spoil this highly watched contest – but they'll probably get mauled by the Titans.
*We're gonna spend some extra time on Trey Lance in this report, and that will be at the end.
Fantasy Player Notes…
 -- Elijah Mitchell (21-119-0, 2-11-1/2) returned from injury and came back and dominated the RB touches…as has happened before this season. Mitchell is so locked in as the #1 RB here…for 2021, and 2022+…for as long as Kyle Shanahan is there, and for as long as Mitchell can stay healthy.
Trey Sermon is not even a consideration, from the looks of things.
Mitchell is not flashy, but he has a knack for finding his way through and to holes…like what Jordan Howard does/has done his whole career. RBs who just have a sixth sense about where to run in the interior. Mitchell's style needs a good O-Line to go with it, and he has that with SF.
 -- One of my biggest regrets of the 2021 season was pushing to trade Deebo Samuel (7-19-0, 3-63-1/6) midseason because I didn't think his hot streak could continue. But it has. I'm still befuddled how he's done it, watching all the game tape of this season. Not that he's bad, but he always found a way to score a TD about every week, even if just in the run game, and half of them seemed like blind luck/good fortune. 13 TDs this season for Deebo.
I am not dying from any Deebo trades, as we mostly traded him for good things…but things acquired probably not as hot as Deebo stayed, perhaps.
And, I don't wanna beat myself up too bad – we were the ones pushing Deebo over Brandon Aiyuk (4-94-0/6) in the preseason when NO ONE else (I saw) was doing that in FF rankings preseason. I was only able to trade Deebo, if I did, midseason because…I got him…cheap in the preseason.
I still don't think he keeps this up into 2022, but...
 -- A few IDP notes…
Speaking of scouting pride, how about Houston rookie DT Roy Lopez (5 tackles, a season high) this season? One of our DEEP sleeper finds in the 2021 NFL Draft scouting process, or #3 DT for the 2021 Draft…barely in anyone's top 300 for the NFL Draft – and he is rolling top 10 in total tackles among all DTs this season to date. Quite a feat for a non-hyped rookie.
Another CFM fave is coming back to life…SF reclamation project edge rusher Jordan Willis (1 tackles, 1 sack) has 3.0 sacks in his last 5 games. He has yet to have an NFL season with more than 2.5 sacks until he landed in SF and started making a difference. He looks pretty decent off the edge as a situational pass rusher.
A CFM 'hate' pass rusher, nationally acclaimed in the draft, Arden Key (1 tackle, 1 sack) is also having the 49ers do a reclamation project with him as well. 6.0 sacks this season, after three years bouncing around the NFL prior, with 3.0 total sacks to show for it. Still not a fan.
 -- OK, Trey Lance (16-23 for 249 yards, 2 TDs/1 INT, 8-31-0)…
He had a good FF game…mostly worthy of the low-end QB1 label we applied to him for Week 17. I expected more, but I have to note…he had a sweet QB run TD in this game, called back for a BS penalty that later resulted in a San Fran FG…that rush TD would have put him in as a strong QB1 for the week.
But…how did Lance 'look' in his 2nd start, from a scouting perspective? Ross (a very pro-Lance scout) and I took to a chat after rewatching the game to compare notes. Here is a transcript of that chat…
RC: Ok, we got Trey Lance's 2nd start. This one (HOU) an easier opponent than when he faced red hot Arizona Week 5.
After watching the tape back of this HOU start, what are your general feelings on Lance at the moment -- highly encouraged/feel even better, feel about the same as before (pro-Lance as best in class rookie QB), or a little rattled by what you saw here?
Ross: I definitely don't feel better or encouraged. I thought there were some slight improvements, and you still see the occasional "wow!" throw, but by and large it was still a lot of pre-planned throws, bad decisions, and inaccurate passes. I know it's only been a year of practice so far, but I wanted to see more growth than this.
RC: I am in the same boat. Every time he makes a good play, he then makes a head scratcher to bring me back to worry.
RC: He's the ultimate...'whatever you want to see...you can see' player right now.
RC: You can see flashes of great...then flashes of 'he's never going to 'get it, is he?' moments still...too much.
Ross: Exactly. I knew he had flaws coming out. He clearly wasn't a ready product. But what had my hopes so high was his newness to the position and the idea that he could grow into being a real QB with time. But now we're a year in and I'm not seeing the rapid improvement I expected.
RC: Problems I see...
RC: (1) He still locks on to his first read.
RC: (2) When he runs, he gets tackled way too easy. He leaves so many 3rd & 1s/short, 4th & 1s/short for his size...it's strange.
RC: It's like he has a sixth-sense for not getting a first-down
Ross: I was going to mention that last part as well. He looks like Kaepernick! I expected more power from him. I knew I saw the raw speed and agility in college, but I may have been fooled about his size seeing him run over Div II defenders.
RC: He has the speed, and movement but when tacklers descend on him, it's like he pulls up and then that allows him to get hit and momentum goes backwards. 
Ross: I wonder if Kyle told him to try to protect himself.
RC: Everything is still very jittery, but...the 'what if it becomes un-jittery' has to be taken very FF-seriously.
RC: I don't think he got that message from Kyle or he'd slide more.
RC: I think he's surprised he isn't running over people.
RC: He tries and then is blown dead on the spot or backwards.
Ross: He has to be taken seriously for fantasy regardless. At absolute worst he's still in the Taysom/Hurts category for fantasy as a QB1 just because of the running. But you're right that if he ever unlocks the real QB potential Josh Allen-style, he would be off the charts.
RC: Other crafty runners seem to find a crevasse or make a juke to not take the brunt of hits but find the extra momentum forward. He doesn't usually.
RC: I wondered, after watching the tape today, if Kyle Shanahan is having regrets about this.
Ross: I believe Kyle is. I think he's getting nervous that Lance isn't progressing faster.
Ross: There's a reason he keeps going back to Jimmy 100%. It's gotten so bad I'm starting to worry that they might not trade/cut Jimmy this off-season after all...
RC: Like FF owners, we talk ourselves into something from an emotion of the moment...and then we act on it like our lives depended upon it.
Like when you have an FF player you want to deal away because you hate them...you push the player to everyone and take the first deal that comes along reasonable. And if you see something in a player and get really into them and you want them -- you just grovel to the current owner offering more and more to get that player because you made your mind up, I must have this player, so you won't rest til you do it...and then you do all based on an emotional moment you had/witnessed.
RC: It's like Tyreek Hill Week 17 end/today…
RC: People who won titles this week despite Tyreek, are like...well, that was a bad week for targets but it's cool.
RC: But the people who lost titles with Tyreek doing nothing 2 weeks in a row -- he's been 'figured out' or he's 'in a bad spot with KC'...or the 'best days are behind him', and now these folks have made a mandate in their minds -- I MUST trade him this offseason (Dynasty) or vow never tr draft him again (redraft).
RC: Same Tyreek performance interpreted two diff ways, one way caused the MUST reaction to solve so you feel like you're doing something to fix the (perceived) problem.
RC: I wonder if Kyle watched some Kyler or Russ or whatever the past offseason and is like I NEED A MOBILE QB TOO, IMAGINE THE PLAYS I CAN DESIGN!!!
Ross: That's exactly what he did. I think it's been building for 2-3 years now but still the same result.
Ross: And Lance did show some nice passing ability in college to justify the hope. There's a reason he was the pick of Fields.
Ross: Over Fields
RC: And Kyle can't create/design cool plays because Lance is at his best flushed from the pocket and improvising.
RC: I think it was Lance over Fields because of a better meeting face-to-face impression. Lance controllable, polite. Fields a wild card, independent.
RC: Shanahan wants CONTROLLABLE.
RC: But his style is not controllable.
RC: But Shanny will try to
RC: If you're GB GM in February 2022, with the rosters/players the way we know them now, and the coaches are the same...and you are offered Lance for Rodgers...do you do it?
Ross: Straight up?
RC: Straight
Ross: I think that would depend a lot on the vibe I'm getting from Rodgers. Assuming Rodgers was fine and wanted to keep playing for me for a few years, I pass on Lance and will take my shot somewhere else while I keep winning with Aaron.
RC: Same question, but you just replaced John Lynch as SF GM
Ross: Same answer. How long does Rodgers want to play? I see no signs of him slowing down, so if he wants to keep playing 3-4-5 years I'd take him all day long over Lance.
Ross: Lance is all potential at this point. It's nice to dream about the possibilities, but I'll take the bird in my hand over two in the bush all day long.
RC: Is Trey Lance a QB1/top 12 in FF for 2022?
Ross: Yes. In 4-point passing TD leagues for sure.
RC: April 2021, you're the new GM of Jacksonville (with a normal coach), you can take any QB in the 2021 Draft #1. Who is your pick?
RC: With today's knowledge of 17 weeks of play so far.
Ross: Any QB in the league?
RC: *Note...there is a long pause here, so Ross must really be thinking...*
RC: 2021 NFL Draft
RC: Jacksonville on the clock
RC: You're the GM with full control
Ross: I would take Lance. I've seen nothing from any of the other guys that suggests to me they can be franchise QB's. Mac is fine. Wilson has potential just like Lance but not as much in my opinion. It's still Lance for me…and pray.
RC: I would take Zach Wilson, based on what I've seen so far...but if I were the Jets GM in April 2021, and Lawrence went, I would take Lance instead of Wilson -- Lance built better for NYJ weather like Allen for Buffalo.
Ross: That's totally reasonable.
RC: If you did Lance-Wilson, and if I would do Wilson-Lance...if you are the SF GM April 2021, at #3...Mac or Mills or Fields?
Ross: Oof, that's tough.
Ross: I can think of legit arguments for all three.
RC: But you get one pick...
RC: To fit with Shanny
RC: No, you can't draft Pitts...it has to be a QB
Ross: The one that would win the most games with Shanny would be Mac. But I think I'd take Fields, Shanahan be damned, and again pray that Fields worked out. I don't want an ok QB in this league. There's a million of those. I want 'special' and I think Fields has a higher chance of that than Mac or Mills, no matter how small the chance might actually be.
RC: I think I might take Davis Mills right now
RC: as the better version of Mac
RC: and I hated Mills coming out of Stanford
Ross: I get the argument for Mills. I just can't get behind it. He's performed admirably, but I just can't see a world where we wake up one day and Mills is a top 10 QB.
RC: Didn't think Mills would make it...too much growth needed, and too bland. He's really impressed me with his poise in a bad situation.
RC: I think Mac and Mills are 'meh', but Mills grittier performance with worse things around him.
RC: Final Question...
RC: Drafting right now for Dynasty. 6pts per pass TD FF league. You must choose one...Burrow or Lance?
Ross: Burrow without question.
RC: Herbert or Kyler?
Ross: Herbert.
RC: Lance or Kyler?
Ross: Kyler.
RC: 2022 redraft, and Lance and Kyler are both going to play every game healthy/start...Lance or Kyler?
Ross: I almost snap typed Kyler, but that one depends. Right this second I'll say Kyler but I very well might change my mind come next year. 4-pt leagues it would be even closer.
RC: I ask those last ones because it's a big issue to deal with this Dynasty offseason...should people be moving off Kyler and into Herbert or Allen or Burrow or Lance or whatever.
Ross: I think so. I don't like what I see from Kyler or Kingsbury, and I'm afraid trouble is brewing there. Herbert, Allen, and Burrow seem much safer to me.
END
Snap Counts of Interest:
36 = E Mitchell
12 = J Wilson
07 = Hasty
53 = Cooks
49 = Conley
40 = Collins
21 = J Camp
44 = Rex B
15 = R Freeman
09 = J Samuels
**College Football Metrics 2022…new season early-signups start January 6th, 2022 NoonET**
The new season of CFM will be starting up in January, as always. A little different schedule this year as the NFL extended their season by a week and the Senior Bowl was bumped back a week as well. We should have a Senior Bowl, NFL Combine…it looks like it will be a normal scouting year!
The NFL Draft, Dynasty Rookie Draft, and regular season ahead rookie analysis all gets started through CFM in January with our usual season starter -- the past two years/2020-2021 Mock Rookie Draft re-do, along with in-depth Senior Bowl analysis, and full QB scouting reports and much more as we build towards the NFL Combine and all the other positional scouting reports. Football study never ends…
Thank you for your support of CFM for the past decade now…wow, time flies.