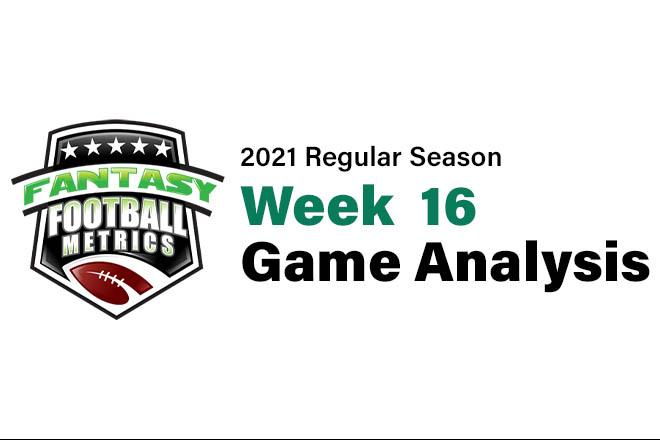 R.C. Fischer
FFM
30 December 2021
2021 Dynasty/Fantasy Game Analysis Week 16: Rams 30, Vikings 23
This game was close/a one score win in the end, but it never felt like it was close. The Rams took a quick lead, pushed it to two scores. The Vikings would cut it to one score every so often, then the Rams would push it right back to a two-score lead. It was 30-20 Rams with two minutes left. The Vikings took a field goal with 0:32 left to go for the score-now-onsides-next prayer…but it failed, and the Rams walked out with a big win. The Rams did not play a great game, but they're better than sloppy/choppy Minnesota.
The Rams are now (11-4) with a good chance to win the NFC West from the collapsing Cardinals, but with little chance to get a #1 seed. I could see the Rams winning out (at BAL, SF) and winning the West. I could see the Rams losing out and limping in as a wild card.
The Vikings are now (7-8) and their playoff hopes are very narrow…they need to win out and for the Eagles to lose out to have any chance. It's not off the table, but it's highly unlikely. If the Vikings lose to Green Bay Week 17 (likely) then I would not be shocked if Mike Zimmer was fired Monday to allow the Vikings to start the interview process.
Speaking of Minnesota at Green Bay Week 17… The current weather forecast for that game is 5 degrees/'feels like -9 degrees. I guess it actually gives the Vikings a better chance at the upset, but it's not going to be good for upside FF production, that's for sure. We will get into all that in the next section.
Fantasy Player Notes…
 -- Perhaps the biggest news concerning these two teams heading into Week 17 is the Darrell Henderson injury (goes on IR) spawning a possible Cam Akers activation for Week 17. I didn't believe they'd do it, but then I saw Akers practiced in full on Wednesday and now I'm not taking it as so crazy.
I haven't a clue whether Akers will be active for Week 17…and then if he is, I don't know if he'd start…be there for emergency…split the time with Michel. I have no idea. Sean McVay will keep it close to the vest and leave the opponent guessing…as will the FF owners with Sony Michel (27-131-1, 1-4-0/1) and/or Cam Akers be left to guess.
If I have to make a projection, and I do, I'd say Michel for 70%+ of the touches. Akers for emergency use and maybe some 'blow the rust off' touches. I'd be worried about my Michel start and not confident enough to really play Akers – unless McVay comes out blathering that Akers is clear and starting and he's excited.
 -- Matt Stafford (21-37 for 197 yards, 1 TD/3 INTs) is perplexing…but that's been his whole career. He plays so well for a week or two or three, and you're thinking he's the best…then in a favorable matchup or big spot on national TV, he throws a bunch of bad/inexplicable picks.
In his last 7 games, Stafford has a (4-3) record with 14 TDs/9 INTs and one 300+ yard game in that span…after five of his first 8 games as a Ram with 300+ yards passing. As the schedule gets tougher, Stafford's effectiveness falls…shocking, huh?
I'd worry about his Week 17 at Baltimore, outside in December…but the weather will be unseasonably mild, and the threat of rain is reducing…and the Ravens have all their CBs dying off with injury (there's a reason Burrow dropped 500+ on them last week).
 -- If Stafford is going to be good for Week 17, then the receivers will go with him – and the Rams should attack the wounded secondary of Baltimore right from the opening bell.
Odell Beckham (4-37-1/8) is going to score another TD Week 17…he has scored a TD in four of his last 5 Rams games.
The Ravens are in such a bad way that even Van Jefferson (1-6-0/6) deserves Week 17 Flex consideration over better WRs who are stuck playing in frigid temps this week elsewhere.
Tyler Higbee (5-41-0/6) has a good upside in all this, as the Ravens have been one of the worst defenses in the league against the TE all season.
 -- There's nothing new I can tell you about the skills or target trends of the Vikings receivers at this point, no new news from this game. The biggest news affecting the Vikings offense is the weather in Green Bay on SNF Week 17.
Cold beyond belief. It's going to hinder the offenses...it's gonna create problems gripping, throwing, catching passes…the further downfield the worse. It's not going to halt it all…but it will put quite a lid on upside, and it will create some underwhelming outputs.
Dalvin Cook is back for Week 17, and he may run the ball 25-30+ times in the mess…with a few screens, swings, shorter passes.
Justin Jefferson (8-116-0/12) is unbencable if he were playing on crutches, but he very well could have a 3-35-0/9 game Week 17 at the wrong time for you (or right time if you're opposing).
K.J. Osborn (5-68-1/7) will start in place of Adam Thielen. He'll see 4-8 targets and who knows how effective he will be off that. I like KJO sleeper hopes going in a dome more than the frozen tundra.
Tyler Conklin (4-41-0/5) isn't 100% going into this game (hamstring) and he faces all the frozen aspects of the weather on his performance.
Kirk Cousins (27-38 for 315 yards, 1 TD/1 INT) will be throwing in the bitter cold against a very good+ Green Bay secondary. You have to think more like 1 passing TD in this game than 2…more under 250 yards than a 300+ event for sure. Maybe under 200 yards passing.
 -- It's gonna be cold for MIN-GB, so side note…are you really confident in Greg Joseph (3/3 FG, 2/2 XP) having a big game? Maybe he gets 2-4 short FG attempts (which means MIN is moving the ball all over GB???) but do you think he's going to get any distance kicks in that weather? He'll be kicking a half a brick ball.
Joseph has been one of the top FF kickers of 2021, in part due to his 50+ yard shots this season…they likely get taken away here…and if MIN gets down and it's 4th & short in GB territory, are they kicking FGs…or 'going for it'?
 -- The Rams-DST has been 'meh' lately. They've allowed 23 or more points in five of their last 7 games. They held down JAX and SEA and gave up a lot of 'stuff' to SF-GB-TEN-ARI-MIN. Unless they face a garbage team, it's not a slam-dunk start. The Ravens will have Tyler Huntley back this week (Lamar likely out)…he's probably good enough there to push for 20+ points vs. LAR with his scrambling around and decent passer ways.
The Rams-DST isn't bad vs. Huntley Week 17, but it's not an obvious homerun.
Snap Counts of Interest:
68 = Kupp
67 = Van J
64 = OBJ
63 = Michel
05 = DHendo
02 = Funk
**College Football Metrics 2022…new season signups coming in January 2022**
The new season of CFM will be starting up in January, as always. A little different schedule this year as the NFL extended their season by a week and the Senior Bowl was bumped back a week as well. We should have a Senior Bowl, NFL Combine…it looks like it will be a normal scouting year!
The NFL Draft, Dynasty Rookie Draft, and regular season ahead rookie analysis all gets started through CFM in January with our usual season starter -- the past two years/2020-2021 Mock Rookie Draft re-do, along with in-depth Senior Bowl analysis, and full QB scouting reports and much more as we build towards the NFL Combine and all the other positional scouting reports. Football study never ends…
Thank you for your support of CFM for the past decade now…wow, time flies.