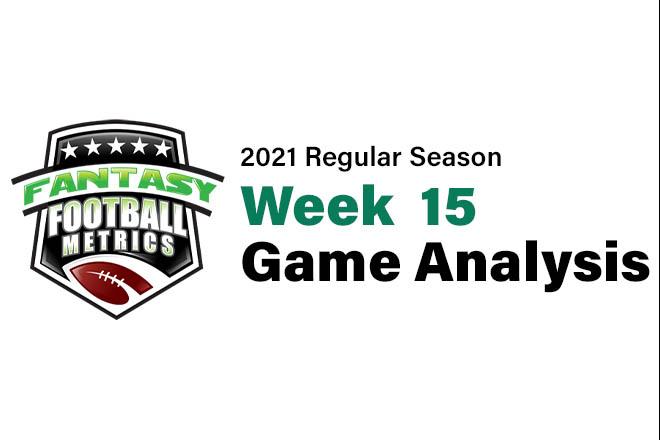 Ross Jacobs
FFM
24 December 2021
2021 Dynasty/Fantasy Game Analysis Week 15: Bills 31, Panthers 14 
This was a get-right game for the Bills. There's nothing particularly "wrong" with them really. They've lost 3 of their last 5 games to the Patriots, Bucs, and Colts. Those aren't bad teams.
The Bills aren't a weak team. They are a good but flawed team, as so many are. The biggest thing holding them back is the offensive line. They just are not a good group, and rookie RT Spencer Brown is the weakest link. They really need to get this addressed to have a chance in the playoffs.
I think because they completely crush some teams, we started to think they were better than they are. But they really remind me of the Bucs in a lot of ways. They demolish the weak but are susceptible to better teams, especially physical teams. Can the Bills win a Superbowl? Yes, with some luck. Are they the favorites? Absolutely not.
With the Patriots losing to the Colts this past week, the AFC East is suddenly wide open again. This game is massive. Win and the Bills should run the table to close out the season and get to 11 wins. Do that and they should win the division in tiebreaks. Lose and they are hoping for a wildcard.
As long as this game isn't played in a massive snowstorm, I think the Bills should be able to pull out a close win over the Patriots. It's going to be tight, but let's see if McDermott can pull out a tough win to finish. He has a tendency to fail in these big situations.
I wouldn't attempt to use the Bills defense this week against the Patriots. They have really fallen off hard since Tre'Davious White got injured, and they are particularly weak to power running right now, the Patriots specialty.
Not much to say about the Panthers. They are looking at 5-6 wins max. The defense is fine. They should be a top 10 group again next year. The issue for this team is the same as it is for most. Terrible QB and terrible offensive line.
In fact, the difference between the Bills and Panthers pretty much just comes down to the difference between Cam/Darnold/Walker and Allen. That's what an elite QB does for you, lift an otherwise poor team into the playoffs. I'm not so sure Josh Allen wouldn't be my choice for MVP this year. I know the team has been a mild disappointment, but if they can win out and take the AFC East I think Allen has a reasonable case to be made. He won't get it regardless, but he should be in the discussion. He does more with less than just about any QB in the league. I absolutely love watching him play QB.
Fantasy Notes
--Matt Rhule has already announced Cam will start again this week but that Darnold would play as well. It's just going to be a rotation to see if one guy gets hot. Hint: they won't. Both guys suck and don't have any time to throw behind this offensive line. Tampa is going to murder them. Do not start Cam. His legs have been helping him work for fantasy a bit, but Tampa is likely to squash him the way they squashed Taysom and now he'll be rotating in as well. It's just a bad situation all around.
--I guess Ameer Abdullah is the back to own over Chuba Hubbard? I mean, you don't really want either guy, but Abdullah is the only one catching dump passes and that's the only real path to points for the backs right now. Just avoid this backfield please.
--I cannot get a handle on this Buffalo backfield. One week it's Moss taking the lead, then Breida looks like he's going to get in for some ppr work, and now Devin Singletary (22-86-1) is the lone guy getting 20+ carries.
I've said all along he's their best back, and maybe McDermott has finally figured that out, but I doubt it. I can't find any info on why Moss was a healthy scratch here, but I'm guessing it's got to do with his play and some recent fumble troubles.
If we knew Singletary would be the sole guy against the Patriots, he might have some RB2 appeal, but I don't think you can count on that with any certainty. The plan is different every week seemingly at random. The only reason he even got 22 carries is because they were crushing the Panthers and could run the clock out late. That won't be the case against the Patriots. Unless you are really desperate I would just avoid starting Singletary this week.
--Josh Allen still looks as good as ever. His toe didn't seem to be bothering him at all, or if it was you couldn't tell. I'd expect a healthy dose of him running against the Patriots this week. His passing numbers are down because he has to get rid of the ball so fast, but he's still a QB1 because he scores so much.
--Gabriel Davis (5-85-2/7) has been a TD scoring machine the past few weeks in the wake of Emmanuel Sanders falling off. This is his 4th TD in the last 3 weeks and there's clearly a developing connection between him and Allen. He's shot up from a rotational guy to playing 85%+ of the snaps the past two weeks.
He's not the greatest receiver I've ever seen. Just an average athlete at WR. He was the lead guy for UCF in 2019 where he was a downfield playmaker for an explosive offense. Not much seems to have changed in the pros as he's averaging 16.2 ypc after averaging 17.1 as a rookie last year.
Again, he's not doing anything particularly special, but he is the established #2 WR for Allen now, and that means he's going to do alright for fantasy. Don't fight the TD's too much. He's drawing weaker coverage because teams are so worried about Diggs. His floor is around 5 catches for 65 yards each week (11.5 ppr) with chances at TD's. He's a solid WR3 to finish out the season with.
IDP Notes
--Yetur Gross-Matos (5 tackles, 2.5 sacks) had himself a nice game. I'm honestly not sure how it happened though. He was not noticeable at all. I only remember seeing one of his sacks and it was just a pure coverage sack, nothing he was doing. The Panthers pass rushers were teeing off on a bad Buffalo offensive line, especially against Spencer Brown, but Gross-Matos was the least impressive of the group. I don't think this is something that is emerging with him.
Snap Counts of Interest
40 = Abdullah
36 = Hubbard
63 = Gabriel Davis
58 = Stefon Diggs
32 = Cole Beasley