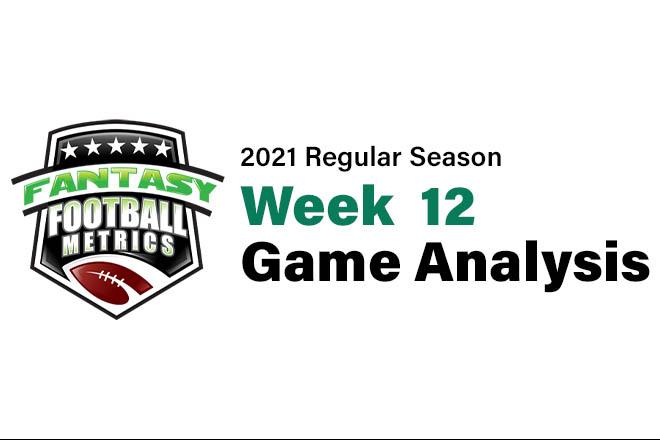 Ross Jacobs
FFM
05 December 2021
2021 Dynasty/Fantasy Game Analysis Week 12: Washington 17, Seahawks 15 
Weird game. Seattle was the first team to score a TD to take a 7-3 lead, but Washington would respond shortly before the half. Instead of taking a 10-3 lead however, Seattle blocked the extra point attempt and returned it for a 2-point conversion to give us a 9-9 tie.
After the half it was all Washington until the final minutes when Seattle would fail a conversion to tie the game, then the onside kick attempt was overturned after it appeared that the Seahawks had recovered it.
Washington has now won 3 in a row to get to 5-6 with some hope still alive to take down Dallas for the division. They have 5 divisional games left including two with Dallas, so things are still very much up in the air. I'm guessing they don't have enough firepower to beat Dallas out, but it's a scrappy offense and the defense has been improving the past few weeks. They've held their last 3 opponents to a combined 55 points (18.3 ppg). If they can keep that up they might have a chance.
This loss drops Seattle to 3-8 and their season is over. It was over from the moment Wilson injured his finger. So how does Pete Carroll respond? By signing Adrian Peterson to quote "help them win now." Somebody needs to explain the situation to Pete I guess.
One of two things is going to happen in Seattle this off-season. Either Carroll is fired or Wilson leaves in free agency. My guess is Carroll is fired. That's the easier, more digestible move for PR. But if they trade Russell and then go on a losing streak for a few years with Pete it's going to get the entire front office fired. They can't afford that. If the situation can be salvaged with Russell it will be. They'll give him near full control to bring in whatever coach or players he wants. Prepare for a bumpy off-season Seahawks fans.
Fantasy Notes
--Damn you RC. You talked me into trading Antonio Gibson (29-111-0, 7-35-0/7) a few weeks ago right before Washington decided to recommit to making Gibson their version of McCaffrey. I can't say I honestly blame you though. Up until that point all the signs were that Gibson was being phased out, he might be shut down..etc. And then magically he starts getting 20+ touches a game. You can't plan for wild swings like that.
Unless something changes I don't foresee this slowing down. This is the kind of work I was hoping for when I drafted Gibson. He's the discount version of McCaffrey or Taylor right now. All the workload but with a bad offensive line and offense so he's not very efficient or scoring much. When he does though it's going to be sweet. Gibson very well might win some leagues on this final stretch of 6 games.
*RC NOTE: Damn me, too…
I take full responsibility. Isn't that what high-profile people guilty of something say to appease everyone? Can I say, "It's not who I am?" Would that work? No? It's OK, I'm not sorry...I mean, I'm sorry this didn't work out (like people caught in stuff are sorry...yeah, they're sorry they got caught) but I'm not sorry for making the move for what I believed to be coming. 
I thought Washington was dead three weeks ago, no way they ever get back in the playoff race, they just lost Chase Young, one more loss likely would have prompted a further Gibson shutdown and then possible full shutdown to get his fractured shin healed -- instead they beat Tampa Bay, returning Cam/Carolina, and then returning Russ/Seattle. I didn't think they'd win more than a game in this stretch, instead they mowed it all down (kinda, could've lost the last two). 
I played the Gibson card betting against Washington ever in the playoff hunt. They did the opposite, and now I'm burned by Gibson moves I made just ahead of a quasi-breakout. Rewind the universe back to Week 9, their bye week before the Tampa game, let's play these games all over again -- I'd bet against Washington and Gibson all over again. 
Sometimes you hit on '12' and draw a face card. 
--Logan Thomas (3-31-0/6) is back and right back into his old role. By now a lot of people will have forgotten about him so he might be available on waivers if you need a TE. Thomas is as good a shot as any. I like his volume and situation to be a top 3-5 TE the rest of the schedule.
--Curtis Samuel returned too but wasn't thrown right back into his #2 role immediately. It was likely just an attempt to ease him back into things. Look for his role to grow the next few weeks. Don't think he's redraft usable yet, but we might look up in 2-3 weeks and he's a WR2.5-3 option especially if the staff starts to give him some carries with McKissic out.
--There was a lot of ink spilled after this game about the Seahawks not getting the ball to DK Metcalf (1-13-0/4) more and quite frankly it's justified. There is no excuse for not throwing a pass to your best player for an entire half and only 4 for the entire game. DK is one of the most physically dominant players in the entire league. Manufacture something. Throw him a screen. It's really not hard. After the outcry here I would expect a big game coming for Metcalf against the 49'ers this week.
--It should go without saying, but please do not pick up Adrian Peterson. He got cut from Tennessee for a reason. There's nothing left. And he's certainly not walking into the worst offensive line situation in the league and making it better. There's no hope for any RB behind this sad excuse for a line. Alex Collins is done now too if that wasn't obvious.
--I hear lots of consternation about Russell Wilson (20-31 for 247 yards, 2 TD/0 INT) right now, but I don't see much wrong with him. He overthrows the occasional ball high now, likely a lingering effect of the finger injury, but the biggest issue is the line isn't giving him any time to throw. That isn't getting fixed anytime soon. Wouldn't be surprised if we see Russell take off in fantasy over the last few weeks though as the coaching staff unleashes him to throw every play in a desperate attempt to save their jobs. Watch.
*RC NOTE: Our internal metrics have only the Denver Broncos as a worse pass protection O-Line than Seattle. This Russ 'issue' and DKM target problem -- it may not get fixed until they play a weak pass rush/secondary combo...and that doesn't happen until Weeks 16-17 (CHI-DET).
Snap Counts of Interest
28 = DeeJay Dallas
19 = Alex Collins
66 = Logan Thomas
48 = John Bates
57 = Antonio Gibson
33 = JD McKissic
3 = Jaret Patterson
76 = Terry McLaurin
61 = DeAndre Carter
32 = Adam Humphries
20 = Curtis Samuel