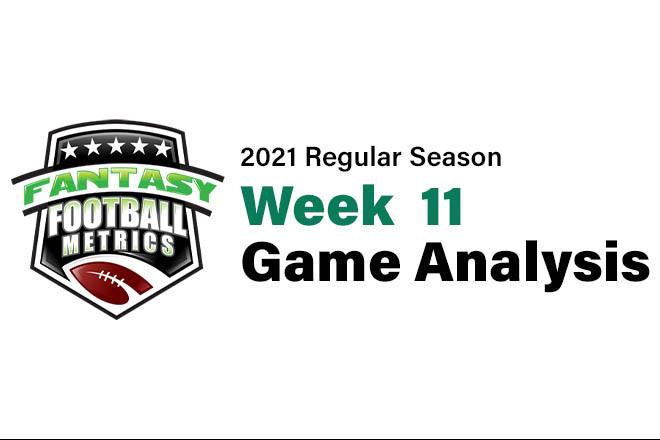 Ross Jacobs
FFM
23 November 2021
2021 DYNASTY/FANTASY GAME ANALYSIS WEEK 11: RAVENS 16, BEARS 13
What a strange game. The Ravens came in missing Lamar Jackson and Marquise Brown but still managed to pull out the win thanks to the late game heroics of Tyler Huntley.
Both teams fiddled around in the first half with Baltimore managing to come away with two field goals for a 6-0 lead. The Bears missed their lone attempt.
In the second half Andy Dalton replaced Justin Fields, who left the game with a rib injury, and promptly scored a TD on his second play after Darnell Mooney took a simple bubble screen through the entire Ravens defense for a 60 yard score. 7-6 Bears.
Baltimore eventually kicked another field goal to take the lead again, and with both defenses playing well it looked like the final score would be 9-7. However, with just under two minutes to go, Dalton found Marquise Goodwin behind the Baltimore defense for another long score. They failed the 2-point attempt. 13-9 Bears.
Tyler Huntley was left with 1:48 to navigate his team down for the necessary TD. He struggled with the Bears defense all day, but on this final drive he was able to find his receivers for a couple of big plays, and the Ravens scored with 22 seconds left to take the lead 16-13. The Bears attempted a few last deep throws, but Dalton was sacked on the final play of the game.
This was a huge win for the Ravens without Lamar. Lose and they fall to 6-4 with several difficult division games left to be played. But they pulled out a close win with the backup, so all is well for another week. They were definitely the better team here but easily could have lost it multiple times. I continue to hold my position that they are a very solid 10ish win team that could take it the distance if they get hot/lucky, but they are not a Superbowl favorite.
The remaining schedule is tough and they start the deciding games for the division next week against the wounded Browns. If Lamar is back you have to think Baltimore are the huge favorites as Cleveland is falling apart at the seams. If Huntley has to go I think he could pull out the game. I'll talk more about him below. Regardless, Lamar should be back as it's a reported illness that kept him out here. A week of rest should clear up whatever the problem is.
Chicago falls to 3-7 and their playoff chances are done if that wasn't already obvious. It's not a bad team except at QB. Fix that and this is a back end playoff team possibly. Unfortunately I think they are going to be stuck with mediocrity for a while as the media is blowing smoke up their asses about Fields being a franchise QB for the next 10 years. He wasn't even the best QB on the field in this game. That would be Huntley, who I would take over Fields 10 times out of 10.
Chicago draws the Lions on Thursday, and after how I saw the Bears attack Baltimore here, I would not bank on the Lions pulling an upset, even with Dalton starting. It wasn't a Huntley problem for the Ravens. It was a physical, energized Bears defense demolishing the offensive line problem. The Bears defense might get thrashed against stronger teams, but the Lions are the worst offense in the league, and I don't see them blowing out Chicago. If you're hurting for a defense to play then this is as good a streaming option as you'll find in my opinion.
Fantasy Notes
--Based on the score I assumed Tyler Huntley (26-36 for 219 yards, 0 TD/1 INT, 7-40-0) was in over his head, but after watching him I can confidently say that he looks exactly like he did in the preseason, like Lamar-lite. Huntley runs the offense well. He's accurate, knows where to go with the ball, doesn't take crazy chances, and can run around to escape pressure. His lone interception here was a complete fluke after he hit Mark Andrews in the chest on a dead run, but the ball bounced off Andrews and just hung in the air before falling right into a defender's chest.
Huntley is the absolute perfect backup for Lamar, and it's honestly hard to tell them apart at times. I'm not going out on a limb when I say Huntley is better than several starting QB's in the league, most notably Cam, Darnold, Jameis, Siemian, and Tua. If he has to start against Cleveland I think he'll do just fine and might even be a shock scorer for the week. There's no reason he couldn't have a stat line similar to Lamar, around 200 yards passing, a TD or two, and 50+ yards on the ground.
--Any Rashod Bateman (3-29-0/6) breakout may have to wait. He was just another option for Huntley here, although Lamar might be better for him because he tends to work his favorite players over and over. Huntley actually spreads the ball around more. Still don't think Bateman is breaking out on this low volume passing offense though. He's the 3rd option at best.
--Devonta Freeman (16-49-1, 6-31-0/6) is a sneaky play against a suddenly vulnerable Cleveland defense. He's looking a bit better and more spry every week. Still shouldn't be starting over Tyson, but that's neither here nor there.
--Andy Dalton (11-23 for 201 yards, 2 TD/0 INT) might not be the craziest play ever against the Lions defense, but I'd be awfully nervous after what I saw here. He was struggling, stat line be damned. Half his yards and both scores came on two broken plays, one a screen where Mooney did all the work, and the second a bomb to Goodwin who blew past Chris Westry on a double move. More than likely, Dalton won't be fantastic but he won't crap the bed either.
--David Mongtomery (14-58-0, 1-9-0/1) is back and looking as good as ever. I still want to know what he did to go from being a slug to one of the most explosive and agile RB's in the league. He's a fantastic start against the Lions this week and should be a solid guy to finish the season with despite the QB's giving him no help.
--Thank you Khalil Herbert for your services in giving this team a spark while Montgomery is out, but you are no longer needed. Be gone!
--I said it a couple weeks ago, it's just a matter of time until Darnell Mooney (5-121-1/16) breaks out. He's the number 1, 2, and 3 option for this passing game, and he's not in over his head. I just hate that he's saddled with Fields for the next several years. Note that while he had a big game, it came on a whopping 16 targets, and he only hauled in 5 of them through no fault of his own. Did I mention that these two QBs suck? They do. And it's not going to get any easier for Mooney. It's going to be up and down with him unfortunately, especially against the Cardinals and Packers the two games after the Lions.
--Don't even both with Marquise Goodwin (4-104-1/8). Half of his numbers came on the one 49 yard bomb at the end of the game. He isn't doing that again.
IDP Notes
--RC and I were both shocked to see Anthony Averett and Jimmy Smith inactive here as there was no mention of either until right before the game. RC speculated that perhaps Averett had been benched for Chris Westry (3 tackles, 2 pd), but I can't find any support for that idea. Apparently Averett came up with some kind of thigh injury very late. I'm guessing a bruise of some type. As long as it's not a quad he should be back next week.
The Ravens better hope so as Westry got absolutely toasted by Goodwin on a double move. He's an interesting athlete as a 6'4" corner with legit 4.35 speed and a 38" vert, but he's clearly still got a lot to learn about playing the position. He reminds me of Dallas's rookie Nahshon Wright, who I have been impressed with this year after being shocked by his early selection in the draft. Both guys could develop into really good corners in a year or two.
--Roquan Smith (17 tackles, 2 tfl) had another ho-hum day. That guy is a heat seeking missile at LB and has a strong argument as the best LB in the league.
--DeAndre Houston-Carson (9 tackles, 1 pd) popped back up here. He's played well since he got into the lineup full-time, although I rarely notice him during the game unless I'm specifically watching for him. He had a couple of nice, physical hits here to set the tone for the Bears secondary. Not a bad DB starter in IDP leagues, especially against teams that are run heavy.
--Robert Quinn (5 tackles, 3.5 sacks) feels like he's been in the league for a million years and somehow feels like a disappointment after how highly he was drafted, but he's been a consistent producer and one of the best players on this defense for years. Most weeks you can count on him getting 3-5 tackles and a good shot at a sack or two. He got 3.5 here to bring him up to 10 on the year.
Snap Counts of Interest
60 = Sammy Watkins
57 = Rashod Bateman
44 = Devin Duvernay
47 = Devonta Freeman
30 = Latavius Murray
56 = David Montgomery
7 = Khalil Herbert
54 = Darnell Mooney
42 = Marquise Goodwin
37 = Damiere Byrd
53 = Cole Kmet
19 = Jesse James
12 = Jimmy Graham