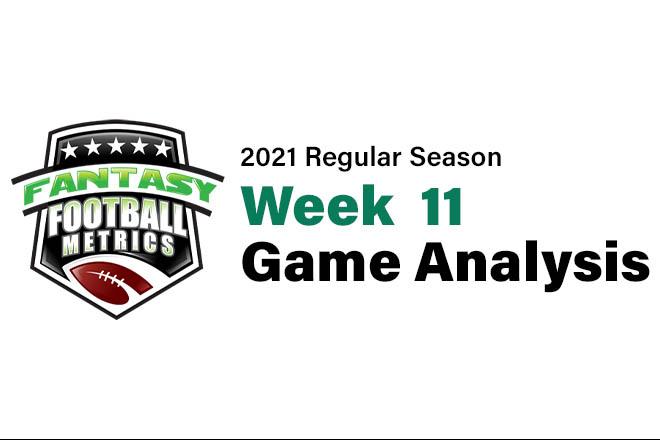 R.C. Fischer
FFM
23 November 2021
2021 Dynasty/Fantasy Game Analysis Week 11: Eagles 40, Saints 29
*With the Thanksgiving week schedule complexities of the triple-header, etc., the game reports this week will be less pontificating and more 'just the facts' on players/situations we need to consider for Week 12 and beyond. I'll be back to being a blowhard next week, I promise.
Three losses in-a-row now for the Saints…so, the media narrative is (laughably) "If only Jameis Winston was healthy!" Let them think that. This offense has been better with Trevor Siemian…so much better, but still bottom 10 in the league. But all that doesn't matter because the Saints defense is buckling, and their offense is garbage when Alvin Kamara isn't around…and worst of all, the Saints have dealt with the worst O-Line injuries of any NFL team in recent weeks.
If the Saints get healthy on the O-Line, and AK returns – this is a possible playoff team. The Saints are now (5-5) with two tough games coming up Weeks 12-13 with BUF and DAL. Their season may be about to end if they get swept. We think they will, and we project that they will finish with 8-9 wins and an outside looking in chance at a wild card. If they can win one of their next two, they should scramble their way into the wild card if they can get everyone back healthy for the final kick.
The Eagles (5-6) might look back on this win as the thing that got them to the wild card…and past NO to do with earning this tiebreaker. The Eagles have a much easier schedule ahead and are much healthier right now. We see the Eagles in the same projection spot as the Saints…8-9 wins in the end, and an outside shot at the wild card, but Philly, unlike New Orleans, holds many good tie-breaker wins.
Fantasy Player Notes…
 -- The reason why the Eagles won here…Jalen Hurts (13-24 for 147 yards, 0 TD/0 INT, 18-69-3) is a better QB than Trevor Siemian (22-40 for 214 yards, 3 TDs/2 INTs)…Hurts is also a franchise QB, the better-than Lamar Jackson style of LJax QBs (so, better than LJax, Cam, etc.).
Hurts is locked in now, the unquestioned starter/leader with an easy schedule stretch ahead – Philly will remain playoff viable the rest of the season, so rip up those Gardner Minshew lottery tickets. The Eagles, by design, are terrible on offense…but it's just that Hurts can put this offense on his back and put-up points/win games (a la Lamar).
Hurts is a top five QB1 projection the rest of the way with no fears of the media/fans calling for his head loud enough to push Howie Roseman to make a change.
Siemian has been a solid placeholder, but the Saints have been getting down in games, and then scoring a bunch (too) late to make it close/have a chance to win even…but they never do. Siemian on purpose is not taking the Saints very far. They should change the game by going to Taysom Hill, but I think Sean Payton is dug in on proving he was right to make the call for Siemian, so he's not going to change. For FF, it means that what the offense has been doing of late…is what they are going to do going forward – getting down early, when it counts…put up points/yards late against prevent Ds and lose games. If Payton hasn't seen enough to realize Siemian is an issue for wins by now…then he ain't gonna see it.
 -- Since this is the way (Siemian) the Saints are going to go down with the ship on, then the targets and passing game output will continue as it has…
Marquez Callaway (1-26-1/4) will be an underutilized WR3-4 that has to score a TD to matter.
Deonte Harris (2-11-0/50 is a random WR3-4 who could break a big play to have a spike WR2 week. There is no push or move or ability by Siemian to take Deonte to the next level.
Tre'Quan Smith (5-64-0/8) is Payton's guy, and where the targets have been going of late…so, Tre'Quan will be my top WR projection on the Saints this week, a generic WR3-4…and I can't stand him, and don't want him against BUF or DAL ahead, so not touching.
Nick Vannett (1-20-0/1) will be the 'winner' from the Adam Trautman (5-58-1/8) injury…and Trautman's spike here was only due to a terrible Philly defense against the TE. Vannett is a TE2 who might get a TD here and there.
Mark Ingram (16-88-0, 6-25-0/8) is an RB1 with AK out…and an RB2-3 when AK comes back in to be an RB1. I think Kamara is very much in doubt for the short week game on Thanksgiving Day this week.
 -- The Eagles backfield is predictable going forward. I'll spare you my howling about the injustice of Miles Sanders (16-94-0) stepping right back in and stepping over/on Jordan Howard (10-63-0) and Boston Scott (6-16-0, 2-2-0/2) to full prominence. Just know…it is what it is. Sanders is their guy through thick and thin.
Sanders will see 20+ touches this week, I bet…with Howard hurt/out this week. Scott will play a very minor role in support. Sanders is an RB2 with high touch count, lower TDs, low targets typically (unless Philly is down, but their schedule ahead says they won't be chasing as much, rather they be the ones chased).
 -- Dallas Goedert (5-62-0/8) signed an early contract extension last week, so Tyree Jackson (0-0-0/1) becomes a nobody for the next few years…a fun 'weapon' they trot out every so often in the red zone, etc., on a low volume passing team.
I love the potential upside of Tyree, but for FF purposes I'll start looking at other prospect TEs who are actually going to be desired by the staff and works in a higher functioning passing game. If Goedert gets hurt, then it's a scramble drill into Tyree…but otherwise, he's likely doomed for years of waste ahead.
 -- Two IDP notes…
T.J. Edwards (10 tackles, 1 TFL, 2 PDs) got a contract extension as well…he seems to be the new man-in-the-middle for Philly. This extension was a big statement to that fact.
It's a risky, odd move. Edwards was OK-not-great most of this season, playing 30-50% of the snaps. He moved to 90%+ snap starter the last three games, really he's been pushed the last four games…in which he has averaged 11.0 tackles, 0.75 TFLs, 0.75 PDs per game in those four games. It's a nice spike, but Alex Singleton (6 tackles, 1 PD) has had big spikes in tackle counts too but has some holes in his game otherwise…so does Edwards, but Edwards is getting the commitment so he's going to be a full starter ahead, good for IDP purposes.
Marcus Davenport (10 tackles, 1.5 sacks, 1 TFL) is the guy who is playing like he should get one of those early contract extension deals any day now. Davenport keeps getting better, and the price keeps going higher for his contract, I suspect.
His last 3 games: 6.3 tackles, 1.5 sacks, 1.3 TFLs, 2.7 QB hits per game. And he looks great doing it. He's a DL1 now, a high-end one for heavy sack scoring leagues.
 -- The Eagles-DST is gelling a little bit…they were crushing the Saints but allowed a bunch of garbage late to make it look worse than it was. 18.8 PPG allowed by this defense the past four games. They beat up Goff-Teddy-Siemian in that stretch.
If the Eagles are getting over on bad QBs, then their schedule ahead is DST1 worthy…
Week 11 = at Dan Dimes
Week 12 = at Flacco?
Week 13 = bye
Week 14 = Heinicke
Week 15 = Dan Dimes
Week 16 = Heinicke
You can start them every week but the Week 13 bye. And the Eagles are back in the playoff hunt, so motivations should be there to the end.
Snap Counts of Interest:
36 = Sanders
29 = Scott
13 = JoHo
62 = Tre'Quan
50 = Callaway
27 = Deonte
26 = Stills
47 = Ingram
10 = Tony Jones