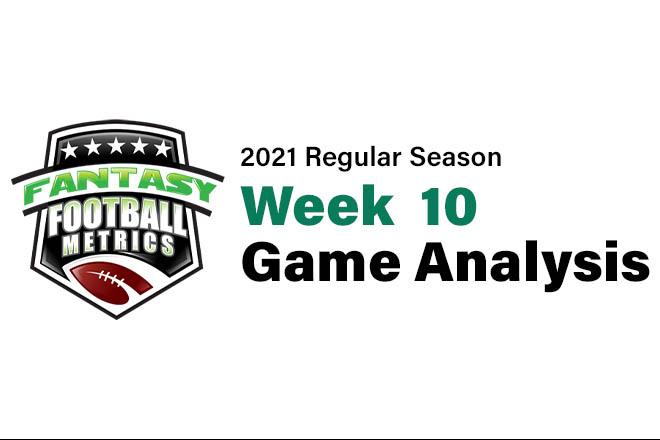 Ross Jacobs
FFM
20 November 2021
2021 Dynasty/Fantasy Game Analysis Week 10: 49'ers 31, Rams 10 
This is one of those games where the underdog very clearly outplayed the favorite, but at the end of it all you still have the feeling that most weeks it probably would have gone differently. The 49'ers jumped out to a nice lead early in the game after a Stafford pass went right through the hands of Higbee and Jimmie Ward found a nice gift waiting right in his arms that he then took back for an easy score. 14-0 SF in a flash and the Rams could never close the gap enough after that.
SF scored 24 offensive points here, a good total, but not as impressive as 31 on the Rams sounds like. The real story was how well their defense played, and I'll get to that, but just note that they were aided by a lot of drops by the Rams, some timely penalties, and a healthy dose of good luck. I don't think this is suddenly a top 10 defense.
The thing that was impressive about the SF defense was how physical they played. They really punched the Rams in the mouth over and over and just physically dominated them. It's the same issue I talked about with the Rams last week. They are a soft team. They want to play finesse ball and let Stafford throw from the comfort of a clean pocket to receivers running wide open in the secondary. If you take away their space by crowding Stafford and getting physical with the receivers then you can get these types of games out of them where things are just a little off.
Credit to the 49'ers. They are a physical football team, and now that everyone on offense is healthy (for the moment) they are playing some solid football. This healthy version of the team is actually pretty good, a .500 ish squad or maybe a little better. They are 4-5 after this win and have a rather easy schedule the rest of the year. They should win at least 4 of their last 8 games and possibly 5, 6, or 7 if they stay healthy and start rolling. 5 or 6 sounds about right though. That would get them to 9 or 10 wins and a possible late wild card spot for the playoffs. Add all of this up and unless Garoppolo gets hurt, we aren't seeing Trey Lance this year.
On the Rams very first drive of the game I think we saw the seeds of a coming problem.
The first pass Stafford threw was to OBJ, a nice timing out route, no big deal. However, a couple of plays later Stafford held the ball for an eternity because nobody was open and then heaved a wild pass to the middle of the field into double coverage after OBJ just stopped running.
Normally, I make fun of Troy Aikman every week, but even he can see the issue here. The Rams just brought a cancer into their locker room, a selfish, overrated cancer. You don't think he is a cancer? Check out this article about how OBJ was hung up on signing with the Rams because of a jersey number. Yes, he really is this ridiculous.
https://profootballtalk.nbcsports.com/2021/11/14/number-issues-reportedly-slowed-deal-for-obj-to-rams/
Because of media pressure and this idea that OBJ is still some megastar receiver despite multiple years of production showing he definitely is not, Stafford and the Rams are now being pressured to target OBJ far too often.
OBJ was only on the field a handful of snaps in this game because it's going to take some time for him to learn the playbook, getting comfortable, etc, but what happened during those few plays is foreshadowing very clearly where this thing is headed and it's not a good place for the Rams. I'm not saying they are suddenly a bad team because of OBJ. What I am saying is this addition isn't going to take them to another level and will very likely drag them down a notch, not a ton, but enough that they aren't winning this division over the Cardinals.
Other than that I thought the Rams played ok, not as bad as the score said. They tried a fake FG that failed miserably early in the game and just looked out of sorts all night. It's actually very similar to the slump we just saw the Chiefs go through, a lot of it was just penalties, drops, bad play, but also just getting out muscled by good defenses. I think they'll bounce back a little. The schedule ahead is pretty rocky though, not a lot of soft teams to beat on, so things could get rough down the stretch. This team is talented though and can beat anyone on any given day. I bet they end up somewhere around 10 wins and snag the 5th or 6th seed in the NFC.
Fantasy Notes
--Let's start with Elijah Mitchell (27-91-0) because he's key to a lot of FFM teams right now. This game highlights the problem I've had with Mitchell all along. I know he's the bell cow. I know he's going to get decent yardage. I also know he's not getting any catches and not a lot of TD's. I've seen this too many times with Shanahan's RB's in recent years. It's great for the team but not so great for fantasy.
And now Mitchell is hurt again because of course he is. It's been mostly fluke injuries for him so far, but this already has the feel of another Raheem Mostert. "But he's soooo good when he's on the field." Yeah, well you have to be available or it doesn't matter. Just ask CMC owners.
To me, Mitchell is a redraft only play. I want no part of this mess for dynasty. He's already had too many injuries on a team known for injuries, Shanahan is notoriously fickle with his RB's as we've seen a million times (most recently by completely burying Trey Sermon), and next year Lance is going to siphon off even more rushing TD's. RC might disagree, but I'd hold Mitchell for now, use him this year, let his value rise and sell him off when he's being seen as a future RB1.
--On the live watch I had the impression that Jeff Wilson (10-28-0) was more involved than he actually was. He took 3 carries on the opening drive, but it really tailed off from there. Most series he would come in to spell Mitchell about every 3rd or 4th carry. Decent numbers but it's still very much Mitchell's backfield when healthy. With Mitchell out this week though Wilson becomes an interesting play against the Jaguars. I think a lot of people might be in for a surprise though as the once vulnerable Jags run defense has suddenly become a lot more stout in recent weeks. This might not be as juicy as it would have been a month ago.
--One of the worst calls RC and I have made this year might be to sell high on Deebo Samuel (5-97-1/5, 5-36-1). I don't know how he keeps doing it, but it seems like every week he gets some fluky long TD where three guys miss tackles on him. I guess you keep riding it, but I'm still nervous about this going forward. Kittle and Aiyuk are healthy again and this isn't a high volume passing game. I'm afraid Deebo is about to go from the 2nd best fantasy WR to more of a back end WR1 or WR1.5. Of course we've been saying that for weeks and he keeps on proving us wrong so I wouldn't blame you for ignoring us on this one.
One thing that could help keep his fantasy numbers up high is if he keeps getting the number of carries he got here. 5 carries for a WR! Why multiple teams don't do this every game I'll never understand. It's a nice wrinkle for the defense to have to worry about. Of course, Deebo didn't have a single carry in his three previous games, so I wouldn't run off a cliff assuming this is the new norm. Let's see what they do with it next week.
--George Kittle (5-50-1/7) has been excellent since returning from injury. He looks like his old self and is finally scoring TD's again after a long drought. Only injury can stop him from being a top 5 TE the rest of the year.
--This game also showed the problem with Brandon Aiyuk (3-26-0/4) and why you can't get too excited about him (and could/should be nervous about Deebo). There's just not enough stats to feed everyone. Someone will get left out most weeks and Aiyuk is the 3rd option so it's usually going to be him.
--Don't worry too much about Matt Stafford (26-41 for 243, 1 TD/2 INT). One of the INT's here was just a complete fluke. The schedule is a bit of a concern, but I think they can fight through it enough for Stafford to remain a high end QB1. The biggest concern though is OBJ and how often they try to go to him. If this does get out of control then Stafford will burn with him, but if they can just rotate OBJ in a little and keep running the offense through Kupp and Henderson then they will be fine.
--Speaking of Darrell Henderson (5-31-0, 4-10-0/6) don't worry about him. The Rams won't be down this much most games. They were forced to completely abandon the run here. Just game flow. I like him to continue as an RB1 although more in the 6-12 range than top 5.
--Van Jefferson (3-54-0/7) I'm not sure about yet. He got 7 targets here as the #2 WR behind Kupp, but how long that lasts I'm not sure. I want to say he'll stay in the Robert Woods role because he's the better option, but we all know how these things usually go. OBJ wasn't brought in to play nice behind Jefferson. Hold Jefferson for now if you have him, but I honestly don't believe his situation has changed much at all. He'll be intermittently useful but not consistent.
IDP Notes
--Rookie safety Talanoa Hufanga (3 tackles, 1 pd) has been flashing since the preseason. He's a guy I've had my eye on as he was very impressive early in the year, and it was obvious he would be starting very soon. He's been the full time starter the last 3 weeks, and while it's not showing up in the stats yet (mostly because Warner and Al-Shaair are incredible tacklers), his presence has not gone unnoticed. It was his physical player here blasting some receivers that really helped set the tone for the SF defense. Not IDP useful yet, but he will be at some point in the near future.
Snap Counts of Interest
55 = Cooper Kupp
52 = Van Jefferson
42 = Ben Skowronek
15 = Odell Beckham
41 = Darrell Henderson
14 = Sony Michel
61 = Brandon Aiyuk
49 = Deebo Samuel
36 = Elijah Mitchell
22 = Jeff Wilson