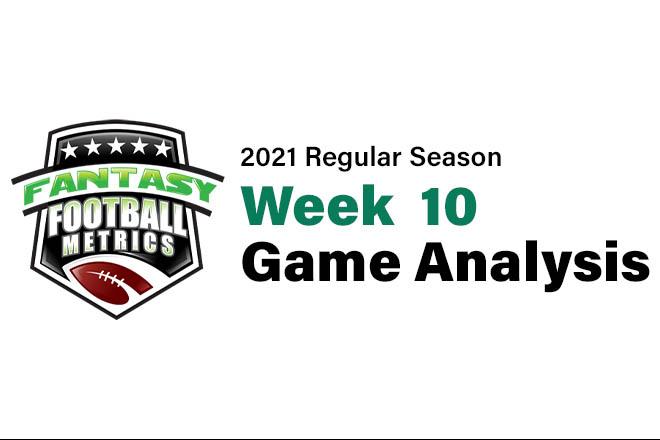 R.C. Fischer
FFM
17 November 2021
2021 Dynasty/Fantasy Game Analysis Week 10: Patriots 45, Browns 7
The Browns got the ball first here and drove right down the field but stalled a bit near the goal line. Three goal line plays all thwarted, 4th & goal from the 2-3-yard line, they went for it…and got a toe-tap TD catch and took a 7-0 lead on a long, clock consuming drive. And I was SO pleased with my best bet of the week (CLE +2.5) watching it happen live Sunday.
The Patriots answered with a TD on their first drive…and then went on to score the next 45 points unanswered in a total beatdown of the Browns. Nice, best bet! Friggin' Browns, I'm on the wrong side of them every week this year.
I think this is the dagger in the heart of the current Stefanski-Browns now and forever (under Stefanski). The Browns are wanting, trying to be the northern climate team that plays to their surroundings – trying to run the ball down people's throats, work an efficient play action pass game off that, and have a tough-minded defense…throwback football. Well, the Patriots just took what the Browns want to do as an organization and beat them over the head with it – the Pats have a better run game, a better play action passing game, and a tougher defense. I think the Browns season and supposed 'team of the future in the AFC' label just died right here, right now.
The AFC North is filled with sloppy-good teams, so maybe the (5-5) Browns can get to 10 wins, or even 9, and somehow steal the division…but I don't think so. They had their heart ripped out here and Baker is hurt, and this whole feel-good story is swirling down the drain. We see the Browns getting to 9 wins in the end and then trying to win the division through tiebreakers, but they might get to only 8 wins and finish last in this division.
The Patriots are 'back'…kinda. They are winners of four in-a-row and have scored 25 or more points six straight games. They're 10th in the league in PPG scored this season, but top five in PPG over the last six weeks. No more roasting Belichick from me. Never bet against Belichick is back on. Kinda.
Now, we do need to note…the list of wins/QBs the Pats have beaten is not very impressive, by and large – but they are winning, now dominating weaker teams…and that's all you can ask for. The Pats are (6-4) and if they can go to Buffalo Week 13 and win…they might steal the AFC East. I'll bet they don't, and they go on to finish with 9 wins and are in the wild card hunt (with wins over CLE and LAC to help their case). Finishing with 8 wins and out of the playoffs is possible, as is 10 wins and very much in as a wild card. Weeks 12-13 vs. TEN, at BUF will tell us a lot about really good (or not) the Pats are right now.
Fantasy Player Notes…
 -- Rhamondre Stevenson (20-100-2, 4-14-0/5) just ran over a pretty good run defense here. Stevenson willed his way to yards, running through and over people. He's carved out a role with the Pats, when Damien Harris returns.
It will likely be a hot hand, RBBC with the intent being 60-40 Harris/Stevenson, with Brandon Bolden (3-32-0, 3-38-0/3) sprinkled in as well. But the distribution can/will change as the game flows. It's perhaps the best three-headed monster attack in the NFL, and they are getting their O-Line back healthy at just the right time.
Stevenson should see 10+ touches per week and be a legit RB3 with upside every week.
Harris should be 10+ touches per week; maybe more 12-14 touches with limited pass game work.
Bolden will get 2-4 carries, 2-4 targets each week providing some relief.
They all look really good. They could RB1s on their own with all the touches/not sharing, but Belichick is the master of RB rotations and matchups, so it will be unpredictable week-to-week, because BB is smart about keeping opponents guessing.
 -- D'Ernest Johnson (19-99-0, 7-58-0/8) made a statement in this game…more so then when he became a media discovery a couple Thursdays ago. When everyone on the Browns seemed to quit in this game, Johnson ran like his life depended upon it. He was just as good as the Stevenson-Bolden goodness on the other side.
D'E-J got on the map a few weeks ago, for the NFL…this game gives him real hope at a career/future. Cleveland can look to trade Chubb or Hunt in the offseason and sign DE-J cheap and use him as part of the duo. You'd think Hunt would be the one to go, but he is the heart and soul of this team on offense, in my book.
If I know the NFL, however, it's likely D'E-J will get pushed to the back of the line behind Chubb-Hunt and be a ghost until his 2023 free agency. But there's at least some pressure on the Browns to have to do something different with this backfield for 2022 – they will have to tender Johnson (a restricted free agent) higher than they would have expected.
The Browns have a ton of payroll tied up in RBs, potentially, for 2022. In 2022, Hunt will be getting $6M+ for the final year of his deal. Chubb has a 2022 friendly deal at $5M+ ($13M+ in 2023). Still, that's $11M in two RBs and D'Ernest may command $2M+ as a restricted free agent? It's a lot of money at a position most NFL teams have $3-5M or less in per year combined for their backfield (like the Patriots).
The Browns will likely go Chubb-Hunt 2022. Sign D'Ernest for 2022. Let Hunt go 2023. And pay D'Ernest to be the new Hunt with Chubb in 2023. That's a long way away for D'E-J Fantasy relevance…
 -- Baker Mayfield (11-21 for 73 yards, 1 TD/1 INT) isn't looking 100% healthy but he's trying to grit it out. I wouldn't be shocked if they shut Baker down for a few weeks. It's not a big FF-deal if they do, just things aren't going to get better with Case Keenum (8-12 for 84 yards, 0 TD/0 INT) in the interim.
Baker is set to make $18M on a 5th-year option in 2022. I suspect they will keep him on that deal while drafting another QB in 2022 to replace him in 2023 when he's an unrestricted free agent.
Baker better sign with the Browns now, for whatever he can get…and not play games. If he hits the open market, in this era…he may be shocked to see no one really wants him as their starter, especially not having to spend money on it.
 -- Donovan Peoples-Jones (1-16-0/5) is showing he's not ready to be a #1 NFL WR. Not yet. Maybe someday, but he's never been an alpha and now he's thrown into it, so J.C. Jackson ate him alive.
DPJ will have moments ahead, but this is a weak passing game so I'm over the high FF-hopes on him already. It seemed like a great thing until your realize he's never been a #1 anywhere…now he is, kinda, in a bad passing game.
Bryan Edwards has been a #1 alpha, so I have more hope for him that he'll break out eventually. DPJ…I'm not sure he's got 'it' for #1 duty right now. Talented, a nice #2…not a #1…not a WR1-2 for FF. He's a random WR3 in this stunted offense where the weather is about to turn.
 -- Who is the Patriots WR to own?
Week 5 is when the Patriots really took off on offense. Let's see what the targeting has been for the receivers since then:
19 rec. (24 targets), 339 yards, 2 TDs, 55 yds rushing, one 25-yd pass TD = Bourne (12.6 PPR PPG)
23 rec. (35 targets), 237 yards, 1 TD, 00 yds rushing, no passes = Meyers (10.5 PPR PPG)
11 rec. (23 targets), 191 yards, 1 TD, 1 yd rushing, no passes = Agholor (6.0 PPR PPG)
The move is towards Kendrick Bourne as the top WR here, FYI.
 -- In that same span, Hunter Henry (4-37-2/4) has been a stiff-running TD-maker…
17 rec. (24 targets), 212 yards, 6 TDs, no rush or passing = Henry (12.4 PPR PPG)
It's working, don't fight it…especially for non-PPR.
 -- Mac Jones (19-23 for 198 yards, 3 TDs/0 INTs) in that same span (since Week 5): 9 TDs/3 INTs with just 220.2 passing yards per game. Efficient but low-end QB2 type work.
He looks fine. He's doing Mike White, Case Keenum, Colt McCoy type of work -- stable game manager, but he's better at it/more talented than those guys…but he's still a game manager for FF purposes.
 -- I've tried to promote this Browns defense. They look great one week, and then dreadful the next. I'm going to bail out of thinking they're a top 5 NFL defense for the time being. They're good…nice in good matchups for FF. Nothing more. Any offensive resistance, and they wilt.
 -- The Patriots defense is looking better and better, but they've basically gotten over on ZWilson, ZWilson, Darnold, and wounded Baker without Chubb/Keenum. Let's not rush them too high up in reality – but at ATL Week 11 should be nice, the trouble the rest of the way until Week 17 v. JAX.
Snap Counts of Interest:
37 = Rhamondre
18 = Bolden
13 = JJ Taylor
50 = DPJ
47 = Landry
26 = Higgins
48 = Meyers
47 = Agholor
35 = N'Keal (wow, didn't know this…he did nothing however)
29 = Bourne