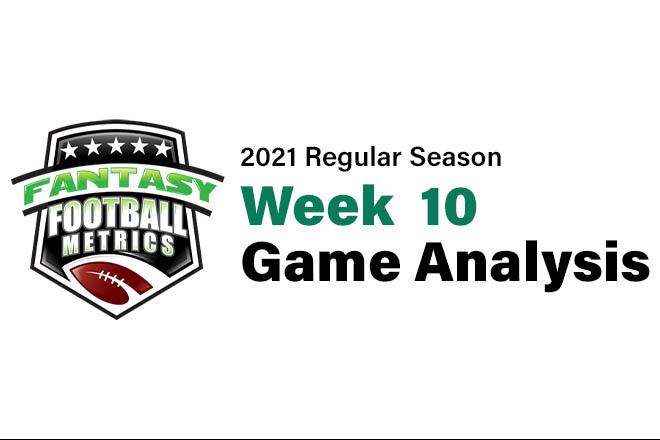 R.C. Fischer
FFM
18 November 2021
2021 Dynasty/Fantasy Game Analysis Week 10: Washington 29, Buccaneers 19
My memory from watching this live Sunday (among all the other games at the same time): Washington really played tough, and they flustered the Bucs, and I thought maybe the WTF's (or WFT) are turning a corner and Tompa is falling down?
My reality from rewatching the game this day: Washington caught SEVERAL breaks early, got the momentum, Tampa started to press, the bouncing ball and BS penalties hit at the worst times and Washington 'stole' this from Tampa Bay. We're starting to see this type of 'shocker' once a week or more now in the NFL now – it's a game of inches…no, it's a game of BS penalties too often. Can we please get instant booth reviews on roughing the passer and pass interferences?
The game announcers, the fans, and Bruce Arians were HYSTERICAL about Tom Brady's two interceptions in the first quarter. His first one was a simple completion to a checkdown WR…a WR that corralled it and went to turn up field at the same time coverage reached around and tackled the ball and it popped out right into the sky, right into a DB hand's who was coming in for the tackle. That play was a one in a million sequence of events.
The 'terrible' Brady interception set up Washington with a short field and an easy field goal, after they kicked a field goal on the first drive…6-0 Washington. Soon after, Brady was in the pocket trying to throw to a short crosser to Mike Evans and pressure came close and Brady adjusted to throw over it and he sailed the pass 5 yards over Evans' head and right to an awaiting DB. This set up Washington at midfield and they drove down and hit on a TD pass…13-0 Washington.
The rest of the game, it seemed like the Bucs would take back control any moment, but they dropped passes at the wrong time, and on defense when they'd halt a drive they'd get a bad/questionable penalty to extend the drive…and the Bucs dropped at least two picks throughout the game right in guy's hands. Despite all that, Tampa Bay closed it to 23-19 with 11+ minutes left in the game…and you just knew they'd come back to win.
But they didn't.
More BS penalties, and Washington playing tough and Tampa pressing and credit the WTFs…they held it together and won the game. Washington played a solid game, got way more breaks, and snuck out with a victory. We shouldn't get too high on Washington after, nor too low on the Bucs.
Wahsington is now (3-6) and clinging to playoff fantasies. They should go thumped by Carolina this week and then host Seattle on Week 12 MNF for their season/playoff lives. Washington is going to wind up with around 6 wins and they should throw in the towel on the season after Weeks 12 or 13.
Tampa Bay is now (6-3), losers of two straight. A not easy MNF game this week with NYG. The Bucs are not the best team in football by any stretch, but they will win 10-12 games and get back to the playoffs where…do you really wanna bet against Brady?
Fantasy Player Notes…
 -- Projecting what part of the season Washington might just throttle back on 2021 and start playing for 2022 is important, because I still believe they will look to pull back the reigns on/put on IR for the season with Antonio Gibson (24-62-2, 2-14-0/0) to allow him time to heal his fractured shin issue.
Jaret Patterson (4-7-0) was in on the first series again in this game, and Gibson could hardly find yardage when he ran (credit the TB run D…and a bad WSH O-Line)…but when Washington shockingly seized the lead early, Washington quickly went all in running heavy/managing clock with their big back Gibson against a topflight run defense…thus the 24 carries out of nowhere. Washington never trailed, so no RB rotation like usual…nor heavy hurry up with J.D. McKissic needed at all in this game.
This was a one-off event that I would use to sell Gibson as an RB1-1.5 this week. I see many capitalizing on this moment to trade Gibson like an RB1.5 this week in redraft.
I would rather have (for example) Rhamondre Stevenson or D'Onta Foreman for the rest of the season…two guys who play split roles but will score with (worst case) or out-FF-score Gibson working in the Washington offense. If that's true, I sell Gibson for good goodies on a high note…not dumping him, but selling high. He commands a good price this week…everyone's 'RBs are killing them' and they'll do anything to try and solve it for the moment…and a guy that just got 24 carries is just the panacea. You've owned Gibson all year (I assume) – you know what Gibson's touch counts have been this year. THEY don't. They just see last week's box score and have the perpetual 'RBs killing me' mindset at the forefront.
 -- The last two games for D'Andre Carter (3-56-1/6, 1-4-0)…
3.0 rec. (6.0 targets), 53.5 yards, 1.0 TDs per game
I'm a fan. He's been a quality WR and return man for years, but always gets screwed by the system that always picks him up for returns and as a reserve WR body (PHI, HOU, etc)…but then the team ends up starting him at WR at some point in the season and he does fine, but then is demoted back down for a returning fraud/draft stock WR.
With Terry McLaurin getting all the cover attention, Carter is playing the role meant for Curtis Samuel…and he's doing well enough with it and getting forgotten in coverage or working against the least DB on the opposing defense.
Carter also has 4 carries for 44 yards on jet sweeps as well this season. He's a kinda Agnew-Deonte lite WR3/Flex option. Deonte being the king of them, talent-wise. Agnew in the best spot for touches.
 -- Ricky Seals-Jones got banged up in this game and is very questionable for Week 11. Logan Thomas is still not even close to returning apparently. Rookie John Bates (3-25-0/3) may be about to take over the TE spot in full for a week or two.
Bates answers the question – what if Pat Freiermuth could block well but moved like he had cleats made out of cement? The Washington TEs have been TE1 flirts all season, RSJ or Logan…so maybe Bates can be Heinicke's Hunter Henry slow-ass TE TD look (with RSJ out)?
 -- Bucs DT Vita Vea (3 tackles, 1 TFL) changes this run defense when he's on the field. He's likely to miss Week 11…good news for NYG and Saquon/Booker/Dan Dimes.
 -- Washington played a very good, sound defensive game here…back-to-back good defensive performances. What's changed? Is it real going forward?
Well, once Montez Sweat and Chase Young got hurt/gone…suddenly Washington was stout on defense. Just spitballing: all these GREAT edge pass rushers might be hurting NFL defenses – all they the tend to do is put their head's down and try to get to the QB once a game to make announcers and fans rejoice, while they are complete zeros on the other 59 plays during the game…just guys running past the QB, and too often leaving wide open gaps to run through.
Washington is apparently better without Chase Young.
Every team has been better without Jadeveon Clowney.
The Chargers are better without Joey Bosa, because he's the master of doing that (running past the play constantly).
Yet, the NFL pays these pass rush guys millions and millions to fail on 98% of their efforts…and not only fail, leave gaping holes in their wake.
Where the real pass rush difference is in the NFL is – DT pass rushers and/or line movers up the middle. And yet, the NFL glorifies the sackers and downplays the line corrupters up the middle. You'd rather have Vita Vea than Chase Young, but not for the highlight reel scouting crowd you don't.
 -- Devin White (18 tackles, 3 TFLs, 2.0 sacks) was 'possessed' this game.
After a slow start to 2021, he's averaged 12.3 tackles, 1.3 TFLs, 0.67 sacks per game in his last three games.
Snap Counts of Interest:
46 = Gibson
28 = McKissic
05 = Patterson
48 = Mike Evans
46 = Chris Godwin
33 = Tyler Johnson
04 = Jaelon Darden
02 = Breshad Perriman
‍
31 = Leonard Fournette RB
14 = Giovani Bernard
‍
30 = Cameron Brate
28 = O.J. Howard