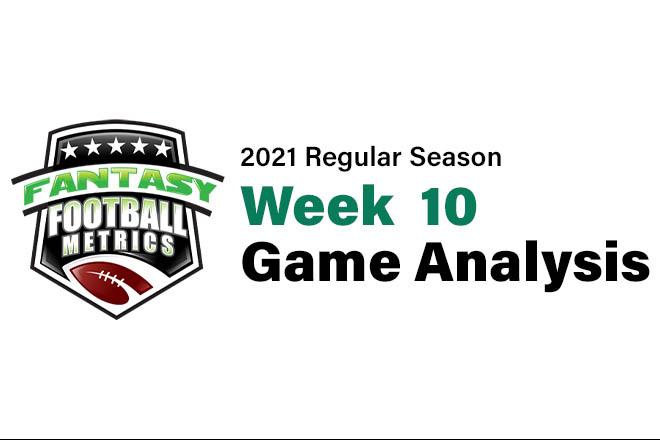 R.C. Fischer
FFM
17 November 2021
2021 Dynasty/Fantasy Game Analysis Week 10: Titans 23, Saints 21
Week 9, my favorite game to watch was the Giants v. Raiders because it was two solid teams playing all out. Two teams that may not make the playoffs, but you don't want to play them because they are tough and capable.
I feel like Week 10's version of that Week 9 game, only with better teams, was this NO-TEN game. Two physical/very tough teams that just pounded each other all game and it could've gone either way, but the Titans pulled it out in the end.
I'm not going to micro-discuss the awful penalties called in this game against the Saints, but this was bad officiating tipping an advantage to the Titans – but regardless of that, either team could've won. They're evenly matched, good teams.
The Titans jump to (8-2) with the win, winners of six straight games. They could've easily lost three of those 6 games, but they pulled them out with some luck in the end. The Titans are headed to 12-14 wins and a good chance to be the #1 seed in the AFC.
The Saints have now lost two in a row to fall to (5-4), and a not-easy schedule ahead. If the Saints lose at Philly this week…the Saints are in big trouble with BUF-DAL right after that. We project the Saints to beat Philly, then probably lose two more with BUF-DAL…and then collect three wins in their last 5 games to get to (9-8) with a chance at a wild card. Week 17 hosting Carolina might be their playoff in/out moment.
Fantasy Player Notes…
 -- The Titans backfield report…
D'Onta Foreman (11-30-0, 2-48-0/2) is CLEARLY the best RB the Titans have and he has become 'the lead' despite the fact that AP gets to 'start'. The Saints have a great run defense, so none of the RBs racked big numbers…but Foreman is clearly the best of the trio and is getting the majority of the touches.
Snap counts in this game:
21 = Foreman
20 = Peterson
16 = McNichols
Adrian Peterson (8-21-0, 1-0-0/1) has a very low (2.3) yards per carry so far in 2021 but watching him on tape – he can still 'go'/move, he just offers straight ahead running whereas Foreman is bigger, faster, better in the pass game and is a dump truck-sized RB slamming into tacklers. The low ypc here was more about the Saints great run defense than it was any AP age issues.
Jeremy McNichols (4-7-0, 1-1-0/3) is clearly the worst option of the three guys. He's totally flopped his chance to seize a bigger role in this backfield. He's mostly in for 3rd-down/pass routes and he dropped two passes in this game, one a tough catch but shoulda-been-caught TD. He looks very stiff as a pass catcher. Foreman may start honing in some hurry-up passing game action if he's not careful.
This will likely be a three-headed monster backfield right into the playoffs, but gimme Foreman as the one who could really break out as the strongest FF-piece at some point.
 -- There was another Titans revelation player here…WR Marcus Johnson (5-100-0/6). He looks like the Titans best WR…better than A.J. Brown (1-16-0/4) who drops every other pass in 2021, it seems.
I have said this before about Johnson…that he was the best looking WR for a team – it was with the Colts in 2019 for a week or two. He always impresses when he gets the chance, but then gets lost in the shuffle soon after…lost by me because he gets lost by his team's coaches. He has an opportunity to shine here with Julio out the next few weeks.
Marcus Lattimore shuts down Mike Evans every time they meet, but Lattimore could not hang with Johnson hardly at all. It was shocking to watch.
 -- Trevor Siemian (19-34 for 298 yards, 2 TDs/0 INT) is starting to flirt with danger on his passes (throwing into tight windows/near INTs)…but he's getting plenty of them through. He's playing OK, but I still say that when Taysom Hill (2-2 for 11 yards, 3-23-0, 1-15-0/2) enters the game at QB, everything changes for the better – the tempo rises, and Hill usually just runs for 5+ yards every tote.
If Siemian flops against Philly Week 11, and the Saints lose…Sean Payton will have a gun to his head to make a change going into the BUF-DAL stretch…because Siemian will get killed there.
I have a feeling a bad Siemian moment is about to happen…a 2-3 pick game and he loses confidence, and it spirals on him, and then Payton makes a desperate move to Taysom. If Hill gets this job, he's a better Cam Newton…a 4pts per pass TD QB1.
 -- Deonte Harris (3-84-0/4, 1-9-0) looked great once again, but still too low on snaps played (39%) and low targeting, but higher output. He also lost a catch near the goal line late in the game due to an illegal formation…it was a key catch and 1st-down conversion but wiped off the board…or he would have had 100+ total yards in the game with 4 catches…not bad output at all.
 -- Adam Trautman (5-32-0/6) looks terrible to me. Super stiff and ineffective. He got a bunch of targets (with TEN having two starting LBs out this game), but low output from them. He's unathletic. No one's three-cone is more of a lie than his (6.78).
A sweet matchup Week 11 at PHI, but I'm not sure he'll really be able to cash in. Juwan Johnson (2-36-0/3) might be the one to take advantage for a game/moment.
 -- DE Marcus Davenport (3 tackles, 2.0 sacks, 2 TFLs) is on fire lately, and watching him isolated in this game…he was a dominant beast at times.
In his last two games, Davenport has started and averaged 4.5 total tackles, 1.5 sacks, 1.5 TFLs, and 2.0 QB hits per game.
Davenport has played 5 games this season, his 17-game season pace based on those 5 games: 54 tackles, 14 sacks, 20 TFLs.
 -- Rookie LB Monty Rice (11 tackles, 1 QB hit) had to fill in at ILB due to all the TEN linebacker injuries. He was OK here. Nothing special besides a good tackle count. He'll be back to the bench this week, likely.
 -- Tennessee DT Jeff Simmons vs. the holy Aaron Donald in 2021…
3.4 total tackles, 0.75 sacks, 0.9 TFLs, 0.30 PDs, 1.3 QB hits per game = Simmons
4.5 total tackles, 0.60 sacks, 0.9 TFLs, 0.30 PDs, 1.4 QB hits per game = Donald
 -- The Titans-DST is getting a ton of respect now…all because they got two pick-sixes on the god-like Matt Stafford on cable TV two weeks ago. Trevor Siemian nearly threw for 300 yards on them here and the Saints scored 3 TDs.
It's weird…the Titans shutdown Mahomes and Stafford but somewhat struggled with Siemian and got rocked by Wentz and Josh Allen in the past 5 weeks. However, they are good. Very sound. Hard hitting. But not elite…yet…but are emerging, promising.
…it will be an elite DST this week against Houston.
The impressive defense here, to me, was the Saints. No defense is as hard-hitting as the Saints. Arizona and Green Bay are up there too, but wow the pads were cracking in this game…more cracking with the Saints than Titans, but Tennessee brought it too.
I'd like to work with the Saints-DST, but I don't love the Philly Week 11 matchup, but I would use it if I had to. I definitely don't want them for the BUF-DAL Weeks 12-13. Week 15 at TB is no good either. However, Weeks 14 and 16-17 is great…NYJ and then MIA-CAR.
Snap Counts of Interest:
49 = AJ Brown
38 = Marcus J
21 = Rogers
13 = Dez Fitzpatrick
61 = Tre'Quan
52 = Callaway
26 = Deonte
18 = Stills
09 = Kevin White