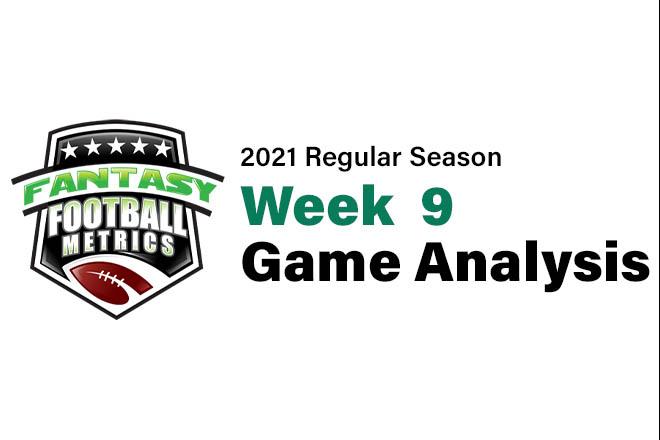 R.C. Fischer
FFM
14 November 2021
2021 Dynasty/Fantasy Game Analysis Week 9: Giants 23, Raiders 16
Most people saw this Giants-Raiders end with a lower/average scoring win in a game involving mostly not used FF players…and no one really cared much about it. Darren Waller and/or Graham Gano, and that's about the meat of it for most for FF interest (by and large for FFMers). No one really watched this with great anticipation, probably not even respective fans of the team.
I'm not immune to that vibe either. I should've paid more attention to this one – this game was a nice watch, two good teams fought hard, and I have more FF-notes than I expected.
I am a sudden NYG fan because I think I am seeing the hidden gem team of the future. The penny stock to buy and watch it inflate to $1.00+ down the road. A Giants team most non-Giants fans ignore. A Giants team that most Giants fans hate. But I think the Giants have all the pieces for a playoff run, if they can get those pieces healthy…and they have all the pieces of an NFC East winner in 2022 if they upgrade their O-Line…and a possible Super Bowl run in years to come, if they then find a better QB.
It was a treat to watch because this was a good football game involving two really 'good' (not great), tough teams – they went to war and MY Giants won…so, that was also fun.
And the Giants won in a way you can be football-impressed with – led by the defense. Vegas drove the ball down on the Giants like every other drive it seemed, and it wasn't easy to drive against NYG, but Vegas is good…and as they got close/into the red zone the Giants bowed up and slammed the door shut on scoring TDs, instead holding the Raiders to field goals or nothing, which allowed NYG to put up enough offense to pull out the win.
It was an ending befitting the whole game flow – the Raiders down 7 with 3+ minutes to go starting a drive at their own 25-yard line. Down the field they grinded…into the red zone, 1st & 10 at the Giants 13-yard line with 0:50 left. On 1st-down, the Giants suffocated all the receiving options and flushed Carr to force a throw away. 2nd & 10 from the 13/the next play, a strip sack by Quincy Roche and the Giants recovered – ball game.
It was 'so (my) Giants' for the ending – the strip sack by Roche…a rookie pass rusher that the Steelers cut in the preseason, a guy who anyone who was looking (which means no one in the NFL except Gettleman) could've seen he was dominating left tackles and showed a real spark…as I pointed out repeatedly this August. The Steelers went on to sign awful Melvin Ingram to fill their pass rush needs, and then they gave up on Ingram a few weeks later. The Giants claimed Roche and he has earned more and more playing time and is now contributing big time on their D-Line. I wonder what the Steelers GM thinks every time Roche makes a play every week for NYG. I hope he gets indigestion…and ridicule from his co-workers.
Ahh, who am I kidding…I know the Steelers GM isn't watching football games other than his team on Sundays, from the luxury box, between trips to the buffet spread and playing Candy Crush on his cellphone. He probably isn't aware Roche is even on the Giants…or still in the NFL.
This was a big win for NYG…still reeling from all their injuries, and they went and took down a division leader. NYG really should have beaten KC Week 8, and then knocked down LV here…and been on a three-game win streak. They're that good (not great). Now, a bye week and then the (3-6) Giants go to Tampa Bay…a game where they might have Saquon and their starting left tackle (A. Thomas) back with a healthy Golladay-Toney. If the G-Men somehow roughhouse Tompa Bay at Tampa Bay on a Monday Night game, Katie bar the door, this NYG team is a playoff contender.
It's a tall order to go to TB and beat them on MNF Week 11, but we'll see what the injury reports say. NYG is the kinda team that could give Tompa fits because the G-men are the toughest team that I watch each week, outside of Arizona…and they might harass pretty boy Tom like it's 2012.
The Giants need to keep Joe Judge and Dave Gettleman (who is doing some of the best personnel work in all the NFL), and ditch Jason Garrett and not re-sign Saquon Barkley to a deal and find a veteran quarterback to replace Dan Dimes, and presto-chango, Giants win the NFC East in 2022.  
All my Giants talk is overshadowing a very good Las Vegas team…a very legit team to win the AFC West. The best thing that ever happened to this Raiders team was Gruden getting dumped and installing Rich Bisaccia as head coach. The Raiders are a junior version of the Giants – they're good overall, scrappy-tough, play with a chip, have a bad O-Line, have a gritty defense that doesn't get enough credit, but where LV is lesser than NYG in most every position group -- they have the way better QB.
The Raiders are now (5-3) and can take a huge step forward, and I think they will, Week 10 by slaughtering Kansas City. It's a tough schedule ahead, and we project LV to come up short of the division with a (9-8) record, but 10 wins is not out of the question, nor is 8 wins and out of the playoff picture. Week 10 is everything for Las Vegas. Lose and they will likely tailspin. Win and they may get launched forward as the AFC West favorites and a new swagger.
Seriously, I'm a Giants fan now…the G-Men…the Me-Men (no that won't work, that sounds too…well you know…email Jon Gruden and see what he says). Send me all the cool Giants gear. My son is a long-time Giants fan, but he couldn't name 3 players on the team…but we can bond over it now that he's an old married man (almost married 4 whole days now). *Note: I'm a fan of no team in reality. I won't be jaded by such personal bias. More so I'll complain often about how the NYG organization didn't capitalize on the opportunity I am seeing.
Fantasy Player Notes…
 -- Let's start by discussing Kadarius Toney (1-9-0/1, one rush for -2 yds, one pass attempt, sacked).
He 'started'…that's the good news.
The bad news is everything else.
Remember Week 5 versus Dallas when he was literally the best, most dangerous WR in football? No? Well, Jason Garrett and Daniel Jones don't either.
If Toney is fully practicing, and you're (NYG) starting him…how in the world are you not getting him the ball a ton? Only in Jason Garrett's world. I was DELIGHTED and impressed when I saw Garrett push everything to Toney Week 5…and now I take it all back because in this critical game, Toney was a ghost. Sure, Garrett has his one clever 'trick pass' play with Toney per game (by NY State law, you must AND can only use that one time a game) but other than that, apparently…Toney is 'bad at football' now, not worthy of touches. Kyle Rudolph (4-20-0/5) led the team in targets, which is what makes Garrett and Dimes idiots. They won, so what do I know?
Toney started the first play and then wasn't seen again for several more plays and ended up playing 50% of the snaps and getting one whole target. You can't FF-trust Toney until we see a change in usage.
I can tell you this, Toney looks fantastic. He's moving fine/great. His route, his cut on his one and only target/catch – beautiful…unstoppable…can get open on anyone at any time. In Dynasty, go grab him and park him on your bench for the future…should be cheaper to do so since we're five weeks from whence he was great that one time. Typing this made me think – Elijah Moore had that 2 TD game last week…I'd send my Elijah for their Kadarius, straight up, in an instant in Dynasty. And that's probably the right value today, and maybe overtrading for Toney…which with Toney, I am fine with over-trading for a bit in Dynasty.
 -- You know what NYG WR looks really good…Kenny Golladay (3-28-0/3). He is moving great. He is acting like a #1 WR. So, why a 'meh' FF-game?
Golladay, like Toney, only played 50%+ of the snaps in this game. And, oh yeah…Daniel Jones sucks out loud.
Jones is only good, and thus Golladay is in a better spot too, when Saquon is there to take heat off Jones so he can stay in the pocket longer to make comfortable throws. Jones is such a puss…so SAWFT that he bails on any pressure…and the Raiders have a good, pressuring defense (and NYG's line is not great). But when Barkley is back, defenses shutter. When Andrew Thomas is back, even better. When NYG is at full strength, Jones is able to sit clean in pockets and slice and dice like it's a 7-on-7 game, like he did earlier this season.
But Golladay, especially those of you in Dynasty that can afford to sit on him into 2022, he's a WR1 talent and movement skills (and experience being a WR1) in hiding. For redraft, we have to wait for Barkley to return…and for KG to play 80%+ of the snaps and for Jason Garrett to get his head out of his arse.
 -- 'My running backs are killing me…' you proclaim, as you have Devontae Booker (21-99-0, 3-23-0/3) as the #15 PPG PPR back in Fantasy since Week 5. Scoring per game ahead of Josh Jacobs, James Robinson, Dalvin Cook, Aaron Jones, Christian McCaffrey among others.
But he's going away soon! Yeah…and? What RBs aren't going away for games at a time? People just lost Alvin Kamara and Damien Harris this week. Dalvin Cook might wind up suspended. Derrick Henry gone. Edmonds on IR. McCaffrey just got back from missing a ton of games. Be happy with the run you've had with Booker.
Oh, and it's not assured Saquon will be back Week 11…or 12…or ever in 2021…and if he is back, what's it gonna be? Two games before he's hurt again? Two quarters?
I'd hold Booker even when Barkley returns. He's a quad away…
 -- You know what RB looks really good? Kenyan Drake (4-30-0, 6-70-0/8). He looks the best I've ever seen him…AND he looks way better than Josh Jacobs (13-76-0, 4-19-0/4). AND that fact cost Las Vegas the game, potentially.
In a key spot, later in the game, Las Vegas driving on a 3rd-down and short in the red zone…and it was Josh Jacobs, not 3rd-down back Drake (who was killing it all game), who was in the game. Jacobs got the pass in that key spot, but couldn't pull away from the defender, so it was a quick catch-and-tackle short of a 1st-down. I think Drake would have been further out in front of the defender, made the same catch, and walked into the end zone untouched. Jacobs was blanketed and tackled right away leading to a field goal. It's the little things that drive me nuts in the NFL…things you would think they know but they never do.
Drake's splits on the season, pre-and post-new coaching staff…
6.5 PPR PPG on 4.8 carries, 2.6 rec. (3.6 targets), 39.0 total yards, 0.0 TDs per game with Gruden
18.2 PPR PPG on 7.3 carries, 3.8 rec. (4.3 targets), 84.0 total yards, 1.0 TDs per game with Bisaccia
Since Week 6, Drake is the #9 PPR RB in Fantasy.
 -- Henry Ruggs gone? It's not Bryan Edwards (0-0-0/4) time, as I instantly said when the Ruggs news hit – that it's not more Edwards it's MORE Hunter Renfrow (7-49-1/9) time. Renfrow is Carr's BFF target. A mini-Cooper (get it) Kupp for Carr.
With the new head coach, Renfrow has booked three games averaging 5.7 rec. (7.3 targets), 47.7 yards, 0.33 TDs per game. First game without Ruggs, Renfrow matched his career high for targets in a game (9).
…and note, the Carr throws to Edwards were so bad in this game (as usual), such a non-connection between them…I'm done with Edwards. He's only if you have DEEP rosters to hang onto to see if a miracle happens in 2022.
 -- I LOVE the way MY New York Giants are playing on defense right now. Are they a viable FF DST to use ahead? Not really.
Week 11 at TB is not sublime.
Weeks 12-13 v. PHI and MIA are looking decent.
Weeks 14-15 with LAC-DAL is a no-go.
Weeks 16-17 at PHI, at CHI ends it nicely…IF the G-Men are still in it.
 -- What about the scrappy, plucky Raiders-DST? Their schedule is mostly brutal ahead. Week 13 hosting Washington is a spot start if needed.
 -- Quick bonus on the Robert Woods ACL…
It's a nice bump for Van Jefferson to assume the Woods role even more. Sure, OBJ will see time and suck some oxygen out of the room…but like with DJax, the crappy WRs of ancient lore will see a quick spike of activity and then everyone realizes they are wastes of space and they move on to playing bit roles.
I like Kupp getting the main attention in coverage, and then OBJ…because the most clueless, behind-the-times people in football are defensive coordinators (who still think guys like Sammy Watkins is something to fear/plan for) – so they'll throw attention at dropsy OBJ too, which should allow Van Jefferson to eat up catches with the weakest coverage of the group.
When I see the name Van Jefferson right now, I think = Robert Woods output hopes. We'll see on MNF, but that will probably be a force-to-OBJ fest at first, but as the season resumes to normal Jefferson bumps up.
Snap Counts of Interest:
31 = Golladay
31 = Slayton
31 = Toney
21 = Collin Johnson
05 = Ross
46 = Engram
31 = Rudolph
66 = Zay Jones
64 = Bryan Edwards
45 = Renfrow
34 = Jacobs
31 = Drake