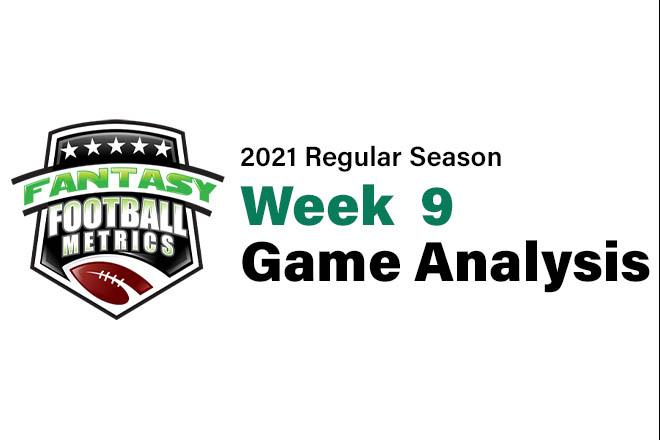 R.C. Fischer
FFM
10 November 2021
2021 Dynasty/Fantasy Game Analysis Week 9: Chiefs 13, Packers 7
I did not expect to see this game tape…
I didn't expect to see Jordan Love so frozen in fear playing football (I thought he was over all that watching him this preseason) and then in response, Patrick Mahomes wasn't much better…a sudden trend – Mahomes looking sloppy/off.
A Rodgers-led Packers would have obliterated a terrible Chiefs team, but KC gets lucky again and beats COVID-hindered GB to jump to (5-4)…tied for last in the AFC West. We see KC as a 9-10 win team with 11-win upside if they can get their blocking issues fixed somehow.
I think Green Bay is the best team in football…in waiting. If they could get LT David Bakhtiari back and Jaire Alexander (and not sure they will) as well…this could be the NFC's top team. The Pack get unlucky and lose here due to Jordan Love and fall to (7-2), but they should win 12-13 games and cakewalk to the NFC North title. If they get healthy down the stretch – they're going to the Super Bowl, especially if they get home field advantage.
Fantasy Player Notes…
 -- Let's start with Jordan Love (19-34 for 190 yards, 1 TD/1 INT)…
His 2nd year in the league. His first NFL start. Looked very good, promising in the preseason but looked exactly like I feared/scouted him coming out of college – he has the physical tools, but he doesn't have the killer instinct.
Love looked like a rookie here. Only, he's not a rookie…and all the top 2021 rookies didn't look like rookies as much when they were shoved into 2021 playing time. Justin Fields has looked the most rookie-like early on in 2021. Tua Tagovailoa looked way out of his element as a rookie in 2020. But in the recent years, we've seen rookie QBs waltz right in and take command…even if they made mistakes, they didn't look rattled. Mike White didn't look rattled at all when he was forced in to his opportunity, nor did Cooper Rush. But Jordan Love…he looked rattled…looked like he doesn't really feel comfortable as an NFL quarterback.
For approx. three quarters, the KC defense blitzed Love every chance they had, and Love was reduced to blindly throwing passes to Davante Adams (6-42-0/14) as a response…and most every one of them didn't land. Even when Love completed passes, they were forced/miracle catches/nearly picked/off target by a mile.
Just when Love's career seemed over, in the 4th-quarter, Love started to get his feet underneath himself. He started to fire rockets more on target, more looking like he knew what he was doing. The 4th-quarter Jordan Love looked like a 1st-round pick QB of the future…but only for moments in-between nervous blind throws, but enough to start moving the ball.
I would have thought, after watching him in the preseason, that Love was way further along than this. In this era of young QB play, to me, saying 'I expected him to be nervous in his first real action' is a red flag in the year 2021 because many of the top guys are not nervous – they may not have the right tools, or can't read defenses well, but they aren't scared when thrown into the fire. All my preseason love for Jordan Love…it got chopped down to size here. Love was rattled, jittery…not in command of anything.
Now, I'm willing to give him another chance…or several. The tools are obvious. There were moments. But I'm judging what happened right now. Love looked like a similar/less-than Trey Lance with no running ability. That's not good for FF output hopes. There's enough tools and hope that there is 'hope', but it's not a sure thing in his ability to mentally process and produce in the NFL along with those tools. He's not the first one to have that said…he's about the millionth.
If he's forced to start Week 10, then I'd be against more than 'for'…and I'd project a similar game as he had here, maybe – but I'd be interested to see if he progresses with another week to get comfortable.
Some Green Bay fans and most Packers management have to be knocked off their 'Rodgers can go, we got Love for the future' pedestal right about now.
Speaking of Rodgers, I have a funny feeling he will miss Week 10…even though he should test out and be OK for Sunday. I don't have any concrete evidence for my feelings here…just I'm wary he's going to be cleared…and I wonder if a suspension might be coming at some point. The league handed out a big fine to the team, and minimal ones for Rodgers and Lazard, so this story might actually be over.  
 -- So, the QB news from this game: Jordan Love was mostly debut-terrible. Aaron Rodgers may or may not be back Week 10, and he may or may not be the center of the football/national news cycle the next week+.
…and Patrick Mahomes (20-37 for 166 yards, 1 TD/0 INT) is now broken…human…FF disappointing.
What's wrong?
We can eliminate…is now bad at football because he forgot how to play. It has to be some external factor. All the things it could be…
1) Lack of blocking/no time to throw -- and that more than anything causes great QBs to become OK/good, and the opposite with good blocking making bad/OK QBs look good.
2) He's secretly hurt…his shoulder, arm, plant leg, and/or hand.
3) He's got some kind of issue going on in his personal life.
4) The offensive plan is terrible. Teams are playing a deep zone against him, and he can't figure it out.
My thoughts are:
His offensive plan has been terrible for years. Defenses have been playing back on him for years. His WR group outside of Tyreek-Kelce is terrible/CFL level talents. None of this is new to him. I can't believe he's fooled by a scheme at this point in his career.
He doesn't appear to be hurt in any way.
I have no idea anything in his personal life one way or the other.
I can see that he has the least amount of pocket time he's ever had in his career, and that he's constantly having to evade pressure almost every drop back. This is lethal to a quarterback…it's kryptonite – and for Mahomes it began with the Tampa Super Bowl loss and has been more present than not in 2021 games. It's also fixable…a changed blocking scheme, different plays to counter the issue. Everything could change back in an instant…or not, if things aren't addressed or the personnel is just that bad. Eric Bieniemy will be a multi-millionaire head coach soon if he can fix this.
Am I worried? Sure. It's not a blip…it's reality now – the reality is Mahomes is no longer my FF-superhero…at the moment. He has been brought to his knees; he has become average-good. And I don't see any reason why it would change next week. My only hope is he gets low pass rush pressure opponents to take advantage of. He faces Las Vegas this week…which is suddenly a top 10 sack team, a top 5 'pressure per drop back' defense. It doesn't look like Week 10 is a great spot for a turnaround.
However, where else will we turn? What QB is on waivers who you feel confident about starting over Pat Mahomes? Mahomes has earned the right to be your ride or die – you roll him out there every week and hope the turn comes, or you die. If you have a great #2 QB…then by all means evaluate your options, but if you have hot-of-the-moment waiver options only, then…really? You're starting Carson Wentz in a 'good' matchup over Mahomes? Wentz might be the data trend best option on paper, but I don't know how you put Mahomes to the bench for guys like Wentz or White or Tannehill or Ryan or Dan Jones, etc.
Week 10…Carr or Mahomes? I don't want to answer that…it's too sad a reality to say what the answer probably is.
 -- So goes Mahomes's tailspin, so goes Tyreek Hill (4-37-0/11) and Travis Kelce (5-68-1/8).
Eric Bieniemy/Reid are too stupid to counter the lack of pass blocking and the defenses playing way back with small tunnel screens to Tyreek to neutralize the pass rush and make the defenders come up to him instead of staying so far back, to help open things up. They finally did it Week 8 after not doing it for two years, and it was effective…so, obviously don't do it again here and thus the passing game numbers were down.
What will they do in Week 10? Hell, if I know, I assume the wrong thing…per usual. Like with Mahomes, you just gotta push Tyreek out there and hope Mahomes gets his groove back.
Travis Kelce suddenly looks slower/older to me…he definitely is frustrated with the passing game. He's pouting on the field…and dropping passes…and just not looking the same. Since Week 3, he's the #5 FF PPG TE in half-PPR. As Mahomes has fallen, so too Kelce. Still good, but not KELCE of old.
 -- This is an important note to consider…a very important note…a chilling note for one particular player…
The Green Bay Packers defense…with no support from the offense in this game, just held Kansas City's offense…playing at KC…to just one TD (and two FGs) total.
OK, think about how great it is for this GB-DST to do that…WITHOUT Jaire Alexander playing or Za'Darius and Preston Smith! All their best defenders were out coming into the game, just down to one great defender left…rookie CB Eric Stokes…and he got hurt right away and missed the entire game. AND Green Bay's defense still dominated the vaunted KC offense.
So…
Just how awful is the KC offense right now? How much can you trust Patrick Mahomes and friends today? Scary to even ponder watching a wounded Packers defense maul them.
But don't overlook, in all the KC mayhem – this Packers defense, if at full strength, may be the best in football.
No? You don't want to buy that?
Didn't they just stuff Kyler Murray and Patrick Mahomes in back-to-back weeks…missing most of their key defenders?
After the weird start to the season…that game where Winston threw 5 TD passes and planted 38 points on them and barely over 100 yards passing…the Packers defense has been all banged up but getting better and better every week. One of the best defenses in the NFL since Week 4.
 -- Final note…
Remember last week when everyone was Derrick Gore (3-13-0, 1-6-0/1) loco? It was loco, he did little-to-nothing here and worked behind Jerick McKinnon (3-26-0/3).
Snap Counts of Interest:
35 = Darr Williams
20 = McKinnon
10 = Derr Gore
40 = A Jones
24 = Dillon
29 = Marc Lewis
25 = Dom Dafney
15 = Deguara