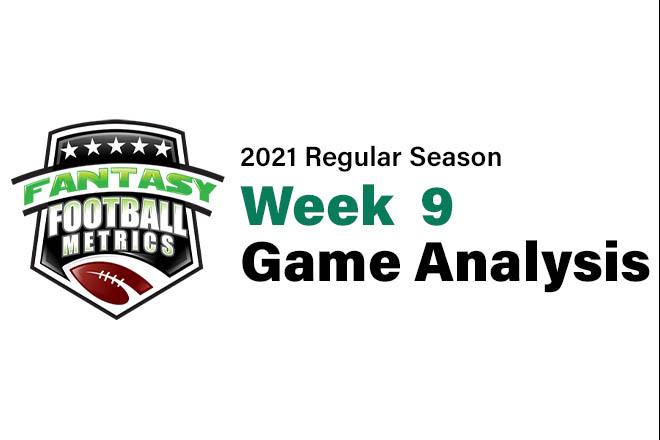 R.C. Fischer
FFM
12 November 2021
2021 Dynasty/Fantasy Game Analysis Week 9: Jaguars 9, Bills 6
How did this happen? Were the Bills really outplayed by the Jaguars? Lots of questions after such a shocker.
I would say 'yes and no' that the Jags outplayed the Bills here. Yes, for the most part…the Jaguars played toe-to-toe here, but 'no' in that Buffalo ran more plays, outgained the Jags easily, and converted a much higher percentage of 3rd downs. In the end, Buffalo got brutalized with penalties at the wrong times, allowing JAX to convert 1st downs off penalties and throwing their own selves into 1st and 2nd and 3rd and long in key spots. Plus, Josh Allen had two terrible picks trying to make plays in a muddy situation.
I think, in the end, the Bills thought they could go and win this any time they wanted and when they were making their move there were some strange, ill-timed penalties or turnovers that happened to completely switch the momentum. The Bills LOST this game more than Jacksonville won it.
Jacksonville was weak on offense but good on defense pressuring Josh Allen most of the day with just 4 pass rushers and some well-times 5th blitzer. A gold star for the defensive coordinator to halt the Bills, but within that there was plenty of good fortune with penalties and receivers dropping 1st-down passes on 3rd-down, etc. The Jags are now (2-6) and are still pretty bad, arguably the worst team in football still. They might cap off at 3-4 wins this season.
The Bills fall to (5-3) with (5-4) New England suddenly right up their backside. The Bills are better than the Patriots, so when they meet two times ahead…Buffalo should at least split, if not sweep NE and put down the uprising. We project Buffalo with 12 wins…still with a chance to get that #1 seed if they can get to 13 wins.
Fantasy Player Notes…
 -- NO worries on Josh Allen (31-47 for 264 yards, 0 TDs/2 INTs, 5-51-0) after this tape watch. He's gotta be the #1 QB for Fantasy right now, considering the fall of Mahomes/KC, the injury to Kyler, etc.
Allen was fine…MVP-like in carrying this team, but he got pressured a bunch, tried to make some slick throws under duress where he wasn't set to make the play. Cole Beasley flat-out dropped a 15-yard pass for a key 3rd-down conversion…that doesn't happen often, would've kept the drive going for more numbers. Jacksonville stoned the goal line efforts right away on the first drive, leaving Buffalo to settle for an FG…after a throw to a receiver left inches away from a TD.
It just wasn't Josh Allen's day. Use this game outcome to go buy low as possible on Allen.
 -- Speaking of QBs…
Speaking of situations where the #2 QB is working better than the #1 QB a la Mike White v. Zach Wilson…
C.J. Beathard (2-2 for 33 yards, 0 TDs/0 INTs) was forced into the game off a Trevor Lawrence in-game injury that looked bad, and Beathard came right in looking like a stronger-armed, way more aggressive/confident version of Lawrence. I'm not joking or try to poke fun at Trevor…in a flash, the Jags offense changed.
CJB led a hurry-up offense right before halftime, and he waltzed them down the field and planted a beautiful 35-yard TD pass on the run, on the money, in-stride to Jamal Agnew…who dropped it. The play was stricken from the records by a roughing the passer…and then Carlos Hyde fumbled it away the next play. Then Lawrence returned to action on the next drive.
This will all be forgotten.
I won't forget.
No one will care that I won't forget.
It was only a couple of plays.
But put that with this…
 -- Carlos Hyde (21-67-0, 1-6-0/2) ran tough against a top NFL defense…he looked just as good/better than James Robinson (DNP).
No one will care.
The Jaguars looked better on offense with their backup QB and RB.
Urban Meyer won't care…didn't notice. He's got bar business to attend to.
James Robinson will be pushed back to the starting lineup not at 100% this week, regardless.
 -- The two players Trevor Lawrence is getting more and more comfortable with…
1) Jamal Agnew (3-27-0/5)…his go-to lean over Marvin Jones (3-21-0/5) now. This was another game where Agnew led the WRs in targets. Agnew looks terrific. He is playing with max effort to take advantage of this golden career opportunity. He let a 4-62-1 game slip through his hands on that CJB bomb.
Whether you 'trust' him or not, he's the #1 target among Jags WRs. That ain't nothing…and he's talented. It's Trevor Lawrence that's his main problem.
2) Dan Arnold (4-60-0/7) played really well last week and was good here too, leading the Jags in targets among all players.
Since their Week 7 BYE…so, two games since they had two weeks/extra time to redesign their offense, etc., the targets in the last two games (total):
17 = Agnew (+1 rush attempt for 18 touches)
17 = Arnold
13 = M Jones
8 = Shenault
It's the Arnold and Agnew show for Lawrence, because of his limited arm.
 -- Do we trust the Jags defense now? Well, last week they were humiliated by Geno Smith, so…probably not. However, their front/D-Line is getting so good…they're a top 12 run defense by yards allowed per game BUT now #3 best in yards per carry allowed. They face the hottest back in the NFL…Jonathan Taylor Week 10.
Remember when people thought Clyde Edwards-Helaire was the best Dynasty RB coming out of the 2020 NFL Draft? Is he even in the top 3 from that draft? Top 5?
The Jags have a nice O-Line and D-Line…that's usually a recipe for NFL success. Just their QB is not very good, and their head coach is awful/a detriment.
 -- Jags DB Rudy Ford (8 tackles, 1 INT, 3 PDs) seems to be emerging as 'Urban's guy'. He's the one player I see actually talking to Meyer like they're on the same page/buddies. Everyone else pretty much avoids Urban.
Ford is a growing thing the past 4 games, going from 9% to 36% to 63% to 99% of the snaps played, and Week 9 was his first start.
Snap Counts of Interest:
48 = Singletary
19 = Z Moss
51 = Marvin J
48 = Shenault
33 = Agnew
19 = Treadwell
35 = Arnold
29 = Farrell
27 = Manhertz